1620649
Ene
Level 59
:
Grandmaster Technomancer
Posted on
1/18/2015
: 1/18/15 1:22 pm , last updated: 05/17/17 10:50:23 pm
This is my gross art blog where I post gross art.
I can't draw very much or very well because of wrist problems, but I'll try to update this as much as possible.
Some of this art is old.
Send requests
here
.
(There's no guarantee I'll do them, though)
TUMBLR
DEVIANTART
Art is sorted newest to oldest.
---
Please read the Q&A before asking any questions.
Q&A

Q: What kind of tablet do you use?
A: Wacom Bamboo Tablet.

Q: What program do you use for digital art?
A: Mainly Paintool SAI, but Photoshop sometimes

Q: What kind of markers do you use?
A: Copics

Q: What colored pencils do you use?
A: Prismacolor

Q: What sketchbook do you draw on?
A: Canson 9in x 12in mixed media

Q: Do you take requests?
A: Yeah, but there's no 100% guarantee I'll do it.
Don't put them in the comments or PM me; the link to my tumblr is above and I would prefer if you send them there.

Q: Can we do an art trade?
A: No

Q: Can I use your art for myself / repost it?
A: No.


---
DO NOT redistribute, use, or repost my art anywhere.

---
Dodomeki Choromatsu
Aquarium Karamatsu
Aquarium Ichimatsu
i had no intentions on finishing this but boy am i gay
Kitsune Ichimatsu Doodle
i got this gold unit twice on my first try when he came out in hesokuri wars i love him im gay
Miku
Madoka
I can't post the full pic here, but if you wanna see the full thing then head over to my tumblr
Guzma
ya boy
requested from tumblr
ValentEne
Karamatsu
Marry Kozakura
Haikyuu!!
i've never seen this show but people ask me to draw it okay
Homulilly
Kagerou doodles
Bikene
good pun
Ene -in a day's- GIF
Her new design is really cute alright
Butler Mob and Maid Ritsu
They are my sons and I love them
Mami Tomoe
Fairy
Homura Akemi screen redraw
I'll probably do more of these eventually
Some Mobs
mob is my son and i love him
egg
this was going to be me but now its saitama
its basically in the same pose as that one ichimatsu drawing i made i dont care
A Choro
It's edgy.
Osomatsu-san doodles
Yes Karamatsu is eating a cookie in the shape of his face
---
I had to edit out certain things from the original tumblr post that implied inappropriate things to make sure my blog didn't get disabled again lmao
Ichimatsu's Petals
Having flower petals in your mask smells good I promise
Choromatsu's Petals
A thingy based off of a scene from
this song
to go with the Osomatsu one.
Osomatsu's Petals
Basically a screen redraw of a part from
this song
okay
More Ichimatsus
I was doing a palette request thing on tumblr
Another Ene
I draw her way too much lmao
Nurse Osomatsu
((i'm gay))
Jyushimatsu
He is the sunshine boy.
Ichimaidsu
Ene & Osomatsu san
I made art of all 6 of the brothers interacting with Ene, but I can only post a few here because of inappropriate language.
You can look at all six of the pictures here
.
---
The other three brothers are in the link I put above.
---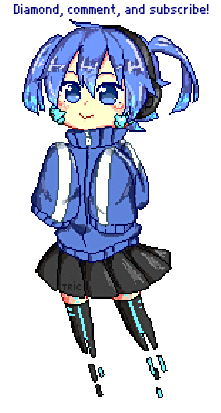 ---
Note: Showing last 25 of 69 logs.
Update #69 : 05/17/2017 10:50:23 pm5/17/17
Added Dodomeki Choromatsu
Update #68 : 05/14/2017 5:33:48 pm5/14/17
Added Aquarium Karamatsu
Update #67 : 05/13/2017 4:44:22 pm5/13/17
Added Aquarium Ichimatsu
Update #66 : 04/29/2017 4:27:46 pm4/29/17
Added Kitsune Ichimatsu doodle
Update #65 : 03/25/2017 6:19:49 pm3/25/17
Added Miku
Update #64 : 02/26/2017 9:14:11 pm2/26/17
Added Madoka
Update #63 : 02/20/2017 8:46:06 pm2/20/17
Added YA BOY GUZMA
Update #62 : 02/14/2017 9:15:20 pm2/14/17
Added Valentine's Day Ene
Update #61 : 01/16/2017 12:43:34 am1/16/17
Added Karamatsu
Update #60 : 12/15/2016 8:27:39 pm12/15/16
Added another Haikyuu!! doodle
Update #59 : 12/14/2016 9:10:29 pm12/14/16
Added Marry Kozakura
Update #58 : 12/03/2016 3:40:03 pm12/03/16
Added Haikyuu!! doodle
Update #57 : 12/02/2016 8:50:04 pm12/02/16
Added Homulilly
Changed cover image
Update #56 : 11/26/2016 2:12:26 pm11/26/16
Added Kagerou doodles
Update #55 : 11/13/2016 8:41:27 pm11/13/16
Added Bikene
Update #54 : 10/30/2016 12:49:01 pm10/30/16
Added Ene -in a day's- GIF
Deleted old art
Update #53 : 10/16/2016 5:57:52 pm10/16/16
Added Butler Mob and Maid Ritsu
Update #52 : 10/06/2016 7:51:35 am10/06/16
Added Mami Tomoe
Update #51 : 09/25/2016 5:01:37 pm9/25/16
Added Fairy
Update #50 : 09/19/2016 8:53:42 pm9/19/16
Added Homura Akemi screen redraw
Update #49 : 09/11/2016 6:59:04 pm9/11/16
Added Mob
Update #48 : 09/05/2016 1:01:24 pm9/05/16
Added Saitama
Update #47 : 08/29/2016 8:28:19 pm8/29/16
Added a Choro
Update #46 : 08/08/2016 9:39:47 pm8/08/16
Added more Osomatsu-san doodles and angry comic.
Update #45 : 08/02/2016 6:31:17 pm8/02/16
Added doodles of Star under the Star spoiler
tracking
3192519
enes-art-blog
1,165079,3672,559826,842002,140820,64651,110512,214207,460644,290694,895971,1030646,15493,171513,336698,476982,817406,1293715,526780,1620649