254773
Reec3ty
Level 52
:
Grandmaster Programmer
Posted 10/29/12 9:31 am , last updated: 10/31/12 1:44:21 am
10/29/2012
"You know who else likes Regular Show? You know who else likes Minecraft skins? You know who else likes pixelated versions of themselves?
MY MOOOOOM!"
-Muscle Man
Yes, It's one of those "skin series" you may commonly see. Sure, you've got TacoDip's Family Guy, or Aelous' Dota skin series, but you have yet to experience the full effect of Regular Show!
Every day for the next few days I'll be making one character from Regular Show.
Susbcribe
to me to keep updated!
The Characters
---
Benson
Click here to view the skin!
Benson is a main character on Regular Show. He is a gumball machine, as well as The Park's manager. As manager, he is the boss of every park worker. He has a big temper and has a tendency of yelling at Mordecai and Rigby when they slack off.

Benson is easily the most short-tempered character of all. Whenever he is greatly upset (usually in the form of

Mordecai and Rigby slacking off), Benson loses his temper, turning varying shades of red. Aside from this, Benson is usually calm, and in fact, enjoys being social, even with his two most disliked people.
Click here to view the skin!
Pops Maellard is a main character of Regular Show. Pops is a rich, thin humanoid lolipop whose father owns the park as well as the house, in which Pops shares with Mordecai and Rigby. He is a billionaire that was locked up and protected for all or most of his childhood, which is why he takes such childlike delight in everything he sees and does.Pops is in a perpetually optimistic mood, to a childish extent. Most of the time, he can best be described as bubbly and effervescent. However, Pops isn't one to be jolly when disrespected; when this happens, Pops does the unusual (Dizzy, etc.) Whenever he is not acting childishly, Pops acts like a gentleman, always addressing others politely.
Skips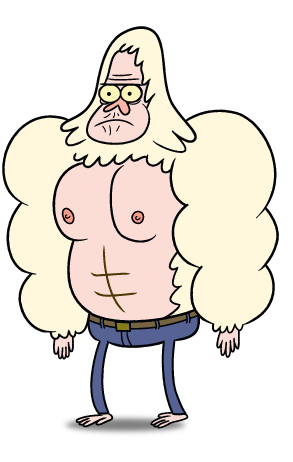 Skin coming soon
Skips, formerly known as Walks, is a main character in Regular Show. He is a yeti who works at the park as a groundskeeper. He helps Benson a lot, and fixes many of the mistakes that Mordecai and Rigby make. He is very majestic and wise, and has a knowing of many things to those of the unknown, due to his past of immortality. Everybody relies on him to solve supernatural problems, and he almost always has the answer. There have only been a few occasions where he didn't know what to do, as he couldn't fix error 219 on Mordecai and Rigby's computer.
Skin coming soon
Mitch "Muscle Man" Sorrenstein is a main character of Regular Show. He is one of the groundskeepers at the Park. He is a green, strong and obese monster and/or disfigured humanoid, who is often seen with his best friend, Hi Five Ghost. In "My Mom," it's shown that he has a lot of friends, most in which love his constant "My Mom!" jokes, which everyone else at the park gets annoyed with. He's best friends with Hi Five Ghost, who loves his jokes. Ignorant yet clever when it comes to pranks, he's always either insulting Mordecai or Rigby, or trying to prank them (ex. "My Mom", "See You There").
Mordecai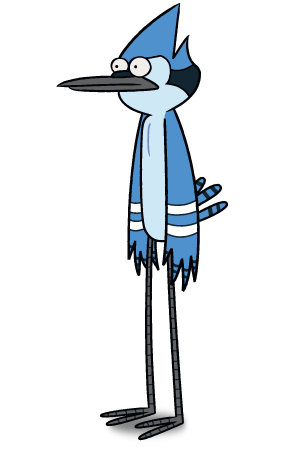 Skin coming soon
Mordecai is one of the main protagonists of Regular Show, along with his best friend Rigby. Mordecai is a 23-year old Blue Jay. Mordecai is mild-mannered and laid back. Like Rigby, he lacks clothing, plays video games, and drinks copious amounts of coffee and soda. Of the duo, Mordecai displays far more patience, responsibility, and intelligence than Rigby does. Although almost every problem caused by the duo is Rigby's fault and even if it's Mordecai's fault it's not work related.
Skin coming soon
Rigby is one of the main protagonists of Regular Show, along with his best friend Mordecai. Rigby is a 23-year-old raccoon. Rigby can be best described as a "wild teenager", even though he is well past his teenage years. He becomes frustrated, frightened, confused or sad all too easily, making his behavior very predictable. Rigby is also very arrogant, impatient and immature at all times, giving him the personality of a child.
A Final Note
---
Please do not steal my skins. I work quite hard on each one (Almost 2-3 hours, depending on the detail and music I have). I'm open to suggestions, so long as they are canon and popular towards Regular Show. I may take antagonists, minor characters and dead ones, depending upon the difficulty and whether people like it or not.
PLEASE DO THE FOLLOWING (If you want to help me help you help me, in return helping you):
DIAMOND
COMMENT
FAVOURITE
SUBSCRIBE
| | |
| --- | --- |
| Tags: | Regular, Show, Benson, Mordecai, Skips, Rigby, Five, Ghost, Peeps, Ohhh, Hommus, Mom, Muscle, Man, Cheeeeese, Punchies |
Update #1 : 10/31/2012 1:44:21 am10/31/12
- Benson done
- Pops done
tracking
1583739
regular-show-skin-series
1,165079,188,3672,140820,329,54387,2009,467,64651,41476,303490,110512,379343,180654,574798,111554,16494,221182,14575,265688,96250,179719,214207,16575,559826,8661,85626,460644,186332,290694,895971,139121,1142784,1030646,842002,1489237,254773