varunas-anime-skin-tutorial
Varuna's Anime Skin Tutorial
136703
varunax
Level 65
:
High Grandmaster Pixel Puncher
Posted 6/17/12 11:29 am , last updated: 08/19/12 4:44:05 am
6/17/2012
PART 1 - Basics
Well.. I thought I'd post this since I won't be making anime skins forever and I'd rather pass the knowledge down to any fans of mine that like my skinning style and would want to continue with it.
I use both pastel/contrasted colors when making skins. The reason being is that some characters just look a lot better darker or lighter compared to other characters. It's hard for me to decide so I just try to go with what I think looks good. I try to put enough detail into the skin to make it high quality. Too much detail and it just looks weird. Too little detail and it looks too plain.
I didn't start off very good either. I mean... I can draw, but the entire skinning thing itself was pretty new to me, lol. I never tried 3D pixel art on cubes. I started off making Minecraft skins because I couldn't find any skins that suited me. I made myself one, then my friends wanted me to make them skins too. By the time I realized it... I just started making skins for people. I do this all for free for fun.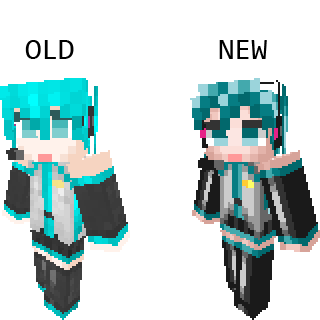 If you can see in the older one... I basically just used random burn/dodge effects to try to shade the clothing. It turns out pretty ugly and bland. Don't do that!
The newer one has more contrasted pixels to give the character a more solid appearance and cartoon look. Kind of like how you see sprites in Nintendo games.
Programs I use: MCSkinEdit, MCSkin3D (Sometimes Photoshop)
-- Starting off --
1. Prepare yourself a set amount of colors before you start working on the skin. That way, it's easy to pick the right colors and it's faster to work with. So if you're making Naruto or something, pick out a few colors like orange and yellow.
2. Use the hat layer for hair, hats, ear muffs, scarfs, headbands or whatever. A lot of people I see don't use the hat layer to it's fullest potential. It's a bit hard to teach this part because you really just have to visualize how to make use of it.
3. Save often and make back ups. That way, if you screw up, you can go back or if your program crashes.. then you won't have to start from scratch again.
4. The skin must be symmetrical. That means no missing body parts or a giant robotic arm on 1 hand.
Okay.. I'll keep this short and get to the important parts.
-- How I shade --
This is probably the biggest problem for people. Since you're reading this, I'm assuming you like anime/cartoon colors. That means, when you shade, you want to use a minimum of 3 shades. Dark, Medium, Light. Of course, you can use more, but since we're just doing anime... it doesn't really need to be that detailed. Especially, if you're doing requests, it's much more simple and faster to just use a few types of shades.
Example: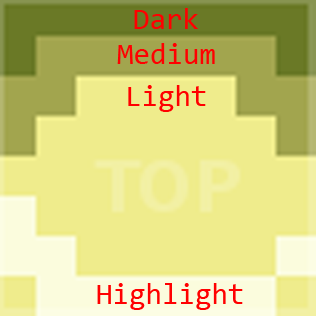 Once you get good enough, you can start adding more shades. You want to make the shades look kind of blocky... since we're working with blocky characters anyway.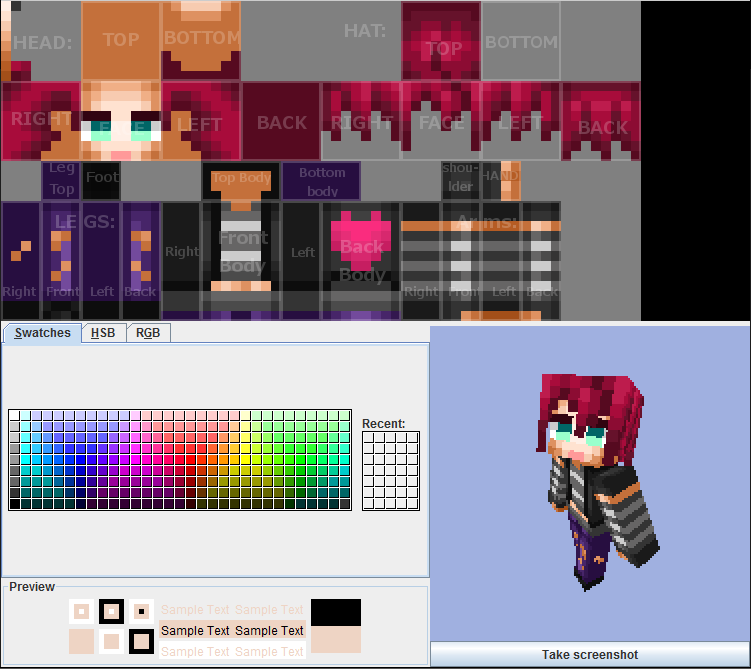 If you need references, feel free to edit my skins and look at the way I shade them.
This is something I made recently for myself. It basically is a base skin that I can just work off of to finish requests much faster (yes, this is my secret in making fast skins). I just basically drew proportions which I thought were pretty accurate. This is a female base body, but you can also use it for males. This gives you a sense of where to draw the clothes and where the breasts should be on your clothing.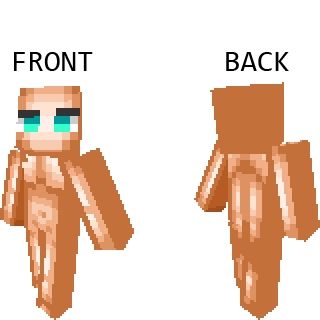 -- How to draw clothing --
Well.. most of this is based on your visualization. Basically, you want to simplify the clothes as much as you can. If you're drawing anime characters and they have tiny little bows in their clothes or buttons all over the place, you're going to have to omit it. Just keep the important parts, like belts... pockets, badges or whatever.
You also want to keep a constant body proportion. Skirts should on the body and pants should be on the legs. Easy enough, right?
On the left and right arms/leg layers.. I tend to leave them dark and kind of plain. The reason I do that is to try to keep a flat anime look. I keep the front and back parts highlighted.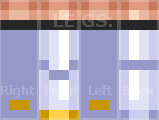 It basically gives the appearance that the light is coming from the front/back of your character instead of the sides.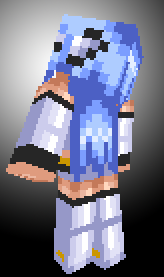 -- How to pick out your colors --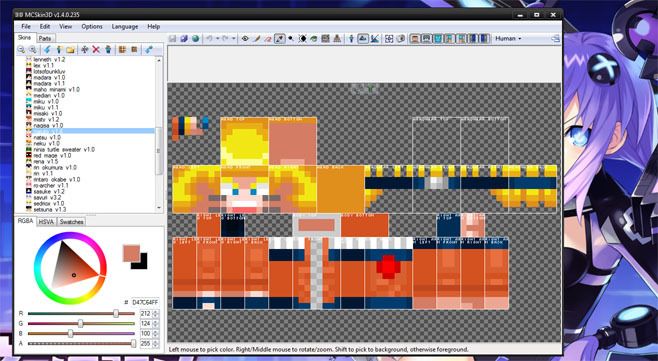 When making skins, I use both MCSkinEdit and MCSkin3D. MCSkinEdit is out of date by now and MCSkin3D is more up to date thanks to Paril who made it. The only thing I use MCSkinEdit for is to pick out colors and to draw basic skins on. MCSkin3D also lets you work with multiple skins at once so it's really good to use if you do requests. I switch up whenever, but seem to be going back to MCSkinEdit for it's simplicity.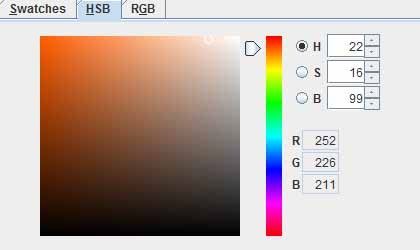 When choosing colors, I always want to start with the lightest color first. Going from light to dark is a lot better than going from dark to light. I draw my characters in plain color first then I finish it up later with shading. I don't normally shade while I'm working on the skin, but it's just really preference.
-- Tips and Techniques --
I struggled for the longest time trying to figure out how to put enough details into the skin to make it look good. An example would be, how would I draw fingers, eyes or a mouth on my characters?
It would probably take a while for anyone starting off to eventually iron the small details out, but that's why I'm here to help, lol.
Face (eyes, mouth, cheeks, blush, teeth)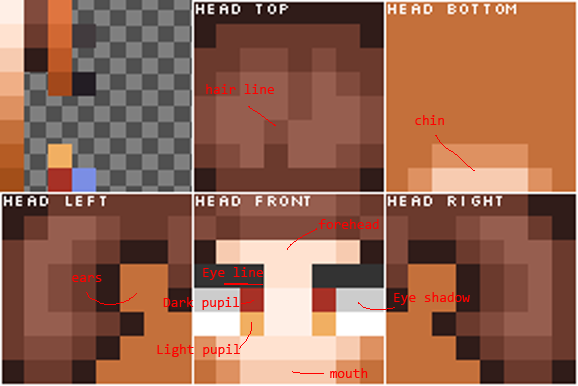 Once you understand this concept, you can change the facial expression of your character.
Example:
Happy!

Mad!

Funny how a few pixels change the entire expression, right? Haha. It's really up to you what kind of face you want to give your character. I just give them faces according to their personality. So if it's a mysterious quiet anime boy, then I will probably just have his mouth closed. If it's a happy upbeat girl, then I will probably give her a smile.
Hands
This took me so long to figure how to do right, but you can draw fingers on your characters. It's not that detailed, but it gives a nice touch to it. I'm really picky on fine details so that's why I spent so much time on trying to figure out how to draw fingers. Besides, the small details are always very important.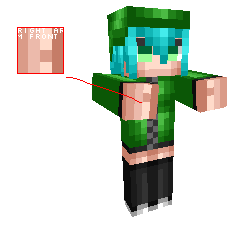 Yay, now she has fingers! Looks a whole lot better than a flat box lol.
Also, don't forget to add the MOST IMPORTANT PART TO YOUR SKIN.... is drawing the underwear. I'm not kidding. You don't want to bend over with your skirt and have nothing there.. it'd just be awkward and you'd look like a noob!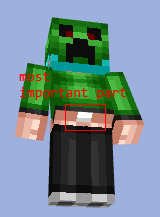 The panties I draw on my female characters are usually white or pink. c: You can put anything there though lol.
PART 2 - ADVANCED (will provide a video soon)
If you want to know more advanced stuff, then read this. It's not recommended for people who are just starting off or not that interested.
So maybe you can draw your skins and stuff but you don't really know how to shade it correctly or how to draw ties, bows, skirts, hairs or whatever.
Maybe you want to try to replicate my style since you really love it. That's great and all, but remember a lot of this has to do with your imagination. I've seen a few skins that are based off my tutorial and skins and they're going for the wrong approach most of the time since they're trying to copy my shading when they don't really understand it.
What I mean is that don't just add random shading on the skin your making. Once you get better, then you can add more and more shading. I recommend just 3 shades then once you get better, you can do 6. The more simple your shading starts off, the better you'll understand it, trust me.
Download:
http://www.planetminecraft.com/skin/steve-shading-tutorial/
I provided a basic anime steve skin for you to shade. It has 3 colors so it won't be that detailed, but it will be easy to do. Show me the skin once you've finished shading so I can see your progress. You can use this skin to experiment on and improve your shading on.
So enough reading crap! Let's get to the actual skin making. I want you to see my Edward Elric. He's from Full Metal Alchemist.
Download Edward Elric @
http://www.planetminecraft.com/skin/edward-elric-269794/
He's one of my top skins.
Now, open it up in MCSkin3D (sorry, it won't work with MCSkinEdit unless you convert the skin) so you can turn the model around and stuff. Look at the hair, the front bangs and how the pony tail connects to the head. Also I want you to pay attention to the placements on the gloves, boots and eyes. I normally have the eyes placed 3 pixels up from the bottom. It's important that you remember where to put the eyes or else it may look weird.
Let's see my old Edward. He looked pretty bland, but this was when I was still pretty new to all this skinning.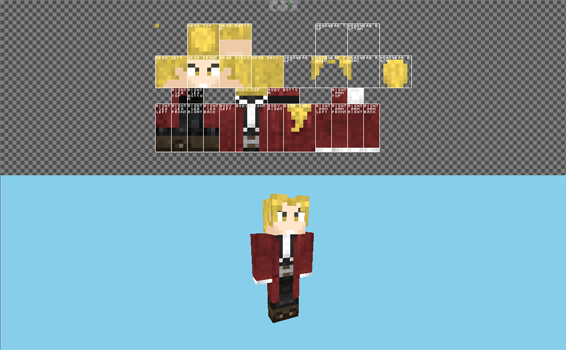 A few things that are wrong about this skin:
- Skin is too pale.
- The eyes are up too high.
- Clothes have a lot of noise added.
Now let's look at my new Edward. I went back to improve it a few months later and look how it turned out. I didn't touch ANYTHING but a few shades and look at how much better it looks. See what you can accomplish by just shading?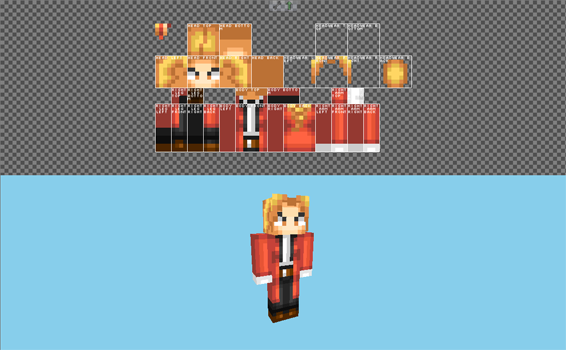 That's much better. Notice that the design pretty much stayed the same? The only thing I really did was improve on the shading.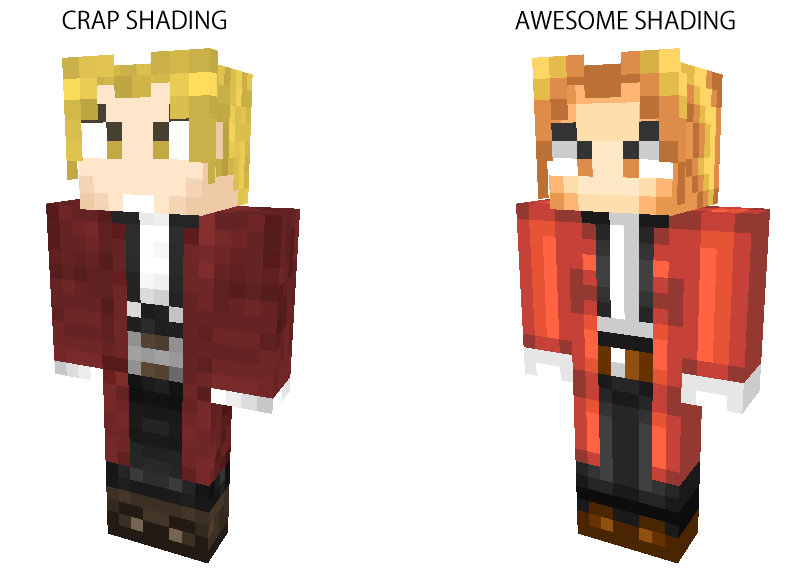 But wait, how can you even tell that's an Edward skin I made? It looks like him right? That's because we're using imagination. We basically turned Steve into something that looks like Edward. If you have imagination then you can practically do anything.
Edward Elric from Full Metal Alchemist.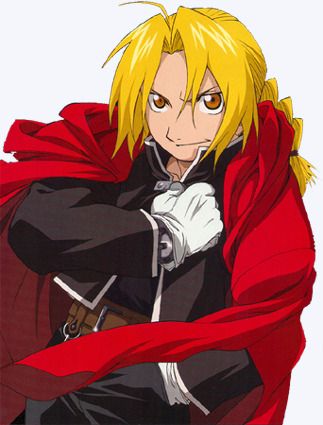 When you're shading skins... or anime skins or whatever, you want to simplify the actual character itself. That means if they have a bunch of tiny buttons or earrings or necklaces then you'll most likely have to leave it out. Also, if their clothing is a bit complicated then you need to simplify it. If you try adding too much detail then it may look really ugly and unorganized.
What I can't teach you:
- Designing hairs. It depends on the character.
- Designing clothes. It depends on the character, again.
Think of chibi for simplicity. If you're an anime fan then you know what that is. c: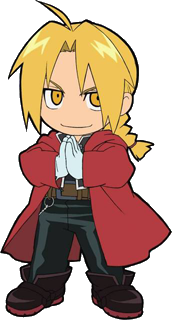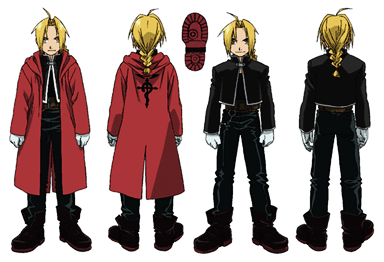 You'll also want a full body render of the character to make it easier for you to know how to even draw the character in the first place. If you're doing a custom character, then it doesn't really matter since you're the one coming up with the design.
EYE STYLES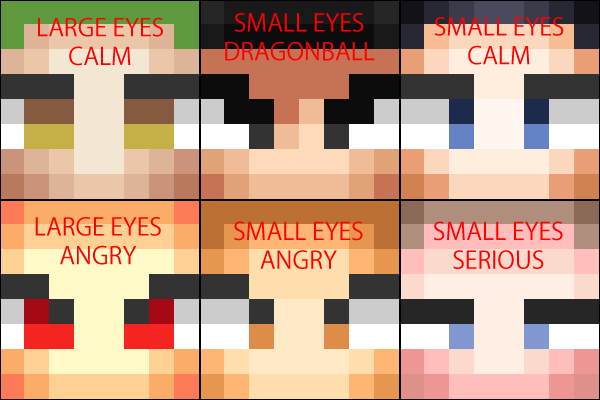 Because there are only so many ways you can draw eyes on these blocks, I provided somewhat of a layout. Everyone does their eyes different, but since you're reading this, then I'll teach you the way I do it.
Depending on the character, you want to draw different eyes. It also gives a nice variation so that not all your characters look exactly the same. Example if you were drawing an anime character like Kurosaki Ichigo from Bleach, then you would probably give him small eyes and not big eyes. If you gave him large anime eyes, he'd look really cute and weird, right? Unless you prefer it that way, lol.
Generally, you want to put small eyes on males and big eyes on females. Really depends on the anime character though.
1. LARGE EYES CALM - Used for almost every female character or girly boys with big anime eyes.
2. LARGE ANGRY EYES - Used for angry/mad looking characters with big anime eyes.
3. SMALL EYES DRAGONBALL - Pretty much inspired by Dragon Ball Goku eyes. I don't really use these eyes too much.
4. SMALL EYES ANGRY - Used for male characters that have small eyes but look serious/angry.
5. SMALL EYES CALM - Used for just about any male character.
6. SMALL EYES SERIOUS - I typically use these for male characters with glasses or that have tiny serious eyes.
There are a few other ways I do eyes, but this is generally it.
HAIRSTYLES

A lot of people ask me how I do the hairstyles and need help with it. It's really hard teaching this because the hairs are all different on anime characters. Some characters have similar hair styles though. Since there's only so many ways you can make hairstyles on your anime skins because it's basically all just blocks... I have a few hair styles I can teach.
You typically want to use the hat layer for hair unless your character has extremely short hair. Then you can just use the front hat layer for your hair bangs. The more complex the hair is, the harder it will be to make.
Short Hair
Difficulty: Easy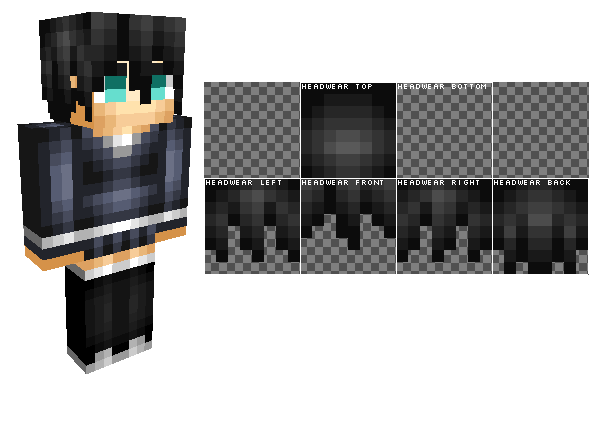 Generic, short easy hair for males and females. You can pretty much use the short hair for anything you want to make.
Pony Tail
Difficulty: Medium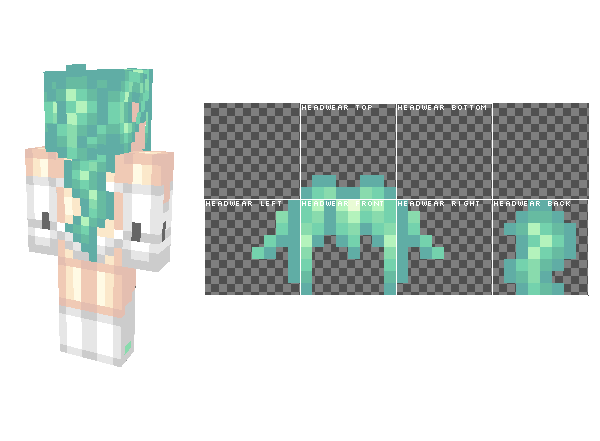 If you like ponytails, it's possible to do. You'll just have to use the back of your body to connect the hair with your head.
Hero hair
Difficulty: Hard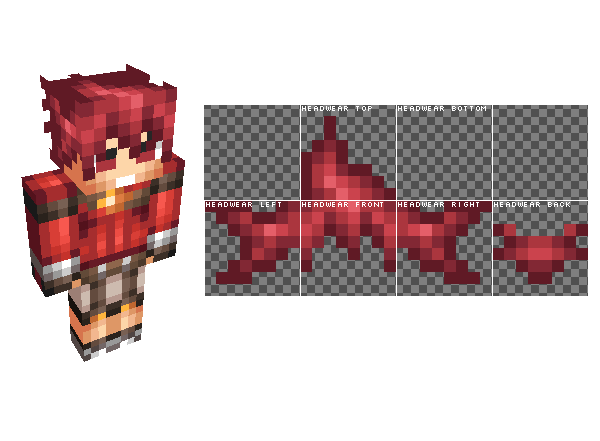 This hair is pretty much a custom hair made for Elsword. His hair is pretty crazy so I just thought up of a hairstyle that would look good with him.
Long Hair
Difficulty: Medium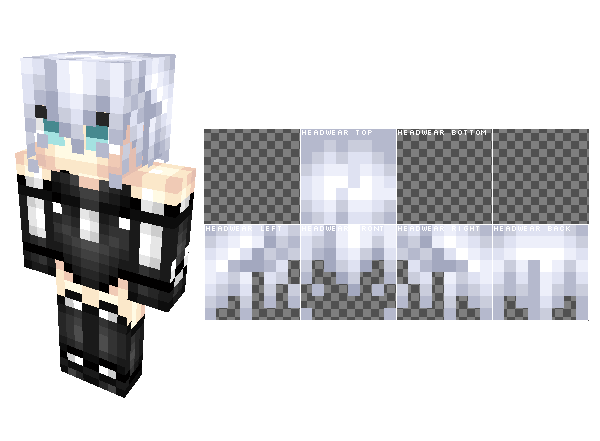 It's not that hard to do if you're using your hat layer right. I think I see a lot of people draw long hair like it's a box around their head or something. You want to make it feel like it's hanging off the head and drooping down.
Don't forget to add the back hair on your back if you're going for long hairstyles.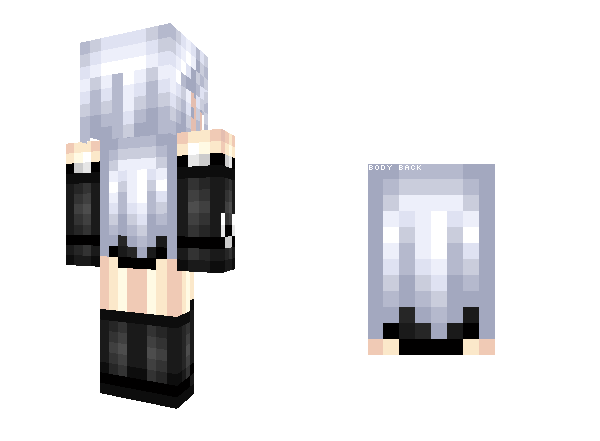 There we go. That wasn't so hard was it?
So remember to use the hat layer often for your hair. Anime hair is pretty difficult for me to do as well, even though I might make it look easy. Sometimes I spend like an hour just trying to think of how to do a certain hair without it looking like utter crap. Sometimes the hair won't look exactly like what you want it, but just try to make it look similar or touch it up with whatever you think looks nice.
With enough imagination and skills you can practically make every single anime character you want and show them off in the Minecraft world.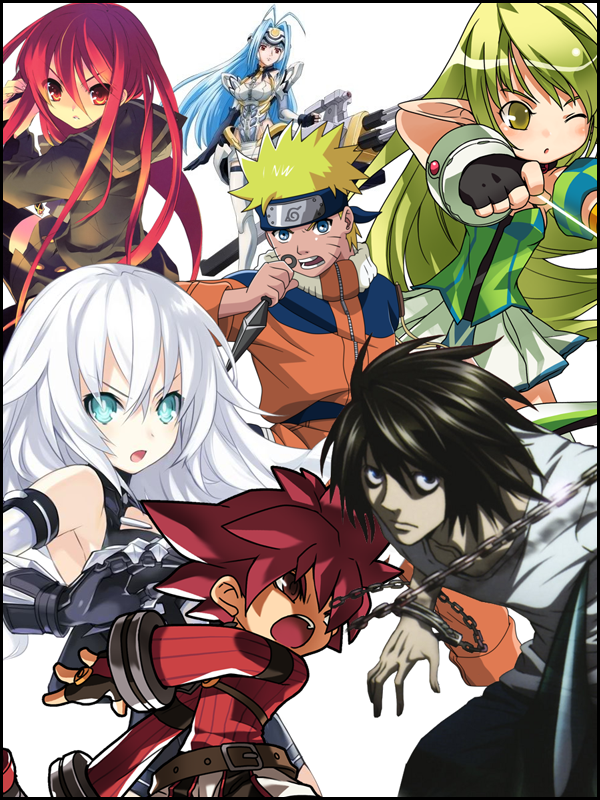 That is all I have to teach. Thank you for reading my tutorial and goodbye everyone.
| | |
| --- | --- |
| Tags: | Tutorial, Anime, Skin, Varuna, Cartoon |
Update #1 : 08/19/2012 4:44:05 am8/19/12
- Added part 2.
tracking
1004387
varunas-anime-skin-tutorial
1,165079,188,329,3672,842002,2009,64651,110512,180654,111554,221182,96250,214207,559826,460644,356071,290694,895971,1030646,171513,336698,476982,817406,1293715,526780,136703