Full Name:
Caedes
Age:
Two-hundred-eighty-nine Nazara years.
Race/Species:
Nazara
Spoiler
While the true origins of this species is unknown, what is known, is that they are very ferocious. The Nazara are sentient, intelligent, strong willed, and strong. While their lumbering size usually makes them slow, yet steady creatures. However, some Nazara are born with a defect that makes them unable to grow.
The Nazara cannot take any form, other than their own. They are usually brutish creatures hell-bent on the act of bloodshed. They tend to stay close to their own kind, and it is rare that one is found reasonable. And of that, it is even more rare to find a friendly one.
They age slower than humans, and when they refer to years, they are much longer than a normal, human year. It is rare they live past thirty, for both natural, and unnatural causes. Little is known about their culture. And what few that are friendly, usually grow up without the culture.
Their breeding patterns, and methods are unknown. They resemble reptiles, however. And evidence has recently surfaced that they hatch from eggs. Some records from survivors suggest they live in large hives until they grow older.
Nazara have abilities, albeit none are truly "unique". Some can breath fire. Some can freeze people. Some can raise people from the dead. And some, don't have any ability at all.
Nazara bodies usually decay rapidly, and their flesh turn to dust. They leave behind bones, most of the time. Sometimes, they leave nothing. And, on very rare occasions, they leave behind scales. This leaves Nazara anatomy a complete mystery. And it is an honor to have a Nazara scale. Some people believe they have mystical abilities as well.
Year:
Caedes does not attend as a student. He is an ancient being trapped long ago.
Sex:
Male.
Gender:
Male.
Weapon of Choice:
His natural abilities are his weapons. Nothing less will suit him. And he believes they are the best.
Specialty:
Melee, and his uncanny ability to spit acid.
Backstory:
Spoiler
Caedes, as he is referred to by mortals, is an older Nazara. Let's start with his birth. Caedes, a new-born hatchling grew up with standard Nazara culture. He fought frequently with other Nazara, and usually won. His "brood mother" was proud of him, and Caedes wore this as a badge of honor. He grew bigger, and smarter than his brothers, due to the fact he got more food. He would push competitors away.
Caedes was strong, vicious, and brutal. He towered a good few feet over his brood-siblings. His roar, the most intimidating. His mind, the most intelligent. Caedes, was usually the last thing most of his siblings saw before being knocked unconscious.
Caedes left his home after a few years, being a staggering 11' 2" at fifteen Nazara years. A few unlucky food transporters were killed by Caedes when he needed food. Caedes was just barely learning about life on his own, and just developing his ability. He had the uncanny ability to spit pools of acid. And he'd set traps with small pools. Wanderers of the locations he would roam, would walk into his highly corrosive acid. This served useful on days he needed food, and helped digest food. After his time roaming dark age Europe, he came across a group of hunters. That happened to be hunting him.
They had a jump on him, surprising him, being quicker. They stabbed at him, and he took a good few of them out. They pinned him, and had him take away, hoping to study him.
This is how he came to his current predicament, as "prisoner" at the academy. He lurks in a sealed building, and has access to the basement of the main building, where he converses with students. Mind you, he talks from behind bars, and cannot reach them to eat. Many students visit him, and give him food in exchange for some info for their papers. He usually dodges questions about his own species, and feeds them little important info on them when he must answer. He has been seeking a way out for ages, and sees an opportunity with each new group of students.
Appearance:
Spoiler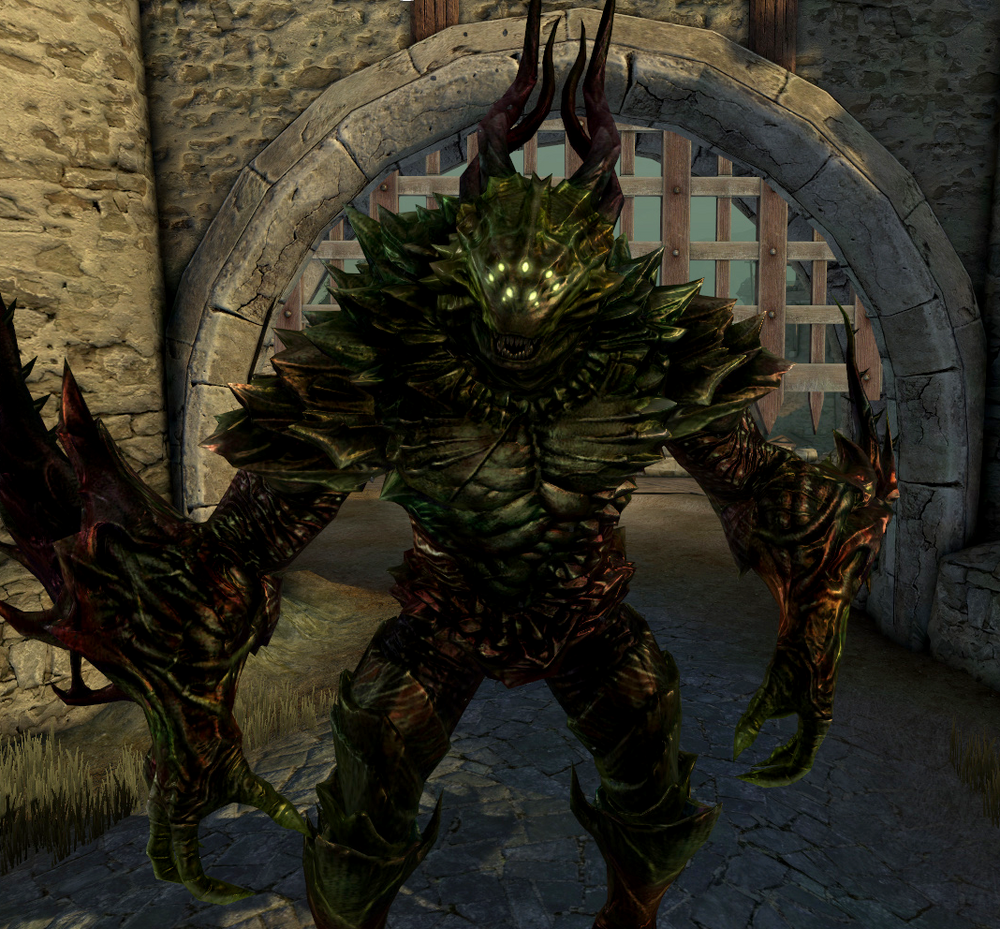 Extra Info:
More to come? Perhaps… Perhaps not. Depends on how good the IC is.