NOT A SERVER ROLEPLAY
Hello, Shane here. One day i was watching anime when i showed my friend a small AMV. That AMV was about Highschool Of The Dead. And then he said, out of nowhere, "That would make for a good roleplay" And suddenly a spark went in my head. It might. So i went and looked for songs to inspire the roleplay and found one.
Well, i found alot of songs but personally i think this is the most inspiring.
Anyways, here is what its about:
Backstory
18/07/2020
Scientists have went too far this time. They have ruined mankind. The zombie apocalypse has broken out. Why you ask? Well, to see how the human body would react to being bitten and how they would cope; Would they be selfish? Would they be happy? Would they be sad? Who knows. The largest Highschool in the world(Currently no name for the school) was infected. You are among the students, a survivor. The question is, How will you cope?
Rules
-You can have romance, most definitely. But dont go too far that you do "it"....
-No swearing other than "Saya swore under her breath." "Saya muttered something that should not be repeated"
-Put Hamburgers Of The Dead in your anything else.
-If you can, try use an anime appearance.
-HAVE FUN!
Application
Teacher:
Name:
Age(18+):
Subject:
Skills:
Backstory:
Appearance:
Weapons:
Anything Else:
Student:
Name:
Age(14-18):
Skills:
Backstory:
Appearance:
Weapons:
Anything Else:
Other:
Name:
Age:
Skills:
Backstory:
Appearance:
Weapons:
Anything Else:
SAMPLE APP(Not in the roleplay)
Spoiler
Student
Name:
Saya Takagi
Age:
16
Skills:
Smart. The genius-planner of the group. Slight experience with pistol firearms.
Backstory:
(From the highschool of the dead wiki)Saya first made her escape with fellow classmate Kohta Hirano. She is the daughter of an influential Uyoku dantai politician and her family is deeply involved in Japan's politics. A self-proclaimed genius, Saya's knowledge and deductive capabilities have allowed the group to escape from harm on multiple occasions. She was the first to conclude that "they" respond only to sound. Despite coming from a prestigious family, she despises her parents whom she thought had given up on her in the crisis. It was before their escape from the mansion that she managed to make up with her parents. Other than Rei Miyamoto, she is the only one who has a history with Takashi Komuro since they were children and is hinted to having deeper feelings for him, though she denies this. Slightly self-conscious, she detests the fact that people neither address her by her first name nor look her in the eyes while speaking. The only exception to this is Kohta, with whom she has a strange relationship. Saya has grown very attached to Alice and acts like an older sister during the crisis. She does her best to keep Alice Maresato's innocence intact and will severely scold anyone who would dare attempt to tarnish that to the any degree.
Appearance: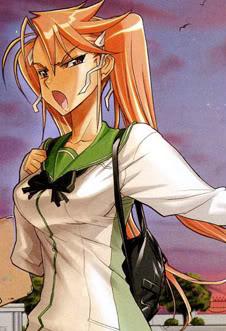 Weapons
:
MP5SFK
Electric Drill
Anything Else:
Hamburgers Of The Dead
Accepters:
ShanePurePickaxe2
Volchelkin
Roran
Roleplay thread when i have 5+ RPers. Credit for the idea goes to Volchelkin.