(WIP) ROOSTER'S MORE ITEMS MOD [1.6.6]
9 diamonds
Views,

11

today
Downloads,

1

today
RoosterInASuit
Level 52
:
Grandmaster Herobrine
Posted 06/29/11 5:07:02 am , last updated: 07/09/11 11:31:55 am
06/29/11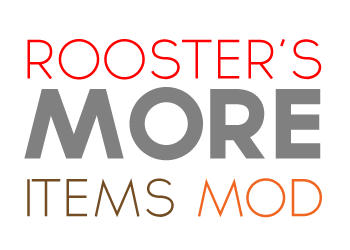 Hello Minecrafter's!
Here is an update on my first ever mod pack for Minecraft Pistons+
In short allows you to move Chests with pistons! I will be adding alot more to this pack but not too much to ruin the vanilla feel of minecraft. Please let me know what you would like added in this modpack. Also note im only 18 and have very little java knowledge at the moment haha!
Anyway you do not need modloader or anything yet for the piston mod just drag and copy the class file into your minecraft.jar file.
Here is a quick video of a rather bad moving chest idea I came up with using pistons+
To show your support and without any ad.fly stupid links subscribe to my youtube channel if you can:
www.youtube.com/RoosterInASuit
Download [1.7.3]: http://www.mediafire.com/?wf68gh9pu3k1afg
Download Map From Video: http://www.youtube.com/watch?v=aUC_ZPLJ-jc
I think that's about it for now but please share this mod as it took a while for me to figure out how to get it working!
-Rooster
Here is a quick signature I made for it too:
https://lh6.googleusercontent.com/-PhETpG29Fl0/ThiAcGe5OhI/AAAAAAAAAQM/Mn77HnohMcI/sig.png
Additional Details
| | |
| --- | --- |
| Progress: | |
| Game Version: | Minecraft 1.6 beta |
| Tags: | New Content |
Update #2 : 07/09/2011 11:50:20 am7/09/11
fixed blocks falling out
Update #1 : 07/09/2011 11:31:55 am7/09/11
Brand new update 1.7.3 Pistons +
tracking
52645
wip-roosters-more-items-mod-166
1,165079,188,3672,140820,16250,54387,2009,11149,467,21491,1422,64651,41476,153751,9670,303490,138013,110512,379343,292218,327741,574798,111554,444560,16494,14575,265688,96250,179719,214207,16575,559826,2304,8661,85626,460644,937130,28128