Views,

140

today
Downloads,

39

today
CherryGoose_Studios
Level 60
:
High Grandmaster Pokemon
Posted 10/12/11 3:57:53 pm , last updated: 06/04/13 3:49:07 pm
10/12/11
---
When downloading you have to wait for
5 seconds
then
press skip
, don't press any of the advertisements, just the skip button
.
The
Sphax PureBDCraft texturepack is recommended.
All lets plays must contain the following links:
http://www.planetminecraft.com/project/arctic-abyss/
http://www.cherrygoose.co.uk/pages/arcticabyss.html
---
No Derivative Works
You may not alter, transform, or build upon this work.
---
Featured Video: Enderrated Play The Mutation
CzyF2KVXIq0
---
This is a survival map where you are in an arctic biome and you have no food, no resources and you have to try and survive. There are many challenges to keep yourself occupied.
Arctic Abyss can be played in single player and on a server with friends without any problems, advised 1-4 players for the most enjoyment whilst playing.
If you enjoy your experience in the abyss then please visit again and give us a
diamond,
a
favourite
, even share this on
Facebook
or tweet this on
Twitter
it helps us out a lot and helps spread the joy :D
There are many challenges to complete whilst stuck in this snowy abyss and during your survival you will discover many caves and dungeons full of treasure and danger.
---
Tasks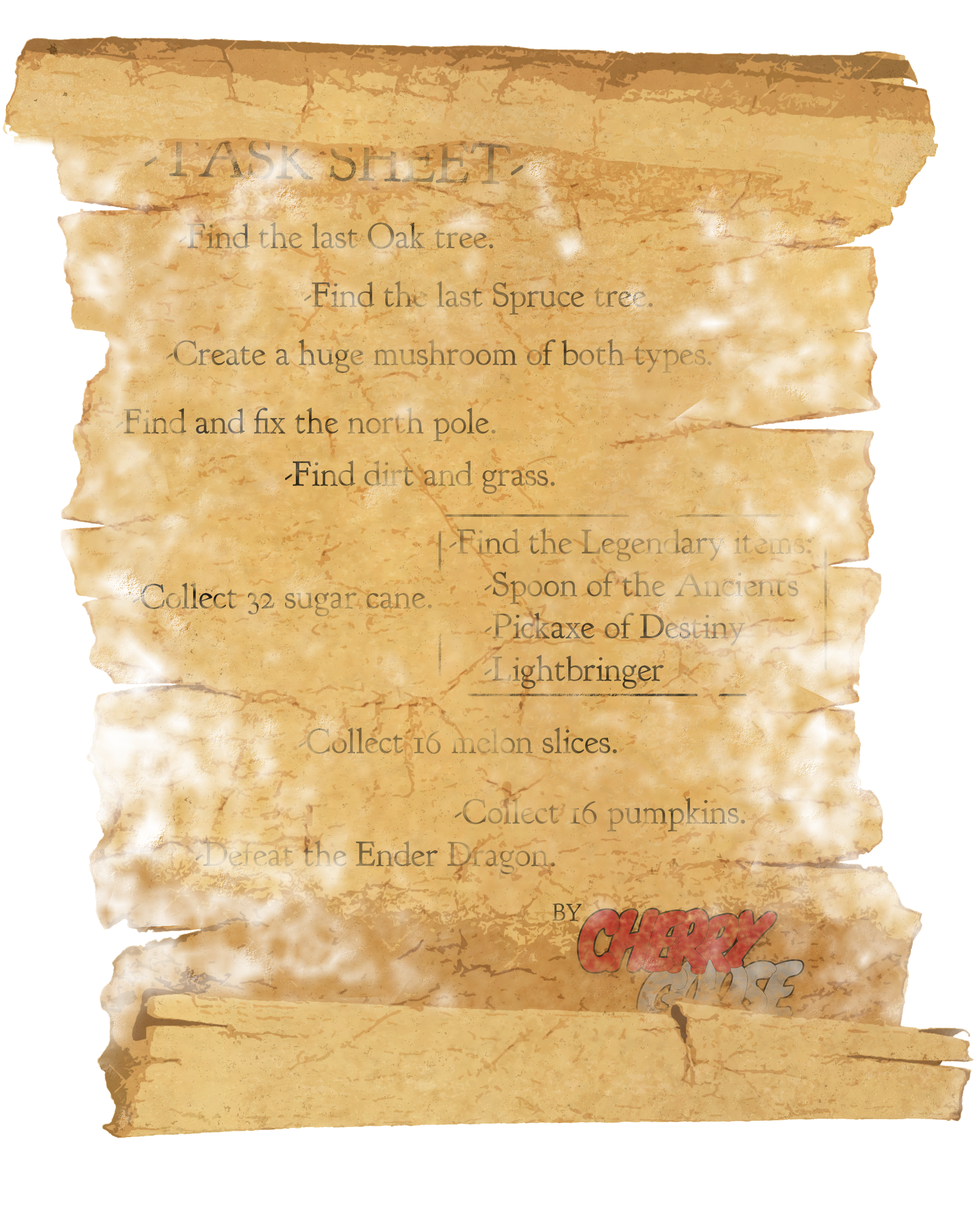 ---
Additional Notes
If you have a
project or texture pack
you can actually use
AdF.ly
to generate a small amount of
money from your project
so if you think that sounds great
sign up here!
| | |
| --- | --- |
| Progress: | |
| Tags: | Construct, Alien, Taiga, Tundra, Challenge, Complex, Adventure, Survival, Task, Land, Structure, Terrain, Arctic, Snow, Abyss, Winter, Cold, Desolate, Weather, Dungeon, Ice, Plains, Mountains, Redstone, Christmas, Snowy, Arctic Abyss, Lost, Underground |
More Projects by CherryGoose_StudiosView All
Note: Showing last 25 of 29 logs.
Thread Update : 06/04/2013 3:49:07 pm6/04/13
[color=rgb(34,34,34)]-Updated the featured video[/color]
Update 4.0 : 04/16/2013 12:32:47 pm4/16/13
-Removed the bedrock perimeter
[size=10pt]-Updated the Alien Construct[/size]
[size=10pt]-Added new boundary containment system[/size]
Update 3.9 : 01/19/2013 7:47:30 am1/19/13
-Tweaked custom items
-Removed 2 dogs to maintain continuity with the prologue
-Created functioning Ender Portal finnally
Update 3.8 : 10/25/2012 9:54:13 am10/25/12
-Updated the map with 1.4 features such as no new land being generated
Update 3.72 : 09/01/2012 11:54:17 am9/01/12
-Added a few caves and tunnels
Update 3.71 : 08/29/2012 10:43:06 am8/29/12
-Added stone in the bottom of the map
-Added coal ore in the stone
-Added gold ore in the stone
[size=small]-Added redstone ore in the stone[/size]
-Added lapis ore in the stone
-Removed redstone in a destroyed house
-Modified Spruce tree (naturally spawned leaves)
Update 3.7 : 08/18/2012 2:40:24 pm8/18/12
-Changed everything from Pine to Spruce in-game
Update 3.69 : 08/17/2012 9:48:12 am8/17/12
-Changed the bedrock to a normally generated layout instead of being completely flat
-Extended the ender dungeon
-Added sideways logs to the destroyed houses
-Modified the sand ruins
-Modified the north pole
Update 3.68 : 08/09/2012 11:15:00 am8/09/12
-Added a tasks book for easy viewing of the tasks that can be completed
-Added an alternative download link so the main one is dropbox but if that fails again and says 'too much traffic' you can still use mediafire.
Update 3.67 : 07/15/2012 12:18:25 pm7/15/12
-Fixed minor errors in grammar in the tasks file
Update 3.66 : 06/01/2012 7:29:06 am6/01/12
-Fixed a small bug with the End Portal
Update 3.65 : 05/20/2012 5:42:18 am5/20/12
-Updated the tasks.txt with 'Don't use Eyes of Ender (they don't work anyway)'
Update 3.64 : 04/04/2012 5:42:11 am4/04/12
-Removed the Nether Portal
-Added an End Portal
Update 3.63 : 04/02/2012 10:42:29 am4/02/12
-Modified the tasks slightly
Update 3.62 : 03/29/2012 10:51:30 am3/29/12
-Added 6 wolves back (previous bug)
-Cleared up most blocks out side of the perimeter
Update 3.61 : 03/26/2012 1:16:02 pm3/26/12
-Expanded the sand tomb
-Reorganised all of the animals
Update 3.6 : 03/19/2012 5:41:37 am3/19/12
[size=10pt]-Added two underground biomes[/size]
-Redesigned the whole construct
-Added 4 legendary items
-Removed the End
-Added new challenges
-Removed some challenges
-Added a way to find flint and steel
-Removed a corner of snow outside of the bedrock circle
Update 3.54 : 03/14/2012 4:59:33 pm3/14/12
[size=12px][color=rgb(34,34,34)][color=#222222]-Fixed it being the creative game mode[/color][/color][/size]
[size=12px][color=rgb(34,34,34)][color=#222222]-Fixed minor errors[/color][/color][/size]
Update 3.53 : 03/11/2012 5:41:24 am3/11/12
-I used a program so now every chunk in the map is the 'Ice Plains' biome
-Used MCedit to clear another corner of snow
Update 3.52 : 03/04/2012 5:40:53 am3/04/12
[size=10pt][size=small]-Fixed the broken End Portal[/size][/size]
Update 3.5 : 02/15/2012 4:58:18 pm2/15/12
[size=small]-Fixed creative mode problem[/size]
Update 3.4 : 02/14/2012 5:40:23 am2/14/12
[size=small]-Bug fixes[/size]
Update 3.3 : 02/11/2012 4:57:54 pm2/11/12
[size=small]-Minor bug fix[/size]
Update 3.2 : 02/09/2012 4:57:44 pm2/09/12
[size=small]-Fixed permanent darkness bug
-Fixed broken Ender Portal[/size]
Update 3.02 : 01/22/2012 5:39:56 am1/22/12
[size=small]-Fixed tiny typo in tasks.txt
-Added a precaution to stop map escaping[/size]
tracking
249653
arctic-abyss
1,165079,188,3672,140820,329,16250,54387,2009,11149,467,21491,1422,64651,41476,153751,9670,138013,145834,110512,379343,292218,327741,574798,111554,444560,16494,14575,265688,96250,179719,214207,16575,559826,2304,8661,85626,460644,937130,186332,139121,126097