Suicide Island - Satan's Nest *FIXED [Challenge Map Download]
128 diamonds
Views,

9

today
Downloads,

1

today
PixelatorJ
Level 53
:
Grandmaster Architect
Posted 06/27/12 10:49:09 am , last updated: 06/30/12 8:34:00 pm
06/27/12
This is my first challenge map project! 
Have fun and tell me the time required for you to finish the channel and destroy the boss in the end!
This was built by 2 people mainly!
Me (PixelatorJ) and HeyItsMitz
The volcano Island Landscaping was created by
Aurelien_Sama
in the Eldaria Island Map!
Check out the Map here:
Check out his other works here:
Check out his Youtube Channel here:
Legend of Cygnus Pack (Doku Customized)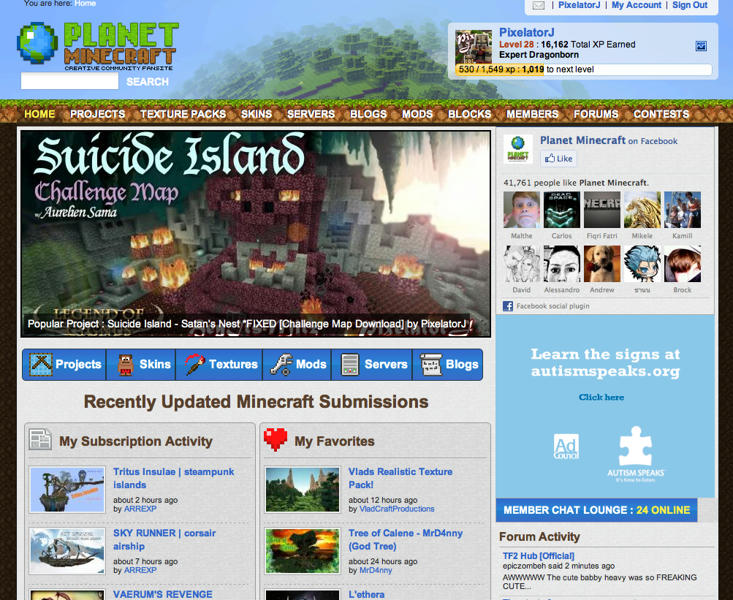 **Thank you you all for making this possible!
Game-Play Videos (Make one and we will post it here too)
This game-play video was made by intratailHD.
Favourito if you LOVE it!
Comment if you have advice!
Subscribe for more projects coming up!
Additional Details
| | |
| --- | --- |
| Progress: | |
| Tags: | Legend, Of Cygnus, Challenge, Island, Suicide, Satan, Nest, Boss, Fight, Parkour, 3D Art |
| Credit: | PixelatorJ, HeyItsMitz, XaliteB, Aurelien_Sama |
Update #2 : 06/30/2012 8:34:00 pm6/30/12
Added a game-play video by intratailHD!
Thanks so much!
Also changed the boss in the end. It now explodes more wildly!
Update #1 : 06/29/2012 1:28:58 am6/29/12
YAY, this project is back on!
I made some changes, the spawn point is not correct and functions.
The map is also extented and how has 6 sections rather than 4
tracking
1062642
suicide-island---satans-nest-challenge-map-download
1,188,165079,502,3830,5760,16250,54387,73897,2009,11149,467,21491,1422,3672,140820,64651,41476,159533,153751,9670,103039,303490,138013,379343,180654,292218,327741,111554,14575,182181,265688,96250,260146,214207,16575,131993,13377,317779,559826,2304,8661,241349