nerdcrafteria---home-of-the-nerdfighters247-survivalbukkitsimpleregionmarketchestshopminestatsinfiniteplotscreative-worldamazing-staff
Nerdcrafteria - Home of the Nerdfighters! Owned by Hank Green himself!

1059254
Nerdcrafteria
Level 36
:
Artisan Nerd
Posted 2/14/13 11:58 am , last updated: 10/03/15 12:36:21 pm
2/14/2013
Server Info
Status:
Online! Pinged: 10/04/15
Location:
United States
Game Version:
Minecraft 1.8.1
Connect With:
Players:

18/50

Lawyerdam

PinkGamer84

shadeoffcrazy

ezrads

ducomors

Forchyy

ArdentWildfire

ToastedRainbows

psych0rabbit

Neala_Ernswa

OakStarSong

thened
M_KSScHsVYM
Home of the Nerdfighters and started by the vision of Hank Green himself (of the Vlogbrothers, of course!) this server is geared towards the AWESOME nature of the Nerdfighteria community! We focus on harnessing the powers of community and togetherness to create a welcoming and versatile environment where literally NO ONE can be excluded!
If you're ever interested in joining a server where you can buy a plot next to Hank Green's house, build a massive castle in Creative, or even join our members-only FTB server to play one of the various tri-annual FTB Seasons (on differing packages) that we have set up, then come by today and sign right up!
Additional Notes
Family Friendly Server with tons of plugins and achievable perks! Choose from one of the many towns to buy a plot in, and show off your survival skills! Creative mode available as well! :)
| | |
| --- | --- |
| Tags: | Survival, Creative, Nerdfighter, Nerdfighteria, 247, PvE, Economy, Vlogbrothers, Hank Green |
Update #18 Its (almost) Our Birthday! : 09/07/2015 11:41:34 pm9/07/15
Its that time of year again! Time to gather up your friends, to DFTBA, and to have a fun little party! So, lets celebrate this birthday with some fun! 

~~~~~~~~~~~~~~~~~~~~~~~~~~~~~~~~~~~~~~~~~


Td_ReYYaiXo


~~~~~~~~~~~~~~~~~~~~~~~~~~~~~~~~~~~~~~~~
To really help drive home the fun, we have a few in game activities for you to enjoy, such as Parkour, Mini Golf,Musical Chairs Blocks, Guess the Amount, Hide and Seek, Treasure Hunts, and a few other fun presents for you to enjoy!

~~~~~~~~~~~~~~~~~~~~~~~~~~~~~~~~~~~~~~~~~
As well as in game activites, we'll be holding trivia games on our Twitter and Tumblr each day until the 21st. Being the first correct answer on 
Twitter 
will earn you 100 FBP, and being the correct answer on the 
Tumblr 
will earn you 10,000 llamas!
~~~~~~~~~~~~~~~~~~~~~~~~~~~~~~~~~~~~~~~~~
We also have some fun Buycraft news for you! Right now, we have a Pay-What-You-Want (aka free) 
Birthday Vanity Tag
 up for you to grab on Buycraft, and a 20% off code on your entire Buycraft basket! Just enter NC3Yearswhen you go to check out!
~~~~~~~~~~~~~~~~~~~~~~~~~~~~~~~~~~~~~~~~~~~~~~~~~~~~~~~~
We'll be celebrating Nerdcrafteria's Third Birthday with you all from the 8th until the 21st. After reset on the 22nd, everything will return to normal, and the free tag and buycraft code will disappear, so don't let them slip away from you! 
LET'S PARTY!
Update #17 - Auction Announcement! : 08/11/2015 6:17:20 pm8/11/15
Dear friends, we would like to introduce to you all...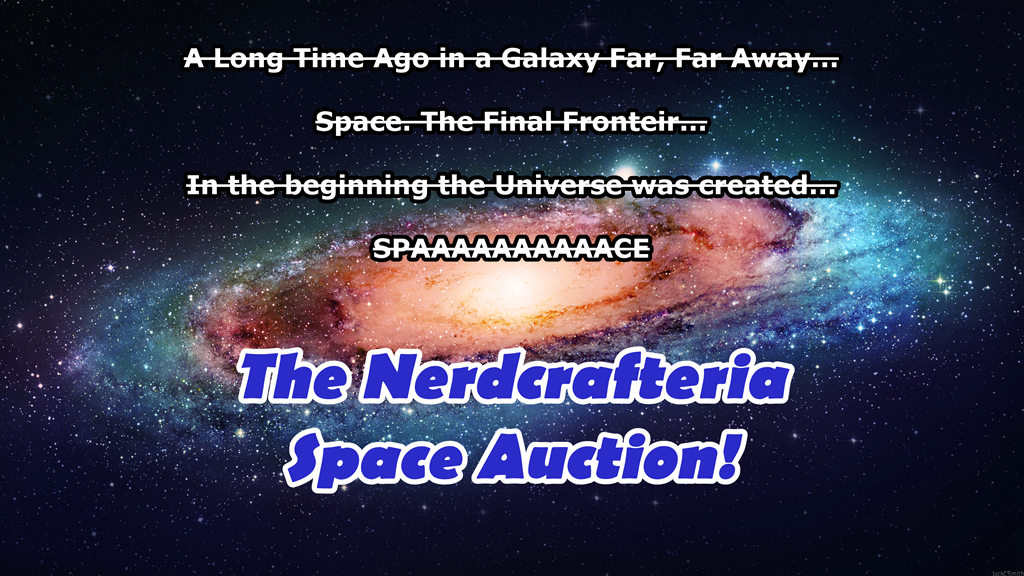 http://bit.ly/1gxJUtG
---------------------------------------------------------------------
The Staff would like to announce a Space Auction that will be occurring on
August 29, 2015
at
4 PM EDT
-------------------------------------------------------------------
Feel free to start gathering beforehand at 
/warp auction
 to pick up an Auction House Handbook and get ready to bid! We will be making plenty of announcements on the day of the auction so there will be no confusion as of when to arrive.
Some important points to be aware of:
​
All bids must be sent via private message. It will be made clear as to who you should message your bid to for each chest. Failing to send bids through pm may result in you being muted.​

Bids must increase by at least 250 llamas per bid, if the bidding gets high enough 5k will be broadcasted to change the increments from 250 llamas.​

Make sure you have the amount of money you plan to bid in your account at the time! If you can't pay when asked, your chest will be sold to the second highest bidder.​

--------------------------------------------------------------
We hope to see you all there to join us in the many adventures through 
the Planets in our Solar System 
(sorry Pluto)!
Sincerely,
~Staff of Nerdcrafteria
Update #16 : 08/03/2015 2:09:38 pm8/03/15
Hey everyone! We've got a lot of stuff going on! 
We've got a Player Survey going on! Let us know what you think about Nerdcrafteria and where you want to see us go! 

Our Youtube has been updated with a new Server Tour video! Check it out to get an idea on our towns and world. Maybe buy a plot and help the Awesome grow!

We have a new plugin: Vote Shop! by voting for us here on PMC, you can acquire FBP (or Fishing Boat Proceeds), and use /vt shop in game to buy animal spawn eggs, Monthly VIP, FTB Whitelist Access, and so much more!

We also have two building competitions going on. The Main Spawn competition uses an entire 256x256 Creative plot for players to design a new spawn for everyone to enjoy! You can enter individually or as a team, and you have until September 9th to get those submissions in, as we want to show it off for the Server's birthday! Also we are resetting Creative VERY soon, and want some fancy new roads. Design a road and enter it today!

So much news and so little time! Join us in game today!
Update #15 : 12/29/2014 5:52:57 pm12/29/14
We've updated to 1.8! Come check us out next time you get a chance! :)
Update #14 : 11/15/2014 12:02:43 pm11/15/14
After a great deal of work getting the server stabilized post-transfer, there are a whole mess of projects going on that need to be talked about. I'll go over them in some detail here:
- The Server Birthday (2 years old!) was a huge success. There were plenty of celebrations to be had, and several Buycraft deals to go along with it. :)
- The Halloween event this year was protecting the Hogwarts Castle (or what's left of it, rather) from the assaults of the enderdragons that break through the barriers which separate our world from theirs! These barriers seem to conveniently break every Halloween, so maybe we need to talk to the Doctor about getting those repaired...
- Christmas is beginning to ramp up, and with it comes a million different events! There will be a snowbrawl tournament this year, a reignition of our Secret Llama tradition, and plenty of winter wonderland events to enjoy. If you have anything you'd like to see Christmas-related show up this year, let us know - we incorporate things from many different holidays from this time of year, not just Christmas!
Please check out our forums at
http://nerdcrafteria.com/forums/
 for more information on these and more events in the near future. DFTBA!
Update #13 : 09/05/2014 10:04:27 pm9/05/14
We've just changed hosts on our FTB and Main servers! We've also doubled the size of our available resources (RAM, CPU power, etc.) and as a result it's given us a huge boost in performance. Come check us out today and see the amazing improvements we've garnered!
Update #12 : 05/31/2014 3:23:32 am5/31/14
Maintenance is done, and we're updated to 1.7.8 as part of it! Feel free to rejoin us on our main server once more! :)
Update #11 : 05/29/2014 6:40:08 pm5/29/14
We're undergoing maintenance right now, which has brought our main server down - however, our Creative and FTB servers are still up, so feel free to join us on there! The main server should be fully functional once more within the next 3 or 4 days maximum. :)
Update #10 : 12/29/2013 8:23:39 pm12/29/13
1.7.4 is coming to Nerdcrafteria, after ALL of this time! Sorry for the slow update, Bukkit (and by extension, Spigot) took their sweet time to make sure everything was nice and hunky-dory for us when we updated. The good news is, though, we'll be updating very soon. There might be some kinks to work out and we might be switching back and forth for a couple of days while we fix the major problems, but we'll be there soon enough. Check out the news section of the forums at http://nerdcrafteria.com/forums for more details!
Update #9 : 12/23/2013 7:06:12 pm12/23/13
Christmas is around the corner, and with it comes all kinds of Buycraft deals! Make sure to check out http://dft.ba/-XmasSale to see all of the wonderful coupons and discounts we've managed to score from Santa's sack just for you to take advantage of! :)
Update #8 : 10/07/2013 7:02:43 am10/07/13
A short update today: After much deliberation, the staff has decided to forgo the concept of player towns in lieu of a much more creative-centric, player-focused method of town creation that puts the mundane creating of the actual town (regioning plots, etc.) to the moderator's responsibilities, thus freeing up the players to create and build anything and everything they want for the towns they feel like building for. A whole host of creative competitions will be coming out over the next few weeks for those of you to test your creative mettle and really show off what you're capable of building!

DFTBA folks! :)
Update #7 : 10/01/2013 2:29:52 am10/01/13
A lot has been happening in Nerdcrafteria lately, not the least of which has been our update - we're on 1.6.4 now!
If you've been waiting for the server to update, you can now update your client. In order to get a better idea about how to do that, go to http://dft.ba/-1six4 to see instructions on how to change the version number in your client so you can get on the server again. Remember, you can change versions freely between servers, so if you still have a server you play on that's 1.6.2 or some snapshot, you simply have to set different profiles for different servers or modify your version in the profile each time you want to get on Nerdcrafteria in order to get on. Much simpler than switching out .jars like before! :P
Some holiday events are coming up pretty soon that we'll be announcing more about later once we get closer, but the first Halloween Creative Competition will be up and running shortly! RoryTheRoman94 will be hosting a competition to see who can build the scariest and most frightening houses in Minecraft, some of which will be featured along the boardwalk in Old Nerdcrafteria for people to trick-or-treat at on the day of Halloween! Cool redstone tricks to create haunted house-type atmospheres, lighting changes, biome changes, you name it - we'll help you create the scary environment you need in order to truly frighten the pants off of your fellow Nerdfighters. So get to building!
Christmas is coming up as well, and we've got scores of Buycraft deals that'll come along with that - keep an eye on the news posts as well as our social media sites for more info about that, and you'll be able to score yourself some neat discounts and possibly even freebies through Buycraft this Christmas as a gift from us to you. :)
See you guys soon, and DFTBA!
Update #6 : 09/20/2013 8:46:44 pm9/20/13
We've got a lot going on lately - the birthday celebrations (after the restart) went off without a hitch, and pictures for that will be uploaded here shortly. Thanks to everyone who came by to celebrate, and hopefully you found yourself a server you can stick around for awhile!

In the meantime, we've got a lot of new stuff coming up shortly - some cool fall events (including a sweet Halloween event, just like last year) as we move into the chilly season.

We're not updated to 1.6.4 yet, but be patient - we'll be updated there soon, in preparation for the 1.7 update. And once we get the next set of updates, we'll look into using the special new generator to make those HUGE mountains we've seen in the snapshots for Mineworld.

As an additional note, the Donation link has been moved to the very top of the forums (http://nerdcrafteria.com/forums/) and an additional link has been put under it - the VOTE link! It'll take you directly to the voting page here on PMC for you to vote quickly and efficiently.

DFTBA!
Update #5 : 09/16/2013 8:12:39 pm9/16/13
We've had a bit of a setback as far as the server birthday is concerned - due to some malfunctions within Spigot related to our java setup and the mySQL database we have, there was a temporary outage that lasted several hours.

The good news is, we're back up! We're going to postpone birthday celebrations until tomorrow, though, in order to give everyone a chance to get back on their feet, as well as letting the admins take a look through the plugins to make sure that we don't have a repeat of what happened earlier.

Sorry for the downtime - we didn't plan it, we promise. Come join us tomorrow for all-day birthday events and fun! DFTBA!
Update #4 : 09/14/2013 7:18:36 pm9/14/13
We've finally hooked up the Votifier connection between PlanetMinecraft and this server, which will allow you guys to earn diamonds as a direct result of voting our server up on PMC! Hopefully this will bring more awesome Nerdfighters our way looking for a good server, and in the process you guys get to earn more of those sweet, sweet diamonds. ;)

The birthday is coming up in just two days, and there's going to be a HUGE birthday bash - if you haven't already been by spawn, go check out the birthday decorations we've put up and help us celebrate the wonderful, AWESOME nature of the playerbase that has allowed us to exist and thrive for an entire year.

There are still PLENTY of donation deals going on, so it's important that you guys grab what's here quickly before it goes away. There's currently a discount on every single item in the store, which when combined with various coupons can earn you some neat discounts at checkout whenever you donate for stuff on the server.

Drop by today, and don't forget to vote!
Update #3 : 09/12/2013 9:49:24 pm9/12/13
Our Lifetime VIP 25% off sale has ended, but in it's place is a potentially much more important sale - the 15% off of all baskets sale, called the "AWESOME" sale!

For a limited amount of time (until the 16th, in fact) you get 15% off of every single item in the store - no holds barred, no limits, nothing! If you've been waiting for the ideal opportunity to get a discount, now is your chance to do so!

Additionally, don't forget that we release coupons for various things on all of our social media sites, so if you aren't following us on Twitter, Tumblr, or watching our subreddit, then you're missing out BIG TIME!

On the 16th, we have a special set of birthday events planned for the server, and we hope you guys can join us. We look forward to all of you being able to spend time on the server for it's 1 year birthday, and hopefully you're able to celebrate a special time with us - the year in review.

See you guys there!
Update #2 : 09/11/2013 10:20:40 pm9/11/13
Have you guys thought about participating in the Lost City Desert Build contest that Banesidhe is holding right now? Here's a link for more information:

http://nerdcrafteria.com/threads/contest-the-lost-city-revealed.4176/

She's looking for exceptionally talented builders to make constructions that can be featured in the eventual new spawn town of Nerdcrafteria! If you have a hankering to make awesome desert builds in any of a variety of styles, jump right into the competition by joining our Creative server (go to the main server, then type /server creative) and getting a free 256x256 plot to begin building today! There are cash prizes involved for participating (up to $250,000 llamas!) and we'll need a LOT of builds.

In other news, the PMC experiment is going well. Votifier is being set up on the server and soon you'll be rewarded diamonds for your votes, so keep voting away and soon you'll be quite wealthy. :D

Finally, the last day for submitting things to the Yearbook is the 13th - that's two days away! If you guys have special things you'd like to submit to the yearbook as a "year in review" sort of thing, feel free to email them to the staff email located in this post:

http://nerdcrafteria.com/threads/we-need-your-submissions.4099/

The server has been experiencing some minor issues with our logging plugin, Logblock, that has resulted in a few extra restarts more than there usually is in a given day. However, our technician Cory_ is working diligently on getting the problem resolved as quickly as possible. :)
Update #1 : 09/10/2013 4:21:28 am9/10/13
We've changed a lot on the server since last week! We've added the following plugins:

- PlotMe (In Creative)
- LWC (to replace Lockette)

We've added the following Buycraft packages (meaning you can donate for the following):

- Experience levels
- /homes
- Creative plots
- Subscriptions for Monthly VIP that can add up to full Lifetime VIP

Stop by the server today and see the new changes, and come check out some of the cool savings you can earn on our donor packages in celebration of the server's up-and-coming birthday! :D

Sincerely,
The Staff of Nerdcrafteria
tracking
1896375
nerdcrafteria---home-of-the-nerdfighters247-survivalbukkitsimpleregionmarketchestshopminestatsinfiniteplotscreative-worldamazing-staff
1,165079,188,3672,842002,329,2009,467,140820,64651,41476,303490,110512,379343,180654,574798,111554,16494,221182,14575,265688,96250,214207,16575,559826,8661,85626,460644,356071,290694,895971,139121,1030646,336698,1489237,1477538,476982,1059254