Views,

2

today
Downloads,

0

today
OmgSkins
Level 53
:
Grandmaster Artist
Posted 06/20/12 5:40:14 pm
06/20/12
3rd Level skin
- this is one of my newest skins one of my new style skinning if you think this is a great new way to shade give me a
diamond
to show your support.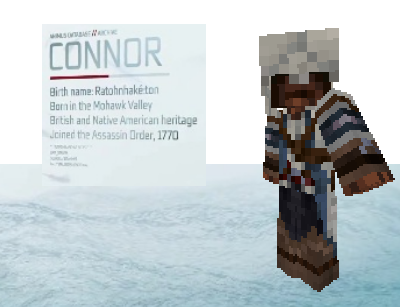 Connor Kenway
- Ratonhnhaké:ton
"On this land, I am torn. Part of me wants to fight and repel all outsiders. The other part of me is the outsider."o Connor Kenway reflecting on his parentage
Born to a British father and Mohawk mother, Ratonhnhaké:ton was raised among his mother's tribe. He suffered severely during his childhood, largely from the tribe's encounters with European colonists; a conflict that reached its peak when his village was destroyed by a colonial force.
A ancestor of Desmond Miles.
Make sure to give this a
diamond
and
sub
to show your support for me. Im also taking suggestions if you would like, I will also
highlight
you in the description.
| | |
| --- | --- |
| Progress: | |
| Gender: | Male |
| Format: | Universal Skin 64x32 |
| Tags: | Gaming, Connor, Assassin, Creed, World War |
More Skins by OmgSkinsView All
Update #1 : 06/20/2012 6:18:10 pm6/20/12
Fixed The lower chin up a little bit.
tracking
870879
assassins-creed-connor
1,165079,188,3672,140820,329,16250,54387,2009,11149,467,21491,1422,64651,41476,153751,9670,138013,145834,110512,379343,292218,327741,574798,111554,444560,16494,14575,265688,96250,179719,214207,16575,559826,2304,8661,85626,460644,937130,186332,139121,30363