Views,

2

today
Downloads,

0

today
Blender
Retired Moderator
Level 61
:
High Grandmaster Pyro
Posted 10/19/11 8:21:01 pm , last updated: 05/29/12 10:03:32 pm
10/19/11
the
Gold Miner
Description-
decked out with an iron pick, cool helmet, and an awesome beard, the gold miner is ready to hit the shafts!
Story-
A fairly typical day. Wake up, go mining, come back and have breakfast. Go mining, and have some raw pork, then go mining for another 5-6 hours, then have dinner, go smelt what he has collected from the long day, and then....you guessed it!...Goes mining!
"Eureka!"
Summary-
Like this skin? give it a thumbs up!
Additional Details
| | |
| --- | --- |
| Progress: | |
| Gender: | Male |
| Tags: | Miner, Blender, Cool Miner, Cool, With, Pick, New, Popular, Shaded, Shaded Minder, Beard, Gold, Gold Miner, Animal |
More Skins by BlenderView All
Update #2 : 05/29/2012 10:03:32 pm5/29/12
Updating to submition order.
Update #1 : 02/05/2012 6:19:52 am2/05/12
Completely redid all the shading :)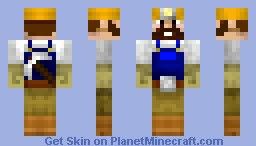 tracking
268940
gold-miner-268940
1,165079,188,3672,140820,16250,54387,2009,11149,467,21491,1422,64651,41476,153751,9670,303490,138013,110512,379343,292218,327741,574798,111554,444560,16494,14575,265688,96250,179719,214207,16575,559826,2304,8661,85626,460644,937130,143815