gothic-2-resource-pack-20
Gothic 2 texture pack 2.0
Views,

292

today
Downloads,

43

today
2305947
Posted on
2/13/2017
: 2/13/17 6:52 pm , last updated: 03/29/17 1:01:07 pm
WARNING

: read everything
To make the sound pack working all you have to do is put the entire ZIP inside your minecraft resource pack (it does work)
there are 2 dowloand the texture pack (main) and the sound pack (optinal)
HELLO THERE WELCOME TO THE WORLD OF GOTHIC MY NAME IS DUCATISLO AND I MADE THE PACK WITH THE HELP OF MY FRIEND ( Pelombong and mikeyto1o ). updates will be comming and you can also help just send me a message on planet minecraft.
i also recomend you to use a shaders mod like SEUS
SOME GIFS: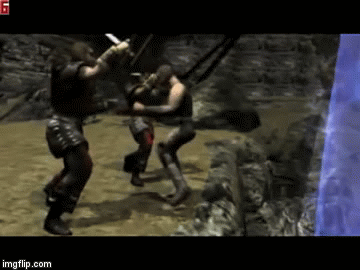 good huh?
programs used:
-GOman (gothic fans only)
-my friends help
-paint.io
-microsoft paint
-sony photoshop
-other stupid stuff that probally does not help LOL
Progress:
95% Complete
Game Version:
Minecraft 1.11
Resolution:
64x64

Armor

Art

Environment

Font

GUI

Items

Misc

Mobs

Particles

Terrain

Tags:
Themed, Environment, Font, Terrain, Items, GUI, Art, Mobs, Armor, Misc, Particles, Gothic
Credit:
!!! DUCATISLO and PELOMBONG !!!
Update #10 with new MOB texture and bug fixes : 03/29/2017 1:01:07 pm3/29/17
-end rod texture fix
-spruce wood planks texture fix
-clock texture coding fix
-prismarine blocks texture fixes
-NEW endermite texture (100% original)
Update #9 : 03/27/2017 12:09:21 pm3/27/17
-3 new door textures + items (from GOman program)
-new beetroot soup item texture
-new fishing rod texture fix
-new clock skins (borowed textures i forgot the users name :( ) also there is 1 bug where the clock turns defult i will try to fix that in the later updates
-prismarine block fixes (almost all 1 new)
-new ender rod texture

also the file is now a bit smaller (but there is more content in it)
Update #8 worth it : 03/03/2017 11:08:38 pm3/03/17
-new grass path texture
-new background pictures
-changed the spruce wood texture (removed the BIG black dot)
-new chorus fruit item texture
-new compas texture
-changed the ink sac item texture
-new shulker shell item
-new shulker mob
-new shulker chests (all collors)
Update #7 IM BACK : 03/01/2017 1:12:37 pm3/01/17
-new emderman sounds (spooky)
-new prismarine_crystals item
-new prismarine_crystals item
-new rabbit items are in (some are from skyrim)
-new dragon_breath potion item
-new mutton meat (skyrim)
-new magma block texture
Update #6 the weapon item fix (kinda) and other stuff : 02/19/2017 2:52:24 pm2/19/17
-new end crystal (i made it)
-new wool collors
-new totem
-new weapon texture fix (kinda)
-new bow texture fix
-new arrow (item texture fix)
-new hoe's (item texture fix)
-new shovel (item texture fix)
-new pickaxe (item texture fix)
-new axe (item texture fix)
Update #5 new block and zombie villager model fixed : 02/17/2017 2:13:02 pm2/17/17
-new zombie villager sounds
-zombie villager model fixed
-added new husk skin
-new prismarine blocks (AND SEA LANTERN)
-added wet sponge and changed spong (dry) collor
-some block texture fixes
zombie villager model is now done !!! but the update is still work in progress for new stuff ;) : 02/16/2017 4:08:27 pm2/16/17
zombie villager model is fixed now 100% also new voices for the zombie villagers
Update #3 new mob sounds and granite texture fix : 02/16/2017 12:34:28 pm2/16/17
-new leather armor texture (model)
-new block textures (granite block)
-added door item models
-added new mob sounds (spider,zombie,pig)

that's all for now but were still not finished :) also thx for the support Pelombong.

//www.planetminecraft.com/member/pelombong/
Update #2 : 02/14/2017 4:52:15 pm2/14/17
BIG UPDATE COMMING SOON: (sneak peak)
-new armor texture (leather)
-mob sounds
-new arrow models
-new block textures
-and more...
Update #1 THE NEW GUI UPDATE : 02/14/2017 2:05:11 pm2/14/17
-fixed inventory crafthing GUI
-fixed brewing stand GUI (kinda)

more updates will come...
tracking
3900587
gothic-2-resource-pack-20
1,165079,329,3672,559826,842002,140820,64651,110512,214207,460644,356071,290694,895971,1030646,15493,171513,336698,476982,817406,1293715,526780,2305947