Views,

141

today
Downloads,

68

today

277

Comments

202

Favorites
831978
Yuikami
Level 48
:
Master Artist
Posted 10/11/12 4:17 pm
10/11/2012
Current version: 2.2
Information [Important!]
Apparently MC Patcher 1.8 is not coming anytime soon :[
Here's something for you to kill time with, this texture pack still works with mc 1.5 - 1.7.10and will still work just fine after you install MCPatcher for mc1.8. All new presentation videos and screenshots are also posponded until the release of MCPatcher 1.8. I've received many reply that this texture pack is really lagging. It is due to the fact that this pack is really graphic heavy, it may require a better spec PC in order to run this pack smoothly. :(
This is High On Sugar 2.2 that should covers things those were added, unless I forgot to note them down.
b]New[/b]
Custom models for reeds/sugarcanes and slime Block.

1.8 blocks, entities, item icons, mobs.

Ctm supported random blocks for dark oak doors, spruce leaves.

Changes
Torch for changed from a something stick of heart to little candy, which I think it's alot cuter for decoration.

Underwater should be more clear now.

Chicken, cutify the wings abit.

Fixed Reeds/Sugarcanes texture for better tile

Darken the colors  of netherack, quartz_ore, soulsand.

More refined gravel block design.

Soulsand redesigned into strawberry wuffle.

Spong redesign, pretty much all the blocks with old chocolate chip cookie texture have been redesigned.

Daylight detector redesigned to match the other tool blocks old version included with _alt.

Oak and big oak wood blocks traded eachothers' tones, big oak is now darker.

big oak wooden planks are now darker as well.

Fixed
Missing Redsand block

Glowing parts of enderman, spider, cave spider, ender dragon.

Steve size, the human head should work properly now.

The custom colors and random blocks/mobs will not be working properly due to the lack of MC Patcher.
Other than this, if you encounter any problem, please list them into the reply below.
V2.3 will be released after MCPatcher1.8 is ready and will cover any problem countered in v2.2.
Thank you and sorry for all the waiting! I hope you guys enjoy this pack! *o*/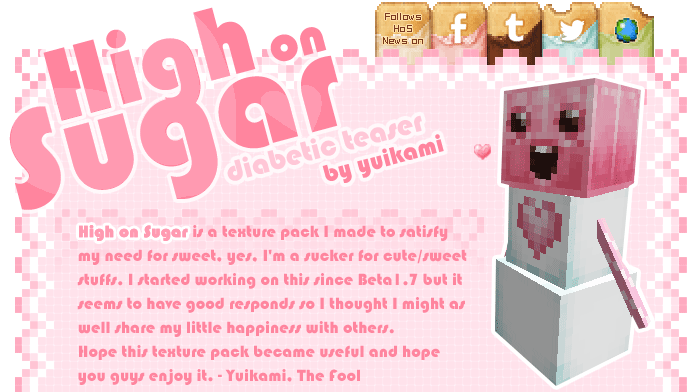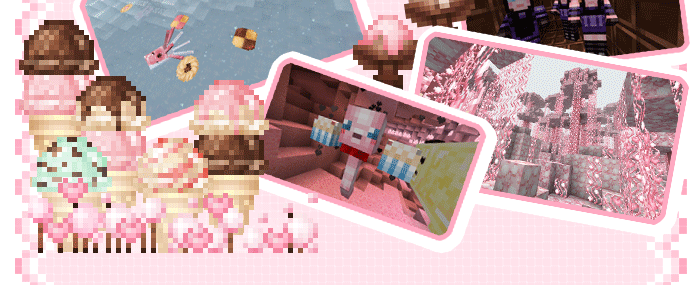 Additional Notes
sorry for keeping you guys waiting ;w;
Progress:
100% Complete
Game Version:
Minecraft 1.8
Resolution:
16x16

Armor

Art

Environment

Font

GUI

Items

Misc

Mobs

Particles

Terrain

Tags:
Experimental, Environment, Terrain, Items, GUI, Art, Mobs, Armor, Misc, Particles, Themed, Font
tracking
1518521
high-on-sugar
1,165079,188,3672,140820,329,16250,54387,2009,11149,467,64651,41476,9670,145834,110512,379343,180654,574798,111554,444560,16494,221182,14575,265688,96250,179719,214207,16575,559826,712893,2304,194607,85626,937130,186332,356071,290694,895971,139121,831978