Collierdude
Level 52
:
Grandmaster Taco
Before I start, learn how to download the Aether here.
I am not responsible for any messed up Minecrafts.
You have been warned. Thanks.
Crafting Recipes
Skyroot Planks o Very useful tools for this MOD.

Skyroot Sticks o Use these recipes wisely

Cloud Parachute o Really new feeling for Minecraft Crafting

Golden Parachute o You gotta love these!

Ambrosium Torch o Everyone loves torches at night, right crafters?

Saddle

Enchanter o 3Ã 3

Dart Shooter o Like real life, you know?

Poison Dart Shooter

Gloves o Do you love BOX or not?

Gravitite Pickaxe
Gravitite Shovel
Gravitite Axe o Hahaha

Gravitite Sword o Be a ninja!!

Enchanting o Blue Music Disk o Like the old Vinyls

Enchanting o Repairing Damaged Tools o Probably best Recipe for Aether MOD

Enchanting o Gravitite Ore o I love this!!!

These are all of the crafting recipes for the Aether (Except tools).
Start making your mine by finding a Bronze Dungeon and going in it. - Be careful, there are dangerous mobs in this dungeon. If you walk along the halls of the dungeon, there will be various ores along the walls. There is also some chests. Warning - Some of the chests are fake monsters. Make sure you have a sword equipped before you open any chest. I would highly suggest not to defeat any bosses until you are prepared and you have read my blog coming up, on how to conquer the bronze dungeon.
After you have mined various ores, make sure you have about eight zanite.
Craft zanite into a pickaxe by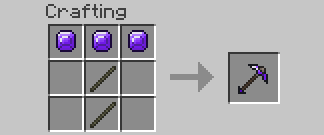 You may also repair your zanite pickaxe by making an enchanter, like this.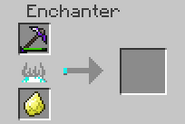 Then start making the normal tools, but with zanite. If you come across a gold tree, break it down with a zanite axe. It will drop golden amber.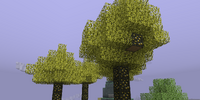 Golden Amber
is an item that can be obtained from a
Golden Oak Tree
, as long as the player cuts the oak down with an axe made from
Zanite
or better. These spheres can be used to make Golden Darts and Golden
Dart Shooters
.
Gravitite
Gravitite Ore is the rarest ore-type in the Aether, and can be enchanted into Enchanted Gravititeblocks. Gravitite Ore, by default, will float up into the air. However, Enchanted Gravitite only floats up into the air when powered with redstone. Enchanted Gravitite is required to craft powerful Gravitite Tools and Armour.
Gravitite ore can only be mined with a Zanite pickaxe or Gravitite pickaxe.
Where to get it
Gravitite ore can be found about 5 blocks or more below the surface of any moderately large chunk of floating island in The Aether. For best results, mine as close to the bottom as you feel you can, without dying, as that usually ends with you losing your stuff.
To refine Gravitite Ore into Enchanted Gravitite, place the raw Gravitite Ore in an Altar.
tools/tracking
1360285
6
aether-survival-guide-5---miningcrafting-prt-1