Updated on Oct 5th, 2021, 10/5/21 8:00 pm |
47 logs
Published
Dec 20th, 2015
, 12/20/15 10:26 pm
Carcharodontosaurus
Level 59
:
Grandmaster Fish
Howdy ho
---
(Welcome to the blog of horrors and... I have no idea what I'm actually drawing half of the time...)
---
Another small update on the blog. You can find my artwork here, but I'll probably keep most of my art on my:
Instagram:
@anton_wulff
(Only art)
@bone_hunting
(Paleo-art and fossil collection)
Feel free to look around.
Here's a sketch I made. Haven't named the sketch, but it's a Neovenator and an Eotyrannus on the pic.
"Carrion Feud"

Dinosaurs in the picture:
Carcharodontosaurus, Rugops primus and a dead Rebbachisaurus.
"
Ravenous Sea
"
In the picture you see an
Ichthyosaur
getting ravaged by a large
pliosaur
, meanwhile a
Hybodus
shark nibbles the paddle of the ichthyosaur.
And below here, my most recent drawing: "
Jaws that shatter bone
"
In the picture you see a
Bothriospondylus
getting decapitated by a gnarly
Razanandrongobe
, a terrestrial crocodylimorph from the middle jurassic that hunted dinosaurs.
Marzipan Crash:
(Lots of drawings in the spoilers further down)

This one, I call;
"The King Of The Mountain"
Spoiler - Models, pictures and "real life"-stuff that isn't just on paper or computer
Spoiler - Marzipan Monster and Pig
I was making christmas candy with the family, and decided to make a little monster treat together with a pig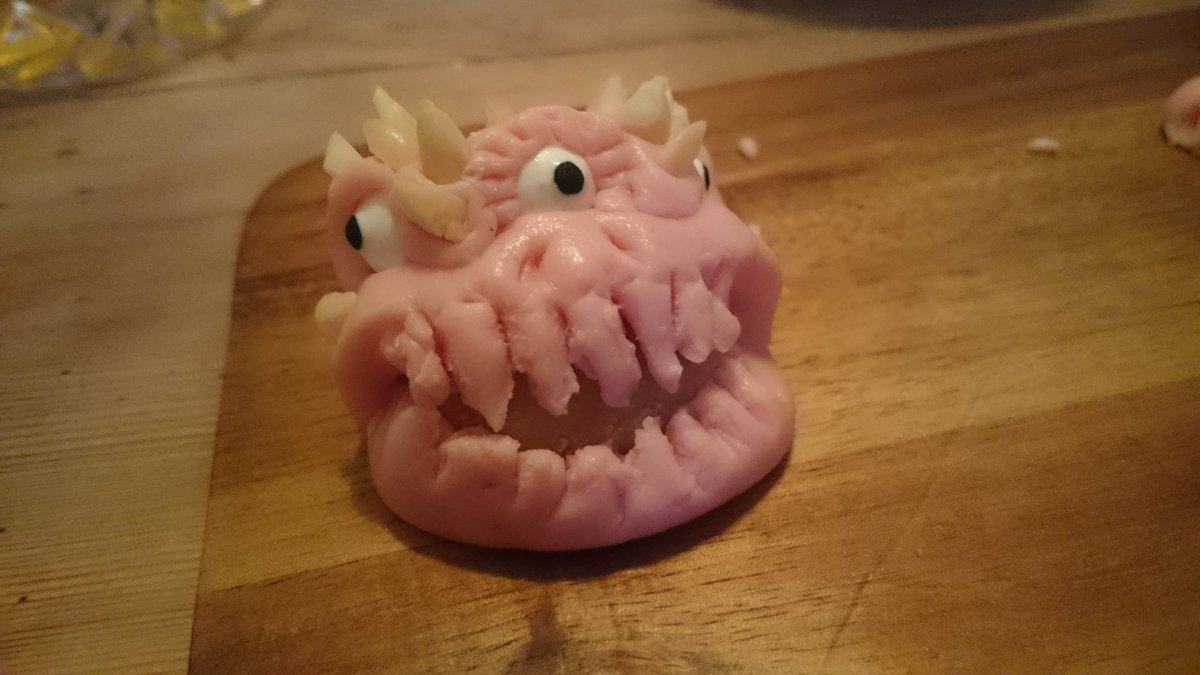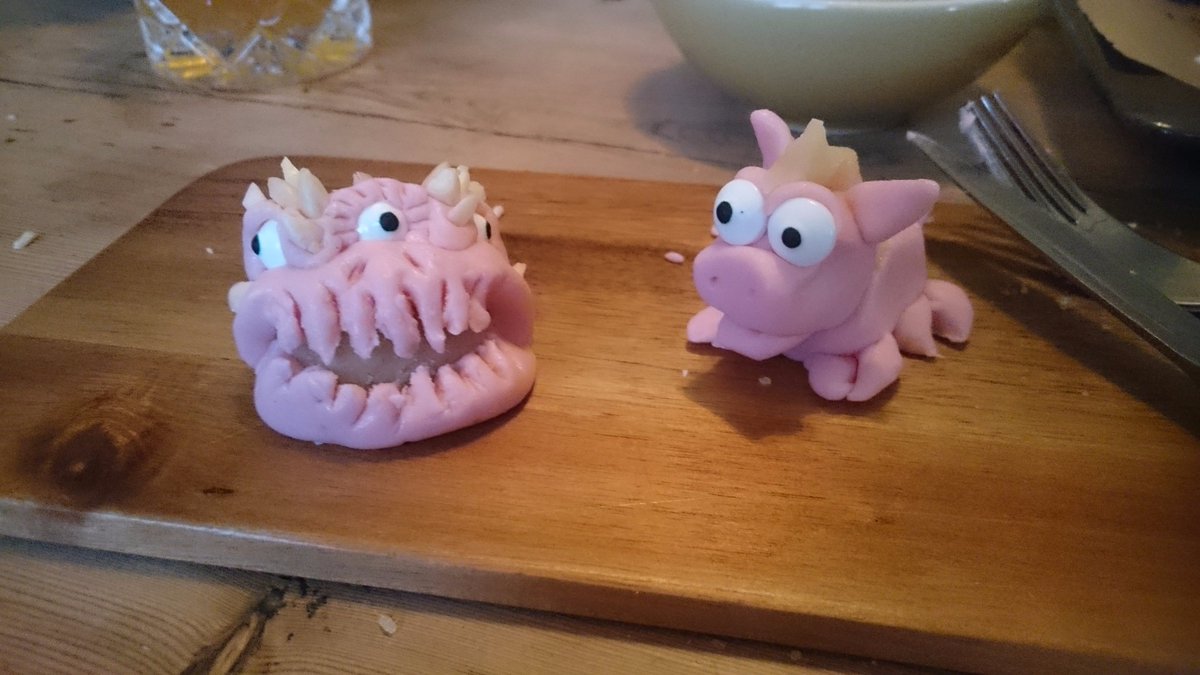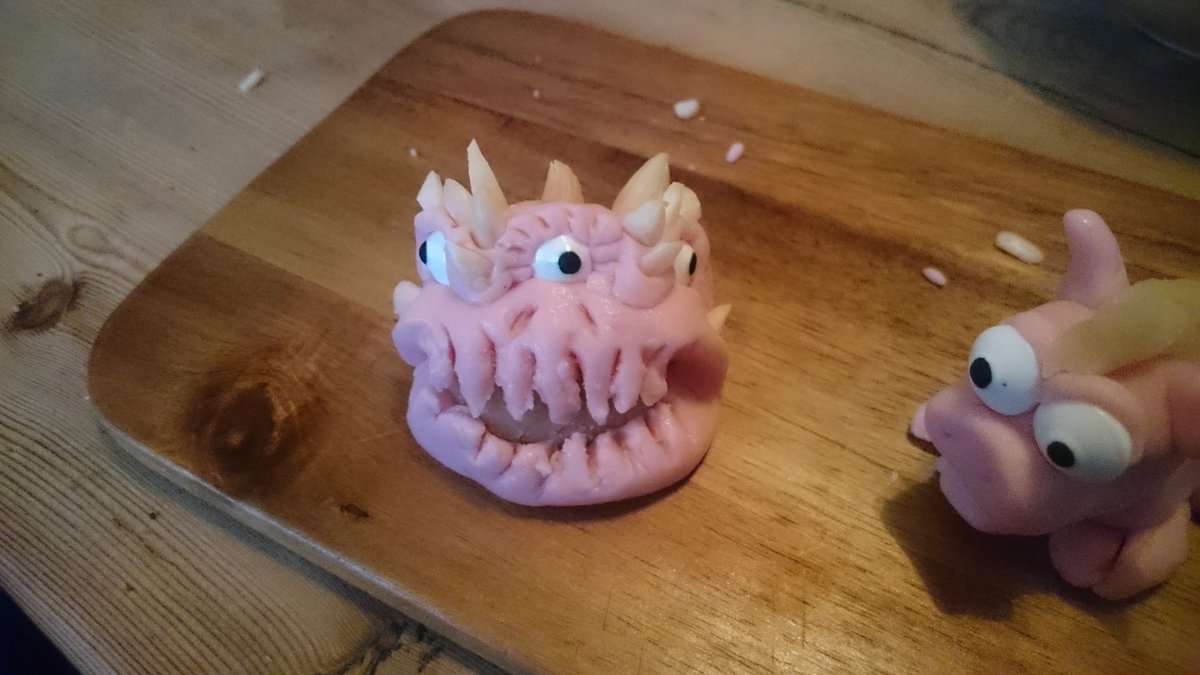 Spoiler - Marzipan Bandicoot
With a look
just as insecure
as your mum's when she sees you going into the hot underwear department in the mall.
Spoiler - Ping pong drawing (Drawing back and forth with an awesome person)
Spoiler - Ping pong with Ellielza (Ellie)
Some Prometheus-styled aliens
Spoiler - Doom-Alien collage, which is on POINT
Gore, blood, flesh, bones, it makes you hungry for more doesn't it?
Spoiler - Requests from peepz
Spoiler - 1. Request: A magic panda (_MagicPanda_ 's request)
Here is a magical, rainbow-shooting, kawaii aura panda
Spoiler - Skullcrab (500poundsofnothing's idea, made real)
It's ok... you can pee your pants now, we all know a giant skullcrab with a flamethrower is pretty darn scary
Spoiler - Cray cray squid (Latula's idea, made real)
Show him the construction site already, he hasn't got all day.
Spoiler - Kitty Love (MsHufflyPuff's idea, made real)
We all know that in reality they'll just start hissing and scratching each other, but whatever
Spoiler - Unibunnycorn (wafflecone's idea, made real)
It's so kuoawt...
Spoiler - Pikamoar teh brootal zombeh sl4yer (Pikamoar's idea, made real)
Br00tal
Spoiler - A spider tearing itself open! (Pilosaurus Funkei's idea, made real)
Hi there arachnophobes!
Spoiler - More dinosaurs (Cuz the other dino-spoiler screwed up)
A Utahraptor! (A bid bad quality, yes)
Spoiler - Arnold Schwarzen-saurus
Get to da choppa! Nao!
Just look at it's small tiny arms! Hahahaha!...
jk, they're not supposed to be that small... they're actually supposed to be smaller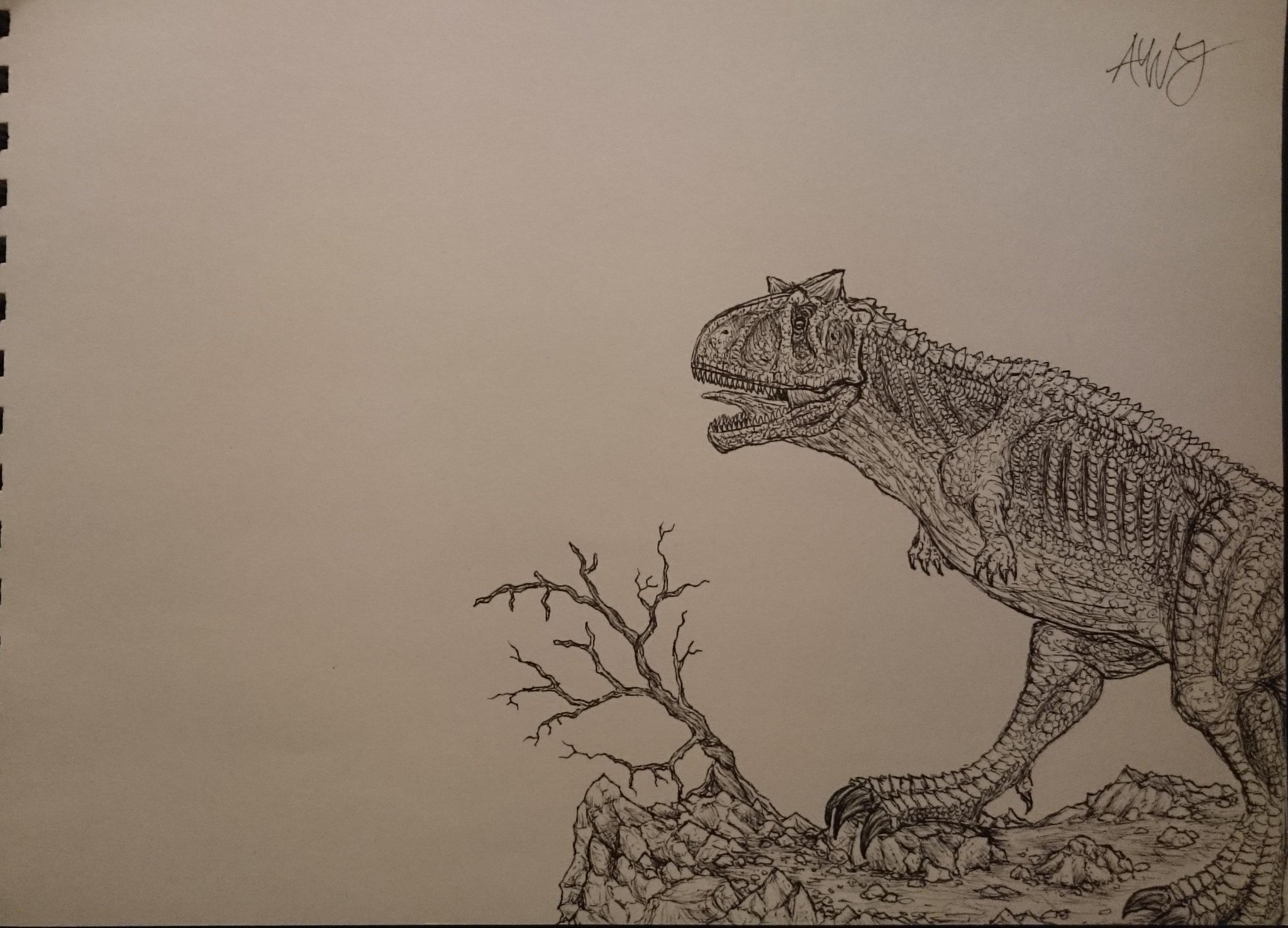 A hunter's terrace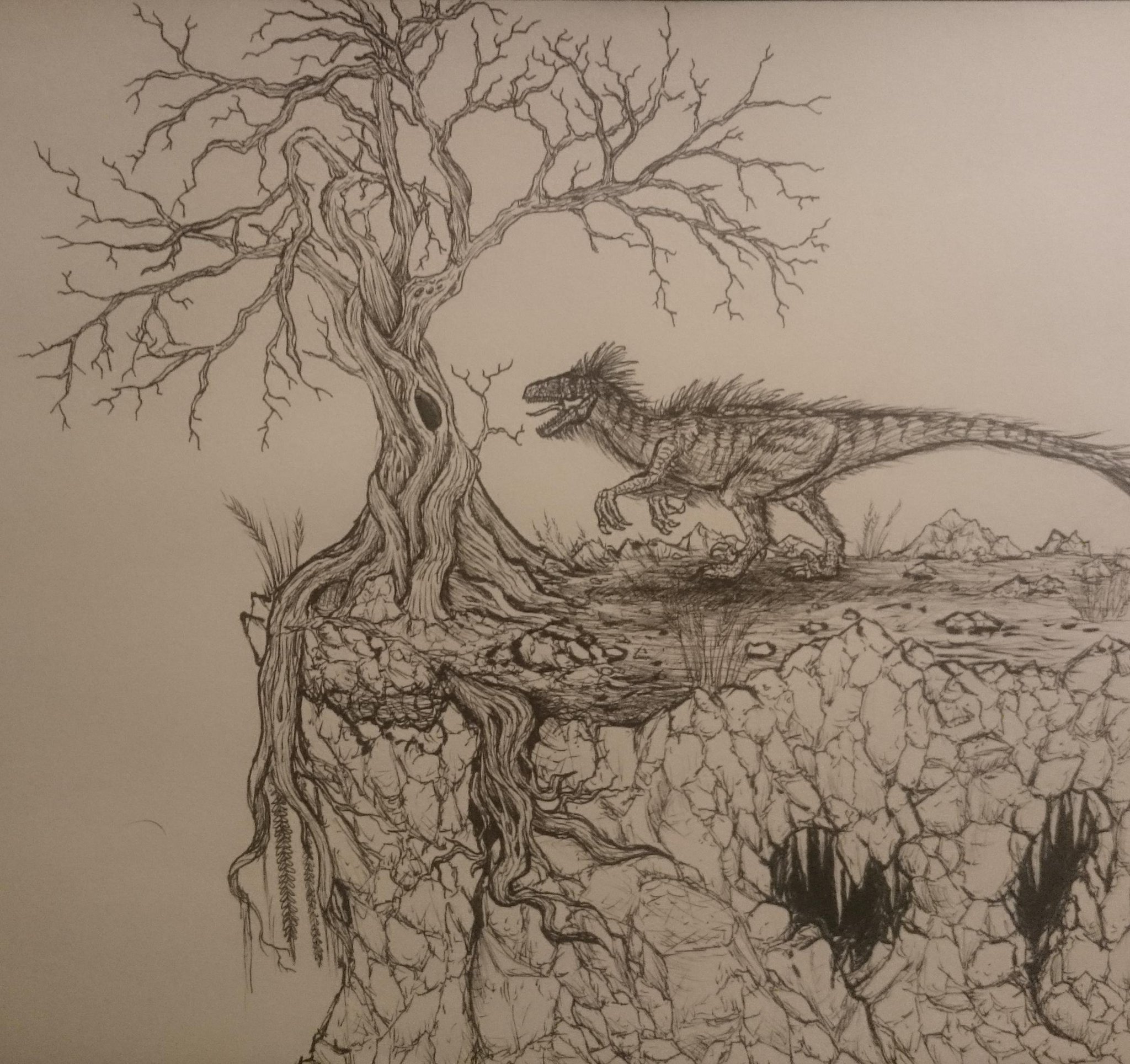 Spoiler - Neovenator having a snack
Mmm, snack.
Spoiler - My new drawing book! I call it: Anton Wulff, Only Black
Alien-like, undead and gory
Spoiler - Creature Of The Night...
Fall into a deep blissful sleep, nothing in sight, but soon you'll be awakened by a screech, and before you stands the creature of the night
Spoiler - Spawn Of Satan, literally, yea
His number is 669
Spoiler - Shadow And Flame! (And inner rage)
You probably thought this was going to be a Balrog right? Well think again!
Spoiler - The Circle Of Death
Ok, so I got a little poetic
Spoiler - Hear no evil, see no evil, feel no evil, speak no evil
Eyes sewn together, ears nailed, mind spiked, mouth stitched... no harm shall come, no harm shall be done.
We are but fruits on a tree of death. Only the tree will last forever...
Spoiler - Flesh and the power it holds!
Spoiler - Death takes many forms
Death takes whatever form that suits him for the moment... (Apparently a scarecrow this time)
So... again... I felt like drawing a dragon
Spoiler - A wolfie spider
Iz cute
Spoiler - Herald of Shadowflame
"Purge the world with fire and darkness!"
"Drifting from the living, joining with the dead
Zombie dwelling maggots, now infest your head"
Spoiler - Beware of the Boogeyman
Jungle "boogey"! *Whabadaba whabadaba* jungle "boogey"! *Ready to get dooowwnnnn!*
Don't worry dear! The doctor is he... oh... buggers...
It speaks for itself
Spoiler - A Mountain Of Flesh And Teeth
Yea, basically what the title says
Spoiler - All sorts of REAL animals
Spoiler - A great white shark... head...
This one is pretty old actually, I can't remember the time I drew it (Probably about 2011 or something)
Spoiler - A great white shark, jumping
Yipeeeeeee!
Spoiler - Humanoid monsters
The head of a crocodile humanoid
Spoiler - Crocodilian Warrior
A rather old drawing, but just found it under some papers and thought it deserved a spot here
Spoiler - WARNING: Spiders ahead, don't press if you have arachnophobia :i
Spoiler - Really big fantasy spider
I was watching a lot of lord of the rings at the time being (The drawing is from 2011 I think).
Spoiler - My old tarantula drawn on paper
He was the cutest hairball in the world
Spoiler - A wolfie spider
Spoiler - Comic-like drawings (Of humans n' stuff)
A freakin guitar hero
Spoiler - A lone ranger...
A lone ranger dwelling in no man's land
Spoiler - Another guitar hero!
Was a little inspired by Dimebag Darryl, as well as the frontman of Machinehead, a grain of Zakk Wylde... and for some reason Rob Zombie also sneaked into the picture
The Human Heart <3
The Human Brain
Spoiler - A Mighty Red Dragon!
A mighty red dragon
Spoiler - A slightly peaceful one (And old drawing)
An elder dragon (And an old drawing too)...
Spoiler - A whole dragon!
Iz cute
Spoiler - (A really fast drawn) Dragon Head
This one took a few minutes to draw. Came out better than expected.
Spoiler - The King Of The Mountain
Yes, dragons have slaves to dig riches for them. Did you think they'd steal the whole damn treasure? Pff...
Spoiler - Monsters (Gore, blood... a little freaky/creepy)
Spoiler - Harbinger of fear
Fear has many faces.
Spoiler - The Grim Reaper
Spoiler - Burning zombie monster skull!
As the spoiler says! It's a zombie, skull, juggernaut, burning monster thingy... I just draw stuff that comes to my mind mkay? And for some reason, this did! XD
Spoiler - Really bloody alien drawing
Gore! Horror! Blood! Aliens!
Spoiler - A random foul, undead-like gory beast
I drew this one in school in a Danish lesson I think... I was bored... until this fella came to my mind for some reason
Spoiler - A new type of alien!
#TheHorrorIsReal
Spoiler - Another alien-like horror beast/creature
Not to be confused with a "Heartbreaker". A heartbreak can be healed, but ripping one out... that's... just cruel...
It has a spine on it's chest, the brain on the outside, and spiked armor growing from the inside out, leaving scars and decaying flesh.
Hello darkness...
Spoiler - Black Tritonus Cover 1
Pretty brutal
Spoiler - Mauled Out Of Existence
Unrelenting malice...
Spoiler - Eaten from the inside
So I was actually drawing some random gore/alien stuff again, starting from the mouth, when I suddenly realized: "Hey, I could form this badboy into a skull". And then it just sorta went out like this;
Spoiler - Through the mouth of evil, malice is reborn
Evil stuff ye.
Spoiler - The pit of ghouls
The boys are hungry.
Spoiler - ... To serve in heaven or rule in hell?
That's the question innit?
Spoiler - A Recently Discovered Chinese Raptor!
Feathery
Spoiler - Not so "scary/gory" monsters
Spoiler - Sobek - The Crocodile God
My own adaption of the real egyptian god "Sobek"
47 Update Logs
Update #47 : by Carcharodontosaurus 10/05/2021 8:00:45 pmOct 5th, 2021
Added 2 new drawings to the blog:
"
Ravenous Sea
"
"
Jaws that shatter bone
"
LOAD MORE LOGS
tools/tracking
3553248
6
antonnov21s-art-blog-d