jeramai
Level 55
:
Grandmaster Baconator

As first, we start with opening a new picture of 25x25 pixels in paint.net (You can do a bigger one, but I use this)
To make it even more easy for you, here is some "FUN" for you to use!

(right-click to save)
(Clear the image in paint (or what you use) to start)
Now we have an empty image, we can start drawing, I will draw another JeraMinion, but you can draw whatever you want :P
Now you have drawn something you like, this will kinda be the result:

I know, this is a little small, so we should make it bigger :D
I always use the size 250x250 because I think this is the perfect avatar size.
Correct me if I'm wrong about that...
Now ofcourse I have done this with the FUN to, so you can put your avatar over it.
Here is the FUN: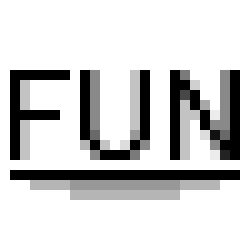 Now we have the small and big template, we can make our little pixel-art into a avatar!
You should copy your small pixel-art, and paste this on the big template.
After you've done this, drag it by its lower-right corner and expand this to the 250x250 size.
You will now see that the image gets blurry,
we can help this get clear by holding down the left mouse and press "Ctrl + C".
Now press "Ctrl + V" and we should almost be done!
Last thing to do is save the avatar!
If you have done all these things, you should have something like this:
---
Hope you enjoyed it, and that you will have a lot of fun making these avatars!
And yeah, I DON'T need credit if you made an avatar by using this,
sending me what you have made is enough :3
tools/tracking
2498444
6
how-to-make-your-own-pixel-art-avatar-tutorial