Masq
Retired Moderator
Level 39
:
Artisan Dolphin
(for last year's awards click:
here!)
(to see all PMC Awards based discussion click:
here!
)
PMC Awards you say?
Yes! I reply.
Here we are again, in the dregs of 2015 rewitnessing some of the best submissions and remembering some highlights of the PMC year. For 2015, we organised a proper attended event and supersized the whole infrastructure of the idea in hope that it would be more entertaining - so grab your industrial-sized tub of nutella, run a bath, and relax: we hope you enjoy this award-based session of merriment.
Before we begin, I just have some housekeeping things to do:
- Firstly, a huge thankyou to the whole team that worked to bring the event:
Chron
,
Mayanaisee
,
Pepijn
, and
Irish
!
- Secondly, although the winners were decided by the community, please do not feel that this was a bias, malicious event against you or your submissions if you did not win - this is all a bit of fun.
- Thirdly, thank you to
Yo Goatucus
for making our official PMC 2015 trophy.
- Also, I do apologise for being so late in uploading this. I have been waiting on a live video of the event, that evidently hasn't been posted yet - I'll try get that to you as soon as possible.
Also, as this is a blog, some of the awards might not be discussed in as great a depth as the others just for length/time reasons.
And the winner is: CreepinAtMyDoor
Although Atom gave him a good run for his money, CreepinAtMyDoor battled the competition to win the 2015 prize for the best shading of a skin.
The management of light sources on this skin is exceptional, and I can certainly concur with this result.
http://www.planetminecraft.com/skin/tobor-the-mega-robot-3001200/


~ THE MOST CREATIVE SKIN ~


And the winner is: Taterman88
Creativity is a collective aspiration for the majority of PMC. Many believe that there is a strong correlation between time, and the repetitive nature of submissions - taterman88 went above and beyond with this sunset selfie skin to prove that there still is inspiration out there. It just shows that there are still unique, exciting concepts for submissions still to be found.
http://www.planetminecraft.com/skin/sunset-selfie/
~ BEST TEEN SKIN
~
And the winner is: Felinka


Hold your collective sighs. We all know the disposition of many members of the community regarding "teen skins", but over the past year there have been an amalgamation of unique, quality skins that fall under this category. It was a tight race between Felinka's "Mage" and the rest of the competition:
But the vibrancy of colour, and quality of shading was enough to clinch her the title of "Best Teen Skin".
I personally am a huge fan of the hat. Any skin with that nice a hat is fine by me anyday.
http://www.planetminecraft.com/skin/-fia---mage/


~ BEST REFERENCE-BASED SKIN~

And the winner is: KnobleKnives


It of course won't come to a shock to you all that one of the site's most renowned skinners has recieved the prize for the best "Reference-based" skin. Though there have been a plentiful source of "The Kid" skins in the past year, I really love the way that KnobleKnives has seperated himself from the pack and tried to work with extremely similar colours to those from the actual source. The palette used to create this skin is pretty exceptional.
http://www.planetminecraft.com/skin/the-kid-------bastion/


Although, I feel as if I would be doing an injustice to not list some of the other nominess as this category was one of the strongest in its submissions: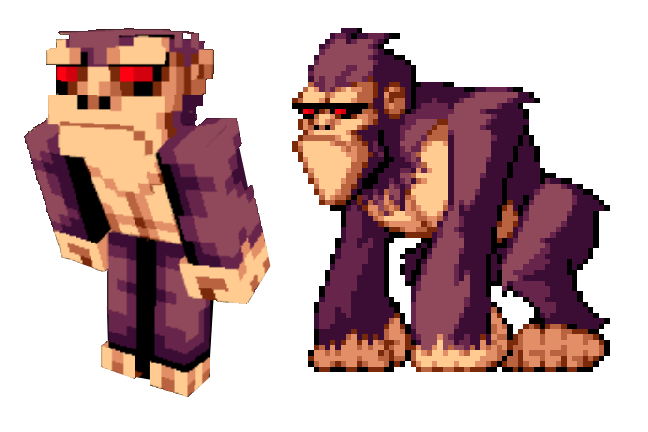 Kefka's DonkeyKong skin, whilst terrifying, came very close in third place with 6 votes to KnobleKnives' 9.
One vote behind our reigning champion was Meggles' superb effort with this skin based from Zelda, the LOZ Twilight Princess.
The one that everyone was waiting for:
~ SKIN OF THE YEAR ~

And the winner is: KnobleKnives

Would you look at that! Not only did Knoble manage to pick up the prize for the highly contested "Best Reference-based Skin", but he also gained the biggest prize of the skinning section - the overall best skin of the year as voted for by the PMC community. The nominees consisted of a collation of other skin-prize winners, and fan favourites so it really did make for an interesting battle.
All that is left to say is a huge congratulations to all of our prize winners in the skinning section of the competition. If you didn't pick up a prize, you have another year to produce a winning entry! Strive to be the best and knock Knoble off of that top spot!
The blogging portion of the competition was fraught with copious categories, and so I decided to only showcase a small segment of them for length reasons. Feel free to check out the other polls, and a quick comment here:
Most Detailed Blog:
Pikamoar deservedly won this category with a submission he is still updating today. Throughly detailed, and full of effort, it is definitely worth a read.
http://www.planetminecraft.com/blog/advanced-writing-method/
---
Best Tutorial:

taterman88's success in the PMC Awards didn't stop at just skinning, he managed to take home a blogging award too for the best tutorial of 2015.
http://www.planetminecraft.com/blog/rotating-skin-previewer-tutorial/
---
Most Creative Blog:

Ayy I somehow managed to win one. I guess people were just hungry when they voted. But thanks guys!
http://www.planetminecraft.com/blog/what-if-servers-were-pizza/
~ Best Interview ~


And the winner is: Hollask

My personal favourite interview of the year had to be Hollask's, and it appears that the community agreed. Not only did she manage to delve deeper than the ordinary, somewhat repetitive interview that PMC is accustomed to, but she also made it an enjoyable, entertaining read. A first interview for Hollask, and a winning one at that.
http://www.planetminecraft.com/blog/my-first-interview-with-azie/


~ BEST ART BLOG

~

And the winner is: Sumpumpolis

This was such a strong category, we had to extend the nominees to a shortlist of 10. Sumpumpolis pretty much reigned supreme over the whole of his competition, with the exception of Meggles who narrowly missed out. It's not a suprise he won with his brilliant artwork:
http://www.planetminecraft.com/blog/sumps-art-blog/


~ FUNNIEST BLOG ~

And the winner is: Bubz

Bubz, one of PMC's most well known, funniest characters was bound to win an award somewhere due to his broad sense of talent and creativity, and I'm sure it won't come as a shock to many of you that he managed to pick up the award for the funniest blog of the year with his animation. If you haven't seen it yet, I would thoroughly recommend the watch - it kind of speaks for itself as to why it was nominated and voted for by the community.
http://www.planetminecraft.com/blog/planet-minecraft-animation---chat-lounge/
~ BEST STORY ~

And the winner is: Chron

It was a two-horse race this year in the voting, between two exceptional stories. Chron managed to oust Azie (last year's winner) from the top spot by just one vote, and it was the closest voting of the whole competition. Thoroughly deserving though was Chron's "Modder Mystery Mayhem" - an entertaining, humourous blog I'm sure you will agree.
http://www.planetminecraft.com/blog/modd-mystery-mayhem-1-syntax-serenade-lost/
The Highly Anticipated:

~ BLOG OF THE YEAR~

And the winner is: Bubz!
There were so many excellent contenders, we had to extend the shortlist once more to 10 nominees, with 2 representatives from each of the blogging sub-sections: "Interviews", "Stories", "Other", "Tutorials", "Art". It was such a widely voted for set of blogs and all bar one managed to pick up at least 1 of the 19 votes. Bubz, however just clinched the trophy for the best blog of this year with his deserving animation.
~ THE ULTIMATE SHIP OF THE YEAR ~
Last year, Sam x Sam just managed to beat the strong competition of Yuki x Foxhound, and Bubz x Eliya. We collectively decided that as it was such a community favourite, we would keep this category and add a whole shortlist of ships.
And the winner is: Allergy_Man x OreoVal
Just beating last year's winner Sam x Sam, Allergy and Val managed to scoop up the best ship of 2015. Well done guys - good effort all round.
~ PUNNIEST MEMBER~
Puns are a beautiful thing that not many users can crack perfectly. Our winner,
Chron,
is well renowned for his excellent Pokemon related puns and with him most definitely smashing the competition, I think it is fair to say that he deserves this award (his second of the night)
Links to Winner's Profiles
I think that about rounds up the 2015 episode of the PMC Awards. I really hope you enjoyed the write-up, and apologise again for the lateness - I hope to upload the live video of the event here within due course. A huge congratulations to all nominees, and winners; let's all strive for 2016!


v
tools/tracking
3518162
6
httpiimgurcomhgdoh7ljpg