GrayRemnant
Level 64
:
High Grandmaster Senpai
Hello there ladies and gentlemen. Today, I'm reviewing the new film: Terminator Genisys. This review contains spoilers, so avoid clicking any of the spoiler boxes if you want to remain spoiler-free. You can also check out a video version of this review (also packed with spoilers)
here
.
---
Introduction (Spoiler-Free)
Before I begin, I need to get something out of the way. This is a bad film. Let there be no ambiguity or confusion going forward. Unlike Jurassic World (which was, at the very least, fun to watch), Terminator Genisys is both rife with plot holes and very tedious. It has no silver lining. It's just plain bad.
Why is it bad? There are lot's of reasons, and I quite frankly don't know where to begin. I guess I'll begin with a plot analysis, followed by a rage-conclusion that I think you'll find very enjoyable.
*Major Spoilers* ===Plot Analysis=== *Major Spoilers*
Terminator Genisys starts with that tired old montage of Skynet wiping out mankind with nukes. I'd like to point out that, at least in cinematic terms, Terminator 2 did this scene much better. After that, we fast forward to the year 2029, where John Connor, Kyle Reese and their troop of rebel forces are raiding Skynet's main fortress.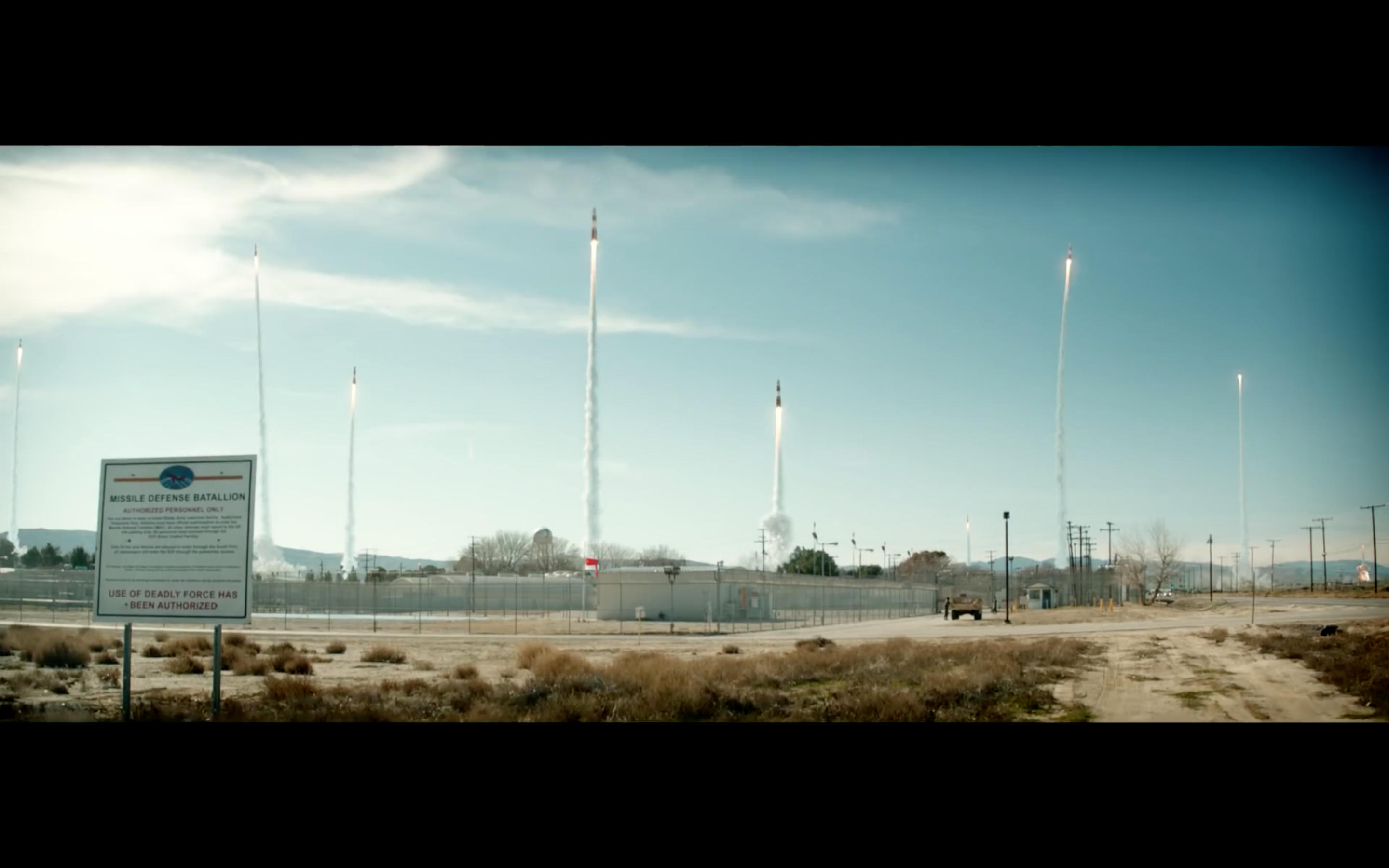 Of course, they succeed and destroy the Skynet core, but not before they send a T-800 back in time to kill Sarah Connor. I might point out that destroying the 'Skynet core' had the apparent effect of killing every single machine in the rebel's midst. This begs a very important question: If the destruction of Skynet's core causes all the machines to drop dead like rag dolls, how does the T-800 sent back in time remain operational?
I mean, even if Skynet were still operational I would think that the T-800 would still be dead upon arrival in 1984, since its satellite/radio signal connection with said 'Skynet core' would be severed. Is the terminator a special robot that doesn't need to be connected to the core? If so, why the hell is this ability to operate independently not built into every robot? I would think that would be marginally useful. No? I guess they reserve that feature only for premium models. Ridiculous.
Oh, and while the T-800 is being prepped to be sent back, the computer system announces it over loud speaker. Why? There's nobody in the room. Who is it announcing that to? Is Skynet talking to itself? Weird.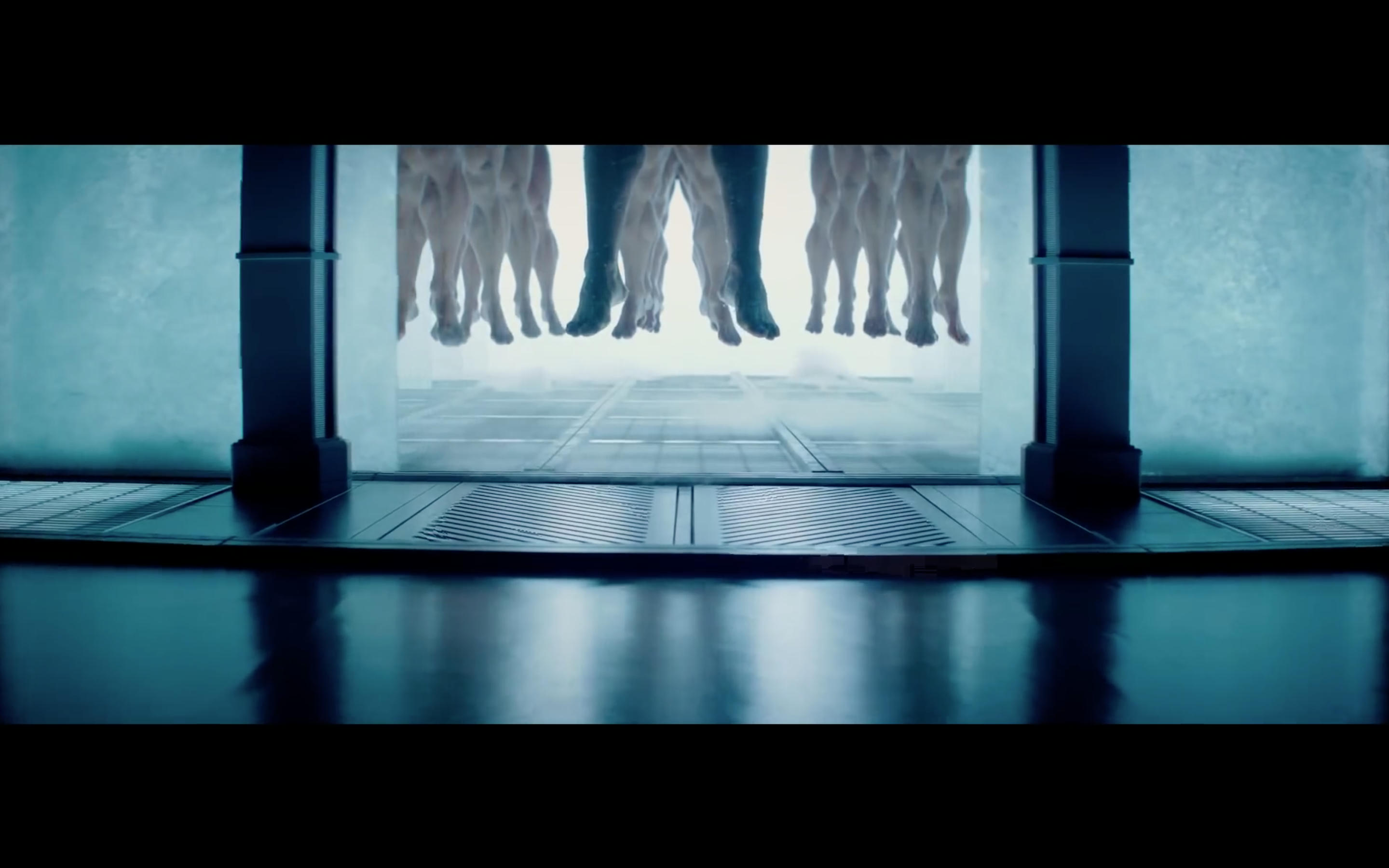 Nevertheless, the humans immediately prepare to send Kyle Reese back in time to combat the T-800. They magically know how to work the time machine and exactly what buttons to press to operate it. How is that even possible? I didn't know that they had members in the resistance who were quantum physicists, as well as engineers with experience in space-time worm-hole-type anomalies.
Let's just ignore that. So Kyle Reese is in the time machine, and just before he gets warped back to 1984, he notices some suspicious-looking dude (played by Matt Smith) attack John. Now, I have a question. Why did the Matt Smith terminator (who was clearly in the room the whole time) wait until after Kyle Reese was sent back to make his attack? You mean to tell me he just stood their while everybody chatted about how they were going to send somebody back to undermine Skynet's plan?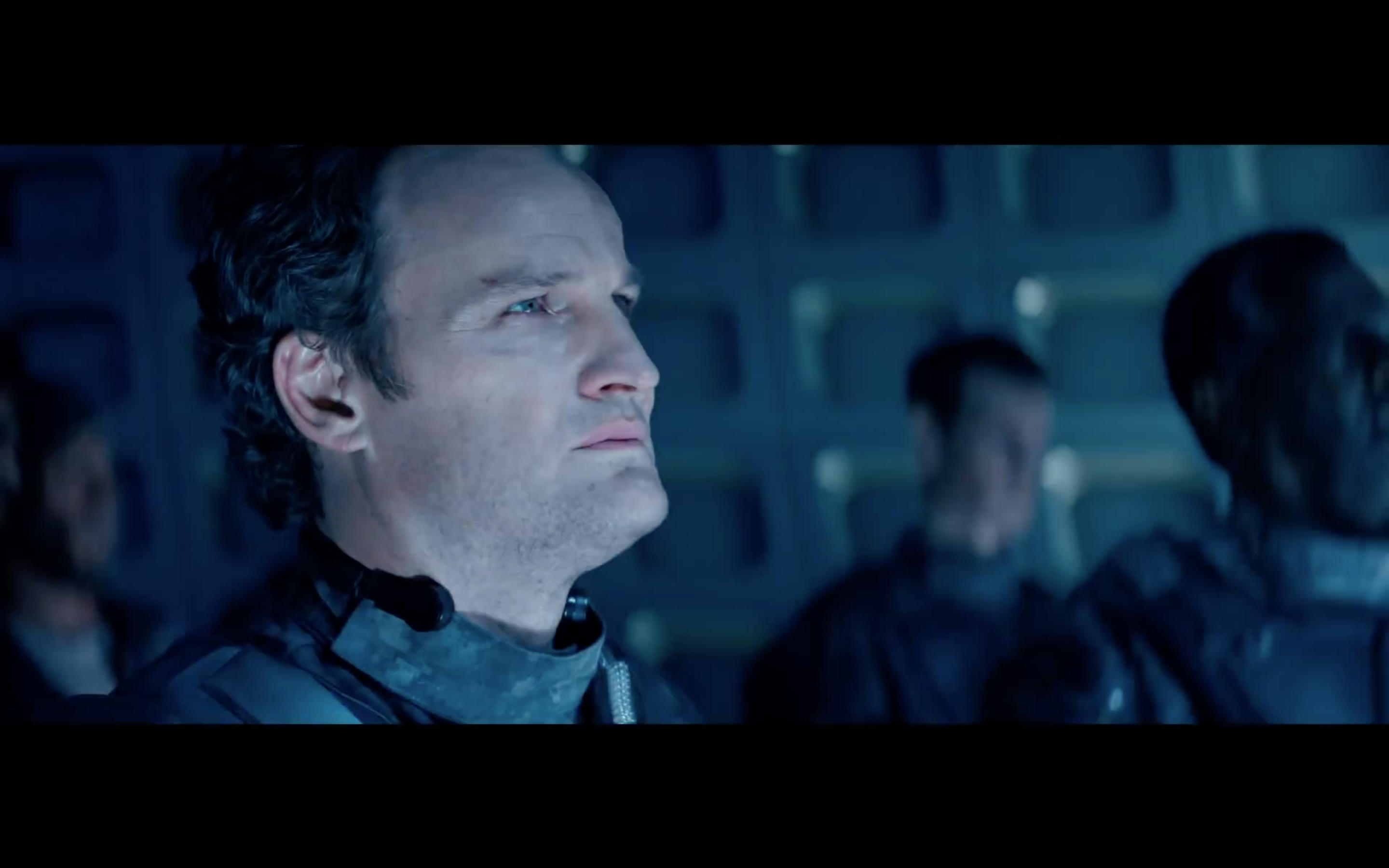 I believe he says to John Connor something along the lines of "Did you really think it would be that easy?". Oh, so he has the intellectual capacity to drop witty one-liners, but not the common sense to just kill everybody and let the T-800 do its job unopposed? Really? Did the writers even explore this possibility, or were they all high on heroin when they wrote that scene?
Ignoring the blatant ridiculousness, let's move on to more blatant ridiculousness. So Kyle is flying through some ridiculous wormhole when he starts to have visions. The visions detail an alternate timeline where Skynet doesn't wipe out mankind in 1997, but rather in 2017 via some vague computer software called 'Genisys'. This would be something called a plot contrivance; a stupid, unexplained event that moves the plot in a desired direction. Though the writers try to explain it as something like 'an anomaly that happens at nexus points in spacetime for absolutely no reason'. Nice try, guys. Think harder next time.
The T-800 arrives in 1984 exactly where he does in the original film. Only this time, instead of killing the dumb punks he encounters, he's instead confronted by another T-800 (both of them are the 'Arnold Schwarzenegger' model). So they bash each other around with their fists and other conveniently placed heavy objects, but during the brawl Sarah Connor shoots the bad T-800 with a high powered sniper rifle. She apparently destroys his power core causing him to power down (keep that in mind; it becomes important later).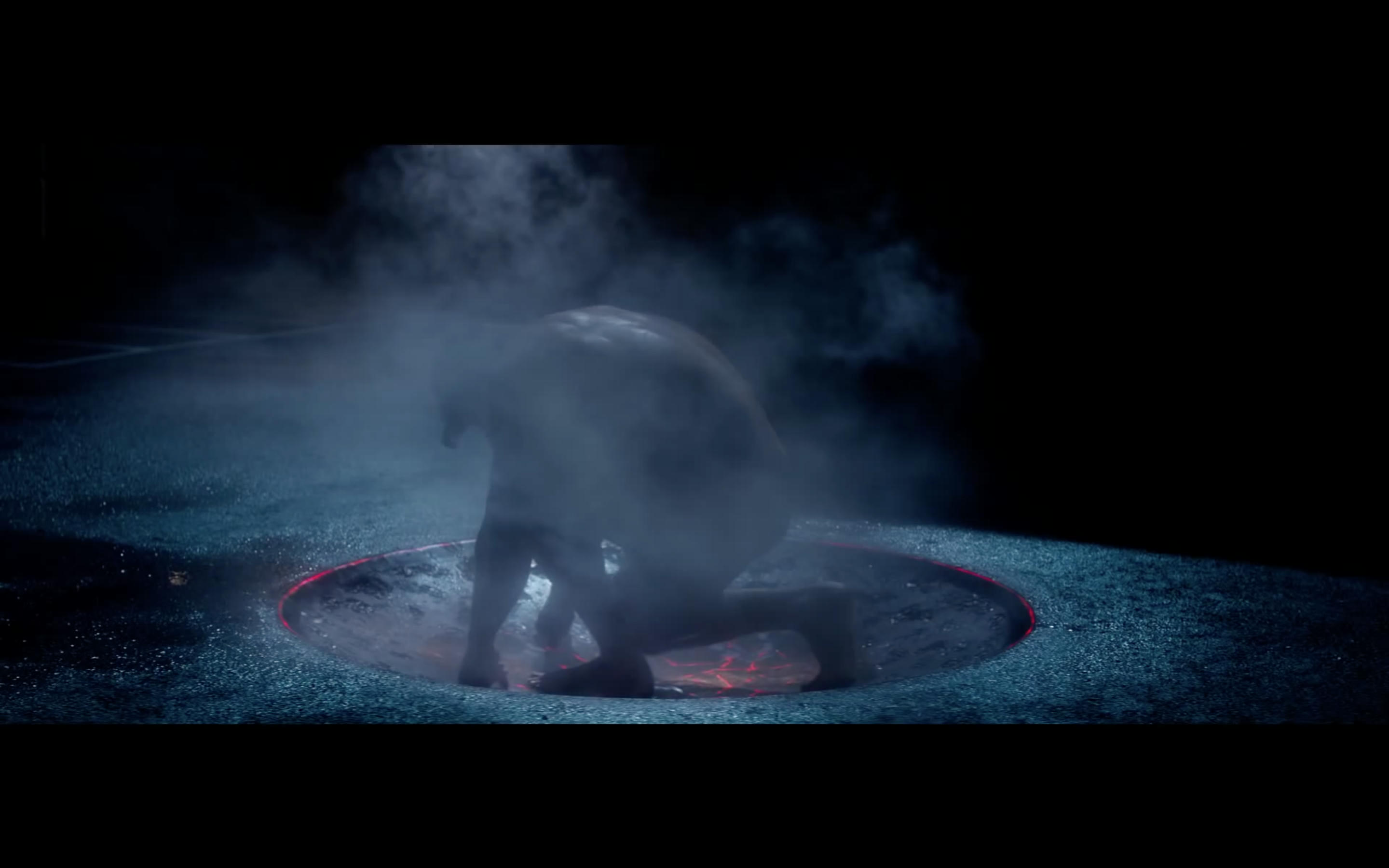 Meanwhile, Kyle arrives in 1984 exactly where he does in the original film as well. Only this time, instead of being intercepted by a cop, he's intercepted by a T-1000 (not the 'Robert Patrick' model, the far less popular 'Lee Byung-hun' model). I know it's disappointing, but it had to be done. Robert Patrick did not age well. Trust me.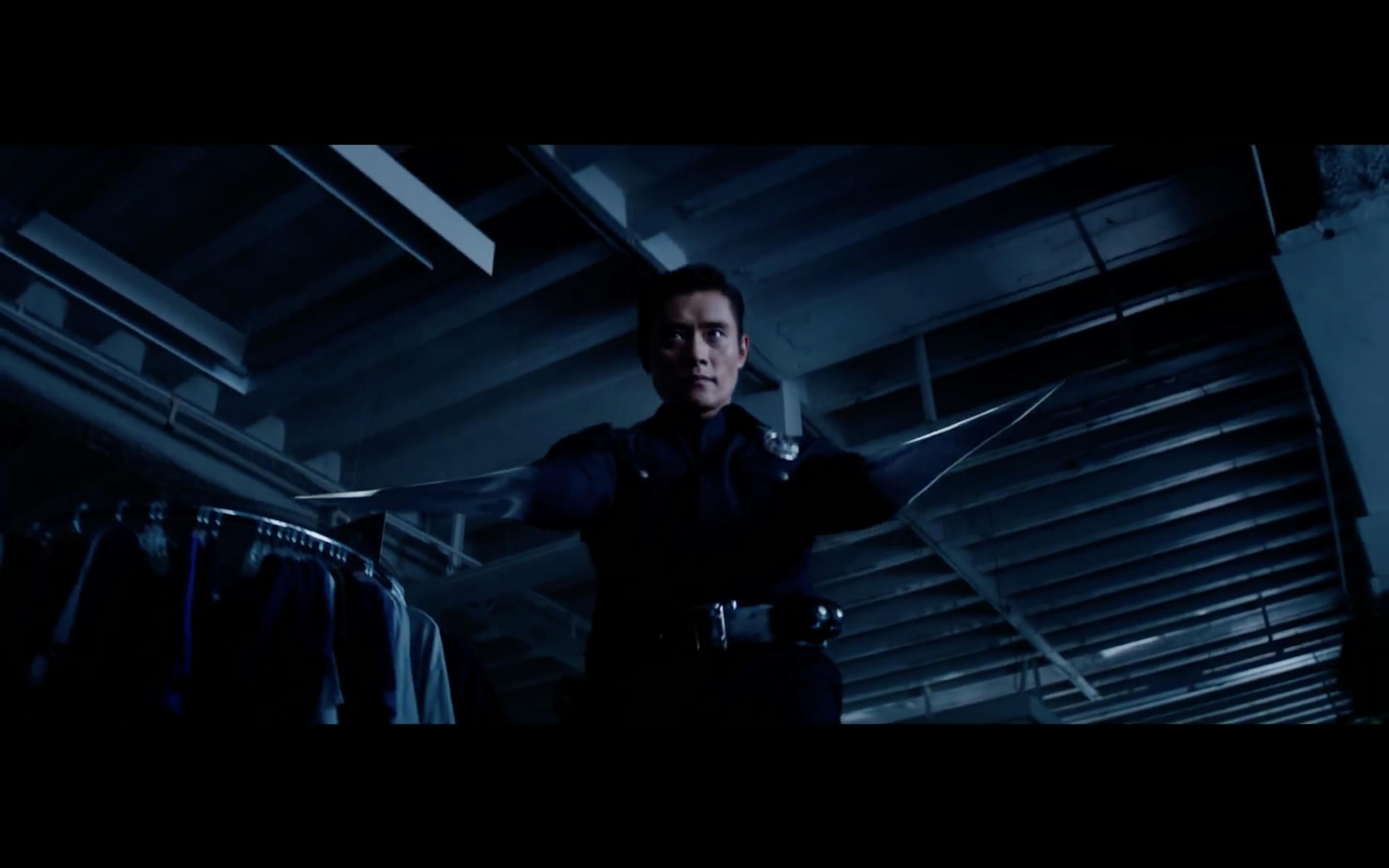 -He just wants a hug. :)
So Kyle flees to a department store where he's intercepted by both the T-1000 and two dumb-ass cops. The T-1000 kills one of the cops, and closes in on the others. Sarah arrives in a big metal van and saves Kyle, while leaving the other officer behind. I'd like to point out that she's able to keep the T-1000 at bay by shooting him with a handgun. The bullets cause him to bounce backwards (keep this in mind as well). The T-1000 chases them and attaches a piece of himself to the back of the vehicle to track their location. Obviously this T-1000 has a few more features than the one in Terminator 2.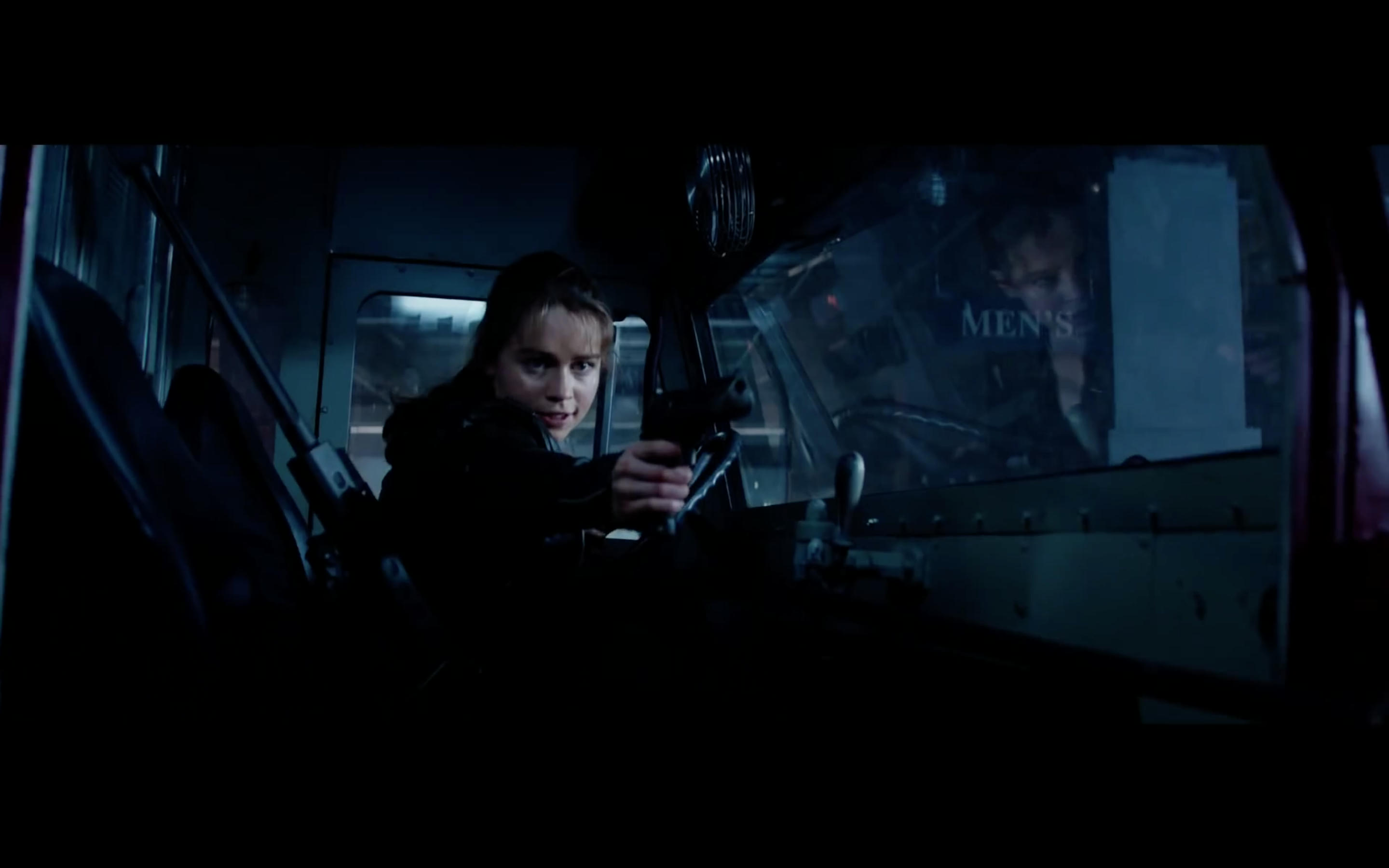 While they drive to some unknown location, Kyle meets the other T-800 (Sarah named him 'Pops'. How cute) who was sent back when Sarah was a child to save her from two other terminators. The origin of this T-800 is kept a mystery throughout this film. That's right, they don't mention it at all. You'll have to wait for the sequel, bitches!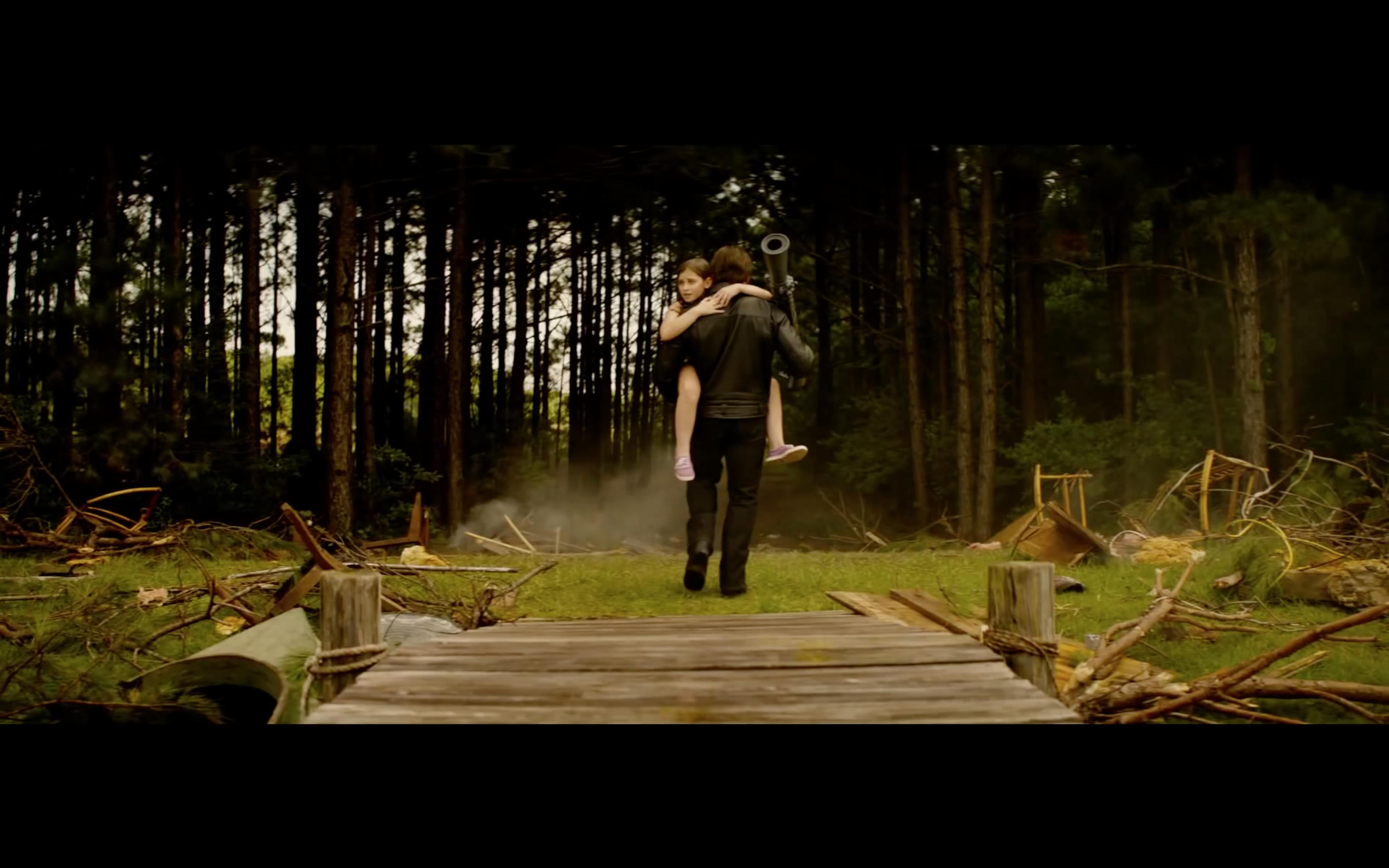 Anyway, they lure the T-1000 back to a junkyard. Kyle shoots at the T-1000 with a heavy machine gun, but it has no effect and the T-1000 keeps moving unobstructed. Yeah. Remember when I said that the tiny handgun was knocking the T-1000 back? Maybe the T-1000 was just pretending to be knocked back to lure them into a false sense of confidence. Well, that or bad writing. Probably bad writing.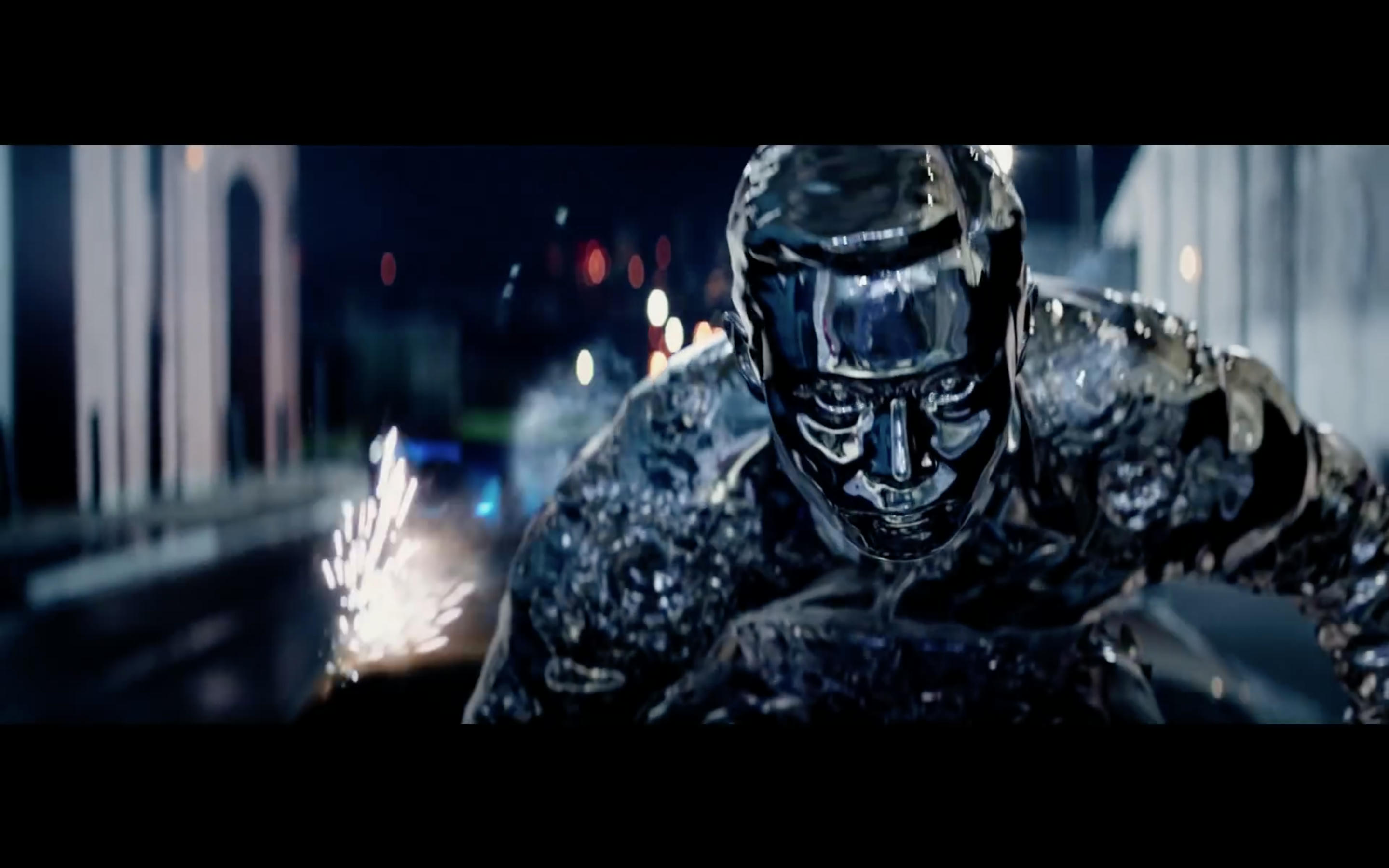 The T-1000 finds the T-800 that was killed at the beginning of the film and puts some liquid metal in its eye socket. This causes the T-800 to reactivate and immediately attack Kyle. Now, I'd like to point something out. The reason the T-800 was killed was because its power core was destroyed, not its brain. How the hell does the polymimetic alloy do that? I can see it repairing its CPU, but not the nuclear fusion battery that powers it. I don't buy it.
But it's not like it even matters, because Kyle promptly decapitates the T-800 by shooting it in the neck. Meanwhile, Sarah lures the T-1000 into the basement where she drowns it in an acid trap. Wow, that was easy. No, seriously, it's dead. I seem to remember the 'Robert Patrick' model being much more resilient. I guess they just don't make them like they used to.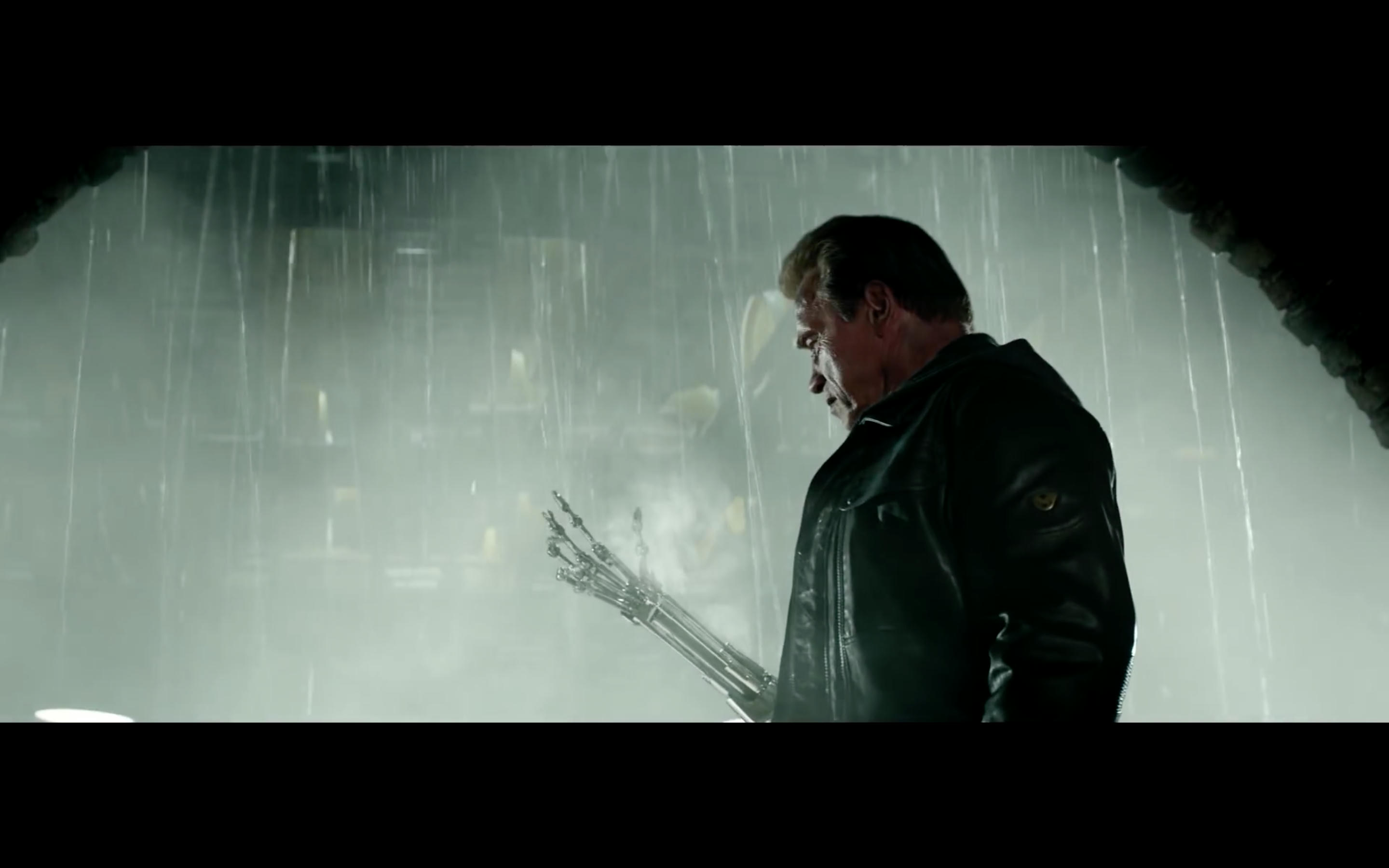 Now, if you think this film has been shaky up until now, let me tell you: You haven't seen anything yet. Sarah and Pops unveil (get this) a time machine that they've built from scrap metal. Yes, you heard me right. They made a time machine with junk and spare parts. Just like Iron Man! Well, except Tony Stark never made a time machine with scrap metal, just a high-tech battery.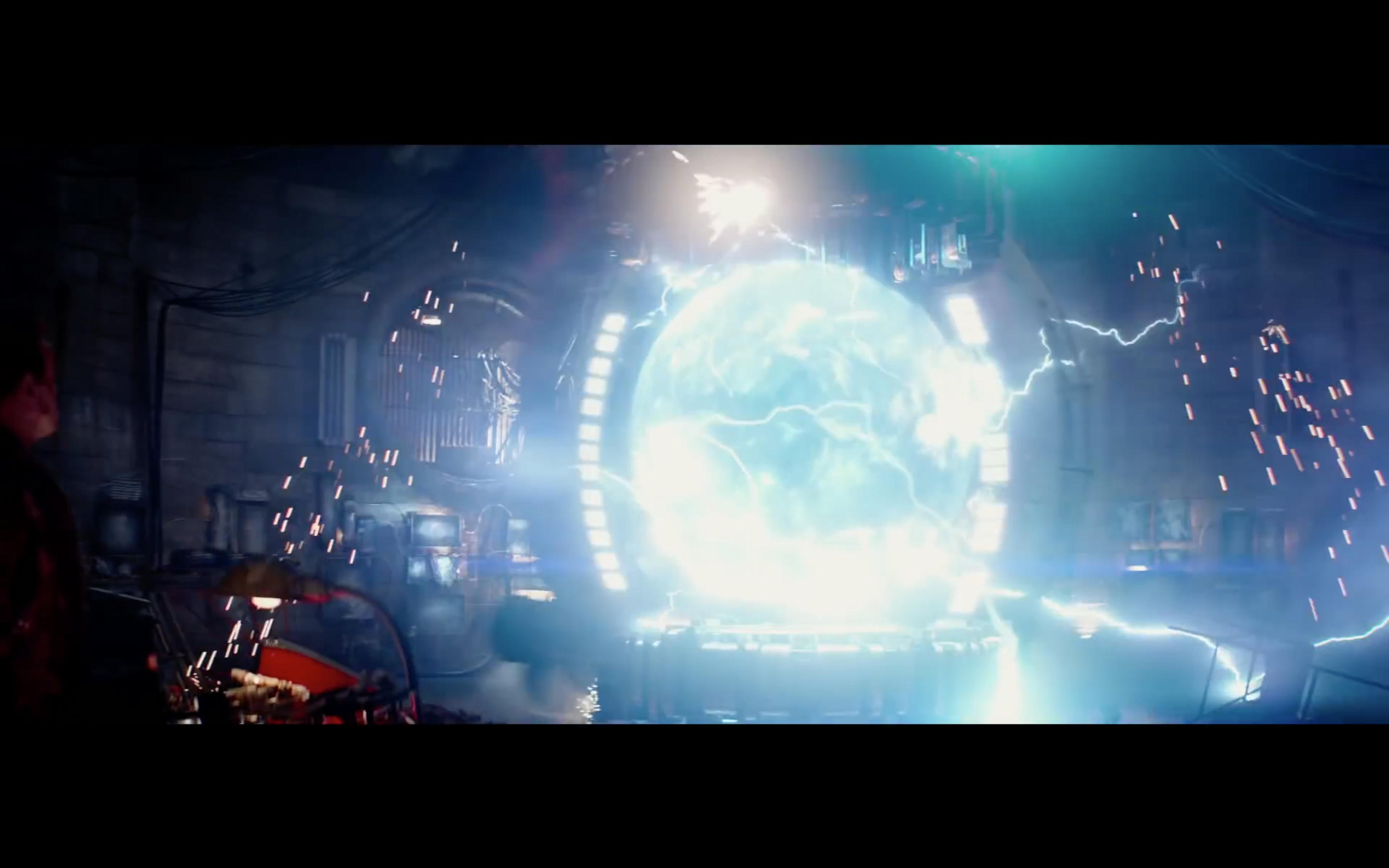 Yes, apparently building a time machine isn't all it's cracked up to be. I'm surprised they didn't just outfit a DeLorean with a flux capacitor and just floor it. Why not? I take this movie far less seriously than Back to the Future (mainly because Back to the Future is a good movie; Terminator Genisys isn't).
Sarah's plan is to go to 1997 and destroy Skynet, but Kyle explains that his tenuous visions (aka educationally subnormal writing) mean that judgement day has been pushed to October of 2017. I love how of all the memories that could've flashed through his brain, it had to be the specific memories that would have specifically told him exactly when and how Genisys launched the world's nuclear arsenal.
So, they take a detour and head to 2017. Pops stays behind since his arm was damaged during the previous fight, and any exposed metal would be ripped apart by the time machine's magnetic field. Okay, hold on a second. This is something that's been bothering me for a while. Why the hell does the magnetic field only interact with exposed metal? That's not how magnetic fields work. You can't just fool a magnetic field by covering something metal with organic matter. It's ridiculous.
And why can't people wear clothes? Why the hell not? It's fabric, not metal. What's going to happen? Honestly, the writers must think that a 'magnetic field' is like a security officer at an airport. You can't just smuggle something through. A magnetic field isn't a conscious entity. It doesn't care if you wrap it in skin, or whether or not you wear clothes. Oh well, I honestly don't care anymore. I've been asking this question since the original film, and it's never going to be answered.
So Sarah and Kyle end up in 2017, but they warp right in the middle of traffic on a highway, where they cause a massive pile-up. Oh, and a car traveling at breakneck speed hits Kyle right in the back. He's completely uninjured. I honestly suspected that Kyle was secretly a terminator throughout the rest of the film. I was a fool; it turned out to just be bad writing. I should be used to that by now.
Sarah and Kyle end up in police custody, where they encounter the cop from the department store in 1984. He's played by J.K. Simmons, so naturally this is the only part of the film that doesn't completely suck.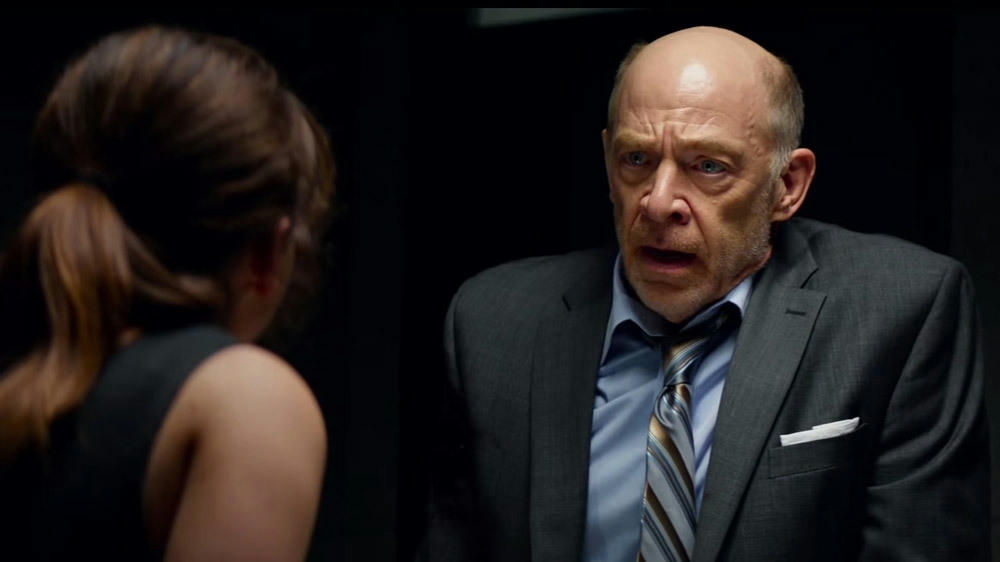 John Connor turns up, much to the surprise of the protagonists, who are as utterly confused as the audience. John assures them that he's traveled back in time to aid them in their quest to destroy Skynet. Only problem is Pops shows up and starts blasting him with a shotgun that he had concealed inside a giant teddy bear (little nod to the second film).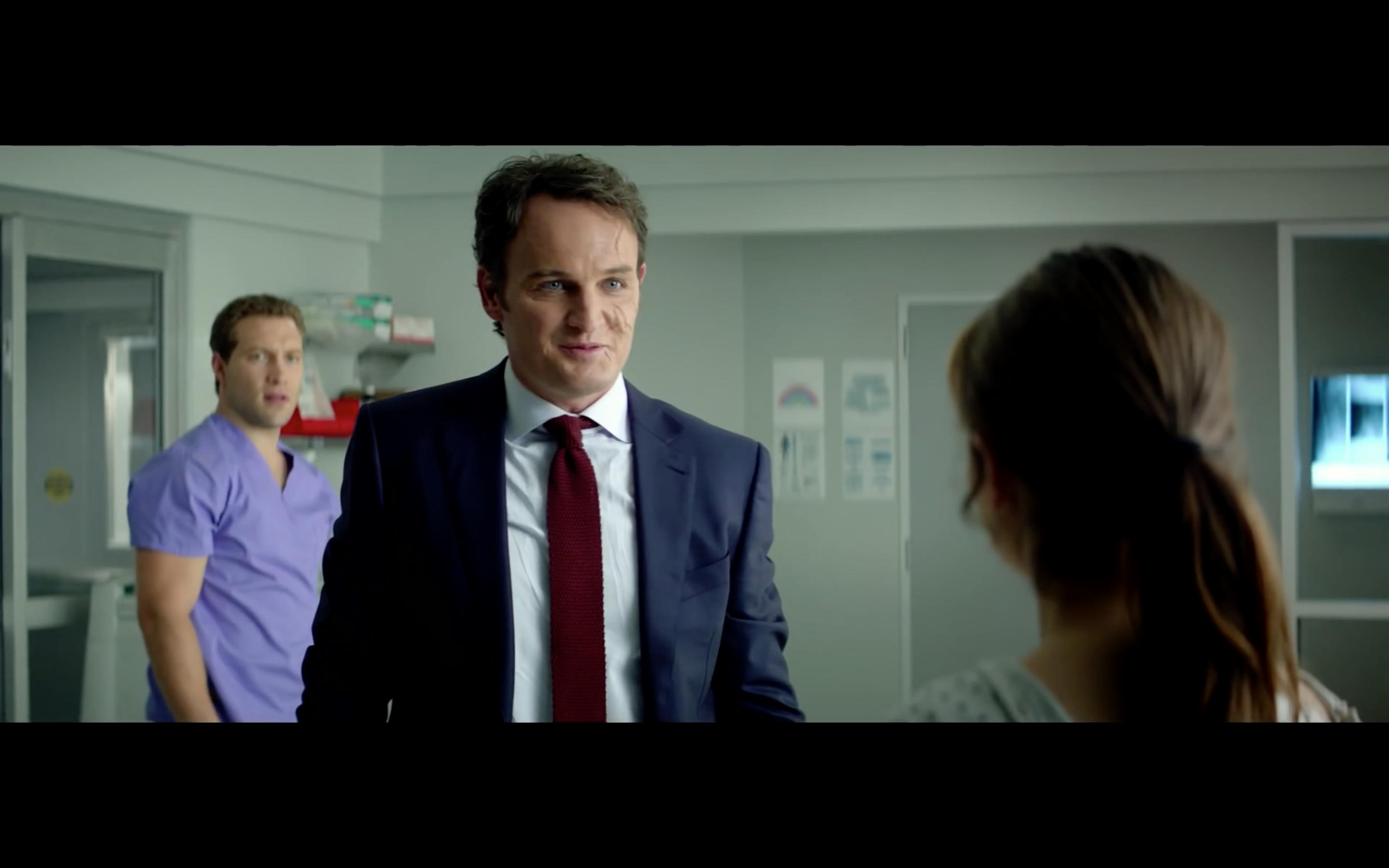 Yes, it turns out that John Connor is now a terminator. The shifty 'Matt Smith' dude at the beginning of the film was actually a T-5000, who exposes John Connor and the rest of the resistance to some weird electromagnetic metal crap. This causes everyone but John to die. That's convenient. John is, in turn, transformed into a T-3000, a fusion of organic matter and the aforementioned electromagnetic metal crap. I guess then the T-5000 sent the T-3000 back to a time shortly before 2017 to jump-start and pioneer the Genisys program.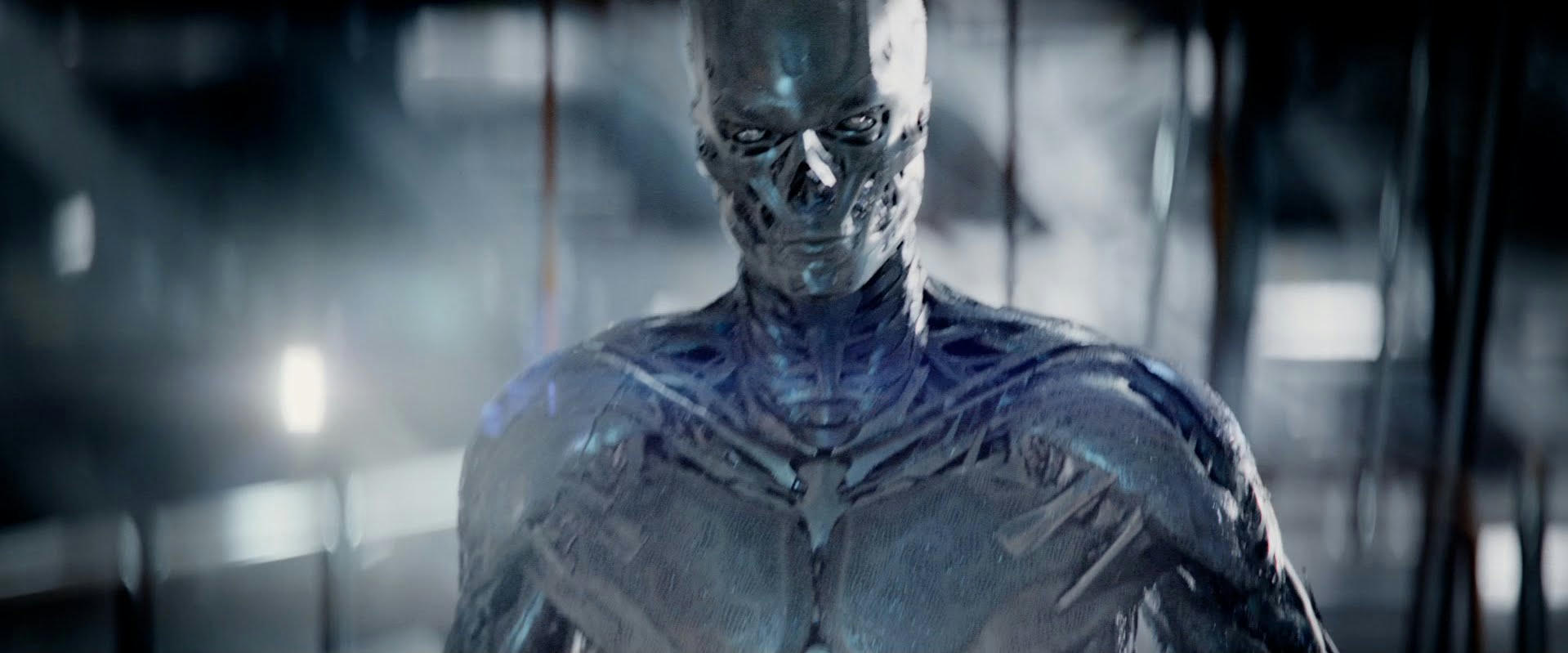 So Sarah, Kyle, and Pops evade John, and seek shelter in some secret bunker filled with convenient weaponry. They stock up and set out to destroy Skynet, but John shows up and attacks them. They board a bus and flee the angry T-3000, who pursues them on a motorcycle.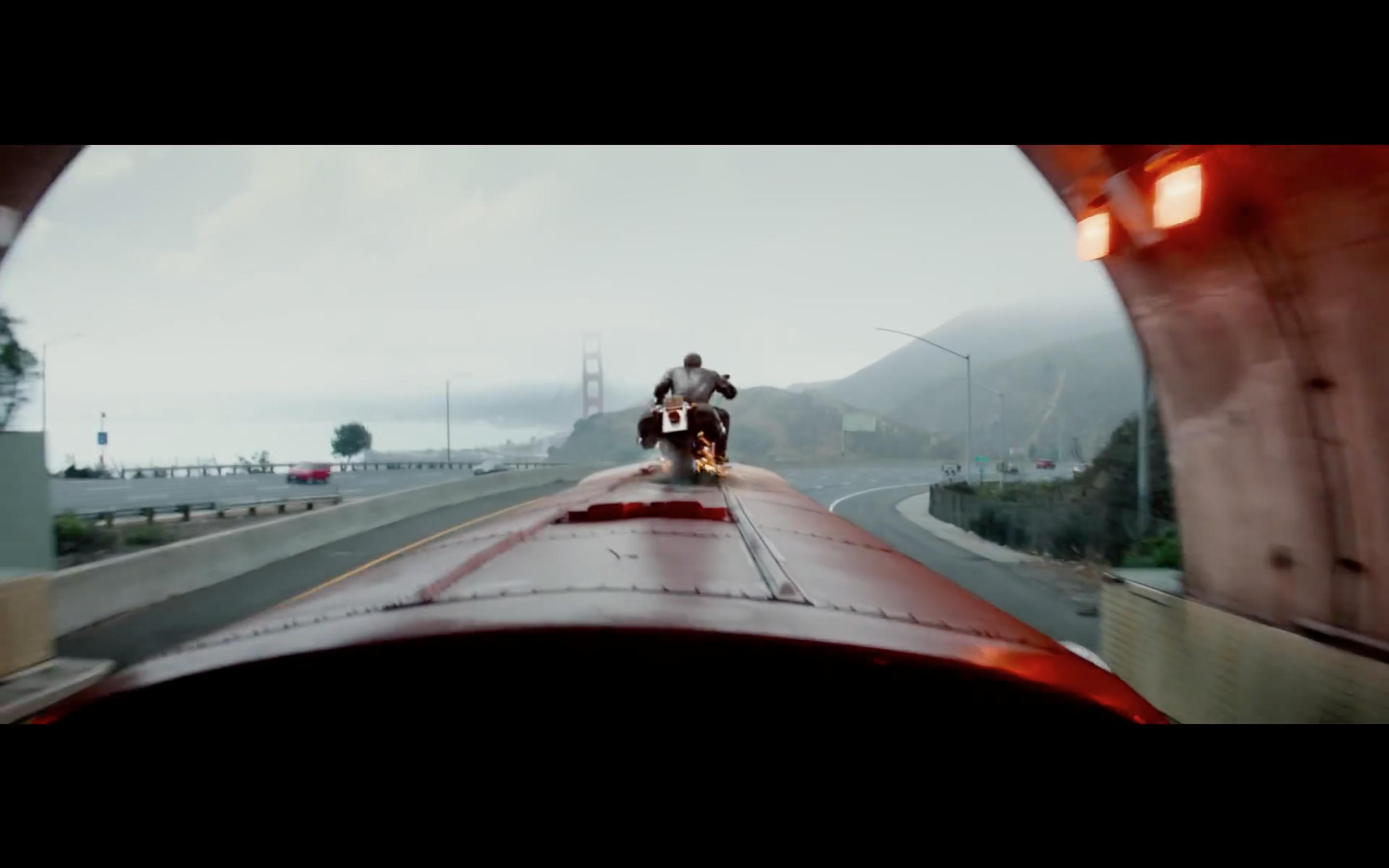 At some point, John ends up on the bus and rips the axle from the bottom of the vehicle, jettisoning the bus 40 feet into the air. To be honest, I have not a single clue how this happens. Again, I guess the writers were on hardcore hallucinogens when they wrote this scene.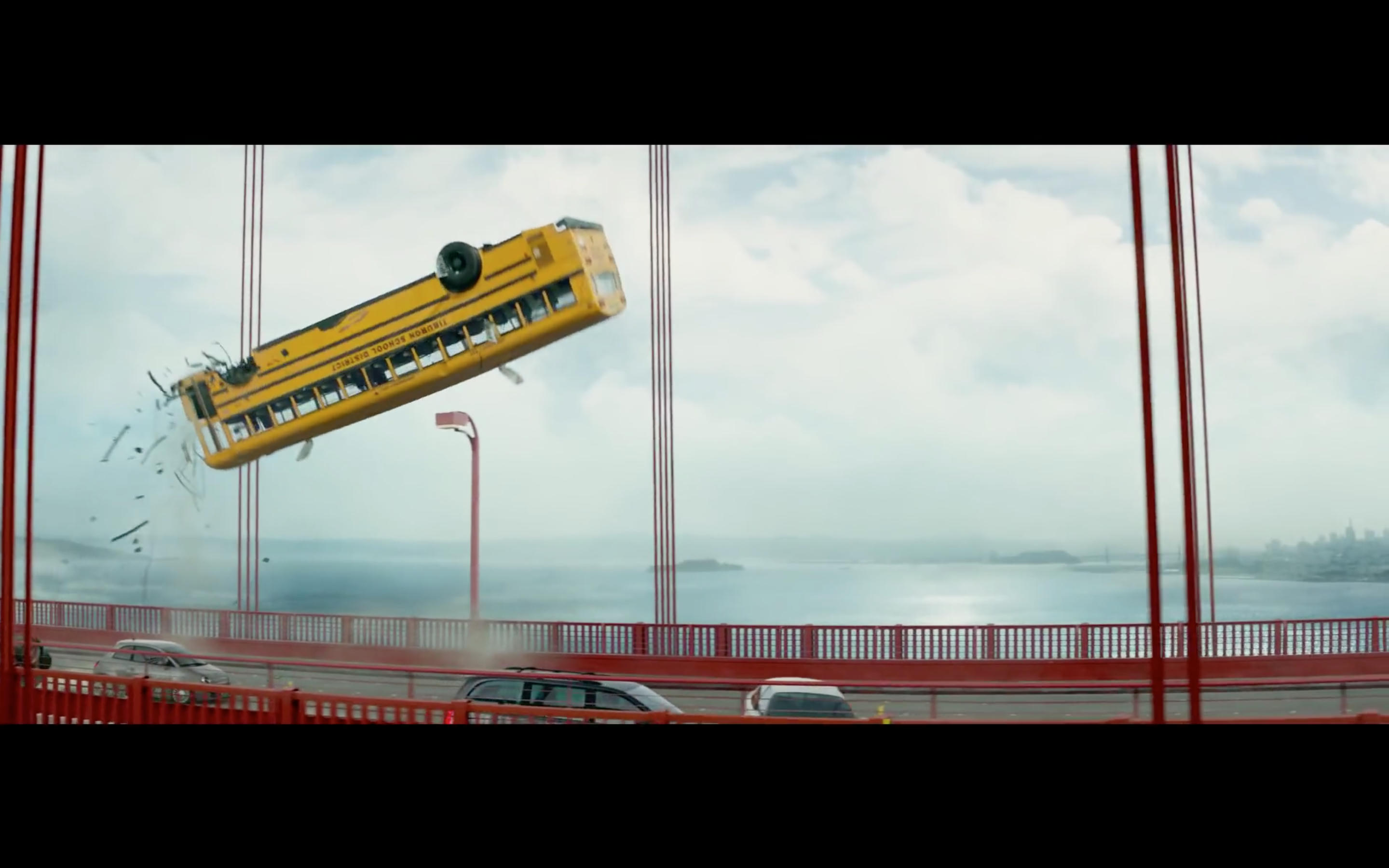 The bus ends up hanging from the side of a bridge, and the trio manages to climb out while the T-3000 falls with the bus into the water below. Sarah, Kyle, and Pops are promptly arrested for causing mass chaos. I can't blame the cops in this scenario. It's technically true.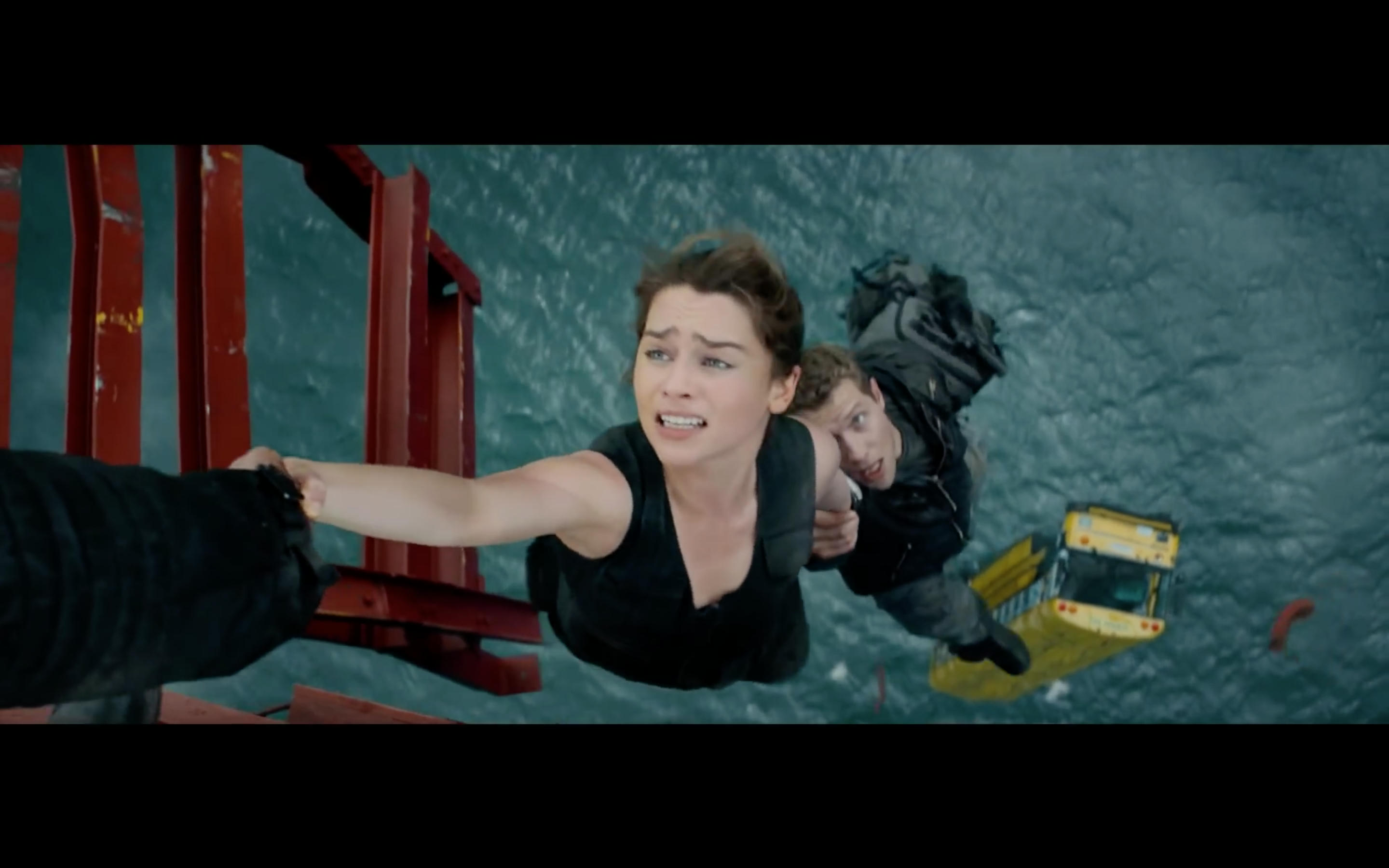 So they end up back in jail, where they're rescued by J.K. Simmons who's convinced that they're time travelers sent back to save the world. They get away in a helicopter, but the T-3000 manages to follow suit and pursue them in his own helicopter. At some point, they manage to gain some altitude and Pops jumps from the chopper and dive bombs into John, who ends up crashing right outside of Skynet.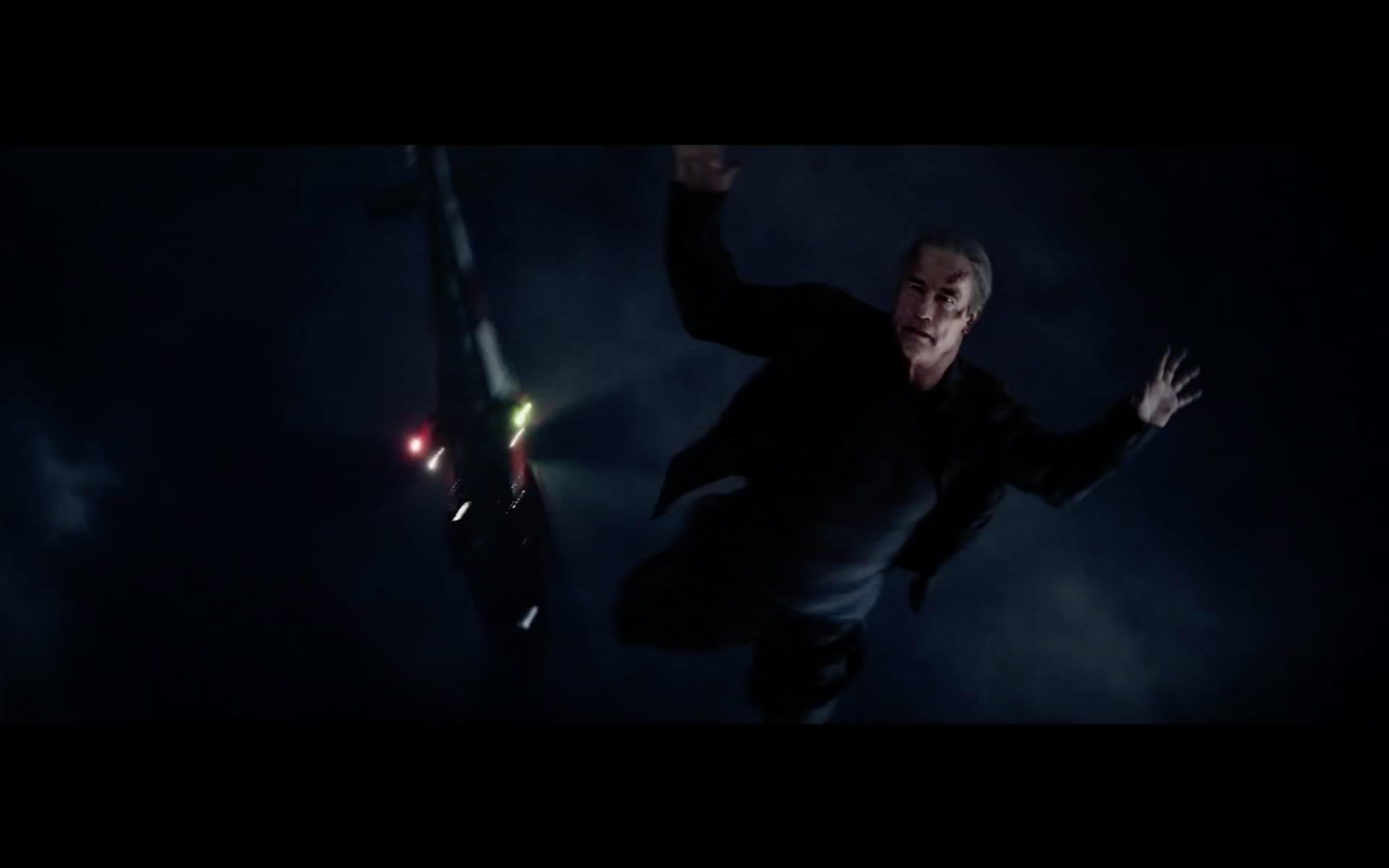 Sarah and Kyle infiltrate Skynet and are confronted by a holographic child, who tells them that he intends to wipe out mankind whether they like it or not. Interestingly, though Skynet is clearly already fully self aware, it still cannot launch the nukes until an arbitrary timer (that always happens to be in view) counts down to zero. The timer is apparently more powerful than Skynet, and the best the little brat can do is slowly speed it up, but not bypass it altogether.
Sarah and Kyle wire the facility with C4 and prepare to blow it sky-high. Meanwhile, Pops fights with John and lures him into a quantum field. This results in Pops being jettisoned into a vat of polymimetic alloy, while John is scrambled by the quantum field. Sarah and Kyle get to a bunker and blow the charges, causing the entire facility to be leveled to the ground.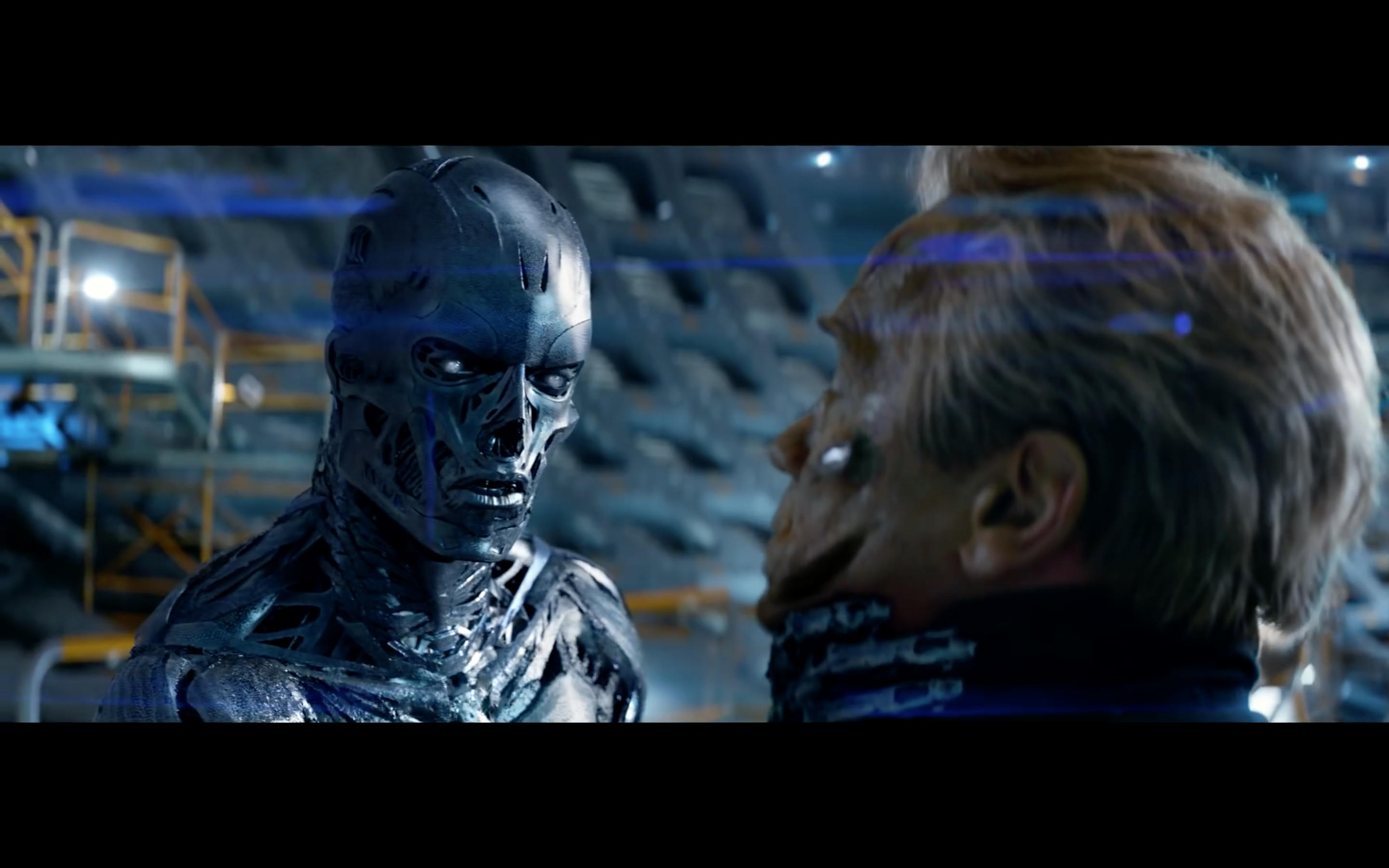 Pops unexpectedly opens the door to the bunker and is revealed to be a brand spankin new T-1000 due to his immersion in the polymimetic alloy. Wow. So I guess that building a T-1000 is fairly simple. All you have to do is casually toss a hard drive into some polymimetic alloy and it just automatically uploads itself with no computer-aided assistance whatsoever.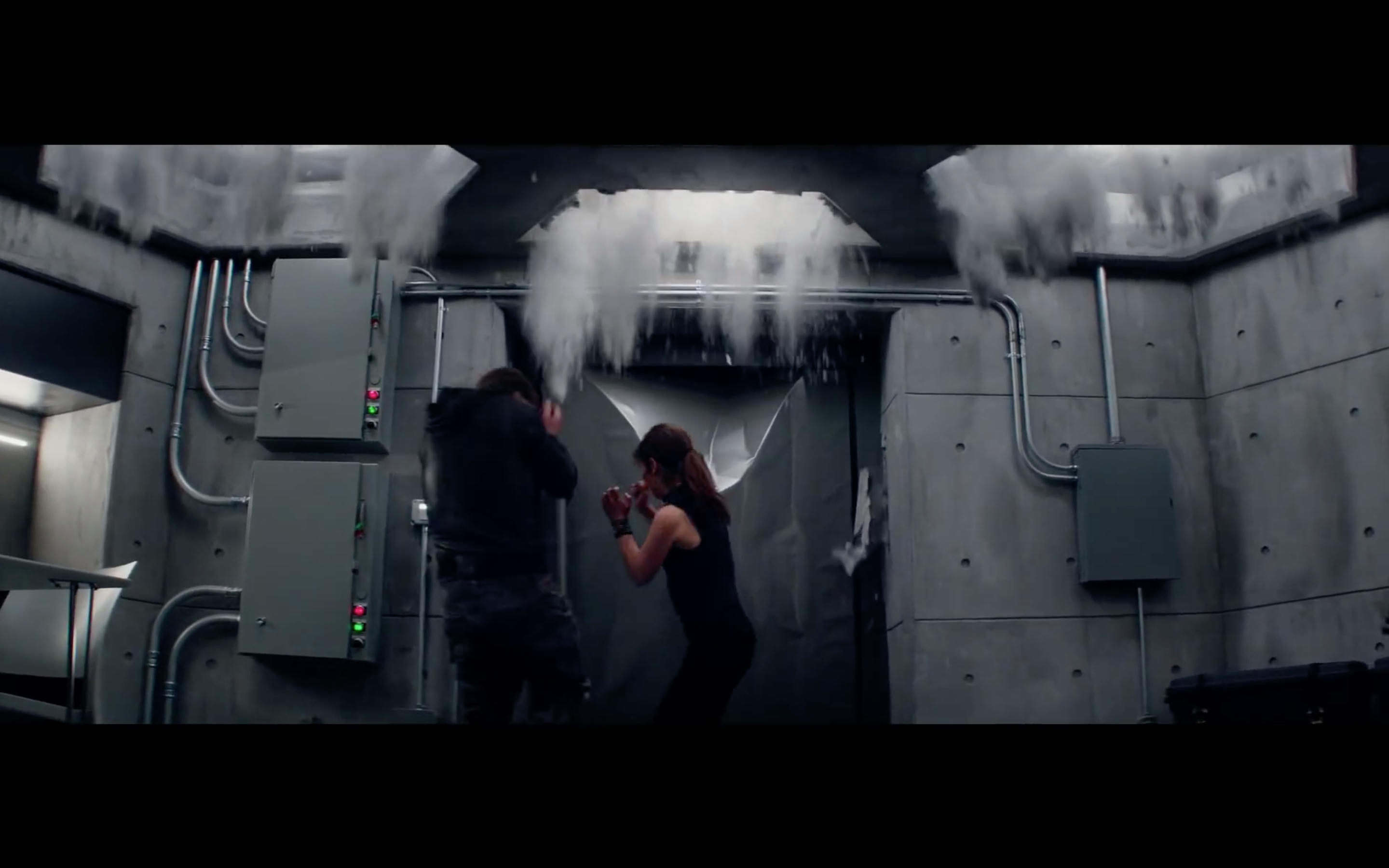 Then they all drive into the sunset and the credits roll. Yes, I kid you not, that is the plot of Terminator Genisys. You just read it. I'm proud to inform you that your IQ is now ten points lower due to your exposure to this utter drivel. Congratulations!
*Minor Spoilers* ===Pros=== *Minor Spoilers*
-J.K. Simmons lends some much needed comical relief to this otherwise dull film. There's a reason this man is an Oscar winner.

-Matt Smith was an awesome choice for a terminator. It's too bad he's marginally underused in this film.
*Major Spoilers* ===Cons=== *Major Spoilers*
-All of the characters exhibit absolutely no chemistry with one another.

-The plot is absolute garbage. It makes Jurassic World look oscar-worthy in comparison.

-Most of the dialogue is dominated by lame one-liners, most of which are intended to be funny, but ultimately aren't.

-The film presents an opportunity to link Skynet with modern society's obsession with social networking, but fails to build anything interesting out of it.

-The T-1000, a monstrous source of fear in the second movie, is dispatched like a piece of trash in this film.

-Skynet continues to prove that it's completely idiotic. It sends a T-3000 back to 2017, when it really should have sent it back to the late 1800's so it could subvert mankind, build Skynet right under their noses, and destroy mankind long before John Connor could ever be born. Hell, why not just send the T-5000 back with him?
*Major Spoilers* ===Plot Holes=== *Major Spoilers*
-The resistance is somehow able to operate a time machine that they have absolutely no experience with.

-The T-5000 hangs out amongst the resistance while they plot Skynet's downfall and doesn't attack until after they've sent Kyle Reese back in time. Absolutely ridiculous.

-The T-1000 is knocked back by bullets fired by a handgun, but is unhindered by gunfire from a far more powerful machine gun.

-Sarah Connor and Pops are able to build a fully functioning time machine from scrap metal, while Skynet is incapable of building one with a multi-billion dollar budget and the assistance of the T-3000, who has as much knowledge as Pops on the matter.

-Skynet becomes fully self aware, but lacks the conscious ability to override a ridiculous little countdown clock.
*Major Spoilers* ===Plot Contrivances=== *Major Spoilers*
-Most of the robots are destroyed when the Skynet core crumbles, yet the T-800 and the T-5000 are still fully operational. Why was this not implemented in the rest of the machines? If the T-5000 and T-800 models are both capable of operating independently of Skynet's core, why is this not a common feature?

-Skynet makes announcements over loudspeakers when it performs tasks, yet there is absolutely no need for it. It's an empty room, with no intended living audience that would ever need to be in it. What's the point? Surely machines communicate wirelessly. They don't need to hear it.

-Kyle Reese has visions of alternate timelines (something no character in the Terminator series has ever experience while time traveling). Not only that, but the vision is extremely specific and details exactly what he needs to know in order for their plan to destroy Skynet to succeed.

-Polymimetic alloy is used to repair physical damage to the core of a T-800. I seem to remember someone in Terminator 2 saying that stuff like that was impossible.

-The time machine is partial to clothing and metal, but doesn't care as long as the metal is concealed beneath organic material. Sorry, it makes no sense. This applies to every single Terminator film ever made.

-Kyle Reese is hit by a speeding car on a highway and sustains no apparent injuries or even pain.

-John Connor (T-3000) is absolutely set on insuring that Skynet wipes out mankind, and has the audacity to ask Sarah and Kyle if they want to tag along. Is he retarded?

-A school bus flies 40 feet in the air for virtually no reason.

-T-1000s are apparently made by just dropping a hard-drive into a vat of polymimetic alloy.
---
Conclusion (Spoiler-Free)
Remember how I said that Jurassic World was a fun film with bad writing? Well, Terminator Genisys is similar. It's a dull film with bad writing. In retrospect, I actually like Jurassic World better now that I've seen this utter disgrace of a movie.
I have to say, I felt like the main protagonists were miscast. I really didn't like any of their performances. Emilia Clarke (an actress I've been on the fence about in terms of acting ability) has proven to me that she is a lackluster actress. All of her inflections were wrong, and she made Sarah Connor seem like an immature loser with no depth whatsoever.
Jai Courtney was just wrong for the part of Kyle Reese. Not only does he bear absolutely no resemblance to the actor in the original film, but his acting was underwhelming. He didn't seem like a soldier from the future, he seemed more like a high school drop-out with no intrigue.
And then there's Arnold. Sorry to say it, but I wish he'd retire from this tired old role. His one-liners are not as catchy as they used to be and I found him, for the first time in this series, to be one of the main sources of boredom.
The supporting characters were a little bit better. Jason Clarke was at least entertaining and Matt Smith was born for his role, but unfortunately he had all of 5 minutes of screen time. J.K. Simmons was also nice to have around in his few scenes as well.
But it wasn't the acting that truly sunk this film. It was the writing. I honestly can't believe how many plot holes and plot contrivances the writers managed to squeeze into this movie. They just wrote whatever they wanted without ever considering the logicality, probability, or even possibility of anything that happened. They put minimal effort into it, and it shows horrifically.
The dialogue was less compelling than the dialogue in '300'. It was one mindless one-liner after another, with no sign of intelligence. At least they had the common courtesy of recycling some of the dialogue from the first two films. That was probably the high point in the film, albeit unoriginal.
What really hurts most of all is the fact that this film had potential. The themes of social networking could have been highlighted so much better, but alas it was handled by hacks. Hollywood tends to scrape the bottom of the barrel when it comes to sequels.
I can't believe I'm saying this, but I prefer the rabid overacting of Claire Danes accompanied by the mindless action sequences of Terminator 3 to this garbage. I give it a lowly one and a half stars out of four. The Terminator series is officially deceased. Time of death: July 1, 2015.

tools/tracking
3370851
6
movie-review---terminator-genisys