JPhil15
Level 51
:
Grandmaster Musician
This has NOTHING to do with Minecraft, I just wanted to share this. (I might make a part 2)
I bring to you; NBA players in the wrong uniform! This blog has to do with star players and even legends that were bad on other teams, shouldn't have played there, and just looked plain out weird in a uniform! (these arent in any order or a top 10, just a list) enjoy! :)
1) Michael Jordan (Washington Wizards)
Just imagine, one of the greatest basketball players to ever play the game, playing in his 40's on a semi- failing franchise. After the leaving the Bulls in 1998, Jordan was the Wizards GM for a bit in the early 2000's. Jordan still wanted to play, so he played 2 seasons (01-03) with the Wizards. Was he bad? No! he averaged 22.9 points, 5.7 rebounds and 5.2 assists at age 40 for them. But he just couldn't bring them to the playoffs like he did in Chicago...and he did not look right in those uniforms.
2) Dennis Rodman (Dallas Mavericks)
To be honest, I could see Rodman in a Laker uniform even if he didn't play for them. But Dallas...that aint right. Mark Cuban signed the 38 year old forward in 2000 and the reason why (from what I heard) is because the Mavs were a failing team then and needed a player to attract more fans because Rodman was like the Metta World Peace of the 90's. He still averaged alot of rebounds like he did in Chicago. Averaging 14.3 rebounds a game but only averaged 2.8 points per game (Rodman really wasn't known as a scorer). He got waived by Dallas by March of 2000 only playing 12 games for them.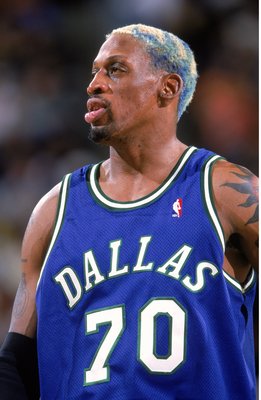 3) Patrick Ewing after the Knicks.
Oh New York...why did you have to trade Ewing? Even NY fans questioned that too! The 15 year New York veteran center got traded on September 20th 2000 as part of a big and too hard to explain 4 team trade (lets put it that way). He got traded to the Seattle Supersonics and looked very strange in the green, gold and red uniforms. The 38 year old averaged 9.6 points, 7.4 rebounds and 1.4 blocks. He started 79 of 79 games (missing 3 i guess) but wasn't as dominant as he was in New York. Then in July 18th 2001, the 39 year old got signed by Orlando Magic (who he also assistant coached for a while until last year). Anyways, he averaged career lows like 6 points per game, and 4 rebounds per game. He wasnt even a starter, he came off the bench playing 60 games (missing alot cause of injuries) and only started 4 (guess what one of the games he started? :P). He retired in September 17th 2002. But Ewing looked ALOT better in an Orlando uniform as he did in Seattle.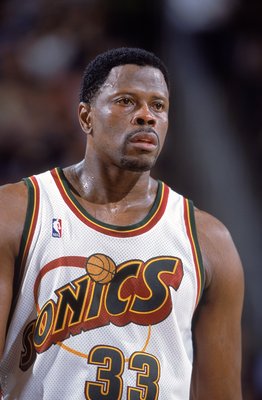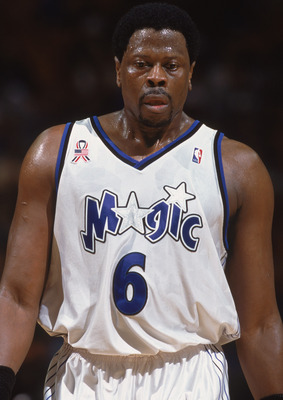 3) Scottie Pippen (Houtson Rockets)
That did NOT look right! Pip joined the Rockets in 1999 averaging 14.5 points, 6.5 rebounds, and 5.9 assists per game. Some pretty good numbers but still should have been in red and black (Bulls). But on the bright side, he returned in red and black by playing 4 decent years (99-03) on the Portland Trailblazers. He also Returned to Chicago during the 03-04 season.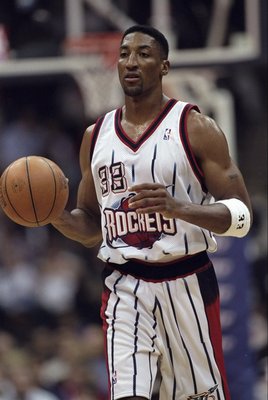 5) Karl Malone (Los Angeles Lakers)
He didn't look THAT wierd in them, but he should have never joined them. In 2003, the 18 year Utah Jazz veteran got signed by the Los Angeles Lakers. Many, many people thought the 40 year old forward would get his first ever ring because the Lakers were so good and dominant at the time. But they surprisingly lost to the young Detroit Pistons in the 2004 NBA finals in a 4-1 match. Malone averaged 13.2 points 8.7 rebounds and 3.9 assists but only played 42 games (starting in all) because of injuries. He also got injured in the finals too which he had to watch his team lose by Detroit.
6) Allen Iverson (Memphis Grizzlies)
Allen only played 3 games for them but averaged only 12.3 points, 1.3 rebounds and 3.7 assists and was waived by them in November of 2009. But a month later, he got signed by his old team when he was best known for, the Philadelphia 76ers.
7) Vince Carter (Phoenix Suns)
I don't know.... I remember him seeing him in these, but it didn't look right. The 34 year old was traded by the Orlando Magic for a few other players. He played pretty well in Pheonix, averaging 13.5 points, 3.6 rebounds and 1.6 assists in 42 games and started 32 for them.
8) John Starks (Chicago Bulls)
This...was just wrong. John Starks was mostly know in a Knicks uniform dunking on practically the whole Bulls team in the 1993 playoffs. I mean, that's like MJ in a Knicks uniform. In 2000, Starks was traded from the Warriors to the Bulls in a big trade. He only played 4 games with them and averaged 7.5 points, 2.5 rebounds and 2.8 assists off the bench. He later played for the Jazz for 2 seasons. There is only about one photo to exist in John in a Chicago uniform BUT...I, have a very rare card of him on the Bulls which is very cool :D
9) Hakeem Olajuwon (Toronto Raptors)
Again....Houston...why did you trade "The Dream"? 39 year old Hakeem got traded in 2001 to the Raptors for 2 draft picks. He started 37 out of 61 games and averaged career lows like 7.1 points, 6.0 rebounds and 1.5 blocks. And he looked very weird in a modern Raptors Jersey.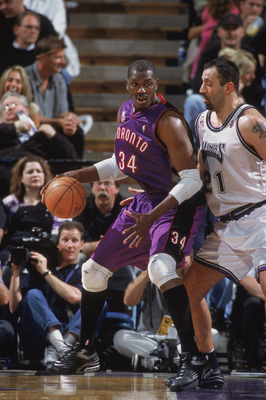 10) Shaq after the Heat.
I can't decide what was the strangest, Suns, Cavs or Celtics. I mean imagine 10 years ago in 2010 (so 2000) saying: "How weird would it be if Shaq played on the Celtics haha!" (10 years later) 0__o. I mean my friend who never watches basketball was surprised he joined Boston cause he thought he still played for LA! I actually thought it was cool stomping around in green and I remember his last bucket ever I was like "SHAQ!!!!" The league will never be the same without Shaq :'(
(in his 3 last seasons, Shaq averaged 14.0 points 7.1 rebounds and 1.4 blocks. He was 39 when he retired)
PART 2 WILL BE MADE SOON!
THANKS FOR READING!- JPhil15
tools/tracking
1526216
6
nba-players-in-the-wrong-uniforms-part-1