Eli the Zeratoed
Level 50
:
Grandmaster Professor
Hey guys! It's me! You know, the funniest blogger on PMC who makes quality blogs? Well, I'm back to tell you guys that it's finally Peridot Month! Or... At least, the end of Peridot Month.


And what's more, it's really sad to see such a great month faze away into "Let's Make Every Non-Graduated Teen and Child Go to School and also Sapphire is Involved" Month. Man, September is pretty cruddy sometimes. Now, if you've been following me around PMC for a while, you know I got obsessed with an adorable little green Zim-inspired gem in 2016 who started this tradition off, Peridot 5XG. Well, like the juicy title promises, I... Don't really like her as much as I did in the past?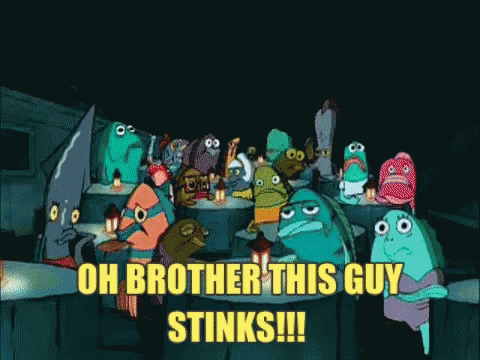 Woah woah woah, Magikarps! Hold your gem destabilizers! I still like the adorably small gem in waves, especially because she's given the cutest underrated voice actor in existence, Shelby Rabara. But as time passed on, I started to see the flaws that showed in her character. Now, this blog's gonna mention a few names (not on here though), and I strongly recommend you guys to not go after any of these mentioned people, because I don't aim to start drama, and their lives are already messy enough as is sometimes. So let's begin with the obvious reason for why my love for Peridot 5XG diminished over the years...

My New Persona/Profsona, Professor Eli Wolftree:

Before when I was obsessed with Peridot, I decided to make an OC of her for fun, originally named "Eli the Peridot." There was nothing special about her old design; a Peridot in an oversized lab coat with three fluffs in her hair. I normally used her as a Yokai Watch OC back in the day, since I needed something to replace Jinmenken/Manjimutt's mere existence.


But then, I had came across a little Pokemon roleplay that changed my life forever. I'm not going to post who made it or where it was, but I didn't think much of it when I first joined. It was a Pokemon roleplay that didn't seem like much. It should be easy to quit, right? Haha, wrong! Unlike most roleplays, the story became quite intriguing as time went on, and I even used it to develop Eli's character into something complex rather than just a glorified Peridot clone.


Eventually, I decided to morph her character design, backstory, and art style into something that would actually make her fit as a real character in the Pokemon anime or games. She became so complex that Peridot's personality seemed like a footnote. But don't the blame this poor, innocent, lab accident-prone scientist! There are other reasons why I feel Peridot's character drooped in quality, and the next one is...

Season 4's Art Dilemma and Broken Character Development: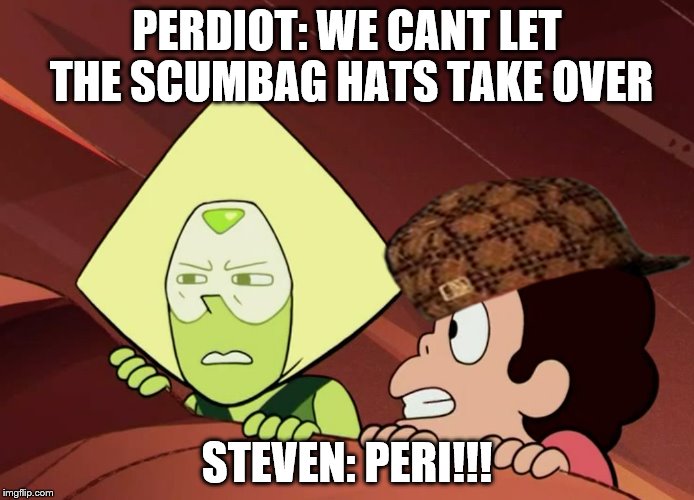 Ah, Steven Universe. The show I thought I hated but then I grew to like over the years because of Peri. But when did she start to stoop badly in the quality of her character? Well, a lot of people point to when she became smol or when she became a happy goofball in Beta. But even though the original storyboard artist for most of the Peridot episodes, Lauren Zuke, left after Too Short to Ride, probably because the fandom became toxic (she still runs Peridot's Twitter, by the way). Despite this, she'll occasionally comes back for some of the episodes. I still thought the art for her in every episode of season 3 was cute, including the ones in Beta and Earthlings. But then, the first episode of season 4, The Kindergarten Kid, is where it all went downhill from here.
[img width=768 height=auto]i.makeagif.com/media/6-12-2018/gO5eoX.gif[/img]
The art for season 4 was mostly done by this person named Raven, and I'm not against her style at all, no. In fact, I love seeing Peridot being drawing in different styles! But this is where the noticeable off-model "Peridot height shrinkage" problems started to show. The art for me is really a minor problem, and in fact, she has gotten better at drawing Peridot as later episodes went on! The major

major

problem I propose to why I'm not a big Peridot fan as much is when she had to "empathize" with the tongue monster.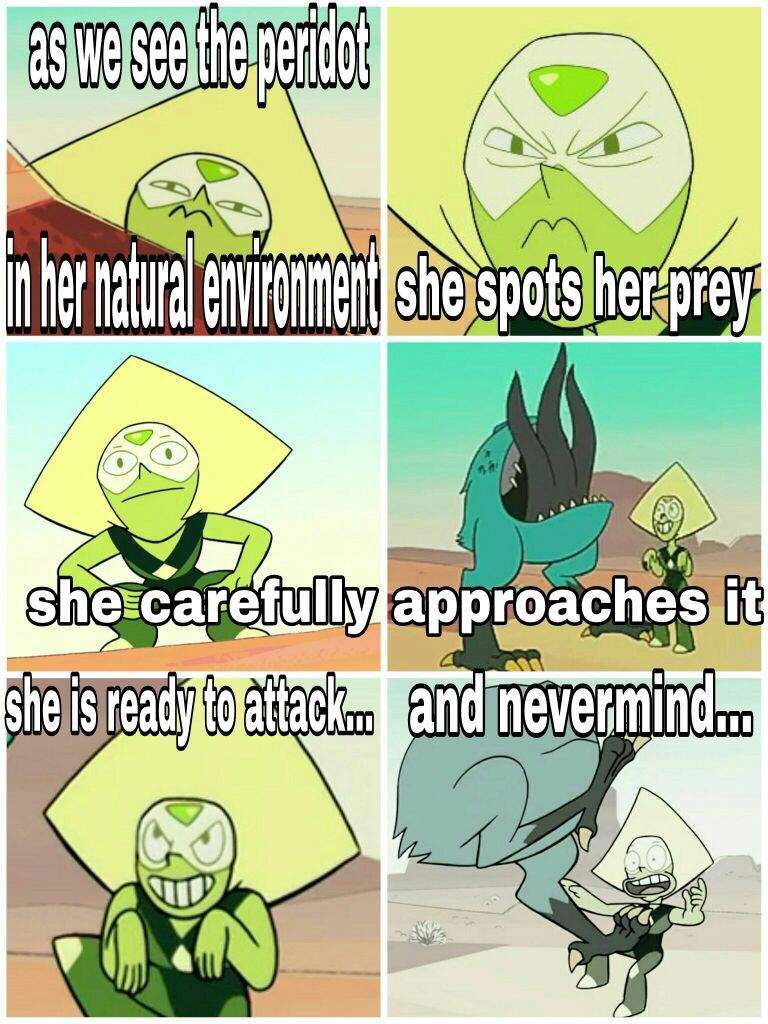 Now, don't get me wrong. I love supporting the theme of empathy in cartoons; in fact, I encourage it! But when she had to do that embarrassing "tongue monster dance" because Steven told her it was the only to catch the "former Zircon," it made her cold yet silly character balance go flying out the window. It got even worse in Room for Ruby (Don't worry. I still love Navy and a couple of other things in this episode) where she rolled around in the dirt because Ruby was doing it. I know it's kind of cute, but I just don't see Peridot doing these things, even when being a childish goofball. Thankfully, her character development recovered when getting separated and reunited with Lapis, showing that she really does care for Lappy and is willing to stay strong for her, even after the "break-up." From this, it made Lapis' comeback in Reunited much more impactful and heartwarming as a result. Anyways, now's the time I start talking about another nit-picky yet big reason why I'm not a huge fan of her now, which is...

Her New Design:

Woah boy! This was such a shocking yet surprising letdown for me. During Reunited, the gems had to fight Blue Diamond (and eventually Yellow Diamond) to convince her that Steven is (spoilers!) actually Pink Diamond. But unfortunately, the poor lil' soul who has never got poofed since Catch and Release, gets poofed by Yellow Diamond's cloddy lightning attack, along with Lapis as well. From this, I got devastated to the point where I almost cried while watching the episode. This beautiful episode crushes my hopes and dreams by poofing my favorite gem yet again along with Lapis!


And what's worse is that I had to wait an entire four months to see her beautiful face again. Even though loads of people were happy to see that Peridot and Lapis were getting new designs (you sickos), I was the one who got sad whenever someone mentions Peridot's poofing to me during those monotonous four months. It felt even worse than waiting 4 years for Battle for Dream Island, waiting all summer until September 1st of 2012 to get a new Inanimate Insanity episode, or

any

of the Steven Universe hiatuses combined. Eventually, Change Your Mind had finally came out, and as I waited patiently for Peridot along with Lapis to come back, guess what they did to Peridot?


Yep. Four months of waiting, and Peridot regenerates into the most stupid outfit in existence. Wow! What a waste of four months! However, Lapis' design was

definitely

worth the wait, since she looks more tough and more like a masculine female with those awesome dojo pants. As for Peridot, I like the entirety of her bodywear, but the visor just looks so stupid to me. I know they were going for a Gurren Laggen/Squirtle Squad-esque approach with the visor, which is cool and all, but it was just too ridiculous of a design choice, despite being happy that Peridot is alive and well. I mean, I know I'm going to have to get used to it, but whatever. At least she still kind of looks cute. And last but not least...

The Dreaded Hiatuses:

That's right! Every Steven Universe fan's worst nightmare. Because the show had been put on halt despite having all of most of their season's episodes done (Including season 6), my interest in anything Peridot-related had been worn out, because once you've watched anything and everything Peridot 5XG, the burnout begins and you turn your head towards something else. I know the movie is coming out

very

soon, but I've already lost interest in Steven Universe and instead grew attached to my friends and I's personal Soras Pokemon fan universe. Let this be a lesson to you if you're reading this, Cartoon Network: Limit the hiatuses to 1/2 months or else lose a dedicated fan like me.


And that my friends is why I'm not a fan of Peridot 5XG as much anymore. Just note that Peridot Month will

always

be a thing forever and ever, because she has left an impact on my drawing skills, and if it weren't for her, I'd still be making wince-worthy drawings of EliTeenDolphin and others on MS Paint. Maybe someday, this adorable green space dorito will win my heart once more, but for now, my heart belongs to Eli Wolftree. As always, here are your memes, don't forget to live life the porposeful way, and stay tuned for quite a terrifying Spooky Scary Blog Month 2019! Muahahaha!

tools/tracking
4389253
6
peridot-month-2019-why-i-m-not-a-huge-fan-of-peridot-5xg-like-i-was-in-the-past