Updated on Jun 22nd, 2014, 6/22/14 12:14 pm |
3 logs
Published
Oct 22nd, 2013
, 10/22/13 6:13 pm
Smorez
Level 68
:
High Grandmaster Wizard
These are not all my ideas. Just some that I have found, and organised into a blog.

Please enjoy.

But before you start, please take the time to diamond if this helped you! That would be amoozing.

Have any more ideas? Want to add to the pool of cool redstone ideas? Comment or PM me, and let me know! Thanks!



thanks for 5000 views.



Simple Piston Door (Click to Reveal)
Possibly a 1x2 or 2x2 or 2x3 piston door that looks something like this.

Complex Piston Door (Click to Reveal)
Make a 3x3 or 4x4 or 5x5 piston door like this one. If you want an extra challenge, make the door hidden on a wall.

Minecraft Mailing System (Click to Reveal)
Idea from Fireskeletonz.

Place your mail in a chest, press a button, and away it goes...

Mini Game or Adventure Map (Click to Reveal)
Something that is fun, but also has some pretty cool features.


Pulse Multiplier Challenge (Click to Reveal)
Elevator (Click to Reveal)
Need a lift to the top of something? Well, make an elevator to get you up there of course!

Automatic Sorting System (Click to Reveal)
Place your items in a chest, and they automatically get sorted into more chests!

Working Faucet (Click to Reveal)
Press a button for water to come down, or press another for lava.
(Extra challenge, make lava and water come down at the same time :o)

Computer (Click to Reveal)
Try and build a computer for a huge challenge that you can type into, or set commands.

Hidden Passage (Click to Reveal)
Want to hide something, or escape from your house during a raid? A secret passage is perfect for it!
Super TNT Cannon (Click to Reveal)
Want a big boom? Make a big boom! Try and make a TNT cannon that shoots over 30 TNT at once!

A Vending Machine (Click to Reveal)
When you press a certain button, the vending machine will dispense the thing you want!

A Clock (Click to Reveal)
Ever notice that that already implimented minecraft clock is hard to read? Me either! But a clock would still be fun to make.

Noteblock Song (Click to Reveal)
Set those noteblocks at different pitches, and set up the right amount of redstone, and boom... You have an (almost) amazing song.

Printer (Click to Reveal)
Like a printer in real life... Just in Minecraft.

Scoreboard Tracker (Click to Reveal)
Want to prove you redstone skills inside of your mini game, or server? Well make a displaying scoreboard tracker to show players their scores for a game.

Piston Moving Picture (Click to Reveal)
Pistons push along a picture to create a TV effect.

Make the countdown even more suspensful with a giant timer that shows how many seconds you have to defuse the bo-... *BOOM*

Block Swapper (Click to Reveal)
A block swapper switches two blocks from the starter block (ex. diamond block) to another block (ex. dirt block)
Idea from: MinecraftFrame
A Hidden Trap (Click to Reveal)
It's a trap! Trick your friends, or enimies with a hidden trap that falls from beneath them, or blows up.
Idea from: MinecraftFame

Moving Aircraft/Plane (Click to Reveal)
Create an amazing slime block plane that pushes its self forward through the air!

Slime Block Elevator (Click to Reveal)
Make it so you bounce your way up to the top floor with a new slime block elevator!

Create a moving Slime Block Robot (Click to Reveal)
This is freeking cool. It walks around.... Dam.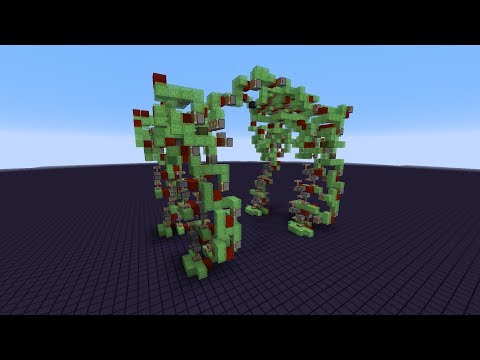 Conveyor Belt (Click to Reveal)
Need help carrying your items to another room in your house? Make a conveyor belt to help you!
Automobile (Click to Reveal)
Make a moving car with slime blocks! So amazing!
Invent Something (Click to Reveal)
Be the next Sethbling or Dragnoz, and invent something cool! (If you do, let me know so I can put it up in this blog :p)


That is all the ideas I have gotten. (So far?)
Not all of these pictures were mine. I found some of them off Google.
I know I probably forgot some contraptions to put down. So if you would be so kind, post them in the comments. I will update this blog when I get quite a few.
I worked quite hard on this. So any of the above would make me a happy dood.
3 Update Logs
Update #3 Fixing/Slime blocks : by Smorez 06/22/2014 12:14:06 pmJun 22nd, 2014
Fixed some images.
Added some
more
slime block ideas!
LOAD MORE LOGS
tools/tracking
2546294
6
redstone-creation-ideas