Updated on Dec 23rd, 2015, 12/23/15 2:49 pm |
1 logs
Published
Dec 18th, 2015
, 12/18/15 12:44 pm
Han Solo
Level 26
:
Expert Pirate
If you wanna see the new Star Wars movie, because of how awesome and anticipated it is, but have to watch the movies to catch up but theres not enough time, thats ok, I've summed up every episode included in the Star Wars series for you.

---
Episode 1 - The Phantom Menace
So Qui-Gon-Jinn and Obi-Wan go to Naboo for stuff about blockades, they flee, and save Jar-Jar Binks, and then they meet Queen Padme Amidala. Slave Anakin wins a pod race, Jinn thinks he's the chosen one to bring balance to the force seen in the Jedi Phrophecy. Jedi turn down Anakin, Gungans and droids fight eachother, Obi-Wan and Qui-Gon-Jinn fight Sith Darth Maul, Jinn dies, Maul gets sliced and Anakin is now Obi-Wans apprentice.
---
Episode 2 - Attack Of The Clones
Ok, so Anakin is now older and Padme looks the same basically, and it's no longer weird, The Republic is threaten by Seperatist movement .There are assassination attempts on Pamde. Obi-Wan finds a clone army being made with Jango Fetts DNA. Anakins mom dies. Obi-Wan is captured by former Jedi, Count Dooku. Anakin and Padme try to save him, they get captured, but are saved by Mace Windu and Yoda with other jedi's and the clone army, Mace has this cool purple lightsaber, Jango Fett dies by Mace, Yoda fight's Dooku, Dooku flees, Anakin lost his hand, Jedi acknowledge the beginning of the Clone Wars, a wedding!
---
Episode 3 - Revenge Of The Sith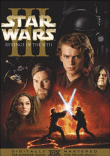 Anakin fights Dooku, kills him, Anakin doesn't get promoted, Padme tells Anakin she's pregnant. Palpatine tells Anakin bout the dark side. Palpatine tells him that he's Darth Sidious, he kills Windu, Order 66 is brought out, slaughtering all jedi but Yoda and Obi-Wan are ok, Anakin then becomes Darth Vader, Vader slices kids, force chokes Padme, making her weak. Obi-Wan and Vader fight, Anakin is disembered and is burned, Padme gives birth to Luke and Leia, then dies, theres a funeral, and the twins are hidden.
---
Rouge One (set between 3 and 4)
(soon to be here)
---
Episode 4 - A New Hope
So the original trilogy is here(duh), Princess Leia Organa is captured and sends R2-D2 to get help with C3PO, they get bought by Luke Skywalker and his uncle Owen Lars, Skywalker meets Obi-Wan, whos an old guy now, Bye Uncle Owen and Aunt Beru, well hello Han Solo and Chewbacca, Luke calls the Mellinnium Falcon a piece of junk, Solo is offended, Alderaan gets blown up, that's no moon, it's a space station, They rescue Leia, Obi-Wan gets sliced by Vader, Death Star go boom, Everyone gets a medal but Chewie.
---
Episode 5 - The Empire Strikes Back
Luke gets captured by wampa, is clawed, Han finds him, stuffs him in a tauntaun, Han is a nerf herder, Leia kisses Luke, it's weird, Hoth is taken over, Luke goes to Dagobah, meets Yoda, The others are hiding in a cave, but it's no cave, they almost get eaten. Luke goes into cave, sees Vader, but it's not really Vader, its Luke, it's once again weird. Others go to Bespin, meet Han's old friend Lando, Lando betrays him, Leia loves Han, he knows, he gets frozen, Lando is cool again. Luke sees a vision of his friends in pain, goes to save them, but runs into Vader, Vader is Lukes father, theres a "Nooo" part, theres the end, questions unawnsered.
---
Episode 6 - Return Of The Jedi
The gang finds were Han is, go to Jabba's palace, Leia is disguised as a bounty hunter with Chewie as her prisoner, she free's Han and then is enslaved, wearing a bikini outfit. They all get captured, Luke tries to free them and then is captured aswell, Luke kills Jabba's pet rancor, Leia chokes Jabba, they all escape, Luke goes back to Dagobah, Yoda dies, Obi-Wan tells him he has a sister, The gang go to Endor, everybody meets small teddybears called Ewoks, Luke tells Leia that he is her brother, Vader is their father, Luke surrenders to Vader, but doesn't give into the dark side. Vader turns on the Emporor and kills him. Vader dies, Lando blows up the 2nd Death Star, Han and Leia love eachother. It's a happy ending, all is good..
For Now...


---
New Series
30 years later, a Resistance pilot, named Poe talks to a villager who gives him a map to Luke Skywalker who has vanished after teaching a new generation of jedi, in witch one of then named Ben, turns to the dark side and kills all students. So First Order come attacks the village, BB-8 has the map and Poe is captured, who then meets . Finn, who free's him, they escape, then crash on Jakku, Finn meets Rey, who escape on the Falcon after the FO come. Falcon breaks down, then is reclaimed by Solo and Chewy,they are attacked then go to a Cantina, Rey finds Luke's lightsaber who belonged to him and his father, Anakin(Vader), she expirences disturbing visions and escapes to the woods and is captured by Ren. Finn then takes the lightsaber for saftey reasons. Kylo goes to Snoke, who informs him he has to kill his father, Han Solo, in order to fully come to the dark side. Rey escapes using a jedi mind trick. R2-D2 is revealed to have been inactice scince Luke's disappearence. Then Han,Finn, Chewy,and Rey go to Starkiller base, lower shields, and set explosives, Kylo kills Han, Chewbacca shoots Ren, and sets off explosives, then Rey and Finn confront Ren with Lukes Lightsaber, wounds Ren(Finn is wounded aswell,) , they escape, Snoke tells General Hux to escape and bring Ren with him. Starkiller base then blows up. Leia, Rey, Finn, Chewbacca all morun Hans death. R2 then becomes active revealing the rest of the map, allowing Rey and Chewbacca to travel to him, they find him and Rey offers his lightsaber to him.
1 Update Logs
Update #1 : by Han Solo 12/23/2015 2:49:59 pmDec 23rd, 2015
Now with Episode 7, witch is pretty long, I'll shorten it later.

And fixed some errors.
tools/tracking
3543597
6
star-wars-all-summed-up-for-you-episodes-1---6