Updated on Nov 5th, 2012, 11/5/12 12:34 pm |
4 logs
Published
Jul 11th, 2012
, 7/11/12 11:40 am
edzezkane
Level 25
:
Expert Architect
The Dead 6 Minecraft Skins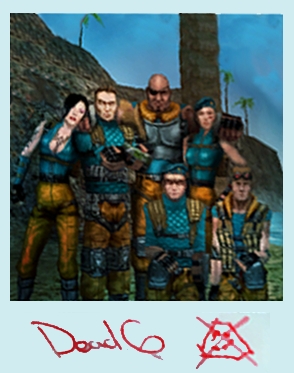 This Article will be updated with further progress of the Dead 6
The Dead Six is a group of six commandos that GDI frequently deploys for special operations and other sensitive missions.
The name Dead-6 refers to the legal status of the teamo s members: each person in the group has been officially "killed", and hence no longer exist. This makes it easier for the team to remain covert and helps GDI by giving them a greater degree of plausible deniability when discussing the team's operations.
Roster
Completed
In Progress
Incomplete
Nick Seymour Parker, Havoc




Sakura Obata, Sakura




Dariel MacInnis, Deadeye




Nigel Grant, Gunner




Shai Aviv, Hotwire




Erich Wulfe, Patch



---
------~11th July 2012 - 5:30pm~-------/
Currently, I'm skinning Nigel Grant, a.k.a Gunner (The Rocket Launcher Tough Guy) from Command and Conquer: Renegade, so far I've completley done the torso, and am Planning out the rest of it.
/-------~========O========~------
---
------~23th July 2012 - 1:02am~-------/
Sorry for being inactive on the skin front, I've been concentrating on building
The Gunner Skin is Done! It looks pretty neat, I'll start either Deadeye or Patch next
http://www.planetminecraft.com/skin/gunner-the-dead-6/
/-------~========O========~------
---
------~4th October 2012 - 9:11pm~-------/
Wow, I've had HUGE inactivity on the skin front, I was away on holiday for about 2 weeks, and then I focused on completing my building project castle seaview (Which is STILL not complete!!! but almost there!) anyways, without further ado, I bring you: Progress!
It's Dariel MacInnis, or
Deadeye
from Renegade. so Far I've done basic skinning of the Head and beret, completly done the torso, and the legs.... are just a block of
florescent
orange for now....
If you do like these skins then remember that on full completion of the individual skin, it becomes available to download on my profile. which is located here. This of course isn't finished, but Gunner is ready, as well as the Stealth Black Hand.
/-------~========O========~------
---
------~18th October 2012 - 4:34pm~-------/
I've completed my Deadeye skin! I'm quite happy with it too, especially the beret, which was a pain to texture
http://www.planetminecraft.com/skin/deadeye-the-dead-6/
/-------~========O========~------
---
------~5th November 2012 - 5:24pm~-------/
I've completed the skin for Havoc, not alot of effort was needed as he used pre-existing parts from the other Dead 6 skins (deadeye's jumper and gunner's knee guards) but he has a different head and some accessories.
I'm quite happy with the work, I'm a little put off by the face, but after 1-2 hours of correcting it It still isn't as good as I wanted, so I'm realising it as it is.
http://www.planetminecraft.com/skin/havoc---the-dead-6/
/-------~========O========~------
| | |
| --- | --- |
| Credit | Westwood Studios |
| Tags | |
4 Update Logs
tools/tracking
1128735
6
the-dead-6-skins-cc-renegade-wip