1896872
Posted on
3/17/2017
: 3/17/17 10:12 am
Hello Guys,
I've been playing Clash royal for a long time, but also played a lot of remakes of the game, some bad some really good ones.
On the 5th place we've got Royale Arena: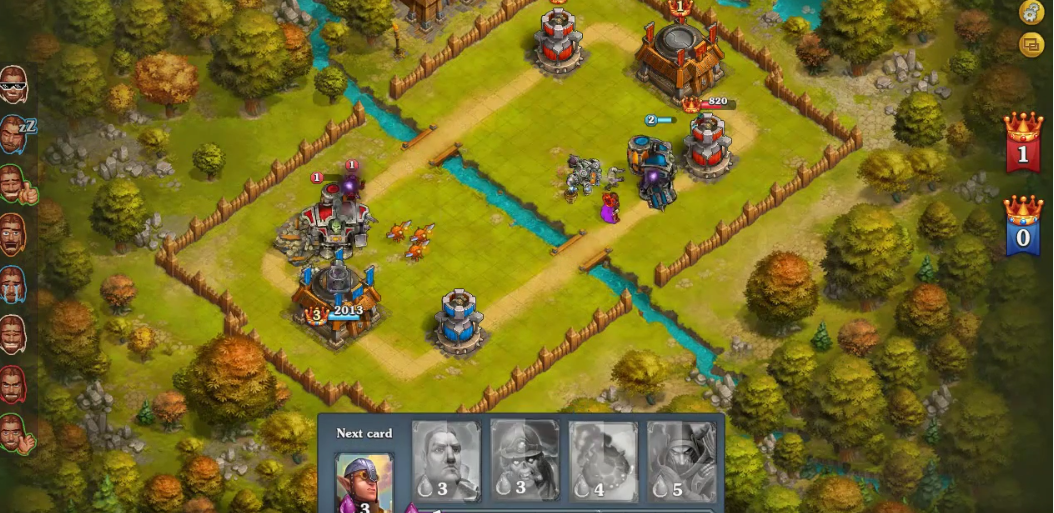 I've never really played this game, but it has the complete same princip and not really different units.
But why did this game came then in this top 5 ?
It has really nice designed graphics and you can see the whole arena.
The smileys you can send as "chat" have a clearer meaning and it's (I think so) more fair.
On the 4th place we've got castle crush: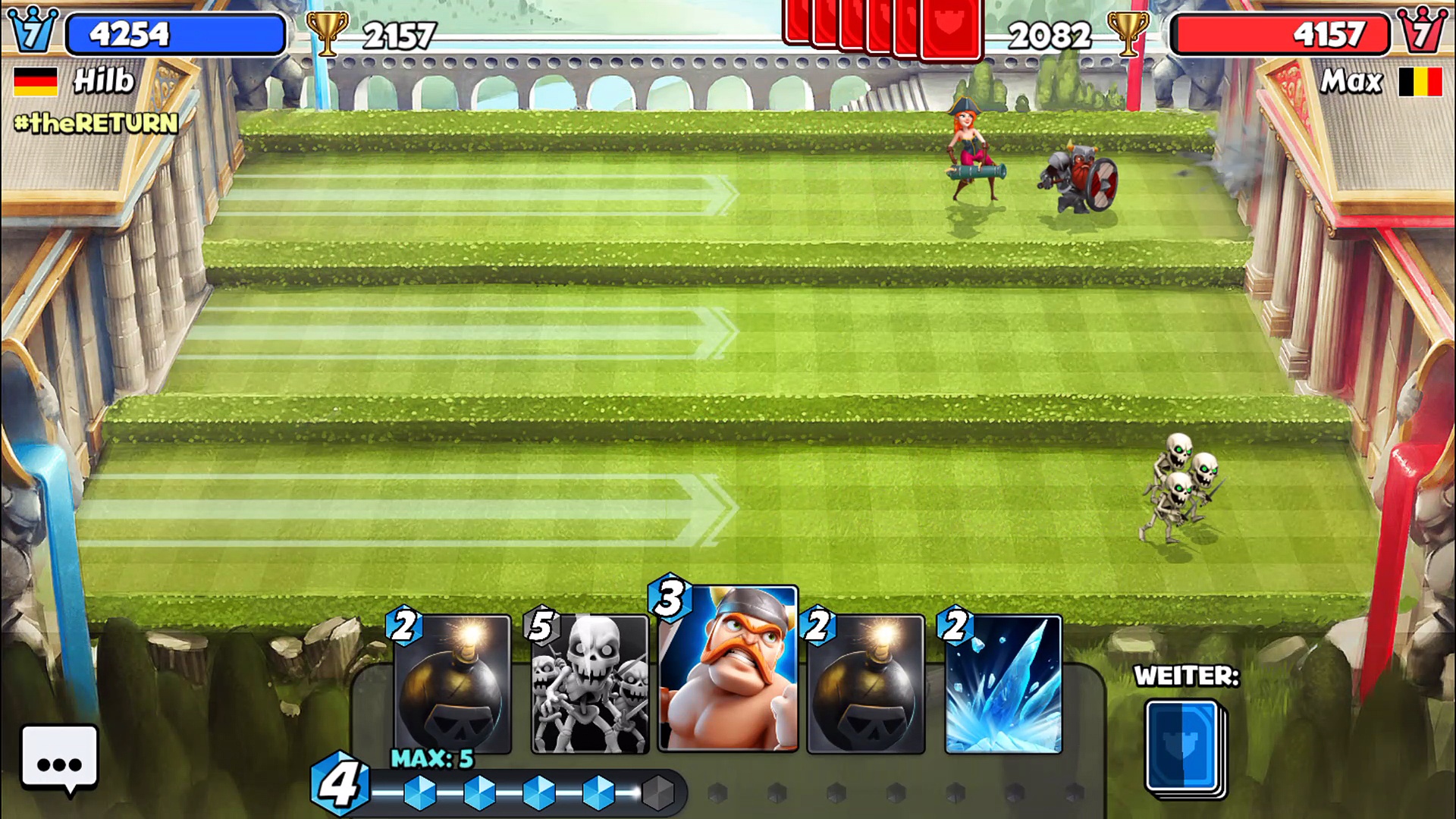 Castle Crush has a different principe, but not so different troops.
Positive:

You can have the same card two times in your hand.
There are 3 rows, you have to take care of.
The game is made really fair.
You can see, which country your opponent is from.
There's only one "tower" all rows are attacking.
Negative:

--------------
I really like this game, because its really tactical and you've to look at each row all the time.
On the 3rd place we've got Spellbinders (actually a remake of castle crush):

So this game is a bit more compact, I'll give a short explanation.
How does the game work:
Same as in Castle Crush we got one "castle" on each site. Also we've got again the 3 rows, our elixier bar and cards and that's everything, what's taken from the previous games :D
Next we've got some cannons in the middle, which can be captured by units or a special spell. The cannons will only shoot at the enemies castle. If you control all 3, they'll overload and do 10 damage at the castle. The capture will be reset after.
The units all have 1 atk dmg, but different amounts of life. Some units can get better atk dmg or fast atk speed.
On the left site you've got only units, on the right only spells.
You can damage the opponents base by getting units into it. They'll die and do a specific amount of damage.
Positive:

Everything I just explained.
You can have different Titans (background). Their units will be in your deck.
You deck has no actual max. amount of cards.
You titan can do once per round a special attack (right bot corner)
You can give yourself 3 mana (elixier) costing you a special ressource (left bot corner).
Negative:

Every unit has same amount of DMG (1, or leveling up)
The spells are really OP. (cheap and much DMG)
Same as CR, really low amount of emojis
opponent can have more health on their base. (level up by paying ingame money, pay for win...)
On the 2nd place we've got Star Wars Force Arena: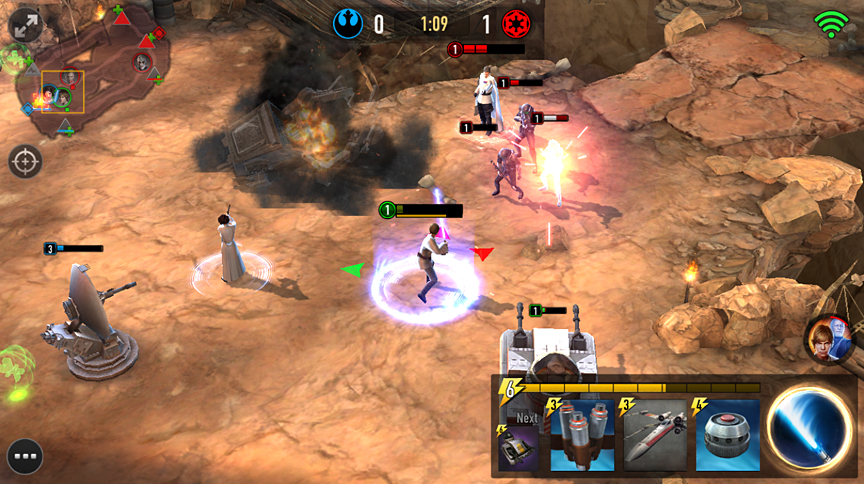 This game is a mixture of the classic CR and LOL.
How does the game work?
Same as in CR you've got 3 tower. (actually 4) 2 of them are just shooting towers, 1 of them not (like the nexus in LOL), but this one has a shooting tower in front of it.
Next you can place units and spells for energy (elixier) on the ground. You are playing a hero like han,leia,vader..., which you can move around with and kill the enemy units. The opponent will be the same. Hero and units.
On the map are some heal tokens, you can pick up. Your hero also has a special attack.
Positive:
You can have different heroes.
You choose, which site you're playing.(before the battle)
It's not getting boring, while the game is running. (You can place units and move around)
Because you can't see the whole map theres a map of the whole Arena.
Not everyone receives the same cards at the beginning.
keeps updating with new heroes and units.
epic multiplayer battles (1vs1, 2vs2, 3vs3)
You can trade cards in the shop (10standard-->1 rare, 10 rare--> 1 epic, 10 epic --> 1 legendary, 1legy-->1legy,
Negative:

energy (elixier) reloads really slow.
hero has no own regeneration
units are really easy killable with heroes
some heroes are less OP then others
And on the 1st place we've got PvZ: Heroes
this game is too big to explain, but its really cool.
Unfortunately my game status was completely deleted ;(
Positive:
really long Singleplayer Camapaign
Every unit has the chance to attack.
Split in turns for spells,units,fight
Every unit is special
really fair game principe.
choose the site before each game.
Negative:
units can get really OP and unstopable.
What do you think ?
Tell me in the comments !
tracking
3920198
top-5-clash-royale-remakes
1,165079,329,3672,559826,842002,140820,64651,214207,460644,356071,290694,895971,1030646,15493,171513,336698,476982,817406,526780,1896872