week-in-review---week-of-july-19-2015
1668865
Posted on
7/26/2015
: 7/26/15 11:18 pm
Hey guys!  Just want to take a moment to say thanks for the 2,000 subs!  Couldn't have done it without you!  ;)
---

The best structure of the week was a massive, technologically advanced city titled
離歌`戰場上的哀歌
, which translates roughly to '
Elegy Song from the Battlefield
'.  It was created by
RemXonE
.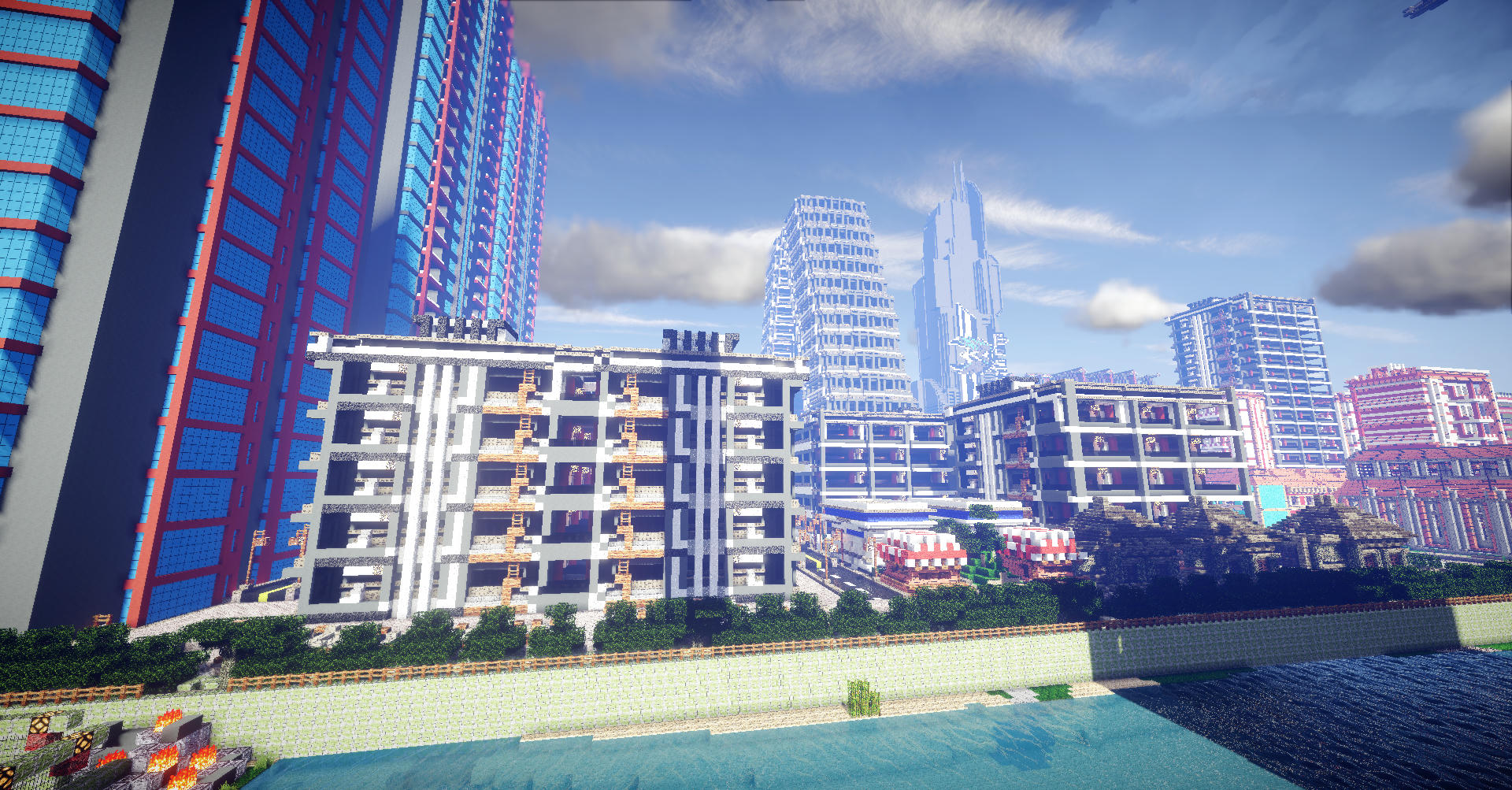 This map is definitely one of the more mysterious submissions I've seen lately on PMC.  It looks like something out of the far future, with many different motifs and architectural elements, woven together in spectacular fashion.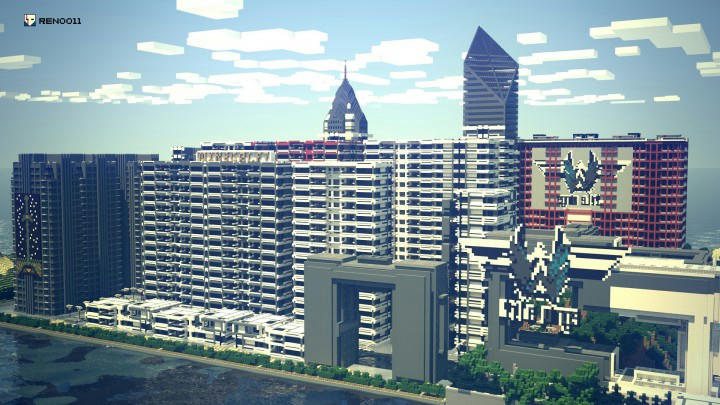 Most of the architecture appears to be residential in nature, with rows of apartment complexes, streets, and odd infrastructure lining a majority of the map.  It has a very dystopian feel to it, an almost barren, abandoned stillness that bears a slight resemblance to modern day Pripyat, only bigger and more industrial in nature.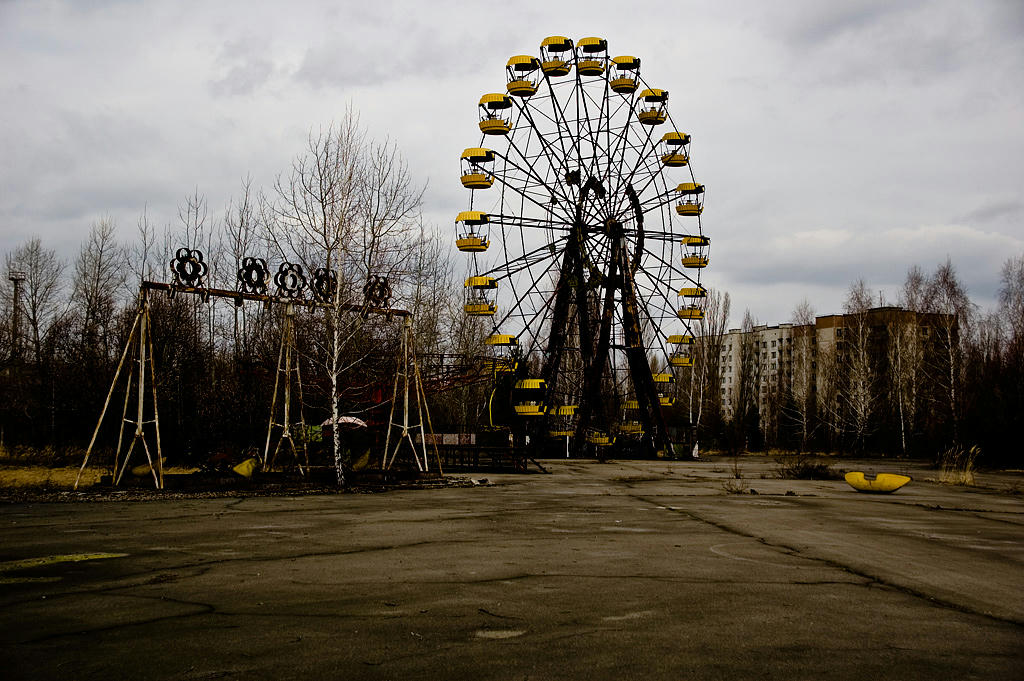 Pripyat, Ukraine
There's a partially submerged portion of the city that appears older, and slightly ruinous.  It looks as though it once served great purpose, but was abandoned due to some vague calamity, and then drowned in a rising, permanent tide.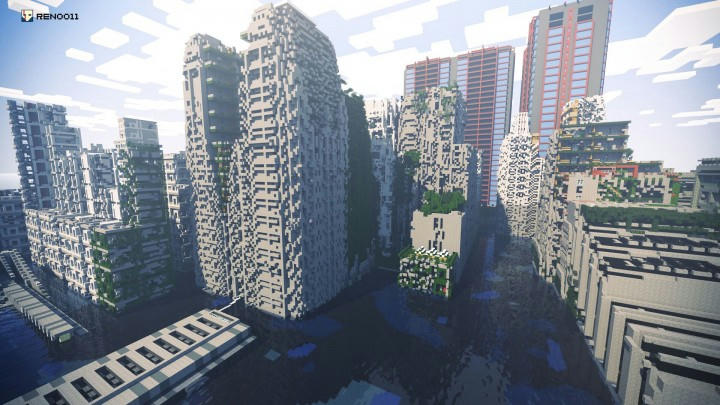 On the outskirts, reaching out over the sea, is a vast complex of giant axels and pistons, ensnared with gears and giant clocks.  Anchored to the axels are gigantic, flat runways (resembling the top section of an aircraft carrier), that rotate from vertical to horizontal positions.  The whole thing looks like an overly complex Rubik's Cube, lying atop a bed of clockwork.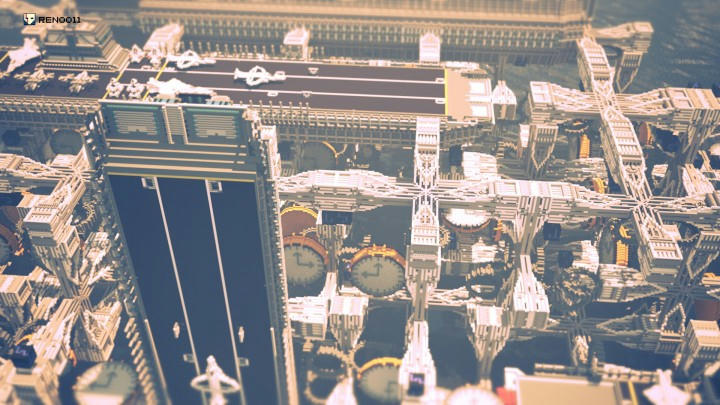 Lying in the center of the city is a towering, technological chateau, woven with bright red wiring.  It looks like a fusion between a victorian chapel and a circuit board, with a great red aura hovering overhead.  It's downright ominous, and looks like something straight out of
The Matrix
.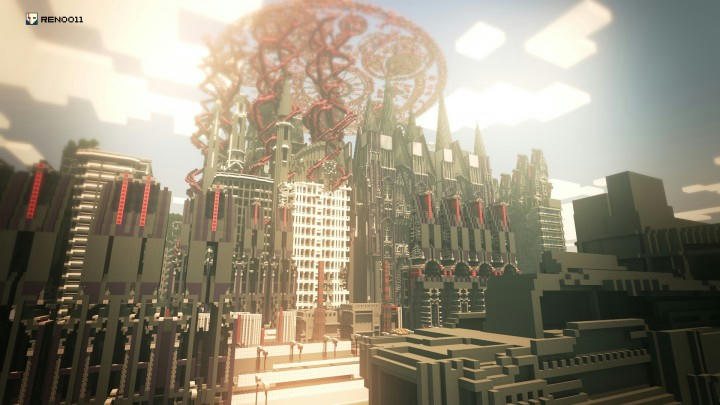 Overall, this is something very unique.  It doesn't really look like anything I've seen before on PMC, and it's purpose and backstory remains a mystery.  Whatever it is, it's something you could puzzle over for a very long time.  It's pretty intriguing.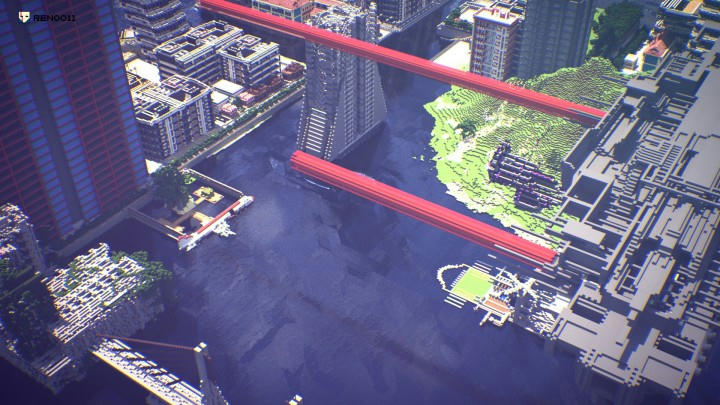 ---

The best terraforming of the week was
The Great Islands of Exodus
, created by
ClassyChicken
.  This is not your conventional terrain.  It's bizarre and exists far outside the box.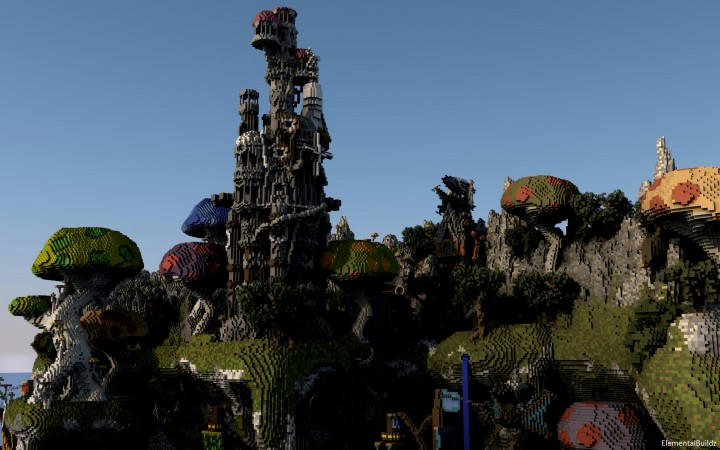 The Great Islands of Exodus
is a swirling, mountainous landscape.  The land plumes like mushroom clouds, and a watery abyss lurks beneath the curving cliff-sides.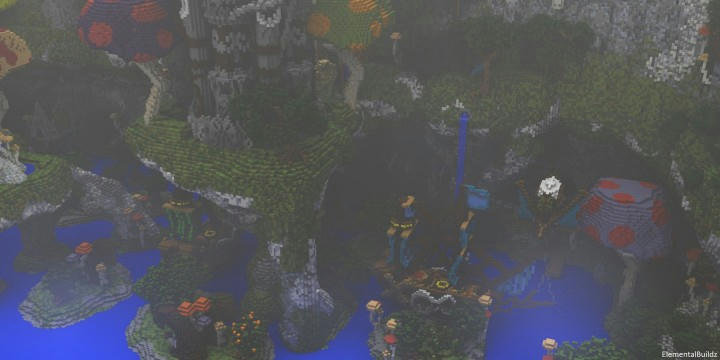 The ecosystem here is dominated by large, vibrant mushrooms (perhaps a reference to the iconic shape of the pluming islands).  The stems branch out like trees, and the soft caps hang over them like a vast canopy hanging over a forest.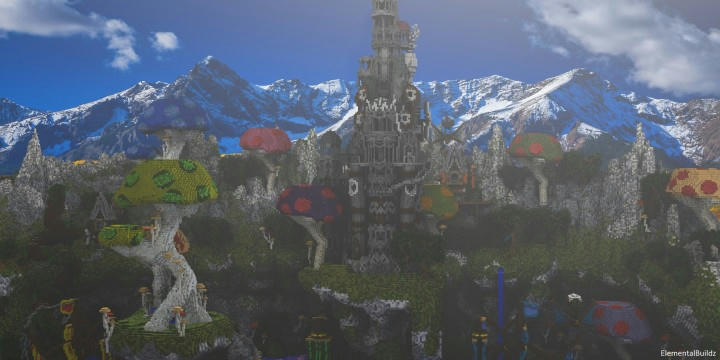 In the center of the map lies a great steam-punk tower, complete with spinning wheels, spiraling architecture, and steam chutes.  Below the tower are small huts and buildings, sitting upon the watery grotto below.  There are large steam-punk boats as well, which seem to serve as the primary mode of transportation.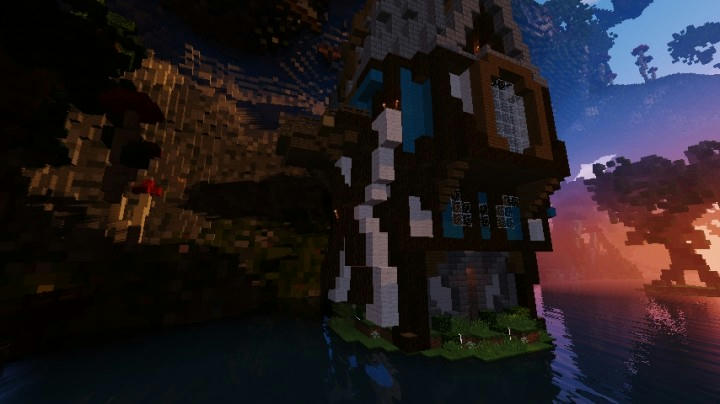 This is a terrain that incorporates different elements.  It's not just a rigid mountain range, or an icy tundra.  It has more character that comes in the form of architecture and organic work.  It's a landscape that uses structures and 3D art to accentuate itself and become more lively.  It's like the backdrop of a great odyssey ready to be told.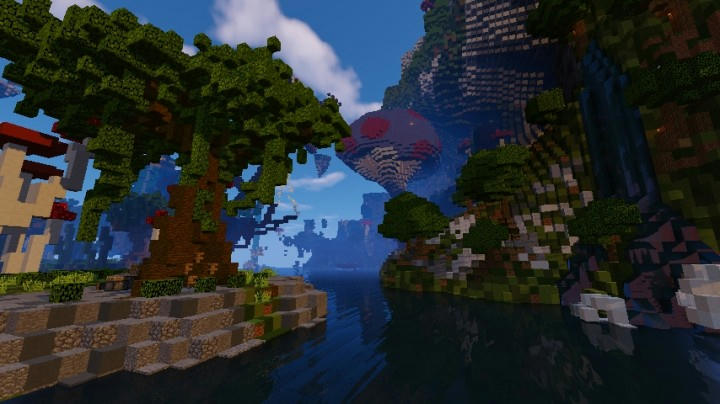 ---

Unlike the structures and terraforming this week, the organic category does not tell a story, nor is it mysterious.  It's simply gruesome, but I mean that in the best way possible.  The best organic work of the week was
Vaikelaevade - The Sea Monster
, created by
TekFuz-Mc
.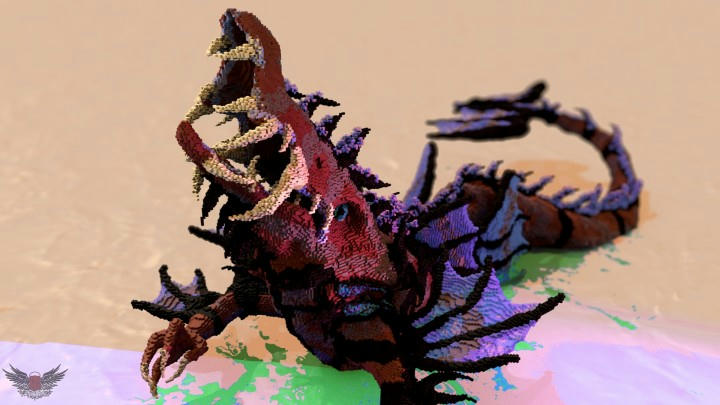 This is a monstrosity the likes of which I rarely see on PMC.  It's as if the Loch Ness monster was captured and experimented on, bombarded with a high level of gamma radiation, and then submerged in a vat of nuclear waste for a year.  This is the result.  It looks like an amalgamation of grotesque fins, gnarled teeth, and twisted appendages, all wrapped up in a sheet of infected skin.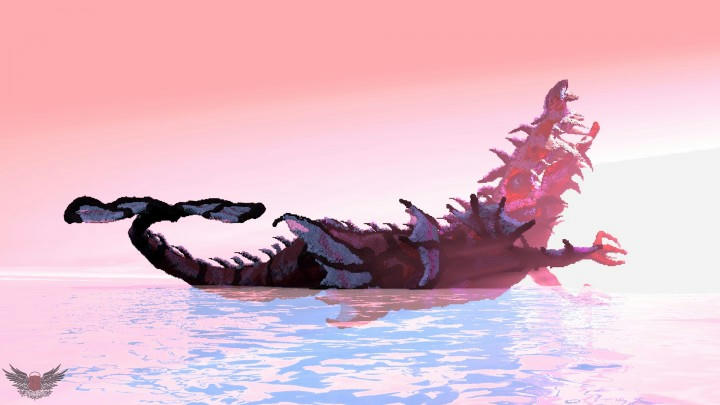 This is like the physical manifestation of disease, pollution, malformation, and hideous genetic mutation wrapped into one terrifying package.  It's definitely a memorable project, I'll give it that.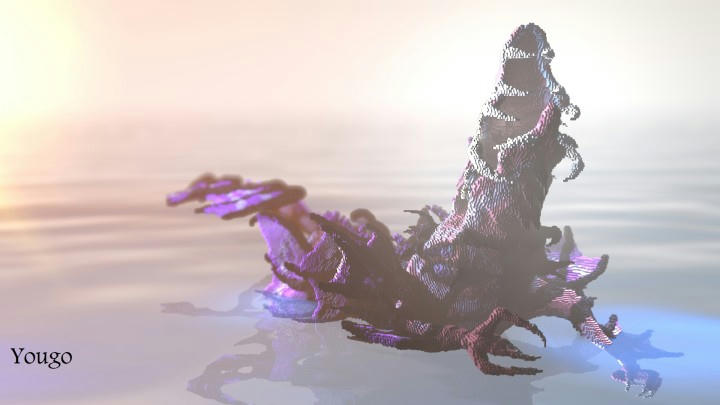 ---
Top Ten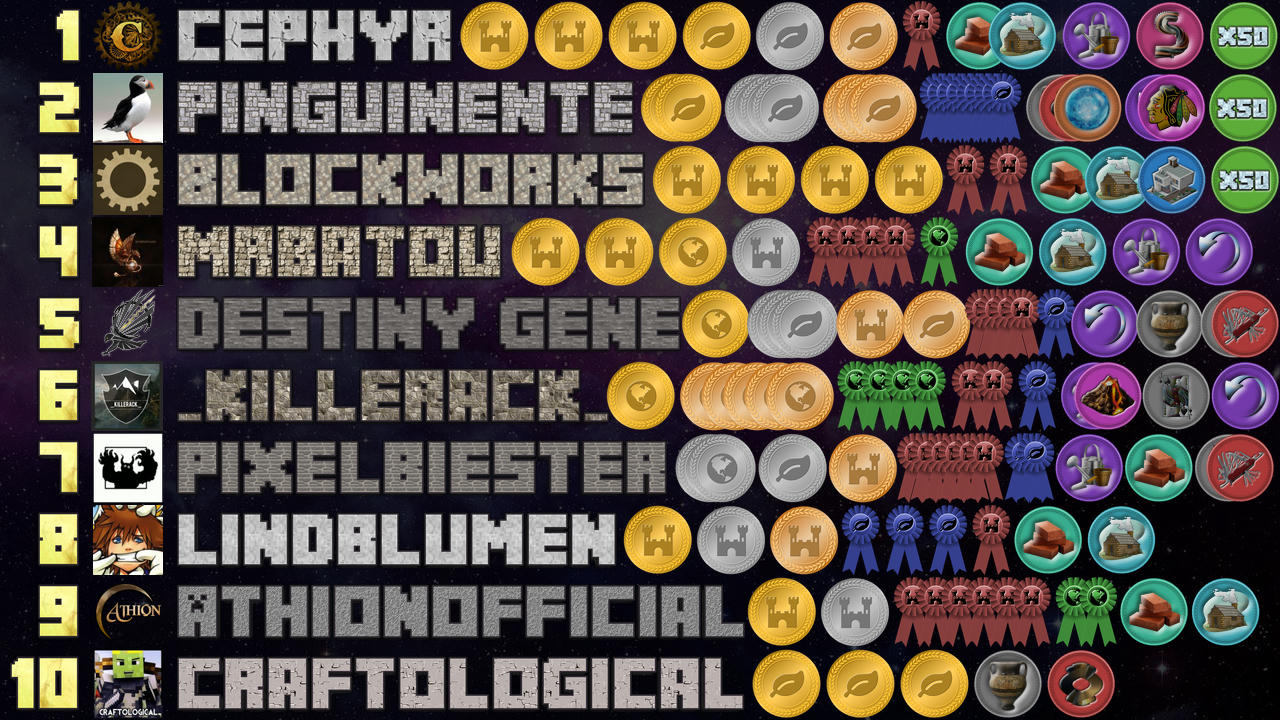 Thanks very much for reading!  If you liked this blog, don't forget to toss me a diamond, and check out the map contributors' work as well.  I'll see you guys next week!
-Gray Remnant
tracking
3402436
week-in-review---week-of-july-19-2015
1,165079,329,3672,559826,842002,140820,64651,214207,460644,625964,356071,290694,895971,1030646,15493,171513,336698,476982,98449,817406,526780,1668865