The Minecraft Times | 16th o' November, 2019
Hello, and welcome to The Minecraft Times, brought to you by
pixelstories
, this week we have a lot to cover, and I mean a lot. Let's dive in folks! Also, you may have noticed this is being posted earlier then it is supposed to, I'm just so excited to give you some thrilling news!
COMMUNITY CONTESTS & EVENTS


HUEVEMBER 2019
Huevember is still going on so far and is on day 14! For some info, Huevember is a skinning/art event, which on PMC is being hosted by
Wildcard_Gamer
. See some more info about Huevember
here
!

-Ends on the 30th o' November



PUMPKIN CARVING SKINNING CONTEST
Hosted by the talented skinner BowManOfJustice, he has created a Pumpkin Carving Skinning Contest, This contest is currently his 2nd one ever! Participate or see more info on the contest here!

-Ends on the 20th o' November




WHAT'S TRENDIN'?


JUST CRAFT IT
An interesting yet wonderful texture pack created by xalixilax, this back allows you to change what crafting tables looking simply by renaming it! An important thing to remember when using this pack is to use Optifine, get the back here!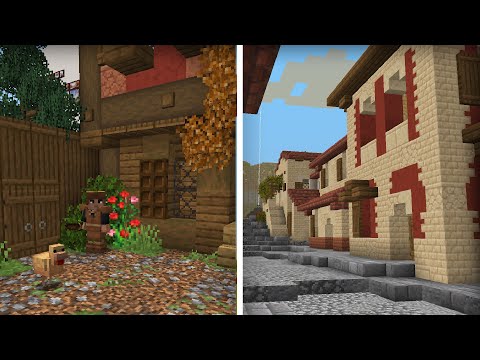 JERMSYBOY'S VANILLA EDITS


An amazing pack created by JermsyBoy is something he has been working for his Youtube Series, the pack is based on another one of his packs, A Little Taste of Jerm. Download Jermsyboy's Vanilla Edits here!



RIVERSIDE CABIN
A beautiful build, built block by block by Chiaroscuro! You can view the inside & info of the build here!


MINECRAFT NEWS

DID YOU HEAR THAT?!
Yes you heard that right, Minecraft Dungeons is officially coming in April of 2020, we don't know what day in April, but it's coming soon in about 5 months! See the post on the official MC site here!


SMALL UPDATES

MC JAVA SNAPSHOT 19W46B & A


New Java 1.15 Snapshot, 19W46B, is here, if you've ever wanted to eat in Creative, you can now, eat all you can eat in Creative Mode in this screenshot. New advancements in the previous snapshot 19W46A. And they've also squashed a few bugs in this too! See more info here!
+ Bedrock Edition beta has been released too! View the changelog here!







MINECRAFT EARTH


Is now available 10, yes you heard me, 10 more countries, including the, US, UK, Sweden, and others! See some more info about Minecraft Earth here! See PMC's post about Minecraft Earth here!

Plus a Minecraft Youtuber, Wattles, who made a video telling you a lot of info about Minecraft Earth!

News from the official MC website, Minecraft.net.



THAT'S A WRAP!


Woah! Was that a lot of news to cover! Thanks for reading The Minecraft Times, the 2nd post ever!


The Minecraft Times is provided and created by pixelstories.


To end it off, are you hyped for Minecraft Earth?
Poll ended
11/17/2019 6:55 pm

.
Posted by
11/15/2019 8:08 am
Level 34
:
Artisan Pixel Puncher
BowManOfJustice
Thanks for featuring my contest!