Idea for Lapis Lazuli
1
emeralds
•
16

replies
•
387
views
MinecraftZaq
started 06/23/2012 8:29 pm
and replied 06/24/2012 12:41 am
Hi guys,
Now, as we all know, lapis is pretty useless. It only makes a dye or a pretty coloured block, so I did some thinking. What is lapis worked the same as redstone but didn't affect the redstone itself?
Now the reason behind this idea was that redstone can get annoying when you have to put blocks everywhere just to stop it interfering with other systems.
The lapis wiring would work the same way as redstone using the same crafting recipes.
This is the torch: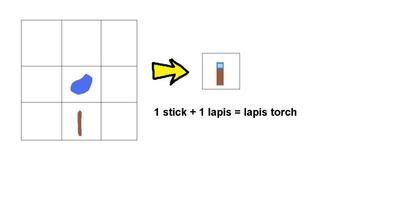 It works the same as a redstone torch. It uses 1 stick and 1 lapis.
Here is a quick picture of how it would work: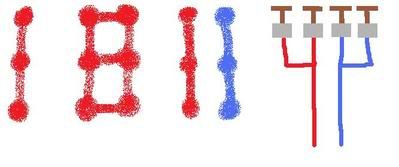 The first diagram is a wire made of 3 redstone. The second shows how redstone reacts when a second wire is placed adjacent to the first wire. It connects and could mess up your wiring. The third shows how the lapis wire would work. See how it doesn't affect the redstone? This would be ideal as you could have more things running such as pistons (see picture 4). Picture 4 shows how 4 pistons would work.
Now, because the 2 wires would not interact with each other there should be some way to get them to connect. This would be done in the form of a converter. This would be crafted using:
-1 redstone
-1 stone
-1 lapis
Image for the converter: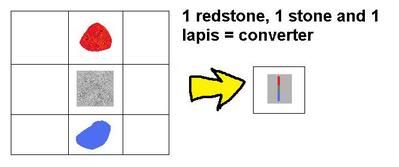 This would allow you to feed redstone into one side and lapis into the other and allow them to interact.
I feel like this is a necessity in minecraft and should be added for the 1.3 update.
I probably should show Jeb this thread and see what he thinks. If it isn't added in vanilla minecraft then it would make a helluva mod.
Cheers guys,
MinecraftZaq
Posted by