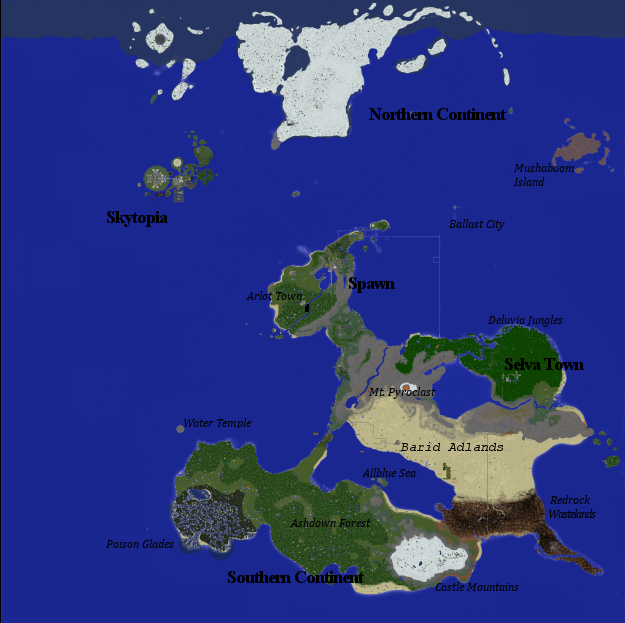 Welcome to the World of Super Massive!
What You'll Need to Log On to the Server
Forge Version 10.13.0.1230 or higher for Minecraft 1.7.10
The Super Massive Modpack (Download below)
The Server IP: 198.24.181.242:31963
What's the Server like?
Super Massive is intended to be the marriage between survival PvP and singleplayer Adventure Maps. It's an MMO style server while simultaneously it is not. Mining, building, and exploring vanilla style terrain, called the Wildlands, is encouraged. Once you've amassed a trove of resources, armor, and weapons, you can take what you've forged and venture into the sprawling 5000x5000 block adventure map! (which is a massive WIP, btw) Or you can plunge head long into the adventure and gather coins to arm yourself. Take on quests, explore dungeons, find loot, peruse shops for the best item and deals, defend yourself against other roaming players; this is what minecraft is all about!
Mod Credits:
If you want to support the server, the best way you can do so is by supporting the mod developers that allow us to package their mods and play them for free. They spend countless hours developing and maintaining these amazing mods, show them some love!
AQUACULTURE
by Shadowclaimer
BIBLIOCRAFT + ADDONS for NATURA
by Nuchaz
CRAFTGUIDE
by Uristqwerty
CUSTOM NPCs
by Noppes
Biomes O' Plenty
by Glitchfiend
TINKER'S CONSTRUCT
by mDiyo
METALLURGY 4
by Glassmaker
EXTRA TiC
by Glassmaker
TiC Tooltips
by Squeek502
TWILIGHT FOREST
by Benimatic
UNDERGROUND BIOMES
by Grom PE
WILDCAVES 3
by Alexmania
NATURA
by mDiyo
ORESPLUS
by TheTorbinWren
OBSIDIPLATES
by myrathi2
HARVESTCRAFT and GET ALL THE SEEDS!
by MatrexsVigil
LYCANITE'S MOBS
by Lycanite
CUSTOM CHEST LOOT
by docrobb
DUNGEON PACK
by Stuuupiiid
REI'S MINIMAP
by ReiFNSK
DAMAGE INDICATORS
by rich1051414
CARPENTER'S BLOCKS
by Mineshopper
Disclaimer

: If you are ever redirected through an adfly link or asked to pay money, the poster is not a legitimate distributor of the Super Massive Modpack. All current versions of this modpack will always be available to download for free through this forum.

Neither I or the mod developers are responsible for any damages or corruption caused to your minecraft worlds. Modding minecraft always come with its risks. By downloading and installing this modpack you accept you are taking those risks. Remember to

always back up your worlds

!
DOWNLOAD SUPER MASSIVE MODPACK 1.7.10-3.1
Don't know how to install forge or this modpack? Click here.
Want to know more about the server?
Visit
this
thread or join the discussion
here
.
Posted by
TheDren
Level 18
:
Journeyman Explorer