-= Xenoflux =- || Survival || Towny || Xenoville || GTA ||
The important bit,

Server IP

: play.xenoflux.com


Version

: 1.11.2
Our dedicated

Website

: http://www.xenoflux.com
Our

Twitter

Feed: https://twitter.com/XenoFlux_
Our

Facebook

Page: https://www.facebook.com/XenoFluxGaming/
March Top Voters




1st: emenem100

winning access to /sell hand on Survival.


2nd: HononoShiro

winning $10,000 in game Currency.


3rd: WilbertoTan

winning 1 Spawner.


4th: MinaKittaw

winning 25 points in our Donation Store.
Main Points
Survival Server.
Towny & Economy
Lots of other Plugins
Xenoville Server.
City Living & Quests
Lots of other Plugins
Dedicated and friendly Staff team.
Close Community.
Regular Events.
A more detailed read;
Introduction
We are the Xenoflux gaming community, first created in July of 2014 and this is our current Minecraft network. Currently consisting of the Survival gamemode and making use of the Towny plugin with economy as well as Jobs, Custom Enchants, Chestshop, McMMO, Crates, iDisguise and Advanced Acheivements. The Xenoville gamemode inspired by GTA along with Quests, Apartments to rent, Vehicles, Gambling and Gangs. Our servers are run by a dedicated staff team consisting of a management team, moderators and helpers who ensure your time with us is enjoyable and beneficial. We have a website including forums where our community can discuss adventures on Xenoflux, announcements detailing updates to our community, donation store where players can enhance their experience on Xenoflux by either contributing to keep our network alive or use points gathered from voting for us.
Hub
A well built, decorated area providing portals to our Survival and Xenoville servers. With an expansive area for socialising with current and new players as they join.
Survival
When entering survival spawn you will first notice the fantastic work constructed by our build team. The area includes, Crates opened via keys obtained through donating or voting providing random prizes. Multiple spawnshops, accessible underneath the main spawning area, allowing players to use money in game to purchase items required to survive in the world and make money by selling items collected. An area detailing donator ranks obtained through our website again by contributing or using collective votes and others including /nick and spawners. A small area providing access to the Custom Enchants, as well as nether and end portals to go fight the creatures of the underworld and afar. The trade district is provided in and around spawn where players can set up shops to sell their fine items to other players and of course to the world where we're sure you'll flourish surviving the dangers which can be protected using the Towny plugin.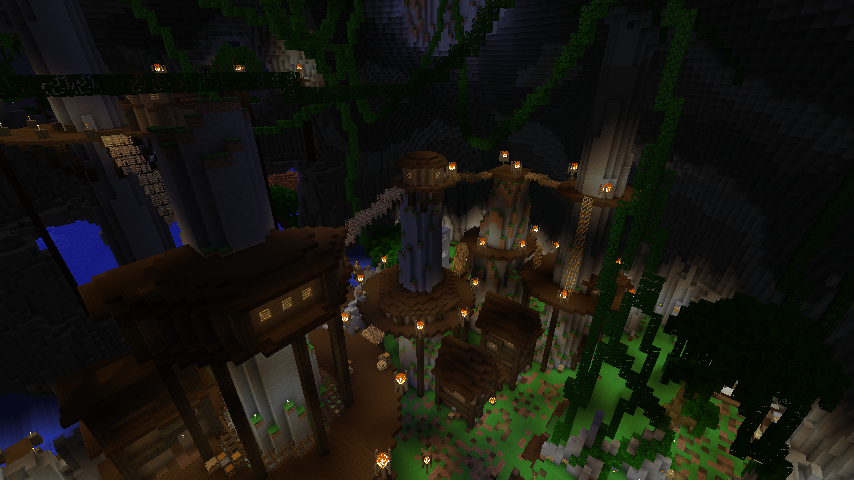 Survival Plugins
Towny
-: Create your own and undertake the role of Mayor or join an existing Town and prosper amongst Nations and strive to become the most successful.
Jobs
-: Enlist yourself in roles such as Woodcutter, Miner, Builder and make money fulfilling your duties. Level up for gains in experience and even more money.
Chestshop
-: Buy and sell collected items from your adventures between players to help aid each others survival as well as make money.
Custom Enchants
-: Apply enchantments not found in the Vanilla world to your tools, weapons and armour that provide extensive benefits for your Survival.
Crates
-: Obtain the keys to open these from either voting or donating and receive random prizes varying from donator ranks to helpful items for survival.
McMMO
-: Many attributes and skills are listed with this plugin. Simply fulfil their requirements to level up and gain useful benefits as well as strive to become the best.
iDisguise
-: Allows you to disguise yourself as different mobs in minecraft visible to other players.
Advanced Acheivements
-: Additional acheivements not found in vanilla minecraft to give players extra goals to aim for when playing on the survival/towny server.
Xenoville
A large expansive city landscape that you will aim to conquer. Start off small in the trailer park and work your way up to a luxury apartment or a regular resident of the 5* Hotel. Many areas to explore, providing multiple routes to earning cash to live in the city with regular updates including new districts and environments. Complete quests provided by NPC's distributed amongst the many city aspects. Earn yourself enough money to buy a vehicle to travel the roads and even use upon the Raceway. Become a Gangster or Cop to enhance your play experience providing extra abilities for you to make use of during your stay.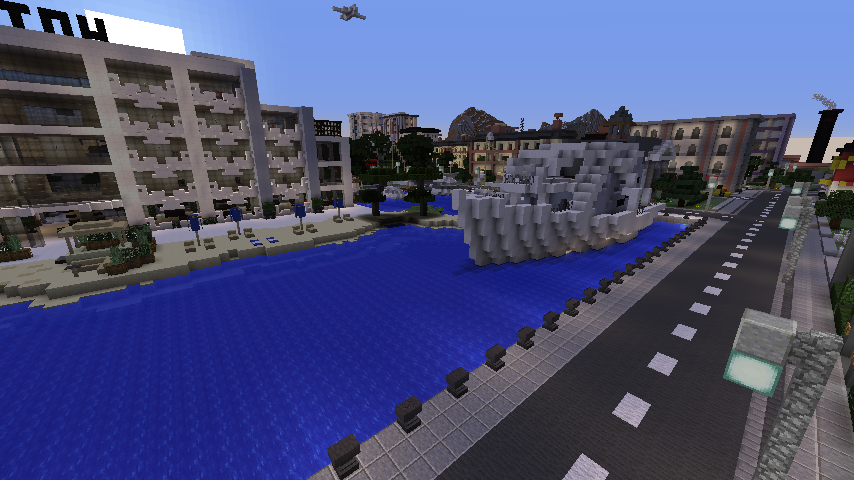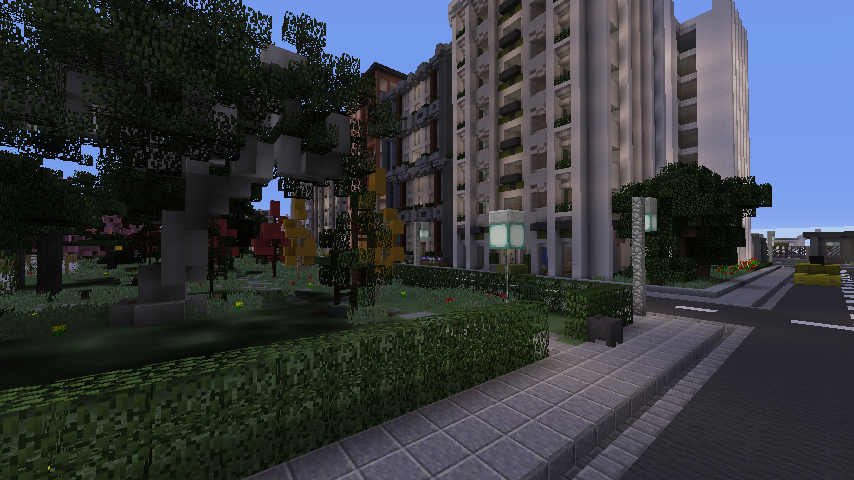 Xenoville Plugins
Quests
-: Received from NPC's around the map, carry out and complete tasks to earn money.
PrisonCells
-: Used to create Apartments across the city. Starting with small trailers, increasing in sizes to luxury houses available to certain ranks.
Chestshop
-: Buy and sell from multiple stores around the city.
Backpack
-: Extra inventory space to store any of your collected items during your adventures in the city.
Crates
-: Obtain the keys to open these from either voting or donating and receive random prizes varying from vip rank to helpful items for xenoville.
Lottery
-: Buy tickets to enter the regular lottery for a chance to win fortunes.
Vehicles
-: A range of vehicles to purchase that can be used to traverse the city streets and sky! Including Bikes, Cars, Tanks, Helicopters and more.
BarGamble
-: Spend evening at the XenoBar drinking concoctions that give you the chance to win some extra cash.
Events
At Xenoflux we run regular Events for our members to participate in providing the opportunity to win some fantastic Prizes including in game money, keys to open the crates, donator ranks as well as other items from our donation store. Events have been known to include in game chat quizzes including word scrambles, film quotes and fact or fiction. Other events take place in our dedicated event world and have included the likes of archery, pig racing, mazes, parkour and puzzles. Finally we also like to run special themed events such as recently trick or treat at halloween, advent calendar at christmas and the regular monthly top voter.
Ice Boat Racing
Pairs Parkour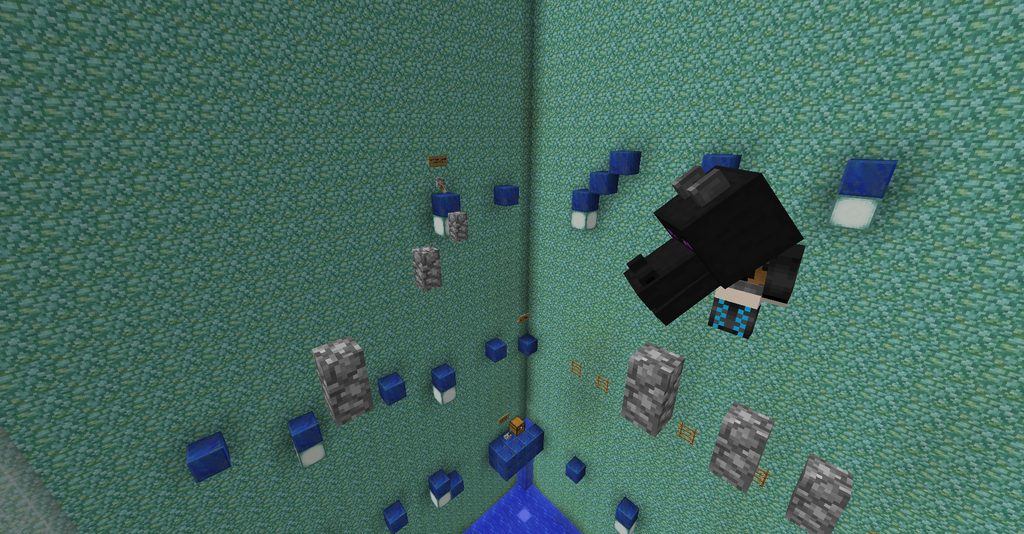 Spleef arena
Posted by