This is a
PBL Skin Battle
between
Drazile12
(
http://www.planetminecraft.com/member/drazile12/
) and
IAmLikeSoCalledTT
(
http://www.planetminecraft.com/member/iamlikesocalledtt/
)
We remind you to vote for your favourite skin and not your favourite user!
The Palette: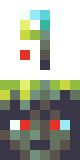 "We Come In Pieces" | Tattered Green Alien
Diamond Knight
Poll ended
04/20/2015 2:02 pm

.
Posted by
Masq
Forum Moderator
Level 35
:
Artisan Dolphin
04/18/2015 2:33 am
Level 17
:
Journeyman Cowboy
Jex_Infinite
There's a weird green splurge on the alien's trousers. Ew.

Not voting for that.
04/18/2015 2:28 am
Level 44
:
Master Sweetheart
Zatharel
Diamond knight is better.

Dammit TT, get the section right :p
Moved to Skinning.
04/18/2015 5:36 am
Level 35
:
Artisan Dolphin
Masq
Heh, sorry! I never know if skin battles go in skinning or community challenges because I've seen them in both Well I know now! Thanks for moving it.