Published
Dec 20th, 2012
, 12/20/12 5:31 am
30,665

views,

2

today

3,071

downloads,

0

today
SCMowns
Level 67
:
High Grandmaster Wolf

Hello, my name is Steven (SCMowns) and I have updated Mob Talker unofficially. I am not the real creator, and I do not take any credit apart of this mod, I just simply updated the mod to Minecraft 1.4.5. Once the mod creator begins to work on his thread I will dis-continue my unofficial updates.
This mod transform Minecraft from a Sandbox game into a Japanese style AVG!
You are able to interact with hostile Minecraft mobs like never before. With customizable scripts you can create your own little interaction!
You can become friends with hostile mobs by interacting with them! It truly depends on how you write your script!
How to craft the Mob Talker:
( Needs to be in the center of the crating table ) (Will be fixed)

Select your language!
More custom scripts in here.
** Installation **
1.Install ModLoader correctly
2.Download mod_SCMownsMobtalker.zip
3.Choose one script file.(You can only choose one but you can merge them yourself.)
4.Put mod_SCMownsMobtalker.zip into /mods/ folder
5.Install the script file.Simply overwrite the /resource/ folder with the one inside zip file.
6.Check if the /resource/mobTalker_script/ was created.
7.Run the game and enjoy!
After running the mod once,the mobTalker_Config.cfg will be created in /config/
You can open it with a text editor.
mesgSpeed:
The speed of showing dialogue characters.
0 means immediate. The LARGER the value, the slower the speed.
ItemMobTalker:
The Item ID of MobTalker
** Another great mod to go along with this Mod! **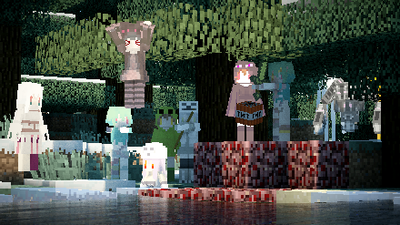 Again, this thread will be discontinue once the original modder begins to work on it.
| | |
| --- | --- |
| Credit | SCMowns, Flammarilva |
| Progress | 85% complete |
| Game Version | Minecraft 1.4 |
| Tags | |
tools/tracking
1762841
7
145-ssplan-mob-talker-unofficial-update-scmowns