blockball-minigame-bungeecord-soccer-football-1-8-1-9-1-10-1-11-1-12
playlist_add
Views,

14

today
Downloads,

3

today
1222048
Shynixn
Level 58
:
Grandmaster Programmer
Published on
6/23/2017
- 6/23/17 1:56 pm , last updated: 08/21/17 1:17:47 pm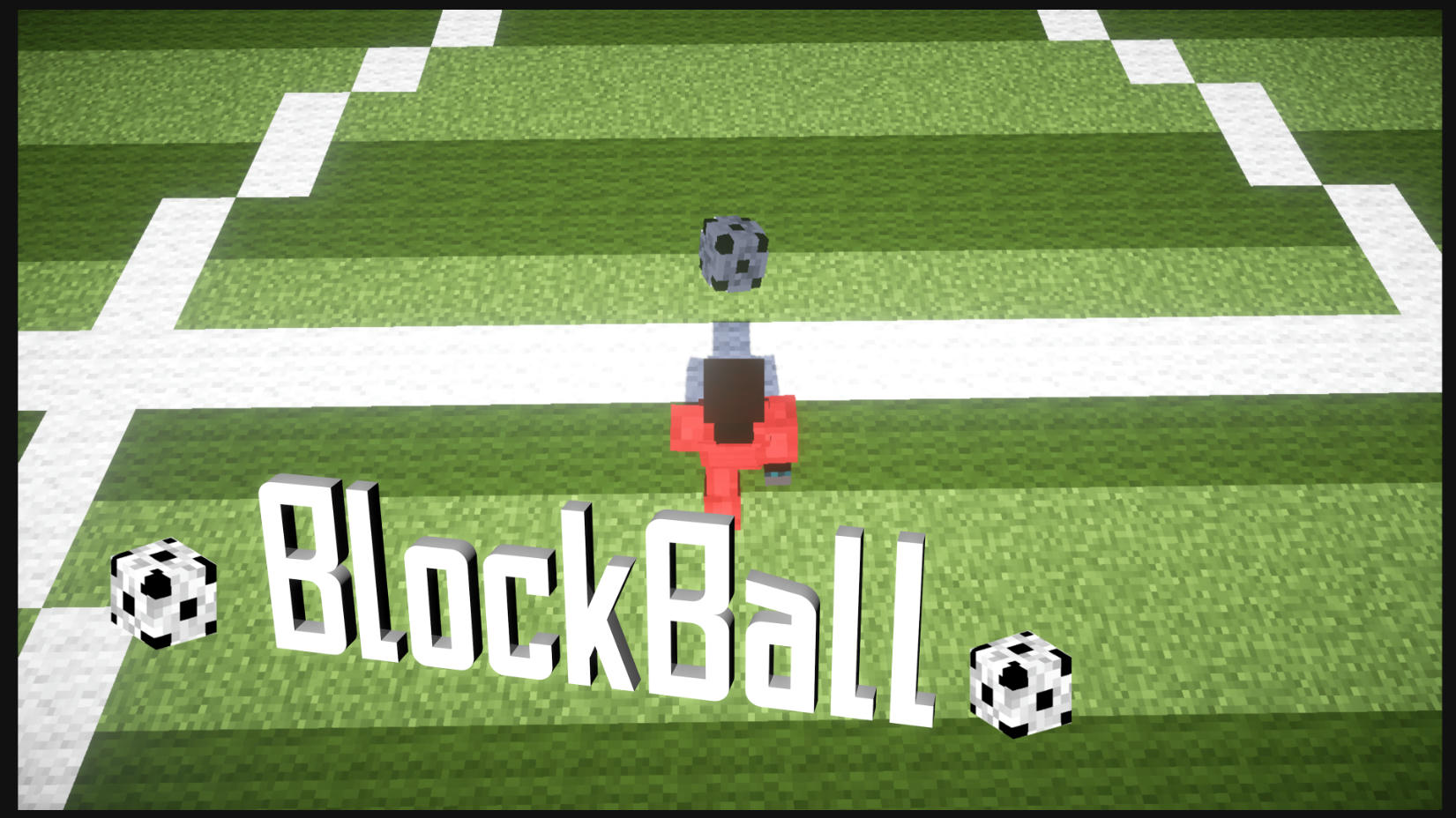 Finally a soccer/football game that looks like one and doesn't use slimes or other strange items.


Video Tutorial [v1.0]
Download the plugin BlockBall

Put the plugin into your plugin folder

Install the plugin Worldedit

Start the server (1.8.0 - 1.12.0, Java 8)

Join and play

Quick-Setup
Type /blockball to open the chat menu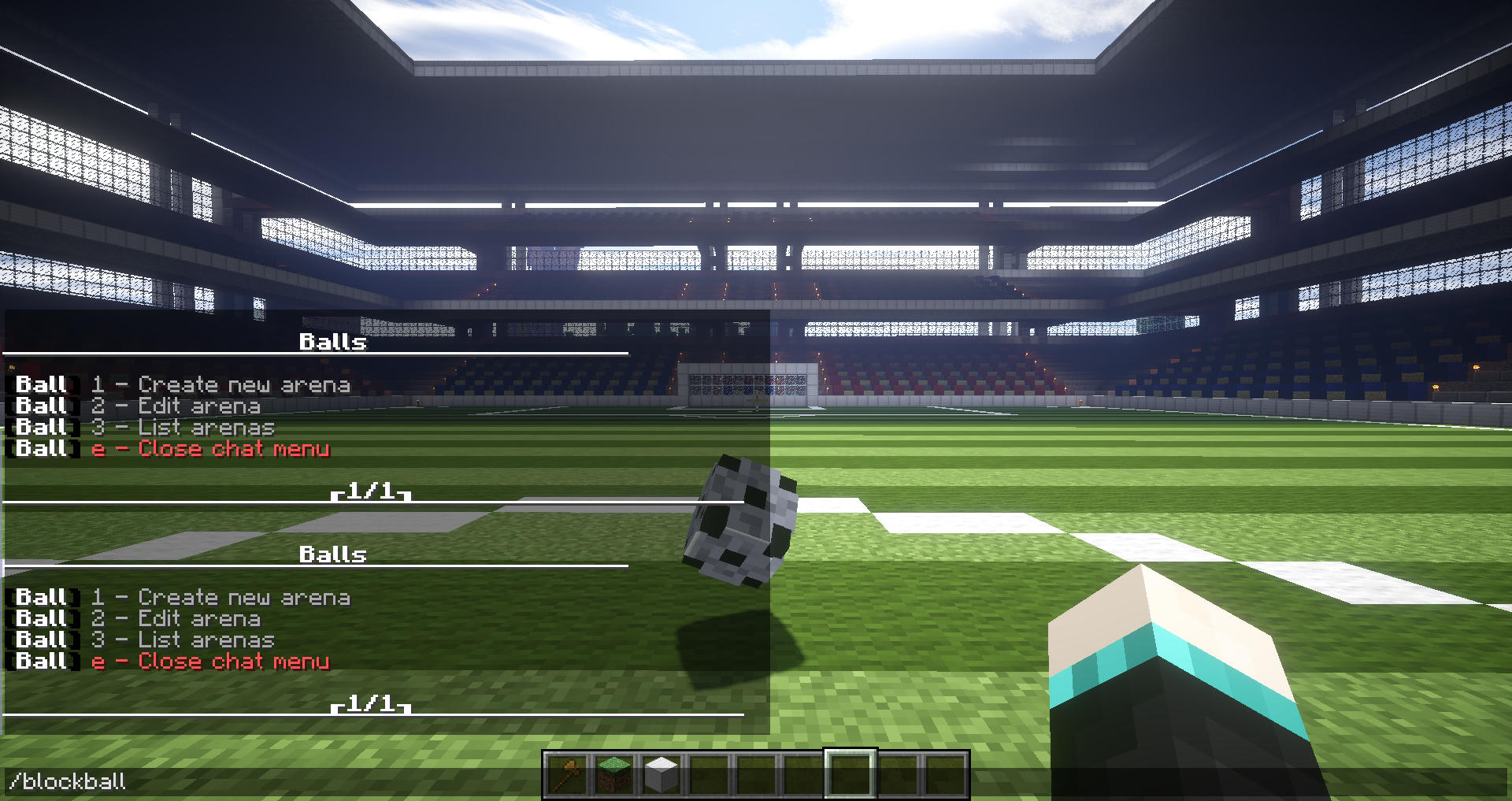 Select corners of the arena via Worldedit and type "1"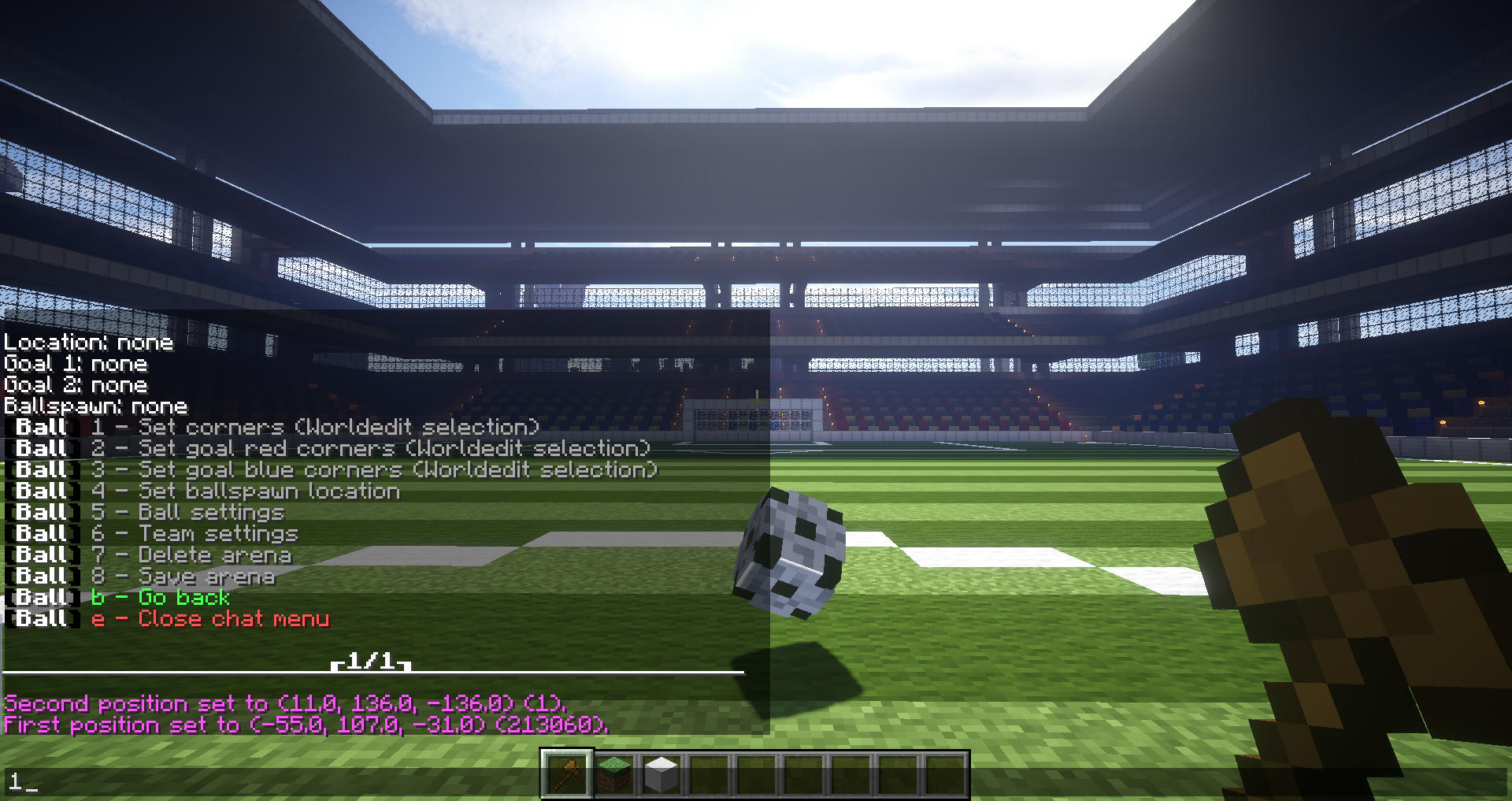 After that select the red goal and type 2, then select the blue goal and type 3.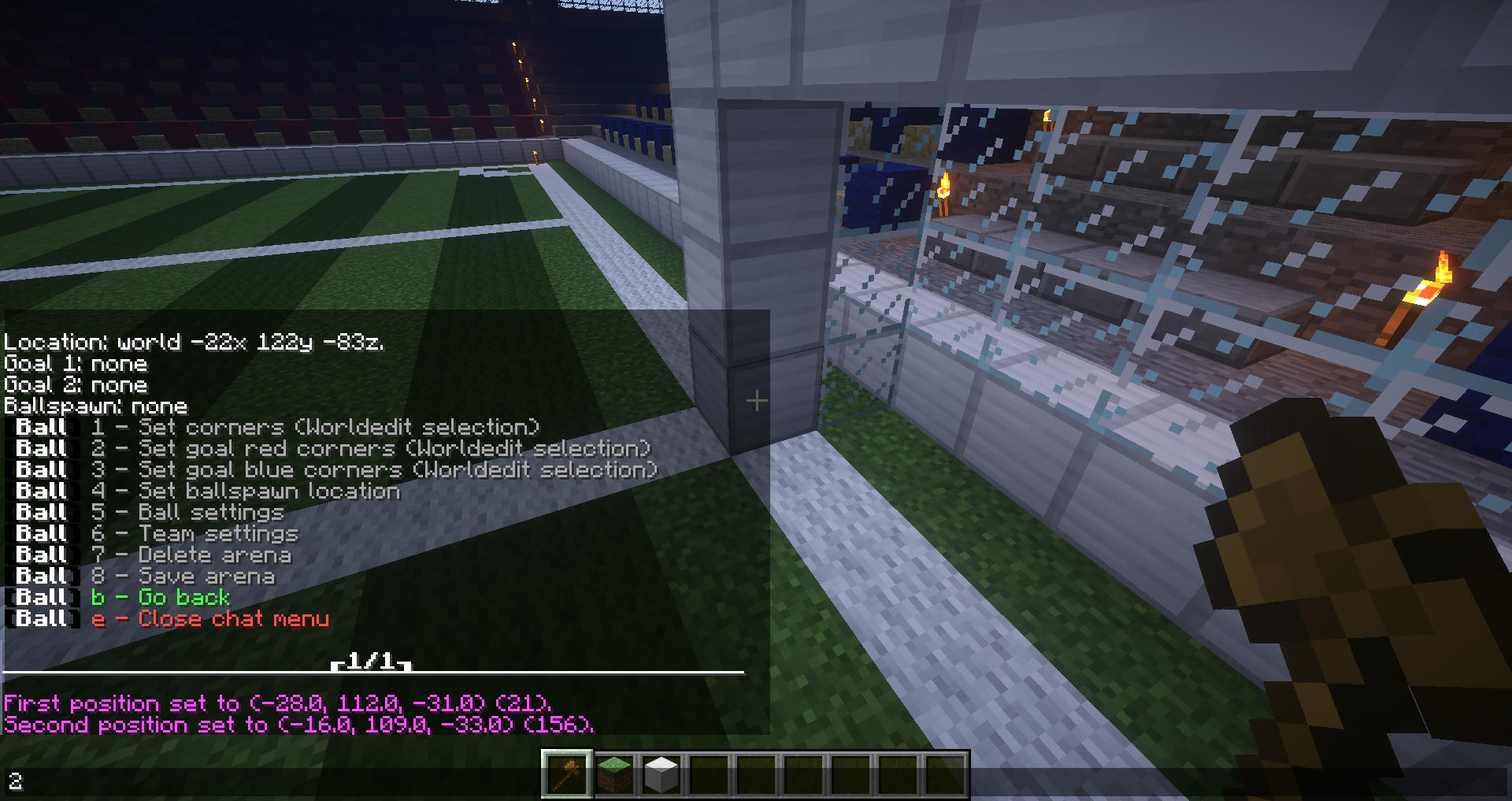 Now select the ball spawnpoint to finish the standard setup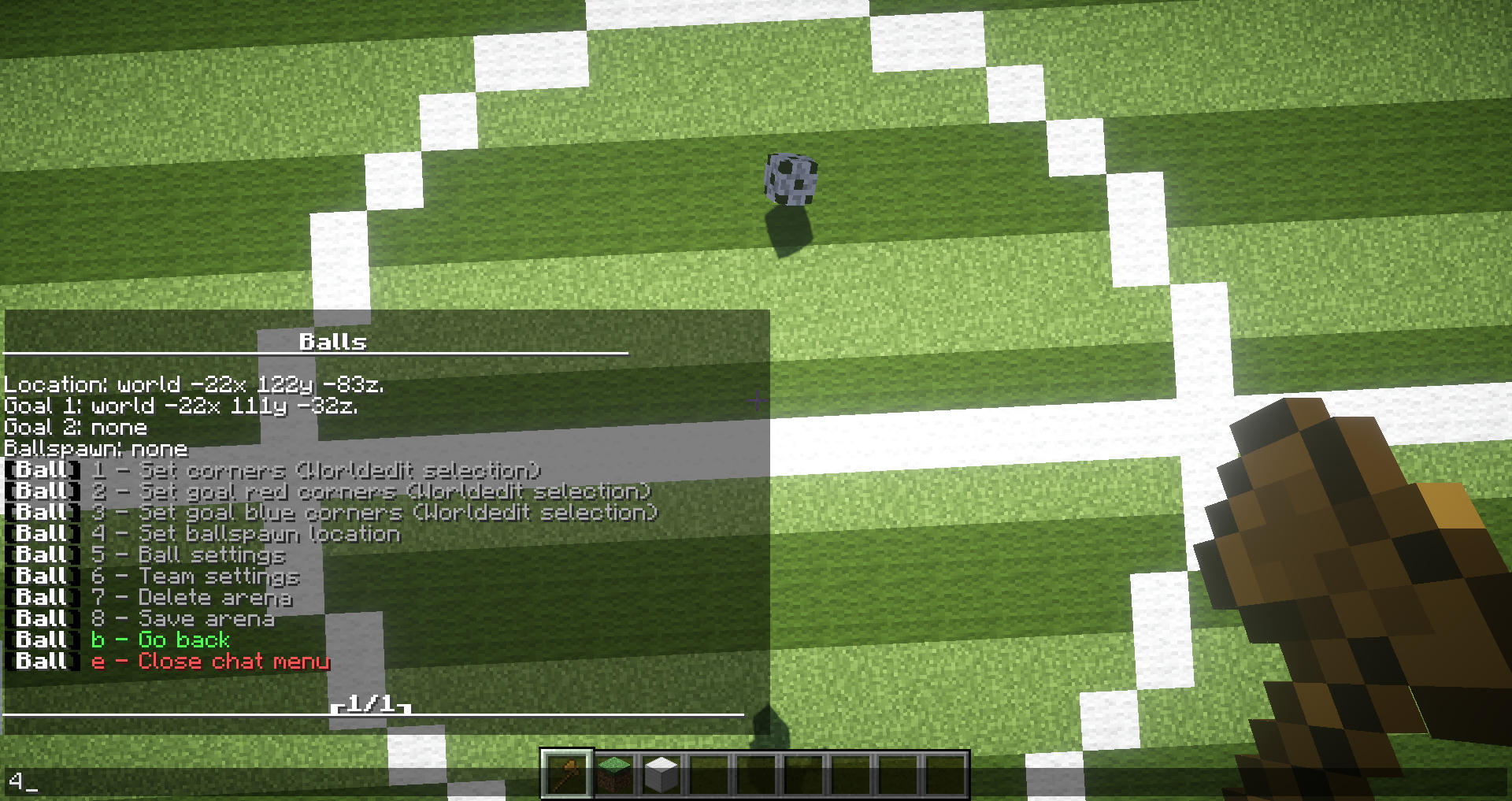 Don't forget to save otherwise it won't work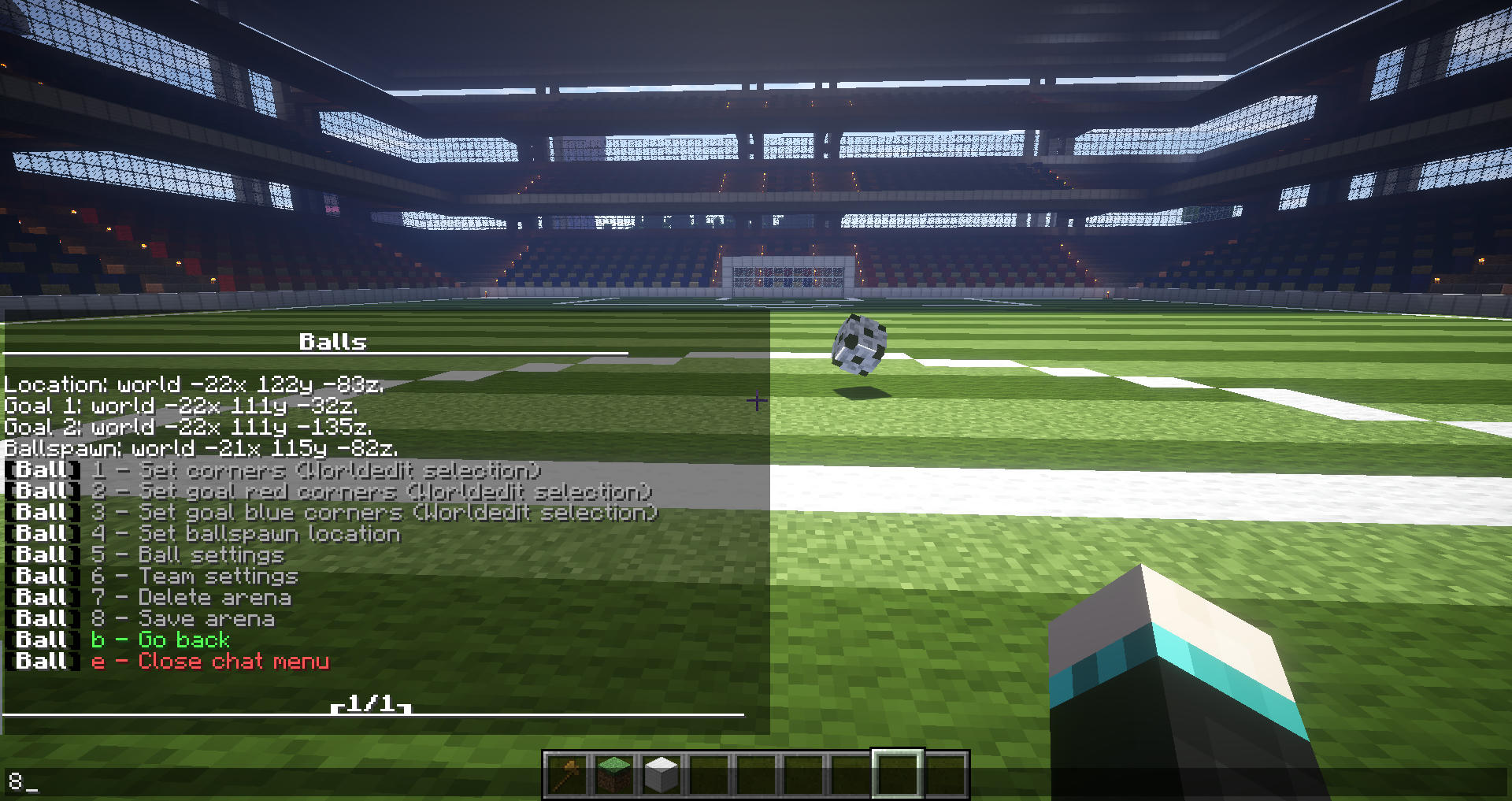 Just try to run into the arena to join the match, the forcefield explains all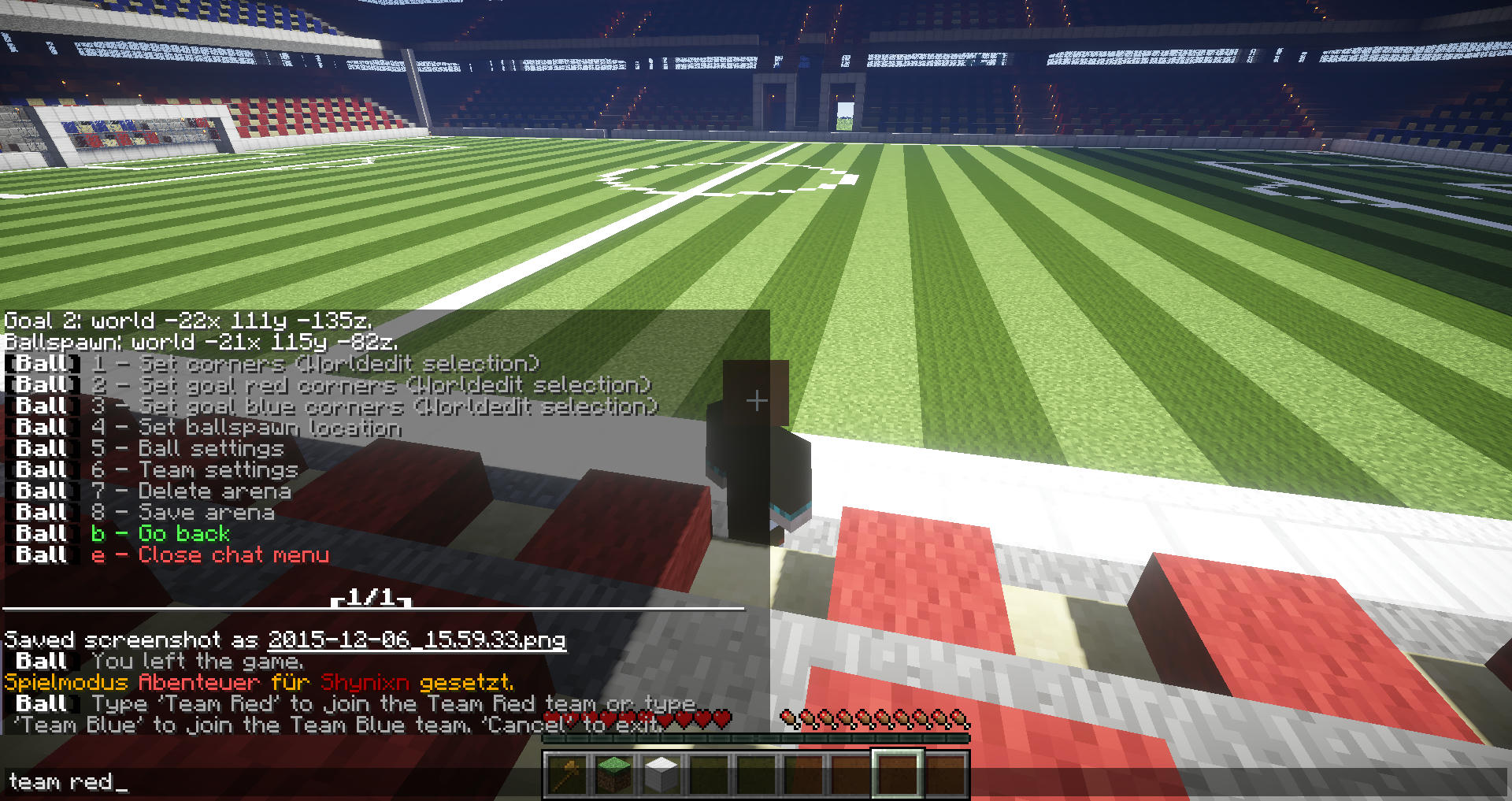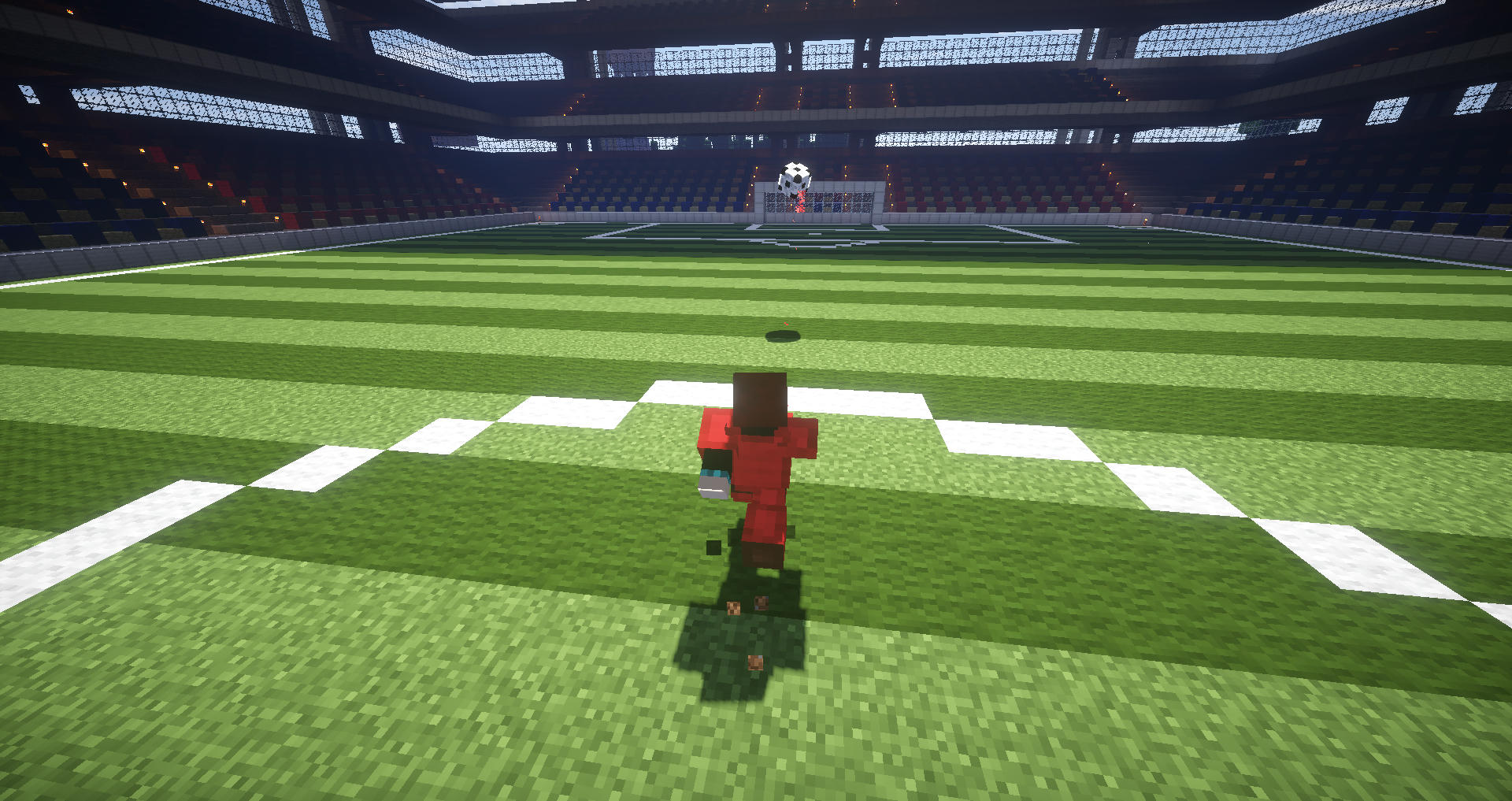 To edit the existing settings, open the edit mode and go to ball or team settings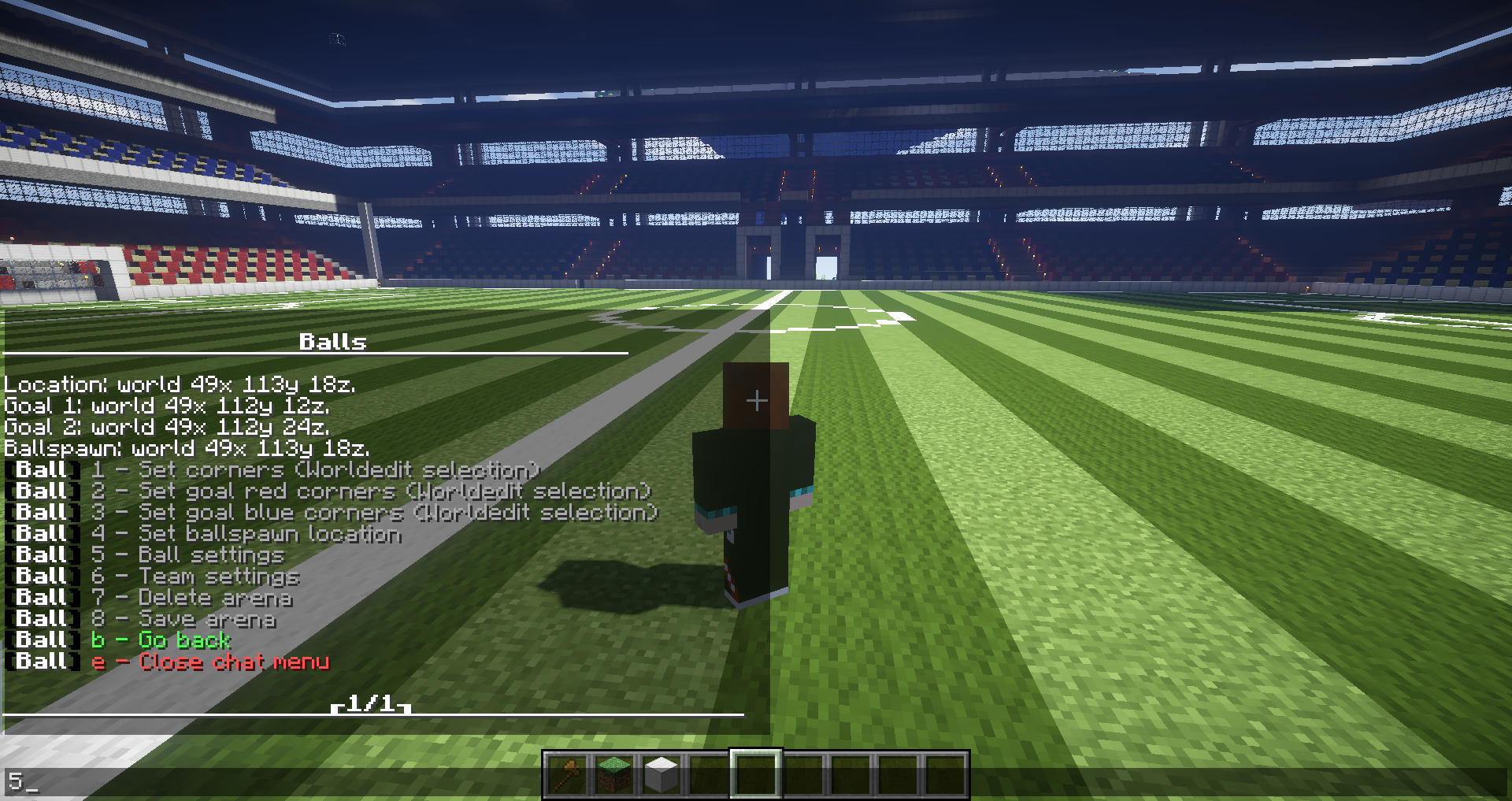 Let's change the ball skin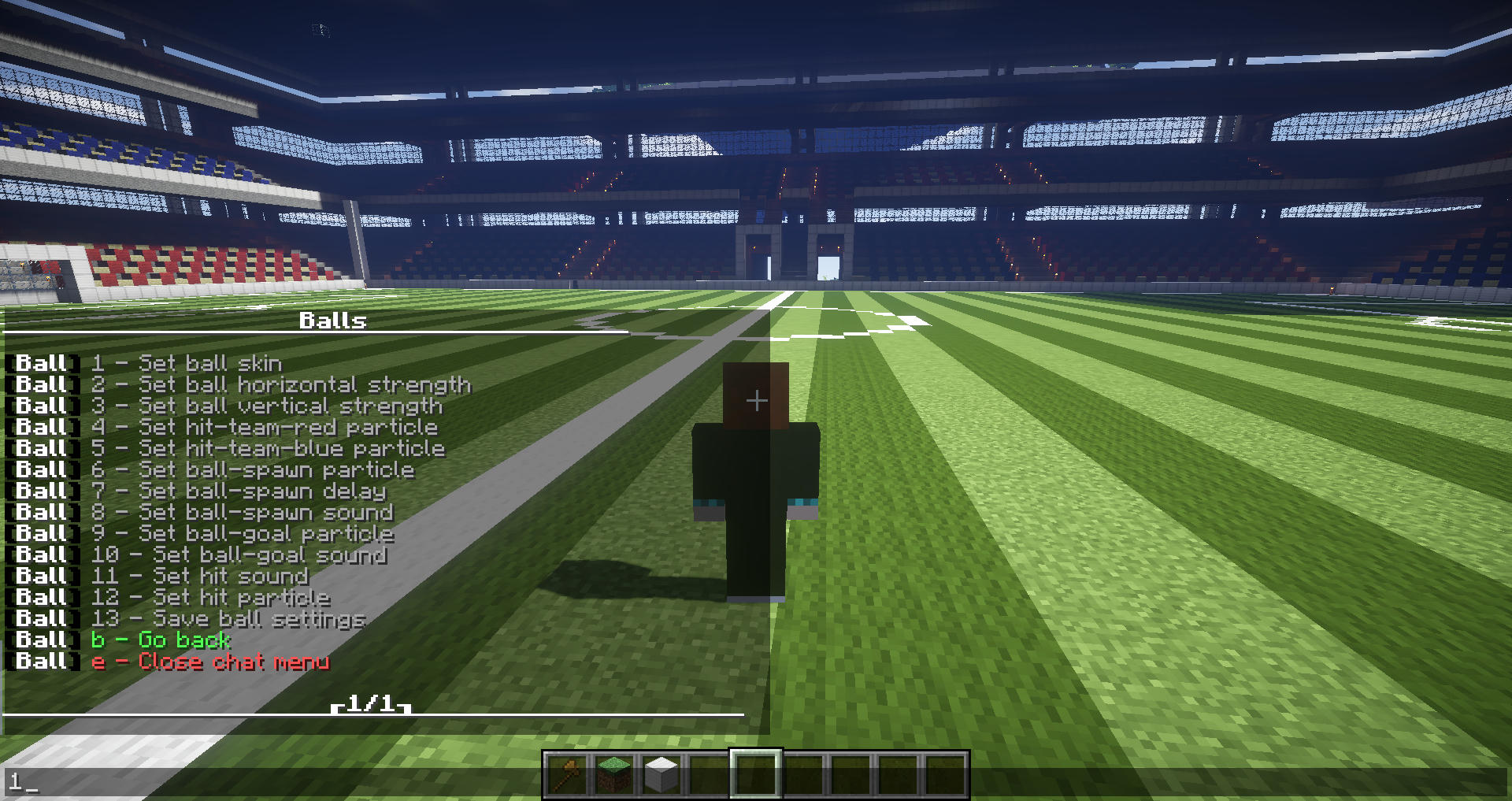 I enter a URL from a skin on the mojang database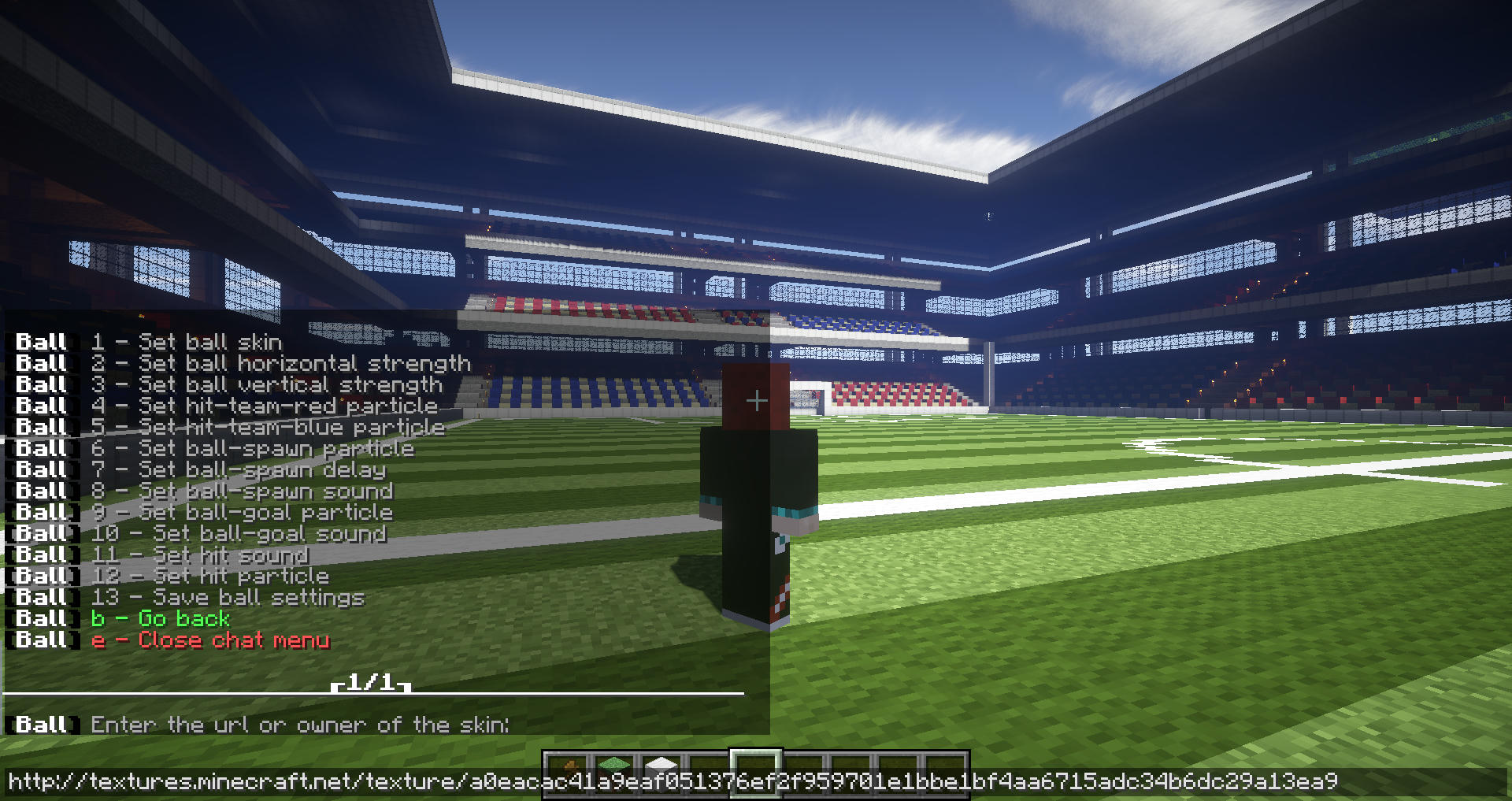 Sourcecode

https://github.com/Shynixn/BlockBall
Progress:
100% Complete
Game Version:
Minecraft 1.12
BlockBall v4.1.1 : 08/21/2017 1:17:47 pm8/21/17
Changes

Added update checker

Improved BlockBallApi

Bugs/Issues

Fixed scoreboard displaying NaN

Fixed PlaceHolderApi hook failing

Fixed title messages when using engine v2

BlockBall v4.1.0 : 08/18/2017 7:01:54 am8/18/17
Changes

Added bstats to collect useage stats for BlockBall

Added BlockBall stats collecting

Added BlockBall stats collecting locally or cross server

Added scoreboard to display your BlockBall stats (can be enabled in the config.yml)

Added alpha version of blockball engine v2

Added database support for MySQL

Changed config.yml (Recreate it or copy the following lines into your config.yml)

Removed top goals collecting

Removed deprecated members

Bugs/Issues


Fixed player are able to fly after a game when setting hubgame to autojoin

Fixed entity registry errors

Fixed velocity errors

config.yml
# Sends anonymous stats to
bstats.org/plugin/bukkit/BlockBall
.
metrics: true
#Engine settings
# Engine v2 is still in Alpha and may be changed! I recommend to try it out and give feedback on the plugin comment section.
blockball:
use-engine-v2: false
#Storage settings
#Database configuration to store data of players. Arenas will get stored in yml files.
sql:
enabled: false
host: localhost
port: 3306
database: ''
username: ''
password: ''
#Stats settings
#Enable this to show a scoreboard of the player stats on your server. You can add as many lines the scoreboard can use.
# <player> - Name of the player
# <winrate> - Winrate of the player
# <playedgames> - Amount of played games
# <goalspergame> - Amount of goals per game
stats-scoreboard:
enabled: false
title: '&f&lBlockBall Stats'
lines: #All lines have to be different otherwise it won't be shown (Simply add a invisible &r)
- '&r'
- '&e<player>'
- '&r&m '
- '&bWinrate: '
- '&f&l<winrate> '
- '&r&r'
- '&6Goals per game: '
- '&f&l<goalspergame>'
- '&r&r&r'
- '&aPlayed games:'
- '&f&l<playedgames>'
- '&m '
BlockBall v4.0.1 : 07/15/2017 9:03:07 am7/15/17
Changes
Minplayers and maxplayers settings work in a different way now. Please adjust your min-amount-of-players and max-amount-of-players setting after updating BlockBall

Added settings to customize double jumps

Added settings to set even teams

Removed deprecated members

Bugs/Issues
tracking
3445407
blockball-minigame-bungeecord-soccer-football-1-8-1-9-1-10-1-11-1-12
1,165079,329,3672,559826,842002,140820,64651,214207,460644,625964,356071,290694,895971,1030646,15493,171513,336698,476982,98449,817406,1293715,209568,526780,928263,1263961,2177557,1222048