petblocks-mysql-bungeecord-customizeable-gui-1-8-1-9-1-10-1-11-1-12
Views,

276

today
Downloads,

82

today
1222048
Shynixn
Level 57
:
Grandmaster Programmer
Posted on
7/8/2017
: 7/8/17 1:48 pm , last updated: 11/12/17 7:01:25 pm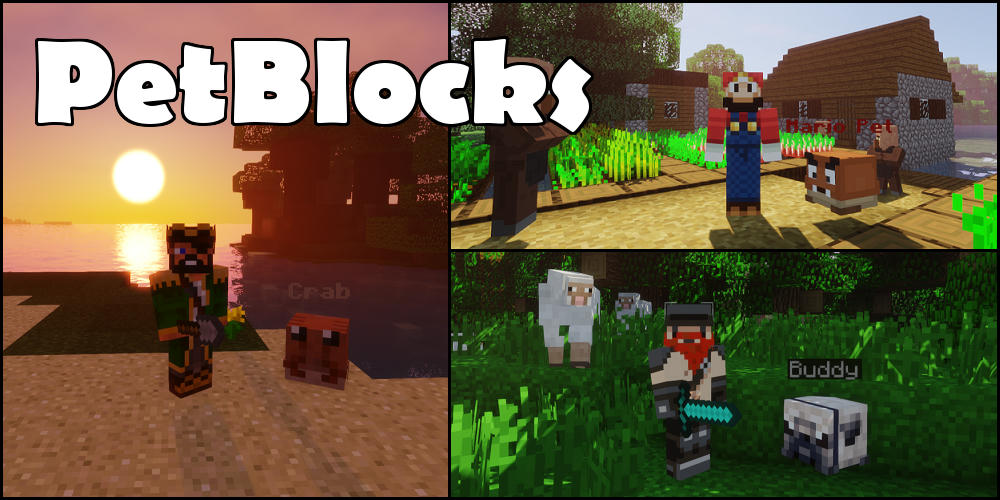 PetBlocks is a spigot plugin to use blocks and custom heads as pets in Minecraft.

In cooperation with

Minecraft-Heads.com
Like PetBocks?
Rate it on

spigot



Star the repository on

Github



Leave a diamond on Planetminecraft (top of this page)

What information can I find here?
Features




Screenshots




Videos




Resource Packs



For more information and configuration please visit PetBlocks on

spigot

.

Pet Features
Adds a new pet to every player




Simple GUI navigation to customize your pet




Use blocks or custom heads as costume for your pet




Use engines to change the behaviour of your pet (movement, sound)




Add a particle effect to your pet




Rename your pet




... and a lot more



Config Features
GUI is completely customizeable

Toggle items




Change item position




Change item id




Change item skin




Change item name




Change item lore



Add new costumes (supports skin-urls)
Add new engines
Add new particles
Can spawn in any Worldguard regions
Pets do not get removed by ClearLagg
Supports MySQL
Supports cross server pets
... and a lot more


Main Menu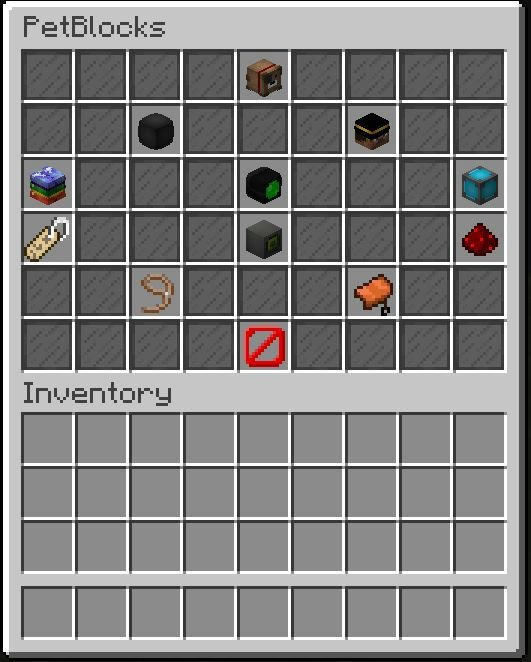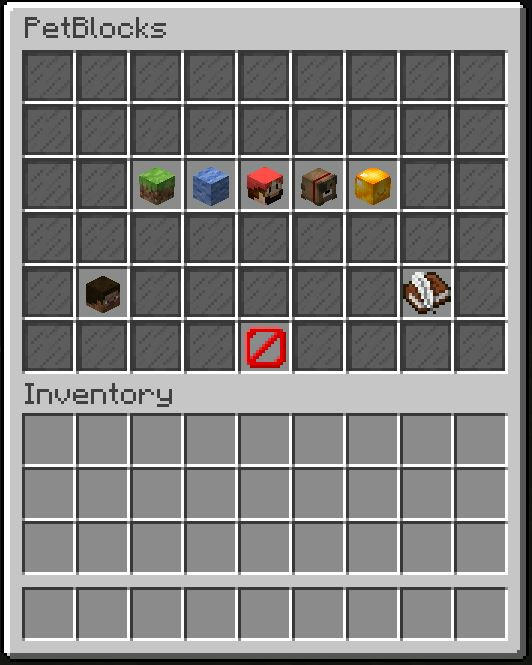 Costumes/Skins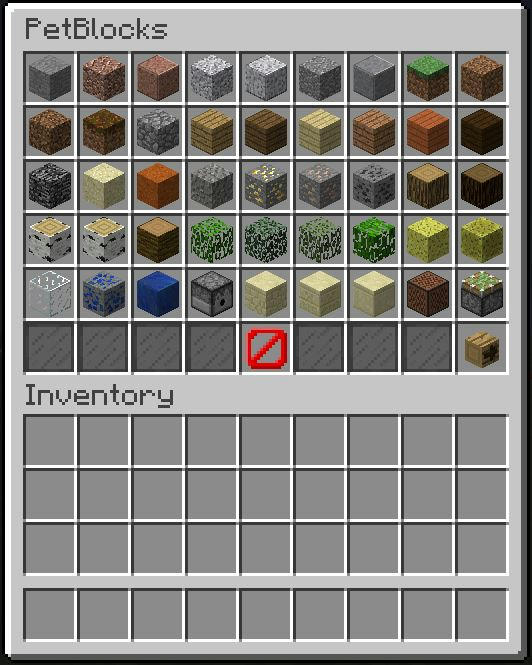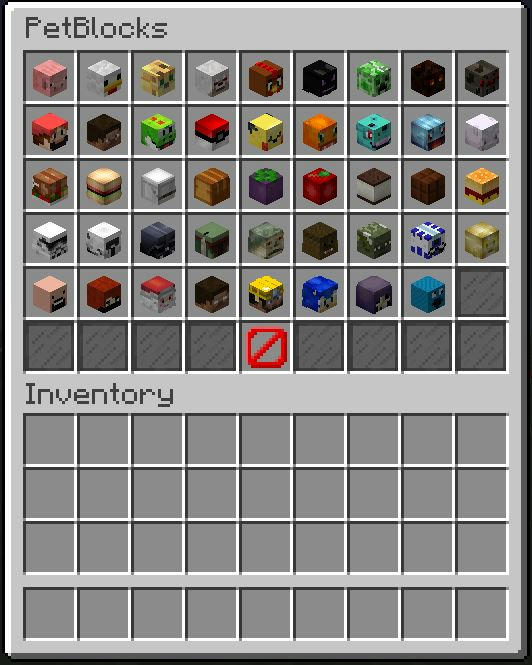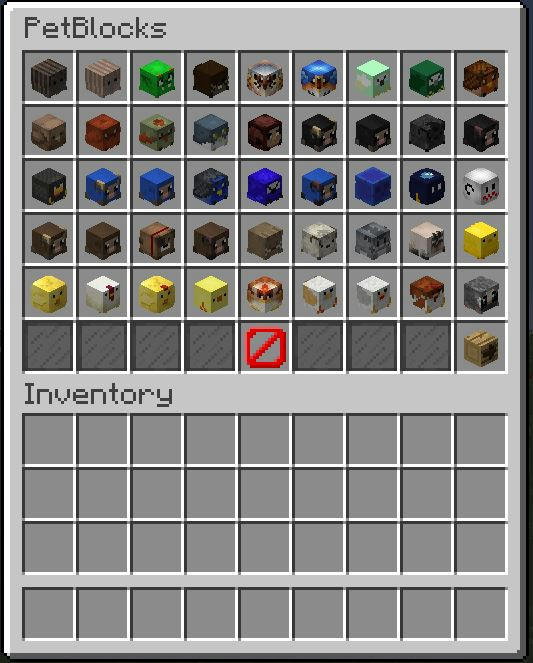 Gifs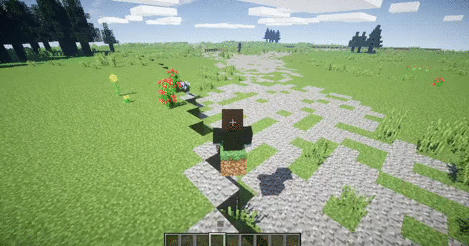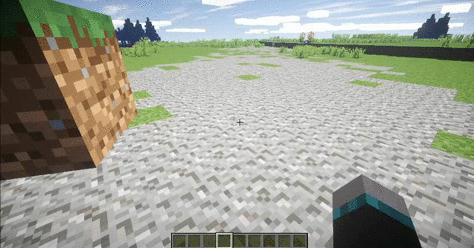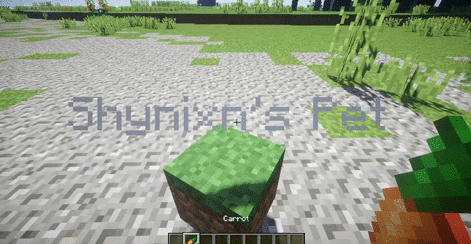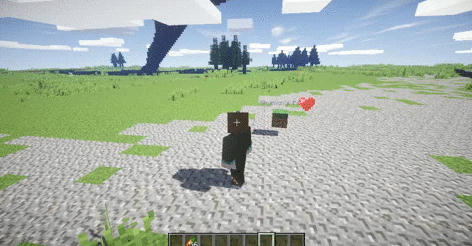 With this resource pack you can modify the blockmodel of your pets. Special thanks to

NullBlox

.


Images/Quote
Don't expect many resource pack updates if at all, just wanted to give thanks to

Shynixn
somehow along with the rest of the PetBlocks users.
Happy Modding!
~ NullBlox
Info: You will find a "howtosetup.yml" within the pack.
Progress:
100% Complete
Game Version:
Minecraft 1.12
PetBlocks v6.3.1 : 11/12/2017 7:01:25 pm11/12/17
Changes
Added new minecraft-heads.com costumes

Changed api documentation

Changed entity registry

Removed deprecated members

Bugs/Issues
Fixed unbreakable tag does not work in GUI

Fixed minecraft-heads.com skins change slots

Fixed changing the /petblocks command does not change suggestions

PetBlocks v6.3.0 : 10/21/2017 4:23:09 pm10/21/17
Changes
Added blacklist for pet names

Added settings to change the feeding effects for petblocks

Added throwing pets. Grab your pet and left/right click in a direction. (pet-follow-carry hast to be enabled)

Added new minecraft-heads.com costumes

Changed pet-follow-carry is now enabled per default

Changed config.yml (Recreate it or copy the following lines into your config.yml)

Bugs/Issues
Fixed grabbing the pet causes exceptions.

Updated Description : 09/30/2017 5:32:47 am9/30/17
Changes
Updated the description of the plugin

PetBlocks v6.2.3 : 09/26/2017 9:43:23 am9/26/17
Changes
Added engine Polar Bear, Llama, Vex and Parrot

Added new minecraft-heads.com costumes

Console prints now a warning if you try to use engines like Polar Bear in Minecraft Versions where they haven't existed yet.

Changed config.yml (Recreate it or copy the following lines into your config.yml)

Bugs/Issues
Fixed sound issue when using Shulker engine in minecraft 1.8




Fixed logger did not printing PetBlocks prefix



PetBlocks v6.2.2 : 09/21/2017 5:41:13 am9/21/17
Changes
Overall rework of the PetBlocks plugin

Reworked config.yml

Moved all options from the lang.yml to the config.yml

Added sponsored skins from minecraft-heads.com

Added a new menu called wardrobe

Added 2 new skin categories for minecraft-heads.com skins and Head Database skins

Added item to suggest skins on the minecraft-heads.com website

Added animation when loading skins into the GUI

Added a back consistent button for all pages

Added new engines can be added in the config.yml

Added connection to the Head Database plugin

Added new section messages to the config.yml

Added new section engines to the config.yml

Changed nearly all GUI items including name, lore, skin and position

Changed region/world settings. You can now exclude/include regions as you like.

Changed API

Moved pettypes into an engine category where they will be called engine

Arrow items to move between pages do now act more precisely

Removed lang.yml

Removed deprecated members

Bugs/Issues
Fixed sound crashing server

Fixed hat/ride transition issue

PetBlocks v6.1.0 : 08/27/2017 12:29:27 pm8/27/17
Changes

Added update checker

Changed the way how dependencies and hooks are displayed


Added config option to set the amount of blocks the pet stays away from the player


Changed config.yml (Recreate it or copy the following lines into your config.yml)

Removed deprecated members

Bugs/Issues

Fixed another filtering crash

config.yml
pet:
follow:
amount-blocks-away: 5
PetBlocks v6.0.2 : 08/21/2017 5:45:16 am8/21/17
Changes

Added bstats to collect useage stats for PetBlocks

Changed config.yml (Recreate it or copy the following lines into your config.yml)

Changed filtering

Removed deprecated members

Bugs/Issues

Fixed entity registry errors

Fixed SLF4J messages from Hikari

Fixed filtering crash

config.yml
# Sends anonymous stats to bstats.org/plugin/bukkit/PetBlocks.
metrics: true
PetBlocks v6.0.1 : 07/23/2017 8:45:47 am7/23/17
Changes
Added option to enable pets in a different way (config.yml gui.settings.use-only-disable-pet-item: false;)

Added 1.9 mobs [Shulker]. This mob will only appear on server above version 1.9.0.

Changed config.yml (Recreate it or copy the following lines into your config.yml)

Changed lang.yml (Recreate it or copy the following lines into your lang.yml)

Removed deprecated members

Bugs/Issues
Fixed cannot place or break blocks with pet on head

Fixed database reading error removing dataType value

Fixed Gui sometimes not displaying correctly

config.yml
gui:
settings:
use-only-disable-pet-item: false
gui:
souls:
shulker-soul:
enabled: true
id: 397
damage: 3
owner: 'textures.minecraft.net/texture/b1d3534d21fe8499262de87affbeac4d25ffde35c8bdca069e61e1787ff2f'
position: 25
type: WALKING
movement: HOPPING
lore: '&ePermission: <permission>'

lang.yml
shulker-name: '&5&lShulker'
tracking
3969895
petblocks-mysql-bungeecord-customizeable-gui-1-8-1-9-1-10-1-11-1-12
1,165079,329,3672,559826,842002,140820,64651,214207,460644,356071,290694,895971,1030646,15493,171513,336698,476982,817406,526780,1222048