Views,

572

today
Downloads,

97

today
1896978
Posted on
12/24/2016
: 12/24/16 2:56 pm , last updated: 09/02/17 1:42:46 am
This mod is trying to make the world full of wild and endangered animals. We are trying to put in animals that are found in a lot of zoos but are not usually found in other mods. We will make it easy to capture, relocate and build exhibits for various animals such as Rhinos, Giraffes and Walruses. If you want more animals to fill you zoos and minecraft worlds with then this is the mod for YOU! We are planning to add features such as pack behavior and larger herds as well as more plants and new building features such as huge three block wide iron doors. Comment below if you have ideas about animals, items, blocks, plants or features. We are currently working on a trap block that will catch up to 6 mobs when they step on it to help with the capture of animals. We are also working on a incubator which will improve the chance of eggs hatching depending on how long they are in there.
Requires Moons Core 4.0+
Get Moon's Core here!
This work is licensed under a
Creative Commons Attribution-NonCommercial-NoDerivatives 4.0 International License
.
DO NOT DOWNLOAD UNTIL YOU AGREE WITH EULA (if you do not agree and download the mod you accept the EULA terms)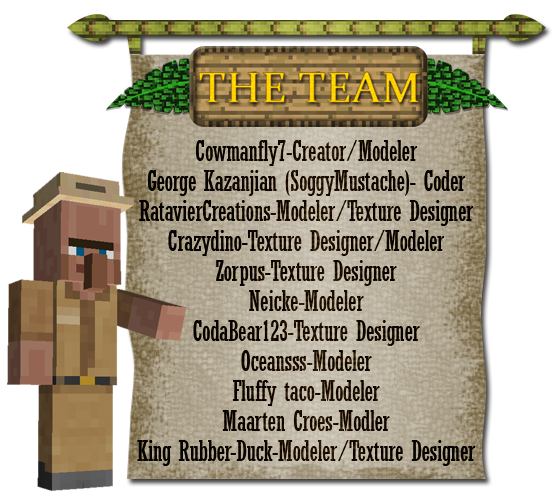 Credit:
cowmanfly7 RatavierCreations Crazydino Neicke Oceansss Knightworm
Progress:
100% Complete
Game Version:
Minecraft 1.8
zawa - 6.1.0 (1.8) beta : 09/02/2017 1:42:46 am9/02/17
wrong file upload fix
zawa - 6.0.0 (1.8) beta : 08/29/2017 11:13:00 pm8/29/17
Changelog:

Added:
-

Fixed:
-Fix lag (see dev notes)

Removed:
-


Dev Notes:
-While working on zawa 2.0 I (SoggyMustache) found the issue of the lag so I though I might as well fix it here and push an update my appologizes if models are off or look odd when certain in game things happen model changes were made to fix lag
zawa - 5.0.0 (1.8) beta : 02/17/2017 11:11:11 pm2/17/17
Changelog:

Added:
-Fixed chicken texture
-Ability to disable pooping (suggested by Bluewither)
-Ability to disable natural animal spawning
-Added termite
-Biomes!

Fixed:
-Animals can breed again

Removed:
-


Dev Notes:
-wubba lubba dub dub
zawa - 4.2.0 (1.8) beta : 02/04/2017 5:47:58 pm2/04/17
Changelog:

Added:
-Spix Macaw
-AFrican Spurred Tortoise
-Changed Chicken Model

Fixed:
-The tortoises will now move

Removed:
-OBJ wavefront blocks, many users could not load the game


Dev Notes:
-EVERYTHING IS DIFFERENT NOW, cowmanfly is forcing me to do this -Developer
zawa - 4.0.0 (1.8) beta : 01/17/2017 5:23:56 pm1/17/17
Changelog:

Added:
-Fancy Cage
-Magnifying Glass
-Elephant Leather
-Animals can breed according to their diet
-Some animals (Green Iguana, Tamarin, and Pangolin) can be held with the handling glove

Fixed:
-Entities don't drop max health to 8 when tamed
-Andean condor flying

Dev Notes:
-wow you read the dev notes.
zawa - 3.6.0 (1.8) beta : 01/10/2017 9:30:21 pm1/10/17
Changelog:

Added:
-Ralphiki, wander around the world and complete his missions.
-Animal Statues
-Hunting Knife

Fixed:
-Animals keep their skins

Dev Notes:
-OBJ stuff
zawa - 3.2.0 (1.8) beta : 01/06/2017 9:42:02 pm1/06/17
Changelog:

Added:
-Tame Effect Changed
-New Golden Lion Tamarin Model
-New rabbit and cow models for the vanilla MC mob
-Sitting models for almost all mobs

Fixed:
-

Dev Notes:
-
zawa - 3.0.0 (1.8) beta : 01/03/2017 6:40:24 pm1/03/17
Changelog:

Added:
-Tons of animal specific drops
-Steel Tools
-Recipe Book
-Keep the bowl when feeding animals kibble
-Some animals can be controlled like a pig with carrot, fish, or apple on a stick
depending on diet

Fixed:
-Sumatran Tiger egg and name

Dev Notes:
-
zawa - 2.5.0 (1.8) beta : 01/02/2017 5:02:03 pm1/02/17
Changelog:

Added:
-Sumatran Tiger
-Some animals should swim better
-More animals can be mounted

Fixed:
-Tamed animals will not attack other players without the player being attacked by owner first
-Cichlid drops correct meat
-Removed Unnesscesary code

Dev Notes:
-Animal Packages changed
zawa - 2.0.0 (1.8) beta : 12/30/2016 11:02:29 pm12/30/16
Changelog:

Added:
-Steel Ingot, Bars, Block, and Ore
-Bar Fence
-Animal Net
-More as stated below forgot about this file

Fixed:
-Something probably, forgot to fill out the changelog
zawa - 1.5.2 (1.8) beta : 12/27/2016 10:31:35 pm12/27/16
Changelog:

Added:
-Throwable Animal Droppings
-Cage Recipe

Fixed:
-Update credits
-Lisence agreement file
zawa - 1.5.0 (1.8) beta : 12/26/2016 11:01:33 pm12/26/16
Changelog:

Added:
-Fertilizer Item crafted with animal droppings
-Animal Droppings can be used as fuel

Fixed:
-Update mcmod.info
-Varients enabled by default
-Removed some useless code
-American Bison minor changes
-Entity spawning removed for currently disabled entities
-Floating Elephant fix
zawa - 1.0.1 (1.8) beta-1.0.1 : 12/24/2016 7:53:15 pm12/24/16
Changelog:

- Animals defecate less often
- Fix mcmod.info
zawa - 1.0 (1.8) beta-1 : 12/24/2016 2:57:14 pm12/24/16
Initial Release



this is a public beta therefore there will be bugs and many more features will come!
tracking
3870268
zoo-amp-wild-animals
1,165079,329,3672,559826,842002,140820,64651,214207,460644,625964,356071,290694,895971,1030646,15493,171513,336698,476982,98449,817406,526780,1896978