Updated on Sep 26th, 2020, 9/26/20 6:08 pm |
2 logs
Published
Jan 21st, 2020
, 1/21/20 1:41 pm
3,278

views,

1

today

272

downloads,

0

today
Dennie Mok
Level 58
:
Grandmaster Architect
❤ WELCOME TO MY PROJECT ❤




香港公共房屋 - 居者有其屋計劃發展項目
Hong Kong Public Housing - Home Ownership Scheme Development
This project is

unfurnished

. Interior decorations are not included.
This project is primarily made for

Minecraft Java Edition 1.12

.
To view this project, you have to install

Optifine

and a

custom texture pack

.
前言
Introduction


This is a continuation of my best Minecraft project here in PMC. Just for you to know, I personally love
Choi Hing Court Choi Huen House (Block A)
very much. I was actually planning to quit Minecraft after completing that project for the contest in 2018. But thanks to
MrSleeve
, he changed my mind. His recent
residential project
is really inspiring. He just comes up with an idea of doing a Hong Kong-style apartment block in Minecraft, and he said that the inspiration actually comes from me! Wow, I was flattered because of his sweet and kind words! I just feel like, "FINALLY someone appreciated my work for real!!!!" I do hope my future projects will give even more inspirations to other modernist apartment builders.
This project is also made for those apartment lovers who want to know more about public housing in Hong Kong. If you like boxy buildings, tall apartments, then you may find this project page informative. Some of the sections such as the part talking about the design concept of Choi Hing Court is actually a very precious summary of what I've learnt so far. Currently, I'm still trying to dig deeper into the topic. So, once I have found something interesting to share with you, I will be updating the page, primarily the description, at once. Anyway, I hope you'd enjoy my projects. Thank you!
安裝及注意事項

Installation and Remarks



Required Texture Pack:

Custom Texture Pack*


Recommended Shader Pack:

SEUS PTGI E6


Required Client Version:

Java Edition 1.12


Required Modifications:

Optifine for 1.12

The

download package

includes a list of world-saves (1.12), schematics (1.12), and texture packs* (1.12).
*Based on

IT-Project v2.2 128x

[​~10% custom extraction: with modified wools, stained clays, stones, and windows].
*Included for download in the project directory.
*The project may look weird without the texture pack and Optifine.

This project is made for Java Edition 1.12.2. However, you should be able to open the world-save using older client versions, such as 1.8, with at most a few new blocks missing (most likely the ender rods in 1.12). The included texture pack is compatible with 1.8 - 1.12 clients. For 1.13+ users, you will have to make use of the plugin

worldedit

to import the schematic file into your world. Avoid using the 1.13+ built-in converter as it might mess things up during conversion.

How to download and install Minecraft Maps?

示意圖:單位劃分及立面元素

Schematic View: Partition of Flats and Facade Elements




彩興苑彩薈閣的設計理念

Choi Wui House's Concept of Design






Architectural
Features
建築特色






Illustrations
解說






Z-Form
之字型




Having 15 flat units per floor, Choi Hing Court Choi Wui House has a zigzag shape that occupies a relatively small coverage area. Such design, if it strictly follows the requirements from the "Buildings (Planning) Regulations" in the perspective of view, vision, lighting and ventilation, is able to maximize the number of units so as to increase the plot ratio. The potential of the plot can thus be utilized well.

Remarks: The Hong Kong Housing Authority is exempted from the provisions of the "Buildings Ordinance" for the construction of public housing estates. Despite this, the Housing Authority has been taking self-regulating measures to ensure that HA buildings are designed and constructed to standards consistent with those set under the "Buildings Ordinance" for private developments.

彩興苑彩薈閣呈之字型,覆蓋範圍較小,加上每層擁有15個單位,能在極力配合《建築物(規劃)規例》對於居住單位的景觀、視野、採光及通風等要求下,盡量增加單位數目,提升地積比率,地盡其用。

註:《建築物條例》豁免規管香港房屋委員會所建造的公共房屋。儘管如此,香港房屋委員仍會繼續採取措施自我規管,確保轄下樓宇的設計和建築標準,與該條例對私人發展項目的監管標準一致。






30 Floors
樓高30層




Choi Hing Court Choi Wui House has adopted a height-limiting approach in its design. It has 30 floors. A typical public housing apartment in Hong Kong generally does not exceed 40 floors as an unspoken standard. This is to intentionally avoid the need to fulfill the requirement of adding a Refuge Floor or Area of Refuge (Fire Barrier Floor) in the middle of the building in accordance with the "Fire Safety (Buildings) Ordinance". Such measures can save part of the construction cost.

Remarks: At present, only Hong Kong and Mainland China require skyscrapers to have a refuge floor in the law system.

彩興苑彩薈閣採用高度限制設計,樓高30層,一般公營房屋都以最高40層作為標準,藉此避免在《消防(建築物)條例》下所要求在樓宇中部設置隔火層,以節省成本。

註:目前,只有香港及中國內地規定摩天大廈必須設立避火層。






Site-Specific
Non-Standard
因地制宜
非標準





The development site of Choi Hing Court is small, irregular in shape and uneven in landscape. The "site-specific design approach with modular flat design" is, therefore, adopted. With this approach, the three non-standard buildings in the estate have significant variances on their facade while the living units are in contrary standardized. Prefabricated components inherited from old public housing projects are still being used. However, changes can be seen from its complex form design and vivid exterior wall color scheme. The new methodology works like a block building game "Lego". Modular flat components are put together to form different new apartment prototype. Although apartments built using this method are still being criticized as tedious and monolithic, it features much better uniqueness than previous standard-design buildings, and is able to utilize spaces and to reduce design costs in a very effective manner.

A "site-specific approach" designed apartment can have its design adjusted accordingly with reference to actual situations. For example, sea-view-facing units can have more windows, noise-source-facing units will have their kitchens relocated as a buffer. Other reasons include: increasing / decreasing the area of excess residential units / non-residential units, increasing / decreasing the number of units of different models, fulfilling height restrictions, reducing the number of units affected by noise sources, etc.

彩興苑地盤面積小,形狀不規則,地勢不平,因而採用「因地制宜設計模式連同整體構件式單位設計」。全苑三幢非標準型樓宇並非一式一樣,居住單位卻均採用標準設計,繼續使用原有公屋工程的預製構件,只在形體設計及外牆髹色上稍加改動,像砌積木般以構件式單位砌出不同形式的公共房屋。雖仍被批評為單調乏味,卻較以往標準型樓宇更為獨特,更能有效利用發展空間,控制建築設計成本。

「因地制宜設計模式」的公屋亦能因應實際情況,在設計上作出相應調整,如:看得見海景的樓盤便加多一些窗、近馬路怕嘈的就改廚廁位置擋聲,因此靈活性更高。其他原因包括:增加/扣減多餘住宅/非住宅部分的面積、增加/減少不同型號的單位數目、遷就地盤高度限制、減少受高噪音影響的單位數目等。






Service Core
and Facilities
服務核心及設施




The building is equipped with 3 lifts and 2 emergency stairways. There are on each floor 2 electrical meter rooms, 3 water meter cupboards, 2 hose reels, 1 telecom room, 1 pipe duct room and 1 refuse storage and material recovery room.

大樓內設3部升降機和2道緊急走火樓梯,每層亦設有2間電錶房、3個水錶櫃、2個消防喉轆、1間電訊機房、1間管槽房及1間垃圾及物料回收室。






Prefabrication
預製組件




The use of prefabrication in the construction process is prevalent. Commonly seen prefabs used in the project are precast stairways, precast external walls, precast kitchen, precast bathroom, and semi-precast slabs. This kind of application can drastically lower the construction cost and at the same time, the construction process can be accelerated.

預製組件佔很高比例,包括使用預製樓梯、預製乾牆、預製廚房、預製外牆面板,以至半預製樓板,大大加快興建過程及減低成本。






Modular
Flat Units
構建式單位




The design of the flat units is "pragmatic" and "community-centered". Most of the comprised units are single-room while only a few double-room units are available. They are all designed to be comfortable and spacious, under the premises of providing residents a cozy place to live in, so then they can make full use of their living spaces and make flexible arrangements in accordance with their own needs and circumstances.

採用「實而不華」、「以人為本」為主要設計方針,大部份單位以一房為主,只有少量兩房單位,而單位設計舒適寬敞,大前提是為住戶提供安居之所,以便他們因應本身的需要和情況,善用空間,靈活布置。




Ultimate Goals
終極目標




We perceive apartments as inhabitable machines, which strictly follow the architectural conception of "functionalism", and "form follows function". Apartment designs shall be pragmatic, and shall be necessary to make full use of the development potential to generate economic benefits from mass production, without exceeding statutory limitations allowed by the City Planning Ordinance, Buildings Ordinance, and Fire Safety Ordinance, at a limited plot ratio, a limited construction cost, and a limited site area. With such economical system, the number of flat units can be maximized to increase rental income and to ease the pressure on the long public housing waiting list, while ensuring that buildings have met basic livability, quality, quantity, and safety standards.

把房子看成可居住的機器,貫徹建築學的「功能主義」與「形隨機轉」精神,以實用為本,既要讓建築更能充分發揮土地發展潛力與符合經濟效益,又不超出城市規劃條例、建築物條例及消防條例等法定所容許下的發展限制,以達致在有限的地積比率、在有限的建築成本、在有限的地盤面積及在最經濟的樓宇結構下,大量生產,提高建屋量,以紓緩公屋輪候冊的壓力及增加租金收入,同時確保樓宇符合基本宜居、質量和安全標準。






關於彩興苑




About Choi Hing Court






Proposed in 2017 and

scheduled to be completed by the early-2019

,

Choi Hing Court

(Chinese:

彩興苑

)

is one of the most recent Home Ownership Scheme's projects that utilized the site-specific modular flat approach throughout its implementation. The estate

comprises 3 multi-storey non-standard blocks, which will release a total number of 1358 flat units to the market upon completion.

With Ping Shek Playground lying in the vicinity, Choi Hing Court residents can enjoy a green neighbourhood that comes with ample children playgrounds, sitting-out areas and various sports facilities for basketball, football and tennis. And, all these are just within a 5 minutes walk from the court. Education needs are well catered as there are a number of secondary and primary schools in the area. The adjacent Choi Tak Shopping Centre and Choi Wan Commercial Complex are some of the major retail facilities in the district. They are able to provide court residents with a wide range of shops, eateries and markets.

Choi Hing Court is located right in the urban centre besides Choi Hung Station. Its convenient location enables good connectivity to different parts of the city.



Name of the development:




Choi Hing Court

Name of the street and street number:




1 Choi Shing Lane

District:
Ngau Tau Kok and Kowloon Bay

Total number of storeys:




Block B: 30 storeys




Floor numbering:




Block B: Lower G/F, G/F, 1/F to 30/F and roof




Omitted floor numbers:




Not applicable

Refuge floor:




Not applicable

Vendor:




Hong Kong Housing Authority

Appointed architect:




Chief Architect (2), Housing Department

Official website:
www.housingauthority.gov.hk/hos/2017/ChoiHing






關於居者有其屋計劃




About Home Ownership Scheme




The Home Ownership Scheme (HOS) is a major component of the current Hong Kong public housing system. It is a government subsidized-sale programme fully managed by the Hong Kong Housing Authority. It was first launched in the late-1970s as a policy address to encourage relatively affluent tenants from the public rental housing (PRH) scheme to vacate their flats for re-allocation to families of greater housing needs. It also provides home-ownership opportunities to families who could barely afford a flat in the private market, bridging the gap between affordable, sustainable housing and home-ownership.

Under the scheme, the government sells apartment flats with basic amenities to eligible public housing tenants at an affordable price below the market level, usually at a discount of up to 40%. However, there are appropriate measures introduced by the government to restrict the resale of flats in the second-hand market, and with that, the flat holders will have to pay a premium equal to the updated value of the discount given on the original purchase. This is to avoid any potential abuse of Hong Kong's precious public housing resources.



In 2003, the real estate crisis has forced the government to pause all the Home Ownership Scheme development indefinitely. In late-2011, the government announced to resume the Home Ownership Scheme since more and more Hong Kong people have expressed their concerns on the increasing difficulties for purchasing a flat in the private market.

By now, the population has become more affluent and the public has higher expectations for public housing standards. The Housing Authority, therefore, builds homes with better quality fittings and refined the designs and layouts of common facilities in the neighbourhood. It is believed that a higher home-ownership rate would lend social and political stability to Hong Kong.





作者的話




A Note From The Author






Hong Kong, the City I am Living in...


Hey, I'm Kay (in Minecraft: KaytlynJay) from Hong Kong. Maybe you still haven't heard of Hong Kong yet, but never mind, here's a quick link guiding you to explore more of this vibrant and dynamic metropolis in Asia. You'll probably be dazzled by our beautiful harbour and be amazed by our twinkling skyline! Hong Kong is a typical example where its contemporary urban design features great emphasis on modernist conception. The government had once standardized the design of public housing apartments, factories and schools to cater to the exponential growth in population. These uniformly designed structures are meant to be "copied and pasted" on an extensive scale, just for the purposes of fulfilling its designated mission: To maximize land efficiency, to minimize construction cost and to house the largest possible amount of people.



Master Plan: A house is a machine to live in

The French Modernist Master Le Corbusier had his most famous maxim, "A house is a machine to live in". Indeed, in a densely populated city like Hong Kong, apartments might have really become a housing machine, a rational system for squeezing a large portion of its population into a designated, tiny area of development to achieve a so-called high land efficiency. After all, the design has to guarantee a minimum quality of living, and that's what we have got here: the crazy and boring Standard Block approach. In this system, the Authority would develop a series of standardized housing options with pre-defined "properties", which later on could be utilized as a copy-and-paste master plan. Different variations in design like the I shape, H shape and L shape blocks are also introduced to serve a wide range of needs.

Changes in Housing Expectations

But the situation is changing. Affordability is no longer the only consideration. The population had become more affluent and expectations for public housing standards grew. We need homes with better quality fittings, sustainable designs and refined layouts for neighbourhood facilities. This gives birth to Choi Hing Court, one of the latest examples demonstrating the Housing Authority's perseverance to change. This also gives me the motivation to tell you more about the recent development of Hong Kong Public Housing, through the replication of different real-life projects, from real-life to Minecraft.

New Public Housing Design Methodology

It is really a hard job for the architects in Hong Kong to design apartments to fulfil the needs of all concerned parties, especially when we are having a very limited land resource availability... What Choi Hing Court has shown us is the determination of the government and its people seeking a long-term resolution to the housing challenges. The new revised model of public housing design, namely the Site-Specific Design approach with Modular flat units is more community-centred. Public Housing Architects is able to put forward their own solution to new projects in accordance with the complexity of the surroundings, environment, and needs. For example, they can now minimize the number of floors, add a new wing on a side, drop some floors on a particular wing, etc. Higher flexibility in the design process could thus be achieved. They have even developed a better facade colour scheme to create a more vivid visual experience... These are not that common and feasible with the old Standard Block models. At least for now, it is quite rare for us to find an exactly looking building in the same estate (newly built) now...

I Love Choi Hing Court

Choi Hing Court is one of the proposed Home Ownership Scheme projects in 2017. By the time its model is published, I was very much amazed by the design of the building and I could not stop looking at it for hours. Literally, everything is worth watching, including the walls, the colours. Maybe I am admiring its complexity, functionality, and beauty or whatsoever. Such a clean and functional building!

Boxy? Ugly?

I would understand if you might not agree with me. Some may think that this boxy building is ugly and boring. "It looks like a bunch of bird cages!" "The living environment must be poor! Everyone is squeezed inside a tiny box!" I would not deny it if you do think like that. However, I am quite certain that public housing apartments in Hong Kong have served its functionality well. Choi Hing Court has even done a better job in this. I have never seen a "housing machine" that huge and large. It certainly holds a lot of people and the units aren't that bad though, it looks relatively spacious. Anyway, there are always rooms for improvement.

Conclusion and Outlook

Hong Kong's very limited land resources availability has paved the way for these public housing prototypes to flourish. Its omnipresence, someone loves it, and many hate it. But no matter what, Hong Kong is still the place I love, and I like these structures very much, very very much! they are so lovely and clean!

This project is, therefore, in place to introduce a modern housing solution implemented by the Hong Kong Government to everyone interested. Enjoy yourself here, and I sincerely wish that you would love this project as much as I do!

Content and Language refined on 15/05/19 by Kay.

免責聲明


Disclaimer




1. THIS REPLICA IS NOT NECESSARILY AN EXACT RECREATION OF THE ONE IN REAL LIFE.

2. THIS PROJECT MIGHT NOT BE BUILT IN ACCORDANCE WITH THE ORIGINAL SCALE.

3. MINOR STRUCTURAL DETAILS AND INSIGNIFICANT AESTHETIC ELEMENTS WILL BE EXCLUDED FROM THE PROJECT FOR FASTER AND EASIER EXECUTION.

4. DUE TO THE LACK OF RELEVANT INFORMATION, PART OF THE PROJECT IS BUILT COMPLETELY BASED ON OUR OWN PERCEPTION OF THE BUILDING.

5. WE HAVE REDESIGNED THE FACADE COLOR SCHEME IN ORDER TO OPTIMIZE THE PROJECT OUTCOME.

6. WE RESERVE ALL RIGHTS TO INTERPRET THE APPEARANCE AND FLOOR LAYOUT OF THE REPLICA TARGET IN OUR OWN WAY.

7. THIS WORK IS RELEASED UNDER A CREATIVE COMMONS ATTRIBUTION-NONCOMMERCIAL 4.0 INTERNATIONAL LICENSE (CC BY-NC 4.0)


Appendix: Reference Documents 附錄:參考文件
Hong Kong Housing Authority - Sale of Home Ownership Scheme Flats 2017 - Choi Hing Court official page: https://hos.housingauthority.gov.hk/mini-site/hos2017/en/choi-hing.html
Hong Kong Housing Authority - Floor plans:
https://hos.housingauthority.gov.hk/mini-site/hos2017/common/pdf/choi-hing-court/Choi%20Hing%20Sales%20Brochure%20Page%2018%20to%20Page%2042.pdf
Hong Kong Housing Authority - Cross-section plans:
https://hos.housingauthority.gov.hk/mini-site/hos2017/common/pdf/choi-hing-court/Choi%20Hing%20Sales%20Brochure%20Page%2064%20to%20Page%2069.pdf
Hong Kong Housing Authority - Elevation plans:
https://hos.housingauthority.gov.hk/mini-site/hos2017/common/pdf/choi-hing-court/Choi%20Hing%20Sales%20Brochure%20Page%2070%20to%20Page%2083.pdf
地產小子 - Units, Models:
http://propertykids.blogspot.com/2017/03/HOS2017-Choi-Hing-Court-Ngan-Ho-Court-Ngan-Wai-Court.html
GovHK - Press Releases - 3D Models:
https://www.info.gov.hk/gia/general/201703/22/P2017032200664.htm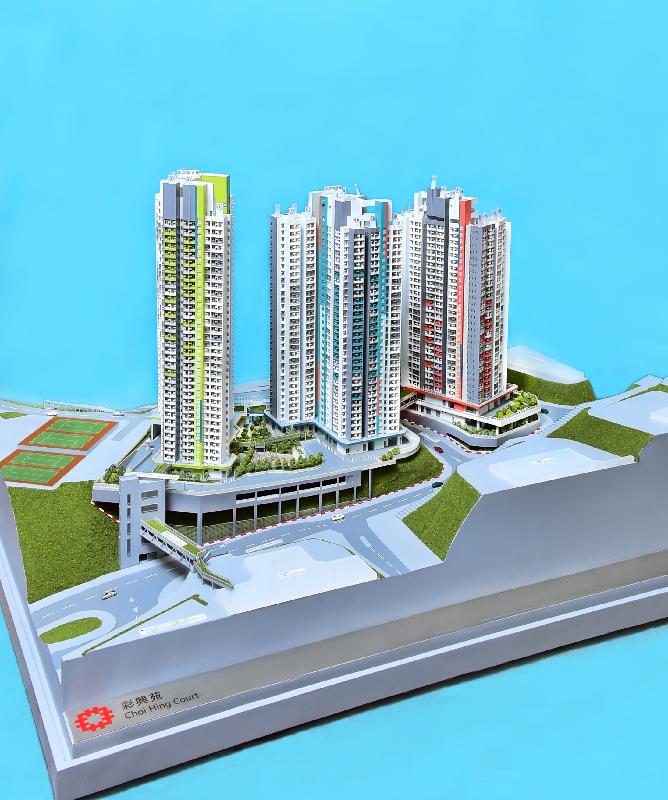 (Block B is the building in the middle.)
Appendix: In Real Life 附錄:實景
使用條款

Terms of Use


In order to achieve maximum dissemination and use of licensed materials, this work is released under a Creative Commons Attribution-NonCommercial 4.0 International license (CC BY-NC 4.0). You are free to

share

[​copy and redistribute the material in any medium or format] or

adapt

[​remix, transform, and build upon the material] my work as long as you have credited me for the original creation. I will not revoke these freedoms if you follow the license terms.
Attribution

— You must give appropriate credit (e.g. author's name), provide a link to my project page or profile page, and indicate if changes were made. You may do so in any reasonable manner, but not in any way that suggests the licensor endorses you or your use.
Non Commercial

— You may not use the material for commercial purposes.
| | |
| --- | --- |
| Progress | 85% complete |
| Tags | |
2 Update Logs
Update #2 : by Dennie Mok 09/26/2020 6:08:13 pmSep 26th, 2020
Updated description.
Updated media gallery.
Aligned with new standard.
LOAD MORE LOGS
tools/tracking
4474887
2
choi-wui-house-block-b-choi-hing-court-hong-kong-b