Updated on Mar 30th, 2017, 3/30/17 12:46 pm |
1 logs
Published
Sep 17th, 2016
, 9/17/16 3:04 pm
10,664

views,

2

today

874

downloads,

0

today
yogunmm
Level 67
:
High Grandmaster Artist
Kyoryu Sentai Zyuranger :




(Japanese version)


Daizyuzin
(大獣神
Daijūjin
, Great Beast God): The combined form of the five primary guardian beasts, who first combine into the
Beast Tank Dino Tanker
(獣戦車ダイノタンカー
Jūsensha Daino Tankā
) and then transform further into Daizyuzin. Rather than a mere robot, Daizyuzin is actually a physical incarnation of the Ruling God of the five tribes. As such he has his own will and will occasionally give challenges or suggest the right actions for the Zyurangers to help on their quest to be real heroes.
Mighty Morphin Power Rangers :
(American
version)
The
Megazord
(retroactively referred to as the
Dino Megazord
) is the combination of the five
Dinozords
: Tyrannosaurus, Pterodactyl, Mastodon, Triceratops, and Sabertooth Tiger. This is the first Megazord to be featured in
Power Rangers
, but within the chronology of the series may have been preceded by other Zordcombinations in the distant past.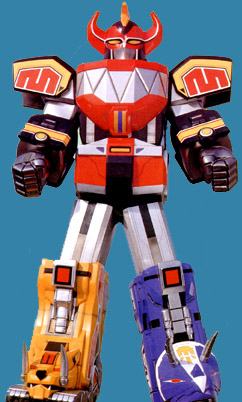 --
Others Mecha :


Providus:
http://www.planetminecraft.com/project/providus-transwarp-megazord/
--
DaiDenZin:
http://www.planetminecraft.com/project/daidenzin/
--
Red Puncher:
http://www.planetminecraft.com/project/red-puncher-red-battlezord/

--
| | |
| --- | --- |
| Progress | 90% complete |
| Tags | |
1 Update Logs
Update #1 - Video Youtube Replace : by yogunmm 03/30/2017 12:46:57 pmMar 30th, 2017
- The previous video was deleted from the youtube account.
- I replace this video with a new realised by rezendeevil.

If you want to realise a video of my project, i can post the link in the description ;)
tools/tracking
3807117
2
daizyuzin-megazord