Published
Jul 7th, 2016
, 7/7/16 1:55 am
4,141

views,

2

today

105

downloads,

0

today
T3sla
Level 55
:
Grandmaster Lego Builder
I wanted to do something that represents me as a builder. I did a train as the primary focus since i have been working with them on a server for a while now so i wanted to come up with a unique design to try and fit it with default textures. One of the problems i was facing was alright, i have half a train now what? that's where it hit me to do the tunnel with just a black wall to represent the darkness and since it was the edge of the block limit i thought it was a good break off point instead of just having a half of the train. I added some details inside the train about the actual train it's self. But it is the Bnsf Emd SD40-2.
I hope many people can relate to this build and hopefully they can learn off it that mine craft isn't limited theirs many different things you can add/invent in your ideas of a build.
Note:
I didn't want to use a render because i want it to have the full potential feel it has when it does in game many people are using renders witch look awesome but in reality to in game it can be a disappointing at times so that one of the reasons why i chose not to make a render :D.
Scale of train is 1.5:1
Picture Of The Actual Train In Real Life


I ended up finishing the train after i finished the project since i had nothing else to do and this is what it turned out to look like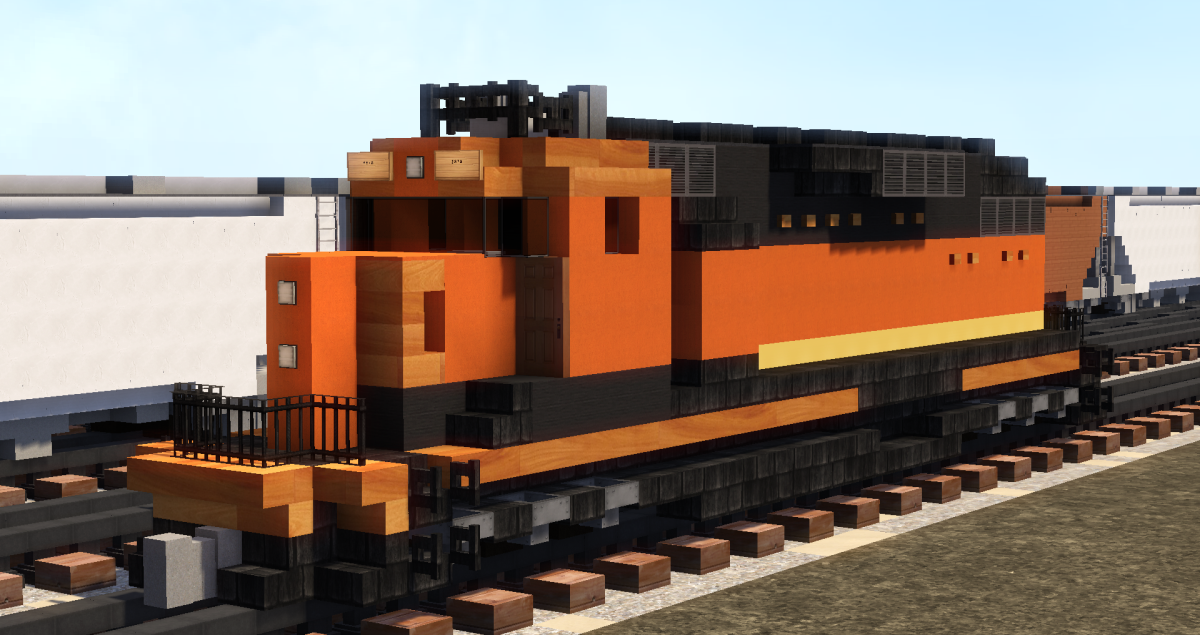 Extra Details:

| | |
| --- | --- |
| Length | 68 ft 10 in (20.98 m) over the coupler pulling faces |
| Width | 10 ft 3 1⁄8 in (3.13 m) over the grabirons |
| Height | 15 ft 7 1⁄8 in (4.75 m) |
How does this project relate to the theme?
 The theme was to create a structure that was found in civilization. The idea of the train i find is a big part since they are relied on transporting large things across large distances and they supply food and resources for every day life.
I named it Light At Last since the idea of being in a tunnel for a while and having the joy of seeing the light once exiting the dark.
If you would ever like to see me build or just have a chat make sure you come onto the server i build for mc.operationrealism.us And my ign is NikolT3sla (Luka)
| | |
| --- | --- |
| Progress | 100% complete |
| Tags | |
tools/tracking
3741898
2
light-at-last---bnsf-train---chunk-challenge