Updated on Dec 30th, 2011, 12/30/11 11:01 am |
3 logs
Published
Oct 19th, 2011
, 10/19/11 5:09 pm
3,147

views,

0

today

504

downloads,

0

today
BattleGroundxx
Level 13
:
Journeyman Miner
The Final Quest
Adventure Map for Bukkit SMP!
RELEASED
Status: 100% Done!
=-=-=-=-=-=-=-=-=-=-=-=-=-=-=-=-=-=-=-=-=-=-=-=-=--=-=-=-=-=-=-=-=-=-=-=-=-
A adventure map for BUKKIT SMP! It will utilize a fair amount of plugins and will be playable for 2 - 4 Players!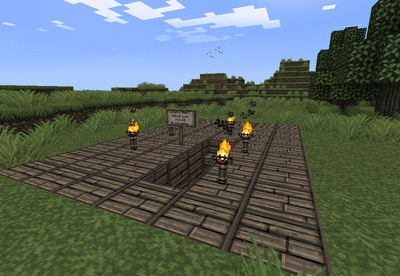 Plugins this map will utilize:
Required:

Citizens
FastFood
StyxBed UNOFFICIAL
TrainCarts
SuperSpawn
Optional:
Spout Citizens GUI
Spout
(Plugin)
Spoutcraft
(Client mod/Launcher)
Rules:
You are not allowed to break any blocks (except clay blocks and cobwebs)
Play on Normal difficulty
Don't Cheat!
BackStory:
You have woken up in a strange house and are confused on what to do, you end up exploring a ravine where C. Hood (Villain) Puts your skills to the test! After a few you escape from C. Hood's Lair and stumble upon an abandoned mine-cart rail station. You and your friends hop in.
Current Developers:
BattleGroundxx (me)
Mittydoug
Download links:
Version 0.2
Installation Insructions:
1. Unzip the files using a archiver (winzip, 7-zip etc..)
2. Drag the plugins required for the map in the plugins directory.
3. Drag the map files into the server directory.
4. Drag the Citizens config files AFTER installing Citizens! Click Yes to all of the boxes.
5. Change server properties file to something along the lines of this:
allow-nether=true
level-name=ADV.MAP
allow-flight=true
enable-query=false
server-port=25565
enable-rcon=false
level-seed=
server-ip=
white-list=false
spawn-animals=true
online-mode=true
pvp=false
difficulty=2
gamemode=0
max-players=20
spawn-monsters=true
view-distance=10
motd=
6. After starting server look in console for this message:
[Citizens] Loaded 6 NPCs.
[Citizens] Loaded 1 quests
7. If you see this message then grab 2-4 friends and enjoy!
ChangeLog:
· Development Started
- Released version 0.1
-Released Version 0.2
-Ironed out a few bugs
-Fixed the final room
-Fixed a few careless mistakes!
Special Thanks!

@
fullwall
and @
aPunch
for letting us use Citizens!@
randomman159
For creating the Spout Citizens GUI
Other Links:
Bukkit
PlanetMinecraft
Minecraft Forums
-=-=-=-=-=-=-=-=-=-=-=-=-=-=-=-=-=-=-=-=-=-=-=-=-=--=-=-=-=-=-=-=-=-=-=-=-=-
Additional Notes
FAQ:
Q:Why is this FAQ so short?
A: Because no one has asked any proper questions yet.
Q:Was that question made up?
A:Yes and this one too.
Q: Is this map going to be better than:
CaptainSparklez and the VoxelBox: Deep Space Turtle Chase Minecraft Adventure Map
A: lol IT GOING KICK A$$ jk. No it won't but nonetheless we will continue the development of this map even though it may be considered "lower standard" to CaptainSparklez and the VoxelBox's map. But in the meantime YOU HAVE TO PLAY CaptainSparklez and the VoxelBox's map YOU WILL BE BLOWN AWAY! (It has bukkit support)
| | |
| --- | --- |
| Progress | 100% complete |
| Tags | |
3 Update Logs
Update #3 : by BattleGroundxx 12/30/2011 11:01:53 amDec 30th, 2011
Released Version 0.2
Ironed out a few bugs
Fixed the final room
Fixed a few careless mistakes!
LOAD MORE LOGS
tools/tracking
268529
2
mapfun-the-ravine---an-adventure-map-designed-specifically-for-bukkit-smp-wip