Updated on Nov 9th, 2020, 11/9/20 4:42 am |
1 logs
Published
Apr 26th, 2020
, 4/26/20 6:16 am
Henry Miller
Level 69
:
High Grandmaster Artist
Saint Mary's Church is the older of the two main churches in Anklam. The newer being the saint Nicholas' Church.
The construction started around the 1250s and kept on till the end of the 15th century. It was oirginally ment to have two towers, and three naves, in similar fashion to the Saint Mary's Church in Lübeck. But these plans were abandoned quickly .(likely due to lack of money)
The tower changed many times over the years. In the 15th century it had a steep spire, with additions added to it, so for example the wooden balcony on the rear gable of the tower (facing the church building)
In 1816 this tower was damaged by fire, and replaced by a much lower one. This one however was also destroyed by Lightning and replaced with a steep spire, similar to the saint nicholas' Church. and the gable was redone in gothic revival fashion.
During the bombing of Anklam in world war two, the church was damaged, and lost its tower again. Today it is 64 meters tall, with no spire but only two gables.
---
Height: 100m
---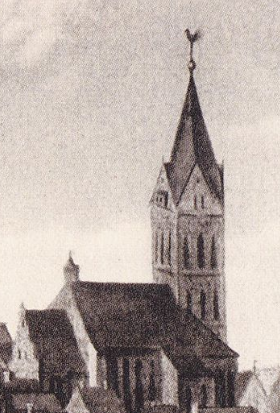 | | |
| --- | --- |
| Progress | 100% complete |
| Tags | |
1 Update Logs
Update #1 High Quality Pictures : by Henry Miller 11/09/2020 4:42:36 amNov 9th, 2020
Added new high quality pictures, to see the building in its full size.
tools/tracking
4568926
2
marienkirche-anklam-germany