Views,

28

today
Downloads,

3

today
1735780
Posted on
8/5/2015
: 8/5/15 2:08 pm , last updated: 12/08/17 4:51:39 pm
UPDAT
E:
12/08/2017
I am back again with a new update. To everyone anticipating the New Year's Day 2018 release, please remain hopeful but not certain. I am trying to get permission to publicly release a modified version of the FancyCraft resource pack from the owner. If he replies within the month granting me permission, I will be able to complete this new update in time. But if not, then I cannot release this map until I am absolutely sure that I can release the pack. I'm sorry if this upsets you in any way, but I'd rather not have this project removed from PMC due to broken rules.


DISCLAIMER:
I
would like to give my deepest condolences to 9/11 victims and their families, and congratulate 9/11 survivors for doing the impossible. However, I want to stress that I do not want to see any disrespectful comments or 9/11 jokes. That's just plain wrong. But back to reality, I am dedicating this to victims/families/survivors as a memorial, and any shown disrespect will be immediately reported.
15 years ago, the Twin Towers of the World Trade Center dominated the New York skyline. But little did the people who they sheltered know, their home away from home would be gone soon. The once lavish and grand skyscrapers rising a quarter-mile high would be reduced to a dilapidated pile of rubble and ash, following the worst terrorist attacks this country has ever encountered. Thankfully, the Twin Towers, along with the rest of the WTC site, rose from the rubble into the completely new dimension of Minecraft.
This map includes all the buildings of the WTC complex, including:
1 and 2 World Trade Center (Twin Towers, then tallest buildings in New York)
3 World Trade Center (Marriott Hotel)
4, 5, and 6 World Trade Center (Office Buildings)
7 World Trade Center (New York Command Center, Solomon Brothers Bldg.)
Austin J. Tobin Plaza (Central World Trade Center Plaza, including The Sphere)
Surrounding Streets
Completing this project would offer the public a view of the totality of the above-ground portion of the World Trade Center complex. Of course, the centerpiece Twin Towers, unmistakable in their minimalist form, are detailed and furnished to perfection. The cavernous marble lobbies, narrow sky lobbies, open-spaced office floors, the famous observation deck, and the fine dining Windows on the World restaurant complex are all interior features included in the completed model. A generally accurate core is also represented. In addition to the Twin Towers, the opulent 5-star Marriott hotel, fully furnished with luxury decor, is included in this model. Buildings 4, 5, and 6 are also included here; each with their own lobbies and concourse. The WTC path station, albeit underground, will be included via teleportation (that is my only option at this point). World Trade Center 7, alongside its complex, multi-tiered lobby, is also well-represented in this model. In addition, the replica showcases the spacious, 4-acre promenade at the center of the complex, the courtyard just outside of WTC 7, the pedestrian bridge connecting WTC 7 with the rest of the complex, the massive concourse shopping center (then New York's largest mall), and famous artworks featured throughout the original complex, such as Fritz Koenig's The Sphere, and World Trade Center Tapestry by Joan Miro. In the far future, I intend to add the World Financial Center/Brookfield Place to this map. Unfortunately, due to my unwillingness to do so, the streets of the complex won't be accurately recreated, so feel free to let me know if you want to do this because I am more than thankful if you do so.
RESOURCE PACK:
FancyCraft 128x 1.8 (Finally!) 1.8 FancyCraft Resource Pack 128x (use v2, not v3 - the iron blocks look terrible in v3, which make the white chamfered corners of the Twin Towers)
SHADERS: SEUS 10.1 Ultra / Continuum Shader 1.0 Cinematic / RRe 36's Shaders v7 Ultra
RIP to all 2,977 people who died in the worst tragedy in American history.
COMPARISON PHOTOS! (MY CURRENT PROGRESS ON THE MAP)


North Tower Roof


South Tower Roof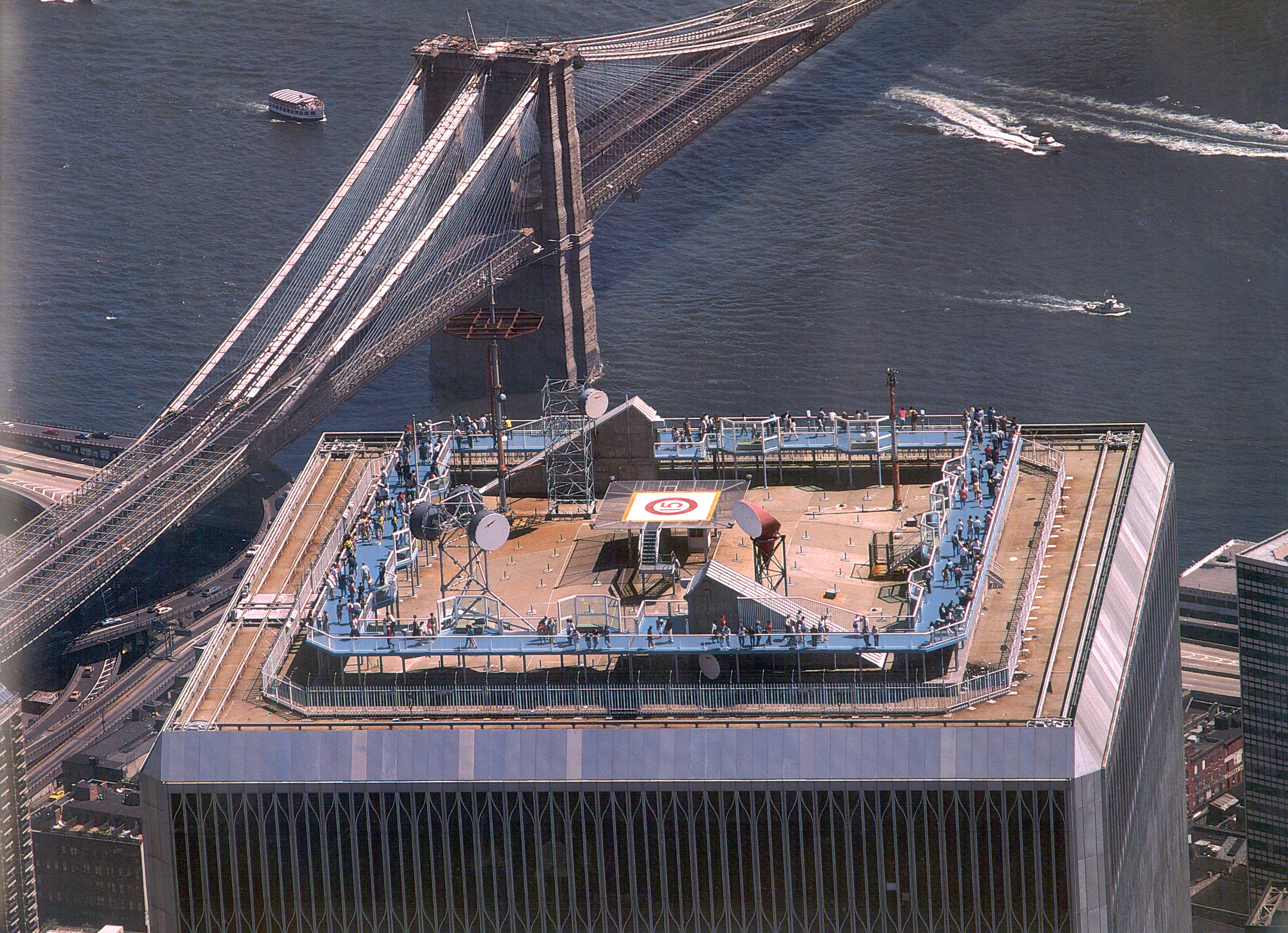 Windows on the World Restaurant

The Sphere and Austin J. Tobin Plaza

Marriott World Trade Center

Seven World Trade Center

What the lobby of the South Tower looked like on 9/11, before it got hit (the power in the building was knocked out):
Upon mrmuckles's request, I will post a few photos of the South Tower lobby with the lights enabled.


A view of the grand lobby of the World Trade Center's South Tower, with curved balconies, elevators and the ticket booth for the observatory.

The World Trade Center South Tower's lobby, overlooking the concourse, with sunlight streaming through large Gothic windows, facing the Austin J. Tobin Plaza.
MORE PICTURES!

The Mall at the World Trade Center, main concourse (WTC 2 Entrance)

Luxury Marriott hotel grand lobby, lower concourse level

Top of the World Observatories, 107th floor, 2 World Trade Center

Windows on the World Main Dining Hall, 107th floor, 1 World Trade Center
Never Forget! 9/11/01 ||
Announcement : 12/08/2017 4:51:39 pm12/08/17
Possibility of download by New Years still exists. However I'm waiting on a response by the FancyCraft developer.
News : 10/01/2017 5:54:26 pm10/01/17
New main picture! Download coming to you by New Years.
Two Year Anniversary : 08/05/2017 2:42:54 pm8/05/17
Announcing a new update.
A Small Request : 03/23/2017 10:10:20 pm3/23/17
I requested a favor from everyone who is willing to do this.
Announcement #2 - File corruption : 10/16/2016 10:34:08 pm10/16/16
Described being caught up in file corruption.
Major Announcement : 09/14/2016 10:22:57 am9/14/16
I am adding different versions to the WTC, representing different decades/eras of the WTC's life. Also, another somber 9/11 anniversary has passed by.
Fixed! : 05/10/2016 4:03:46 pm5/10/16
I acknowledged AlexCH27_ for helping me with the lag.
Final Version? : 05/06/2016 11:19:20 pm5/06/16
I added an urgent notice that might end up in the project shutting down.
Back to Normal : 02/27/2016 10:10:35 pm2/27/16
Removed Christmas theme to World Trade Center and fixed minor WorldEdit issues with 7 World Trade Center
Added new, beautiful photos, courtesy of Cody Darr and virtuaconker85 with SEUS and Continuum shaders!
Added more accurate dividers of the arches at the base of each Twin Tower
Christmas/1.8 Update : 12/25/2015 8:37:28 am12/25/15
FancyCraft is now a 1.8 resource pack, so the entire map was updated to include 1.8's newest features. In addition, the whole plaza is ready for the holiday season, so adding a little snow, the signature "PEACE ON EARTH" sign, and a gigantic Christmas tree turned the grand office complex into a winter wonderland for everyone!
tracking
3409628
original-world-trade-center-3409628
1,165079,329,3672,559826,842002,140820,64651,214207,460644,625964,356071,290694,895971,1030646,15493,171513,336698,476982,98449,817406,526780,1735780