Updated on Dec 20th, 2015, 12/20/15 3:57 pm |
5 logs
Published
Mar 21st, 2014
, 3/21/14 6:10 pm
8,778

views,

0

today

1,098

downloads,

0

today
pilsbaas
Level 45
:
Master Miner
Hello young, old, potato, bacon and fellow PMC'ers.
I bring you today a [CREATIVE-NODE] Contest Entry. It will be no ordinary entry, like Elven or Asian buildstyles. But something from the past, brought back to life. It has been on television, in your local cinema, in comicbooks and some actionfigures have appeared in the shops the past years. But I bring this to you on PMC, I present you The Smurfs! This Idea came to my mind, because I've done a previous fairytale mashup, called Boot's N Beans! Therefore I would like to try it again in this new contest. Hope you guys will like the originality and for some this might be nostalgic as well :) Enjoy, Share, Lick, Taste The Hapiness of

The Smurfs!

:D There are some tricks and easter eggs in the build, such as Mount Smurfmore (Mount Rushmore).



The build itself includes:




- Mount Smurfmore (Mount Rushmore - Mashup)
- Smurfville East
- Smurfville West
- Smurfs laying on the beach on the Waterfall cliffside
- Smurfs flying in Smurf Balloons
- Smurfette walking on tree-bridge @ the baby storks.
- Smurfs and Papa smurf having a high tea party.
- Smurfs being cooked in gargamels cauldron
- A Smurf riding a stork.
- Smurfboats (1 big, 2 small)
- Several creatures (2 small birds, 1 big bird, 1 stork, 1 spider, "Dat-Ass Bees").
- Asrael chasing a smurfs balloon
- Gargamel watching over Smurf Ville
- Gargamels Cauldron
- A bee-hive
- Smurf Cages
- Lilypads going down the Waterfall.
- A giant mushroom with a stairs, to travel between East and West of the Smurf Village
- The Creative-Node landscape itself.
The build is located on the Dawn-Creative Server.
- IP: mc.dawn-creative.net

- Warp: /warp pilsc



Terms of use?!



•

You are allowed to modify, remix and use the contents of this file as a base for




projects of personal/private use. Go nuts, have fun! Be inspired!



• You are not allowed to re/distribute the contents of this file,
whether modified or not, for public use without expressed written
permission. Just ask me - I can be reasonable. Want to use it on your
server? Ask me first. Want to turn it into an adventure map? Ask me
first. If I say yes, remember to credit and post a link back to this
site.


• You are allowed to use this project in a posted video so
long as you credit myself (Pilsbaas) AND provide a link to this site.

•You are allowed to create and post screenshots, renders and other forms of
image media for public and private use so long as you credit myself
(Pilsbaas) AND provide a link to this site.
Thanks to Creative-Node for this wonderfull oppurtunity and allowing me to use any theme for a build. For those who think this is a troll project, it is not. I've worked hard on it to re-create The Smurfs as good as possible. Hope this will get some nice publicity! I would love comments with some feedback, and good arguements.
Thanks to all, who helped to make this possible!
Creative-Node Contest Results >>> "Honorable Mention".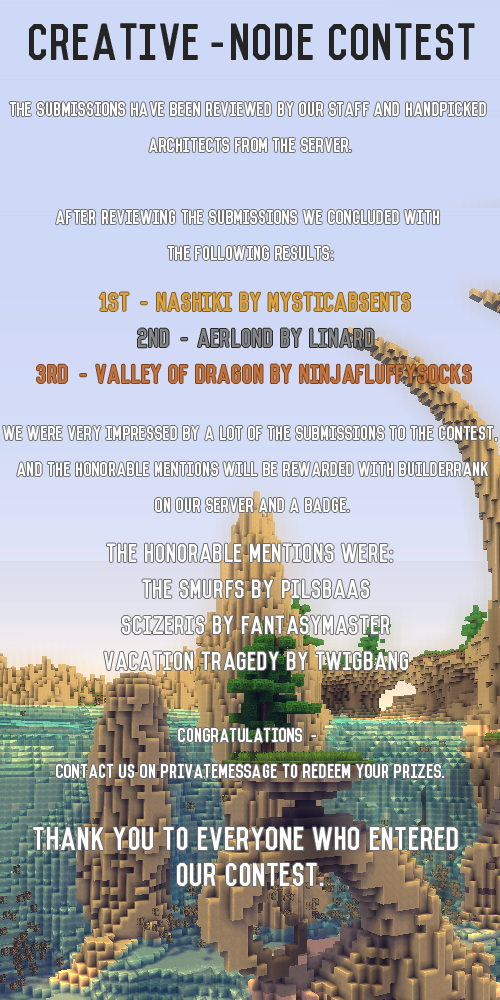 Thanks to all the subsscribers I've gathered so far, and hopefully I'll inspire many more in the future.
Everyone Smurf some more! Let's make this a Smurftastic Contest.
Sincerely,
~ Pils
Download is in the description
Don't forget to
SUBSCRIBE!
Please leave a
comment
what you think about it and
Diamonds
would be appreciated!
More projects coming up soon!
| | |
| --- | --- |
| Credit | Bramboss1, Chellizard, Crafterboy327, That_Old_Kid |
| Progress | 100% complete |
| Tags | |
5 Update Logs
tools/tracking
2814310
2
the-smurfs---creative-node-contest-entry-by-pilsbaas