Updated on May 31st, 2017, 5/31/17 6:32 am |
1 logs
Published
May 28th, 2017
, 5/28/17 12:20 pm
Built on server

No results for: Minecraft Community Content

Please try another search, change filters or go back.
TotallyNotMe
Level 55
:
Grandmaster Architect
This is White House II, a replica of the White House. It was created to be a mansion similar to the White House. It is estimated to be worth around $30,000,000.
I've had this build on my mind for a while, and I thought I'd post it for a 200 subscriber special. So here it is. An interior is coming up, could be released at any time :)
---
Sorry for not posting for a while, I've just had exams and life has been busy. But through these few months of myself not uploading, I've gained over 20 subscribers. I really appreciate the support which keeps me building this stuff :).


Thank you for pop reel!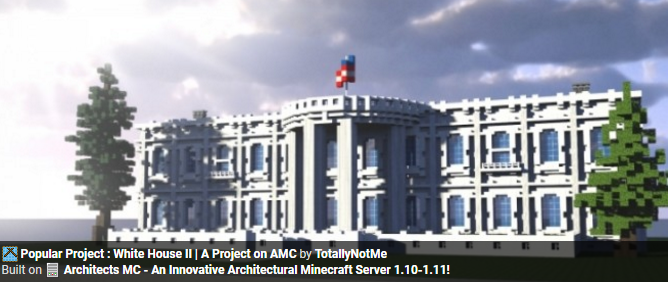 | | |
| --- | --- |
| Credit | AMC, Ryermeke |
| Progress | 70% complete |
| Tags | |
1 Update Logs
Add the entrance hall! : by TotallyNotMe 05/31/2017 6:32:50 amMay 31st, 2017
Added the entrance hall to the house.
tools/tracking
3956043
2
white-house-ii-a-project-on-amc