Updated on Jun 18th, 6/18/22 3:21 am |
19 logs
Published
Feb 28th
, 2/28/22 12:49 pm
844

views,

2

today

187

server score

56

Votes this month
GyztorMizirath
Level 5
:
Apprentice Engineer
Status
Online! Pinged: 06/25/22
Location
United States
Game Version
Minecraft Java Havens Edge MC 1.17-1.18
MOTD

=========Havens Edge [1.17-1.18]=========
Mmmm Stuffed Crust

Connect With
Players

0/5000

RID
2683952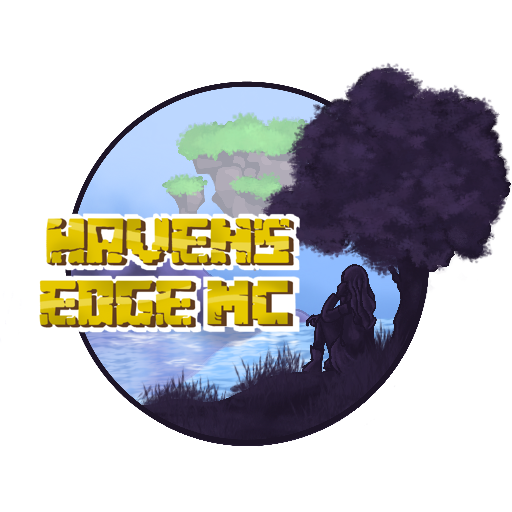 IP: play.havensedgemc.com
Joinable Versions: 1.17-1.18
Discord server:
https://havensedgemc.com/discord
H

avens

E

dge

MC
Creative

||

Survival

||

Community
Welcome to

H

avens

E

dge

MC

.


Recommendation: Turn your particle settings to decreased or minimal for survival
What started out as a passion project, has grown into a full community based server. Our friendly staff and 24/7 servers aim to provide you with the best game-play our servers can offer.
With our custom Texturepack with Optifine (Optifine is

NOT

required though as some to most features will work without it.) features and Multiple Servers we aim to create a truly unique RPG influenced experience.

Note:
The Texture-pack will

AUTO DOWNLOAD

when joining the server, but it will only do it once per a join so it doesn't need to re-download every time you switch to another server in the network. The texture-pack has been seen to run pretty well on something like a 1050ti and relatively old cpu's so most people should be fine with it. if there is issues with joining because of it downloading please make a ticket and get help on our discord with: https://havensedgemc.com/discord

As we can help you with the issue to the best of our ability
We also have deemed the texturepack is now also useable outside of the server and are going to release it, so if you prefer to have it downloaded and use that one rather than the server one you can download it here: https://havensedgemc.com/latest-HEMC-resourcepack
Than you just need to do /usepack empty and you will disable the server resource pack


Do not be surprised if some things don't work without it though
Gold Based Economy
Find or earn gold with /jobs and trade with players and NPCs alike.
Got too much of one item? Auction it off to the highest bidder with /auc.
Grief Prevention
Create and grow your town and nation with Towny, sethomes and RandomTeleport. Make great kingdoms and establish yourself within the world.
MMO and Magic Based Survival
Level up your skills with Runecraft, McMMO, Magic, and much more!
Creative Plots
Grab your friends and add them to your plots or build solo as you craft your own mini-map. Merge your plots together or with friends and get creative with World Edit to see how far your skills can go.
Community
Keep up with your friends with our servers friends list!
And join our Discord Server to stay up to date with community projects; See sneak peaks on features coming to our server and much more.
Ranks and Cosmetics
Support our server and get some cool perks by purchasing ranks and cosmetics in our Estore.
Mixed Online/Offline support [​WIP]
Me (GyztorMizirath) and MyraSylus have been thinking about this for a bit and were pretty upset at the account migration stuff and even lost accounts to the migration, we have been upset about it but have decided to just move on from it. Eventually i brought up to Myra that what if we supported offline/cracked accounts to allow people who have lost account to still be able to enjoy our server without having to re-buy minecraft. We even asked the community what they thought on this and quite a few seemed indifferent about it. After some back and forth in my thoughts going from that we would be "targeting a niche area" to "but it would give people a chance to enjoy minecraft servers again after loosing their accounts" i came to a conclusion that with the correct setup, there is really no down sides to allowing offline accounts onto the server. So in the end i decided to add it in. I do know there is some controversy about cracked/offline minecraft accounts and despite them i still believe in this ideal and want to continue it along. I am still ALWAYS willing to hear other sides of the argument and you can always come onto our discord server and discuss it with me whether in a ticket, public chat, or even request a thread (through tickets as to not clutter the public chats) for it to be discussed more on. I hope this allows the community to grow more rather than separate us more.

Ever Growing
We are constantly striving to improve our servers as well as bring more features and worlds to play. Stay Tuned!




Servers Progress




Lobby

:

Open Pre-Release




Survival

:

Open Pre-Release




Creative

:

Open Beta




More Coming soon...




| | |
| --- | --- |
| Credit | MyraSylus for the builds for the Lobby, Survival and Creative spawns |
| Tags | |
19 Update Logs
Version: 0.5.3 : by GyztorMizirath 06/18/2022 3:21:14 amJun 18th
Have updated to allow 1.19 clients to join now but doesn't mean we necessarily support it, if there are bugs you can let us know but don't be surprised if we can't do much about them just yet! It may take some time for server adoption of a native 1.19 version to happen.
LOAD MORE LOGS
Projects shared by members of this server
tools/tracking
2683952
3
havens-edge-mc