Published
Dec 22nd, 2015
, 12/22/15 7:59 pm
1,490

views,

2

today

151

downloads,

0

today
hoshizora
Level 70
:
Legendary Waffle
so like at first this was just going to be a katniss everdeen ripoff right??? but i ended up really liking the story i made for her so WOOPS
i cant stray from my teen skinner roots because im a scrub thats what
also HOWDIDIMAKETHATCLOAKIHAVENOCLUE
Spoiler - click to reveal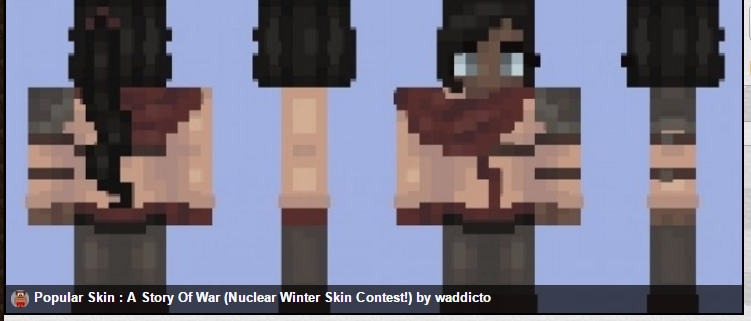 She has black hair, brown skin, and grey eyes
She wears a reddish cape and a tan coat
She only has one mitten, she puts belts on the other to block circulation so she doesn't feel the cold
and uh
she wears boots...
First off, I am writing my story in the hopes that someone out there; future or present will be able to find this story... to find out the pain I've suffered. My name is Annalise, and I survived.

I remember it like it was yesterday, I was only 9 years old then. So innocent. So pure. I was playing soccer with the neighborhood boys when off in the distance, I heard it. A flash of light, a sound, and with that, went half of South America.

"Overpopulation."
They said.

Lies. Nothing but lies. Our countries retaliated. What was left of Argentina demanded that we band together, start a new country. A country to punish them for their sins.

Little did I, and the rest of the world know, this was the tip of the iceberg. After our country attacked Washington, the whole debacle turned into an all out nuclear war.

Just going outside could have killed you, there were no places with pure air anymore. Everybody wore gas masks; it was like pictures I'd seen of World War II hundreds of years ago. The weather was starting to get colder, it was snowing in places where snow was a once in a century occurrence. It must have been the nuclear smoke blocking the sun.

However, nothing could prepare us for what happened next. The scientists deemed it impossible to stop, I have memories of that day. Home alone, reading a book. I was 15. It struck. A fate far worse than a nuclear bomb.

Halley's comet struck the earth. And thus began the next ice age.

I don't know how long it has been since then. It feels like 6 years, but in reality, it must be a decade or two.

"We" aren't allowed to know the year. "We" being those of us who are unlucky enough to be born of color. We thrived in diversity, yet now we are forced to hide in slums, not being offered gas masks or anything. They don't want us to live. We are only offered 1 pair of clothes to last us the entire year. The air is still as toxic as it ever was. Our only food is rationed, sent to us by royal guards; their skin as white and pale as snow. They disguise their daily searches of rebellion as giving rations. Anyone who even thinks of rebellion has their head chopped off the second any hint of it is given. My mother's head was chopped off for spitting on a guard. I miss her to this day.

One day, I hope to escape. I shouldn't even be writing this. The guards are coming soon, and with them their search. I don't know where to hide this. I don't know if I'm going to die for this. My one wish though is that this book... this page... it exists. It exists for as long as I live. I wish it exists long after I die. I wish it brings change, rebellion, and finally... hope.
| | |
| --- | --- |
| Gender | Female |
| Format | Java |
| Model | Steve |
| Tags | |
tools/tracking
3554500
5
a-story-of-war-nuclear-winter-skin-contest