Updated on Nov 23rd, 2016, 11/23/16 7:05 am |
1 logs
Published
Nov 19th, 2016
, 11/19/16 1:38 am
2,117

views,

0

today

9

downloads,

0

today
Powered-Great
Level 52
:
Grandmaster Skinner
Had you ever wander if you could look behind you while walking in front. Maybe a bully try to a throw a paper or a rock, or even plastic chair that they thought it was harmless. Well if me, i do want but....I'm not gonna let some noseless old fart tell me what to do, be like
*Use the toiler*
Vol: Ey! wash your hand
*Eating*
Vol: Wash your hand!
*Picking nose*
Vol: Wash Your Hand!
*Reading News*
Vol: Go outside and do some work out!
I'll be like "Hellllllllll Naaaaaaaaaah!" it'll be a hard time. Or maybe the old man keep ranting about his failed plan and stuff
In some part of the story
Harry alone managed to reach the last chamber, and was surprised to meet Quirrell instead of Snape. Quirrell non-verbally bound Harry and summoned a wall of fire behind the door to prevent him from escaping, then, on Voldemort's command, forced Harry to look into the mirror. Harry saw his reflection with the Stone in his own trousers' pocket, and felt it indeed being transferred to his real pocket. When Harry lied about what he saw in the mirror, Quirrell unwrapped his turban to reveal Lord Voldemort's face, bound to the back of his head. Quirrell's life ended then, when Voldemort forced him to attempt the murder of Harry Potter (figuring out Harry had the Stone and being unable to persuade him to give it willingly). Unfortunately, the body Quirrell and Voldemort were both sharing manifested in burns and blisters during his fight with Harry due to the protective charm Harry's mother left in his skin when she died for him. Harry collapsed from the pain in his scar, but Quirrell's body was burnt so horribly that Voldemort dispossessed his body and left him to collapse and die. However, despite being effectively turned into a living Horcrux for the last year of his life, Quirrell did not ultimately lose his soul, having even tried to put up feeble resistance on occasion (in spite of the fact that Voldemort was far too strong for him).
The Skin- Voldemort look like some derp guy.....and this Kuireal dude's costume is really hard!
(Hoping for a fan fic? Meh, i can't in this one)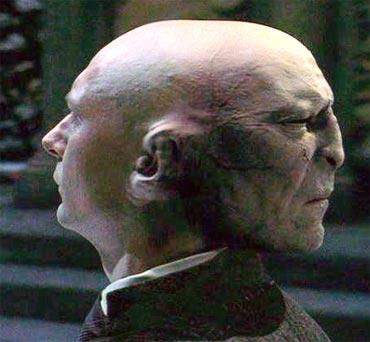 | | |
| --- | --- |
| Credit | Try out some of the Skinner i Subscribe. You might enjoy it |
| Gender | Male |
| Format | Java |
| Model | Steve |
| Tags | |
1 Update Logs
Update #1 add the tie : by Powered-Great 11/23/2016 7:05:58 amNov 23rd, 2016
I feel so weird for just updating the tie
tools/tracking
3836718
5
quirinus-quirrell-w-voldemort-back-head-magic-skin-contest