Published
Aug 23rd, 2012
, 8/23/12 8:36 am
2,130

views,

1

today

166

downloads,

0

today
andyjk15
Level 55
:
Grandmaster Blacksmith
Tsukune Aono
from Rosario + Vampire
One day I was surfing the web looking for Anime after watching every episode of Bleach and got bored after as I had nothing to do and a lot of free time, I came across a series called Rosario + Vampire. In this series there are two seasons 'Capu' both with 13 episodes in each all consist of small adventures where there usally a ''bad guy'' and 'Inner Moka' defeats, Inner Moka is the true form of her vampric power and is class as S class as she is so powerful. Each episode is like this but at the end of each season 'capu' there is a massive battle and a lot of people die. As every anime there is a little dirty bits which you can't find not awesome, over every episode the is a base story line which is mainly: Moka is trying to hold onto Tsukune 'the one she loves' and 4 other HOT girls are trying to have him too. (Tsukune)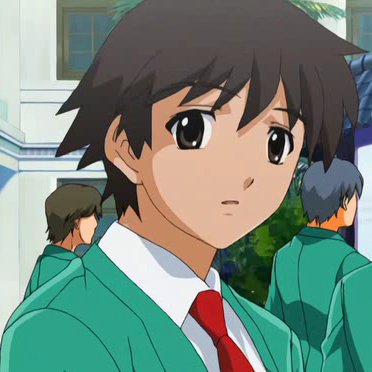 (Not going to spoil any more)
Background Info:
Source:
http://en.wikipedia.org/wiki/Tsukune_Aono
Tsukune Aono is a young man who has failed all of his high school entrance exams. With no options left for him, his parents sends him to Yokai Academy. He meets Moka Akashiya, a beautiful girl who turns out to be a vampire. Soon after he becomes friends with her. Upon arriving there however, he soon discovers that it is a special school for monsters and demons alike, and any human who discovers its existience will be killed. he soon learns from her that she hates humans. After revealing his secret to Moka to the latter's shock, he then decides to return to the human world, but relents at the last minute when he comes to rescue her from a bullying student, stating that he really likes her and wants to become her friend. Soon after the misunderstanding was cleared, he decides to stay at Yokai Academy regardless of the impending danger that awaits him.
Yokai Academy
Yokai Academy is a special school made for the purpose of monsters coexisting with humans. It is founded by the three Dark Lords, one of whom is the headmaster of the school. The other two are Tohofuhai, Fang Fang's great-grandfather, and Akasha Bloodriver, Moka's mother (in the anime, Moka's father, Issa Shuzen). Yokai Academy is surrounded by a barrier called the Great Barrier, which separates the academy from the human realm, hiding it from plain sight. The only known way to get to Yokai Academy from the human world is through a bus that travels through a tunnel called the "Tunnel of the Fourth Dimension", which, according to the bus driver, has various "mouths" that open to various tunnels all throughout Japan. The barrier is powered by a rosario seal that is similar to Moka's deep within the academy, and according to Mikogami, if the barrier collapses, all of the suppressed energy contained in the
yokai
world will flood over to the human world, creating chaos and disorder.
---------------------------------------------------------------------------------------------------------------------------------------------------
Sorry for this being so long... but i hope you enjoy the series as much as i did!
Because i found this show to be great i decided to make Minecraft Skins of all the characters!! So ENJOY!
I will also be uploading the others soon!
Please Download, Give diamonds if you like it and Comment!!
| | |
| --- | --- |
| Credit | Rosario + Vampire |
| Gender | Male |
| Model | Steve |
| Tags | |
tools/tracking
1335327
5
rosario-vampire-tsukune