Updated on Jun 8th, 2015, 6/8/15 9:01 pm |
3 logs
Published
May 31st, 2015
, 5/31/15 6:14 pm
1,975

views,

1

today

271

downloads,

0

today
AceOcarinas
Level 47
:
Master Nether Knight
This is my favorite skin so far. :)

Turn off Layer 2 for Samus Skin.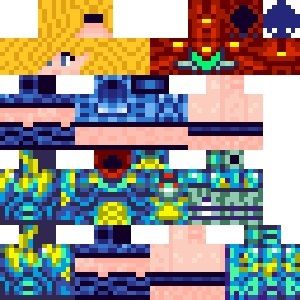 Display image only. Skin must be downloaded.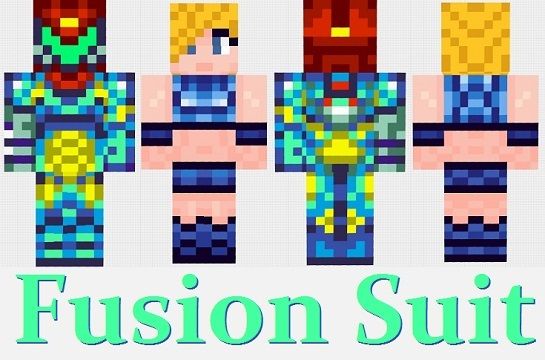 I wasn't planing on doing another Metroid Skin for a while but I started messing around with metroid sprites and started work on a fusion suit skin. I worked on it for a very long time before I thought it was good enough to be uploaded anywhere. Like the Samus Aran (Removable Power Suit) skin, Samus is under the fusion suit which can be taken off any time in game but Samus under this suit is pretty different then how she looked in the super metroid skin as she was based on how she looked after the credits in Metroid Fusion.

Now with the previous Metroid skins I made I was able to simply shrink down and edit the game sprites from Super Metroid.

METROID FREAKING FUSION

however had very complex sprites that could not be simply shrunk down. Even if I tried the GBA sprites were so blurry that shrinking them would drastically change the colors. So to stay true to the colors and game sprites I had to create

EVERY SINGLE PIXLE

of this suit

FROM SCRATCH

. Even the helmet was so different that I could not reuse the one from Super Metroid.

This Fusion Suit Skin is 100% true to the game's sprites from Metroid Fusion so fans of that awesome game should be very happy with this skin. I do plan to make more Metroid Fusion skins in the near future so look forward to those soon. After that I will probably start working on other skins. I don't just want to be a Metroid Skin maker, as awesome as those games are. :)

| | |
| --- | --- |
| Gender | Female |
| Format | Java |
| Model | Steve |
| Tags | |
3 Update Logs
Update #3 : by AceOcarinas 06/08/2015 9:01:17 pmJun 8th, 2015
Largest update so far!
Samus: hair was redone, eylashes added, better skin, slightly longer shirt, small adjustments to color.
Fusion Suit: back section was redone to be more accurate to game, slight color changes.
LOAD MORE LOGS
tools/tracking
3336333
5
samus-aran-fusion-suit-removable-suit