Updated on Aug 19th, 2012, 8/19/12 4:50 am |
2 logs
Published
Aug 17th, 2012
, 8/17/12 1:36 pm
5,132

views,

4

today

675

downloads,

1

today
wldscarlet
Retired Moderator
Level 76
:
Legendary Sweetheart
Hello Fellow People,
This skin is my contest skin for Monster in the Closet Skin Contest. He is the old moldy doll!
I hope you like it and understand the thing he is gonna do with you. O.o
You could support this skin by giving him the diamond, he will be happy.
Thank you for your all supports. :)
ScarletBox
---
The story of the Old Moldy Doll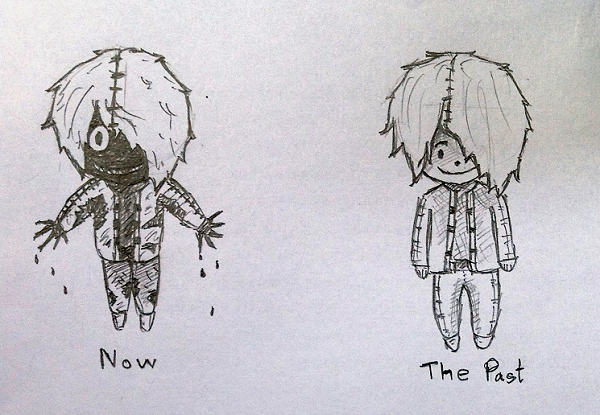 On a rainy day, an old doll was thrown out of a window.
There was an argument inside a house, it was a little girl who was shouting at her mum.
Her mum hated the girl's doll because it was old and moldy.
The little girl begged for her doll back but her mother didn't give in.
The poor girl cried. The doll kept all the memories of the relationship between himself and the lovely little girl.
BANG, down came the loud sounds lightning and thunder, it was terrible and the rain kept growing heavier.
All the little girl could do was look at her wet doll sadly sitting on the water from the closed window with a tear on her face.
She made a hope, a little hope to have a good time with her doll again.
Sadly, her mother pulled her from her arm away from the window.
The next day, the doll disappeared.
The girl sat there sadly listening to the sound of the rain when suddenly the lights went out and the house fell under shadows.
She got up and walked down to the kitchen, and to her horror there was blood drops all the way from the kitchen to the closet.
She saw a hand hanging out of the closet, a dolls hand. That doll had a big eye and an evil smile that glowed in the dark.
His hands changed from those innocent doll hands to blood stained sharp claws.
---
| | |
| --- | --- |
| Credit | Thanks to Conquer. He did the proofing of my passages. |
| Gender | Male |
| Model | Steve |
| Tags | |
2 Update Logs
tools/tracking
1304543
5
the-old-moldy-doll