Updated on Jun 30th, 2016, 6/30/16 2:12 pm |
1 logs
Published
Jun 29th, 2016
, 6/29/16 6:08 pm
1,974

views,

2

today

141

downloads,

0

today
Chirin
Level 18
:
Journeyman Pokemon
This is my Entry for the Skin Contest!
---
So, this is actually a personal OC of mine called Tehin!
Long story short; She was once a poor slave worker in a lair before deciding to escape with her three other friends. One of her friends went missing when they got out, and the other two were slain by the guards in the lair. Tehin walked for many months before she got to a big city where she got rescued by the Empress and raised as the empress' own sister. She is now one of the country's most important people. Her nickname is Tiger Lily because of her fast and swift hand-to-hand combat moves and secret techniques.
Yeh~



This other world ''Tiger Lily'' is from is heavely based off of Asian and especially Traditional Japanese lifestyles and features. There are bath houses, festivals, kimonos, ninjas and samurais, in this world almost excactly as it used to be before in the east. The only exception is small details like clothes, and buildings. This is one of the reasons why the clothes Tiger Lily wears has more of a ''Fantasy'' style to them.
---
Here is a colored sketch of Tiger Lily before I started working on the skin.
(Note: A lot of the skin has been changed mainly because this is only a concept sketch and not the final design!)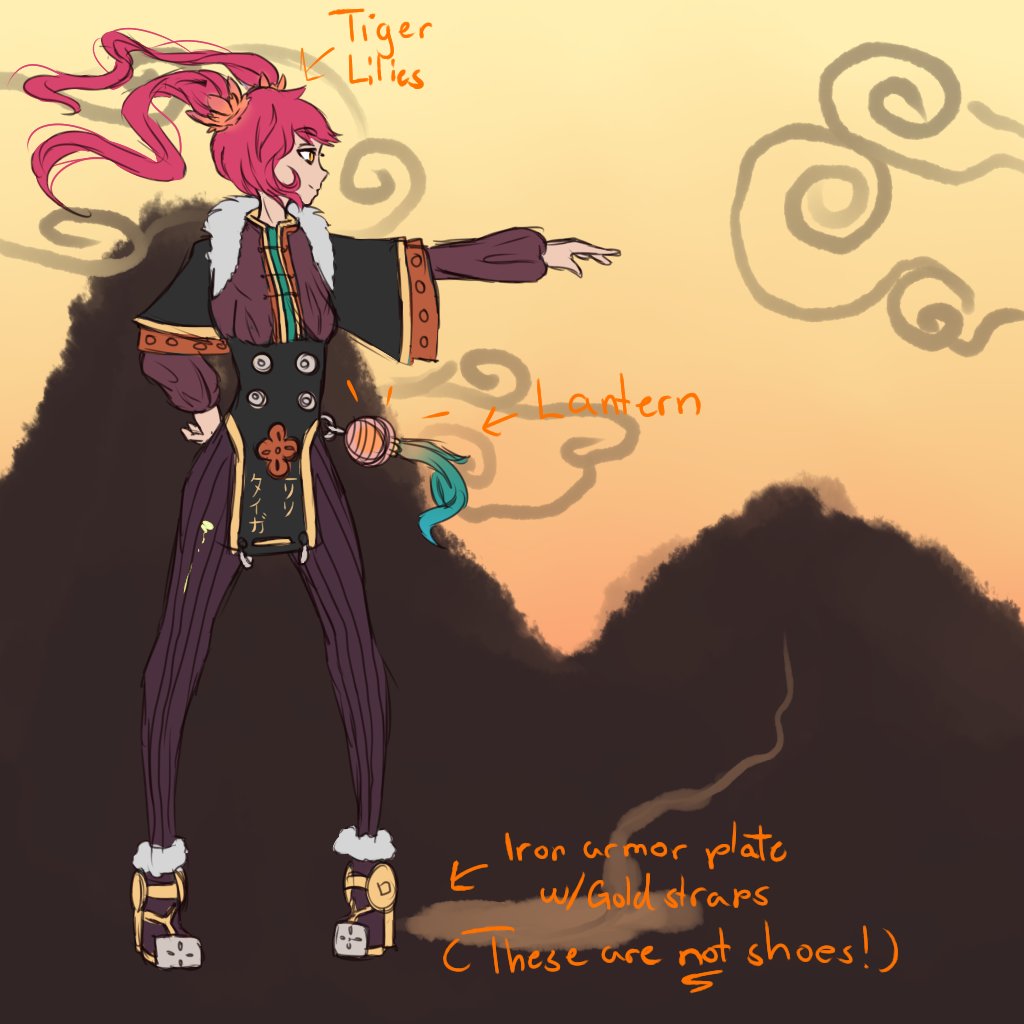 | | |
| --- | --- |
| Gender | Female |
| Format | Java |
| Model | Alex |
| Tags | |
1 Update Logs
Update #1 : by Chirin 06/30/2016 2:12:35 pmJun 30th, 2016
Removed
-Tiger lilies in hair

Added
+ 3D effects on clothes
+ Oriental Crown (replacement for Tiger lilies)
+ Metal plates on ''shoes''
+ Rope around the dragon scale shoulder pad
+ Gem on the left arm w/ fur hanging beneath
tools/tracking
3734263
5
the-tiger-lily