check_circle

Armor

check_circle

Items

check_circle

Misc
Published
Oct 28th, 2018
, 10/28/18 12:00 pm
31,553

views,

19

today

5,081

downloads,

2

today
Meridiana
Level 68
:
High Grandmaster Artist
☿ DEMON DEVIL HORNS + BAT WINGS Combo | Wearable in Survival | Minecraft 1.13.x | No Mods No Optifine | MODEL REALITY + ELYTRA REALITY
+++ Send me an ingame screenshot with this pack equipped, and I'll add it to my post! +++
Not only for Halloween or general cosplay, but also funny to see these red demon or devil horns on some mobs on Halloween (or those Undead who can pick up and equip items like carved pumpkins and Elytra naturally throughout the whole year) ;)
I'm happy to present you the second of many planned wearable / "outfit" models and the first COMBO PACK between my series "MODEL REALITY" and "ELYTRA REALITY"! More of those combo packs to follow, also with other model types included!
Other models such as e.g. different type of wings, masks, hats and more are also planned, see submission post linked below for pictures of a few (high-res) examples, a few of them may be also published, maybe in a lower resolution, like this demon / devil horns model (resolution of 64, reasonably downsized to support older or weaker computers).
The Elytra got a higher resolution, but way less than my usual Elytra Reality packs, again to support older / weaker computers, even more so in combination with a model like in this case!
+++ Instructions +++
Place this pack as uppermost pack in your client, then equip Carved Pumpkin and Elytra!
Created with Love ❤

---
▓▓▓▓▓▓▓▓▓▓▓▓▓▓▓▓▓▓▓▓▓▓▓▓▓▓▓▓▓▓▓▓▓▓▓▓▓▓▓▓▓▓▓▓▓▓▓▓▓▓▓▓▓▓▓▓▓▓▓▓▓▓▓▓
▓

.

DIAMOND me + FAVOURITE this post when you download one of the modules!

.

▓
▓▓▓▓▓▓▓▓▓▓▓▓▓▓▓▓▓▓▓▓▓▓▓▓▓▓▓▓▓▓▓▓▓▓▓▓▓▓▓▓▓▓▓▓▓▓▓▓▓▓▓▓▓▓▓▓▓▓▓▓▓▓▓▓
..

►►► SUPPORT MY FREE WORK FOR YOU, CREDIT AND LINK TO ME

.


WHEN YOU USE MY PACKS PUBLICLY, e.g. IN VIDEOS/STREAMS!◄◄◄

-
►►► Detailed Terms of Use in credits textfile of my module ◄◄◄

---
OPEN SPOILER FOR SCREENSHOTS MINECRAFTERS SENT ME!
Pictures by and with Minecrafters with this pack
Dracconis69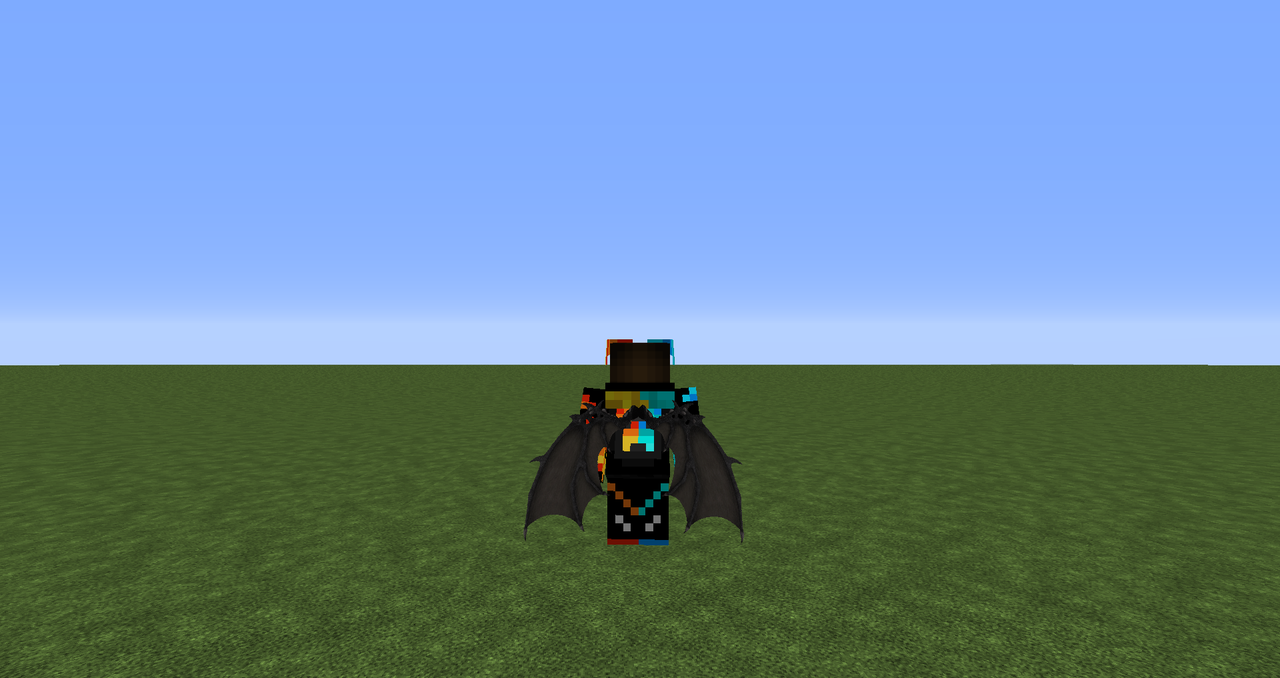 ---
---
---
Meri/Meridiana
(myself ;))
Snowy the SnowGolem
---
Also look at my other ELYTRA modules here on PMC!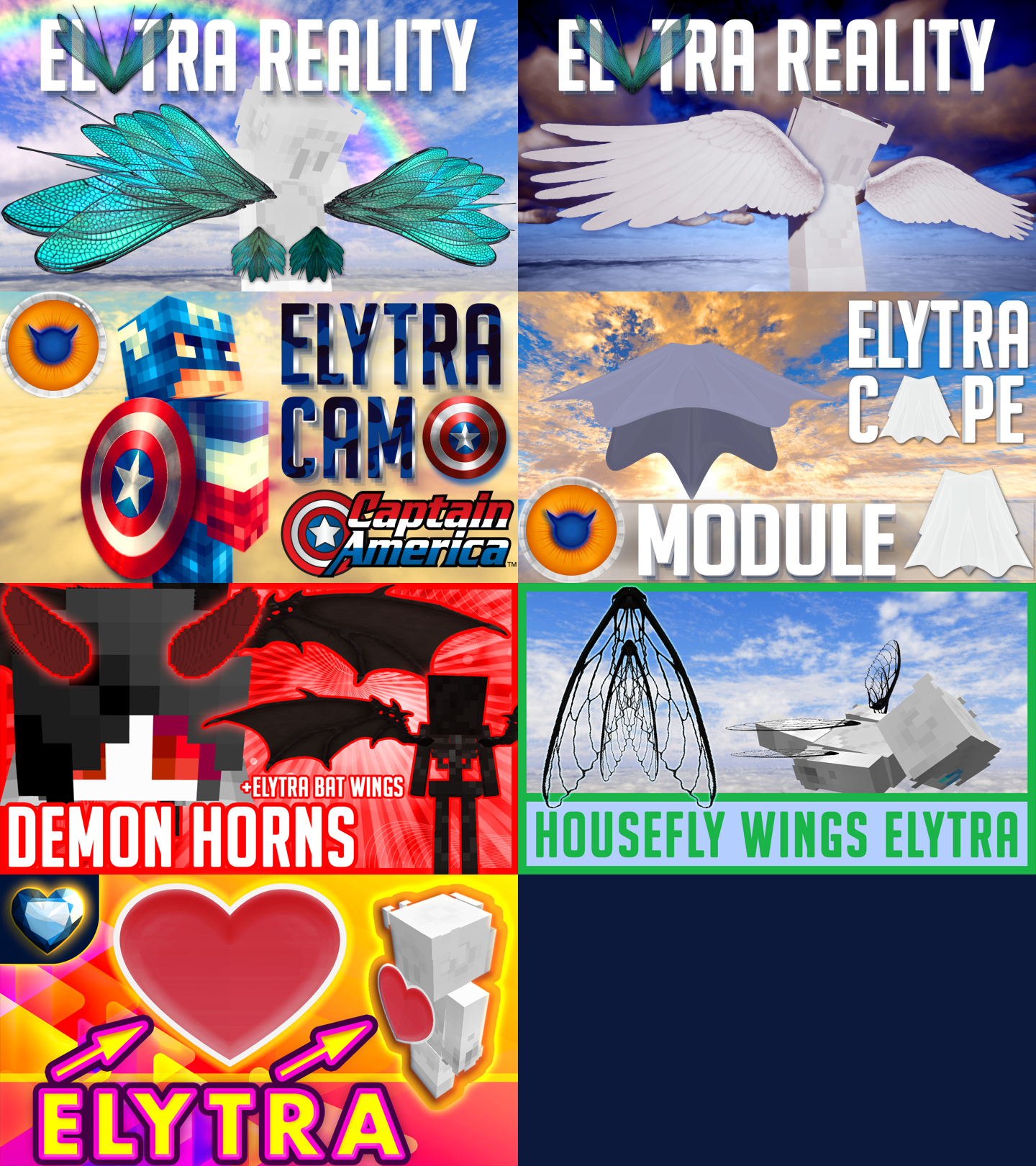 ---
★★★
HIGHEST RESOLUTION MODELS ALBUM
★★★
There are not only pictures to see, you can read everything worth knowing so far there, e.g. also regarding possible release of also high-res models in the future, as well as notes regarding (possible) lag, depending on how you use these models!
---
I got a new show series on Youtube
where you can see upcoming or planned resource pack modules as well as proof
of concepts; this series will in the future also showcase "outfit" models. Some of these modules will be up for free download.
Current playlist overview of my resource packs

, more content to come:
(Some resource pack playlists are not public yet, I'm currently working on content for them.)
►

Meri's TEXTURE THURSDAY show ✦ MODEL REALITY ✦ ELYTRA REALITY ✦ ELYTRA CAMO ✦ BONUS ✦
►

Meri's MODEL REALITY HQ mainly wearable "outfit" models


►

Meri's -WiP- full texturepacks ✦ iREDSTONE ✦ iTRON ✦ VAPORWAVE ✦
►
Meri's Modular OPTIFINE texturepacks ✦ ELYSION SkyPacks ✦ LUMINANCE ✦


---
Take care, enjoy life.
☿ Meri ❤
---
THIS MODULE CHANGES/ADDS:
►

Carved Pumpkin Items Model incl. sizes editing for all displays (hands 1st/3rd, GUI, wall, floor etc.)
►

Dedicated lapisdemon-folder for the model texture
►

Elytra (entity) texture
►

Broken + regular Elytra (item) texture
►

Pumpkin Blur (removed/transparent)
►

pack.png
►

pack.mcmeta
►

splashes.txt
►

credits file
---
| | |
| --- | --- |
| Progress | 100% complete |
| Game Version | Minecraft 1.18 |
| Resolution | 64x |
| Tags | |
tools/tracking
4213490
4
model-reality-elytra-reality-demon-devil-horns-bat-wings